As we still had some time left before our Australian visa would run out we decided to explore a bit more of the area which is called the Wet Tropics of Queensland. People were telling us about the beauty of the Daintree National Park north of Cairns and our remaining time would allow for a little detour in that direction.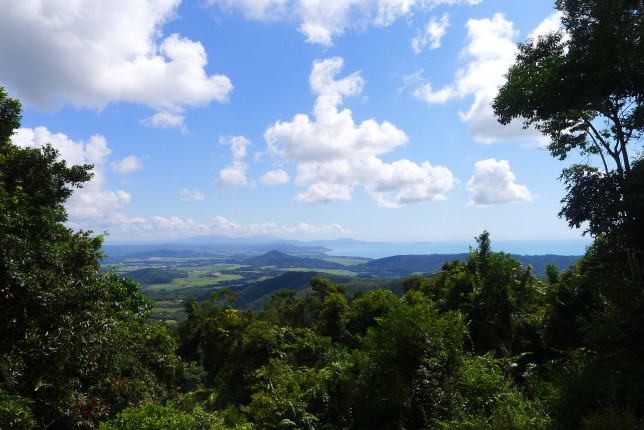 Coming down the tablelands we enjoyed beautiful views and most of all the downhill through lush green forest.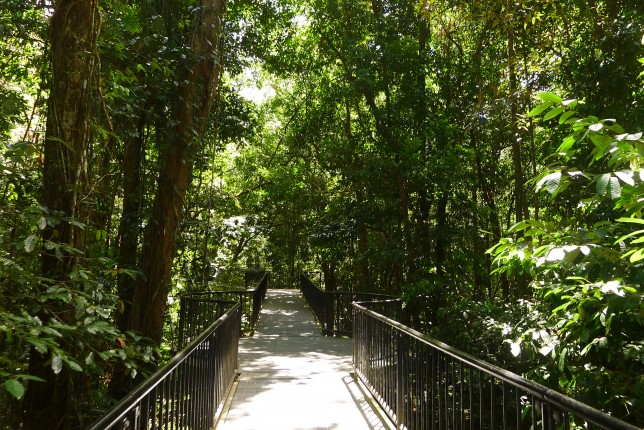 Next stop was the Mossman Gorge with a rather touristy set up. But it is possible to cycle (or walk) there instead of taking the costly shuttle bus and the swimming in the crocodile free river is just pure bliss in the rather hot climate.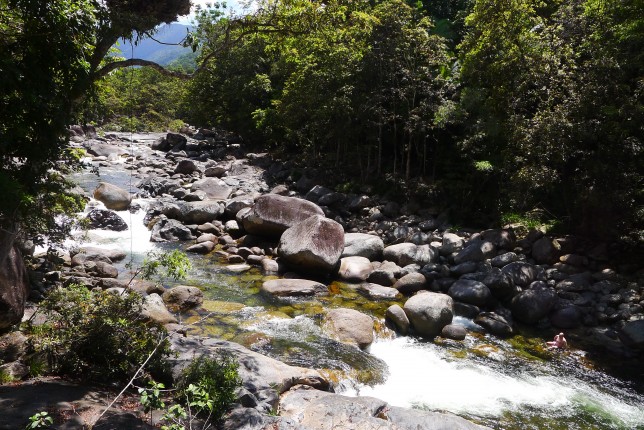 On the following day we cycled further into the Daintree National Park. The small road was just beautiful although I did not appreciate the hills in the beginning to much. Once again I was surprised how much influence my mindset has on my motivation. After the exhausting cycling in the tablelands I was set on relaxing and not pushing myself too much. So there were a few silent and not so silent outbursts on my part until we conquered this not at all big hill.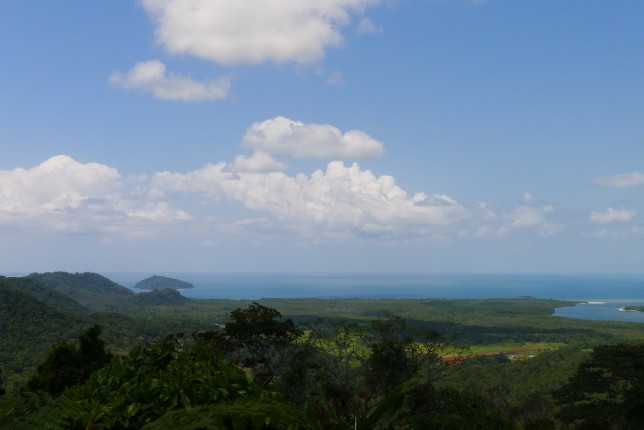 We cycled along tea fields…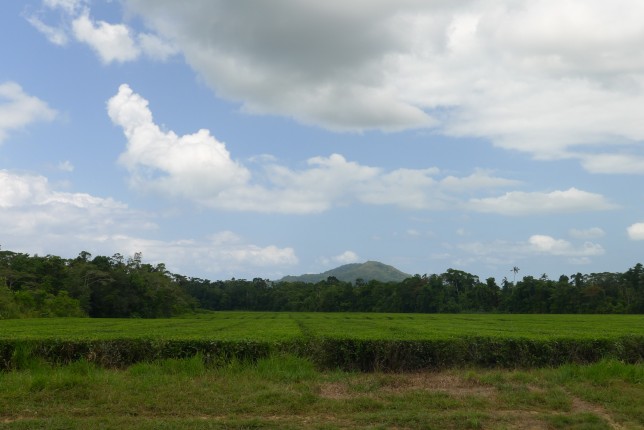 beautiful beaches…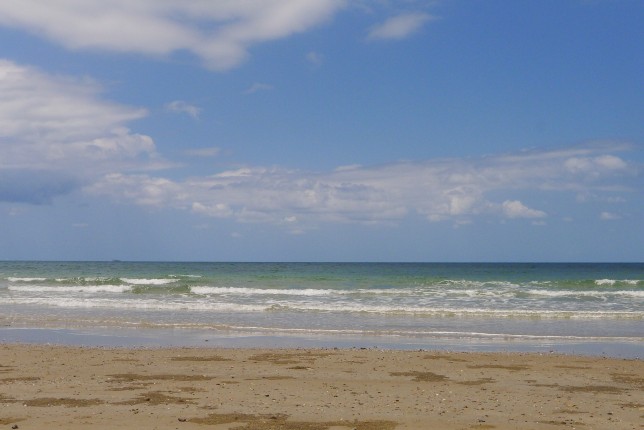 and did another small hike in an all green forest.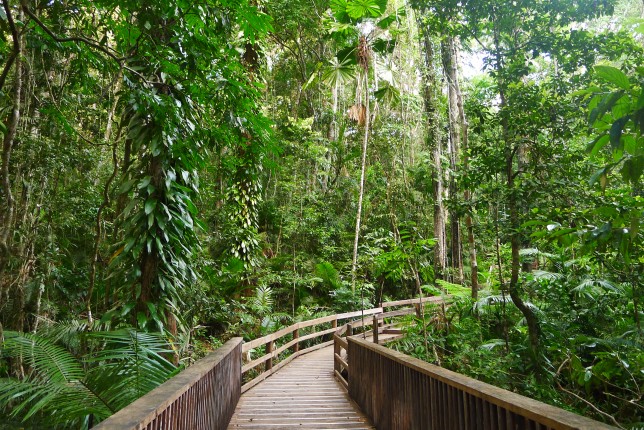 And then, very unceremoniously, our last day of cycling in Australia was here. Cairns was less than 100km away and in a few days we were going to take a flight towards Bali, Indonesia. Only a bit more cycling, lots of stuff to organize and a few rest days separated us from the next leg of our trip.
We started the day with an awesome breakfast with the most beautiful scenery…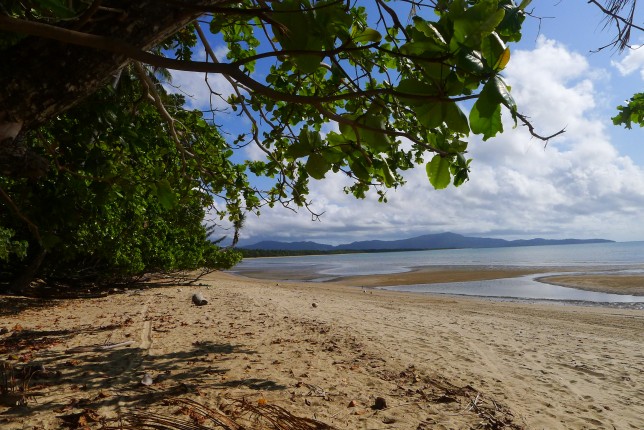 and then followed the road to Cairns along the beach:
Visually the road was absolutely stunning with the glittering ocean on the right hand side…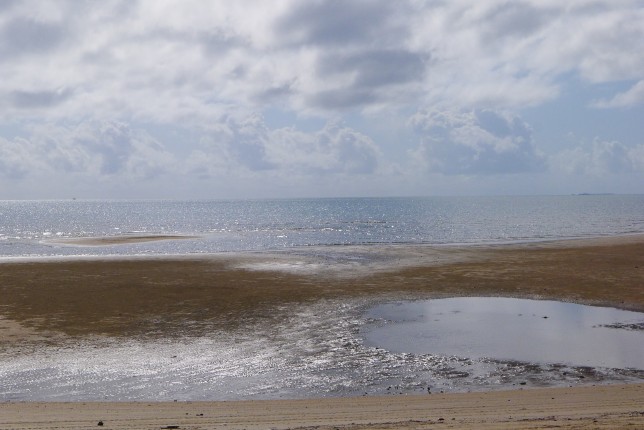 and the mountains on the left: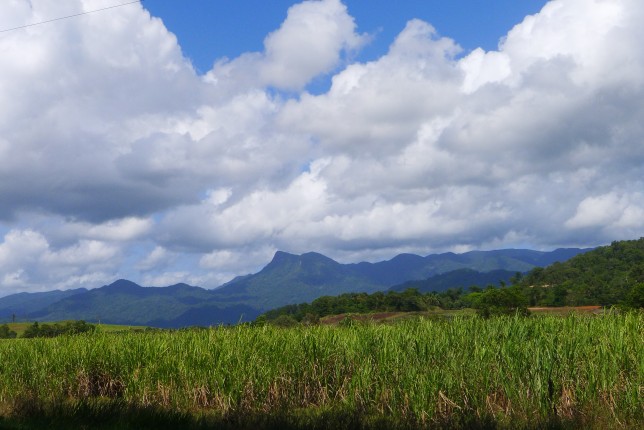 Sadly we got our fair share of the all to common road rage towards cyclists in Australia today. Since we started our trip in Sydney we've gotten yelled at at least once a day with very few exceptions. Mostly for nothing at all meaning us riding on the shoulder of the road and the driver in question not even having to slow down for a second. Sometimes because the driver had to use the breaks for two seconds because there was oncoming traffic and he/she couldn't overtake us right away.
Today was worse than usual. The road was quite narrow and curvy and we encountered lots of speeding drivers overtaking us with little space between us and them. And we got quite a few curses I won't repeat here. While it is true that most people are friendly and we usually get a lot of thumbs up and smiles on the bikes it still leaves me wondering why people here sometimes get so aggressive when they see cyclists on the road. I don't think this is a phenomena exclusive to Australia but we sure faced it a lot here.
The slogan "We are traffic" of Critical Masses all over the world comes to mind. Cyclists should not be seen as an obstacle but rather as part of traffic. Lots of Australians we talked to actually prefer mountain biking instead of commuting or cycle touring in their own country for safety reasons. So reclaiming the roads and seeing bicycles as part of traffic is important and maybe travelling by bicycle is a small part helping that goal.
And so here we are, just before Cairns, as we find heaps of wild mangoes right next to the street – a wonderful gift I couldn't appreciate more! And a little later we arrive tired but very happy at the Canfield's house in Cairns. More on that later!