December 2015
Finally, after almost two weeks and a course of antibiotics I started to feel better. Then of course Torsten felt sick for a couple of days but in the end we did manage to leave Tawau at some point. It was nice taking it slow for a while and I enjoyed getting to know the town. A few times we've been invited for food or drinks just out of the blue but overall people were a bit more reserved (while still very friendly) than over the border in Indonesia. It was relaxing not to be in the centre of attention all the time. But now we both felt antsy to get going.
We had decided to go inland once more to avoid the busier and more touristy coastal road. And thus the Kalabakan road awaited us and would lead us over many a hills and show us what cycling in the jungle is really like. There would be some towns in the beginning but then a  rather empty stretch of more than 100k. We didn't have anything like that since Australia! On the first day we took it slow as Torsten was still recovering and cycled a mere 30k to Tawau Hills National Park. A lot of the National Parks in Borneo, Malaysia, offer accommodation and camping space, so we planned on hiking a little bit and camping for the night.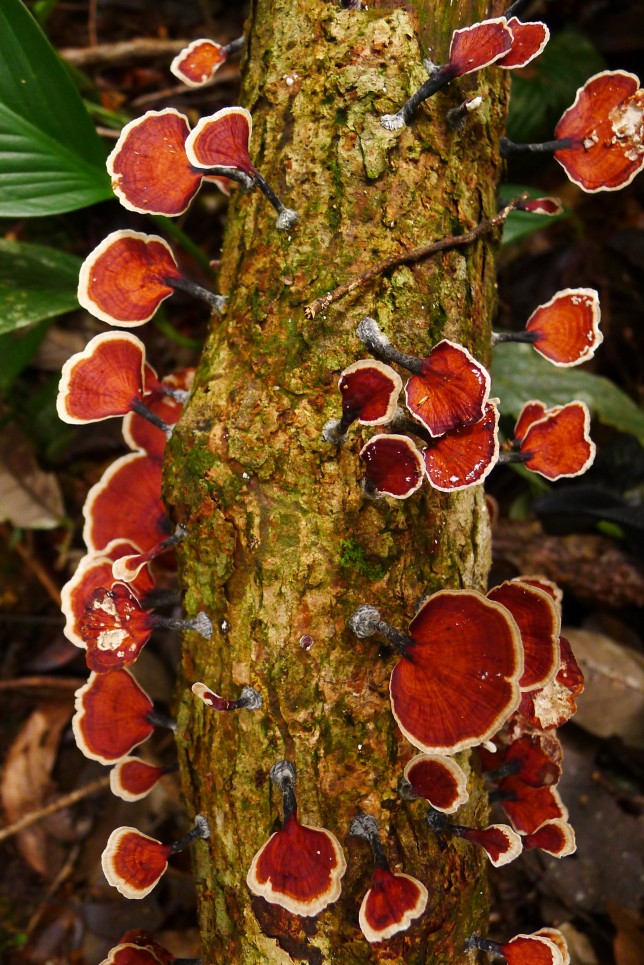 When we first got there we were joined by about 200 locals enjoying the picnic area for their Sunday picnic. But as soon as we started hiking it thinned out quickly. We discovered mosses and ferns and huge ants…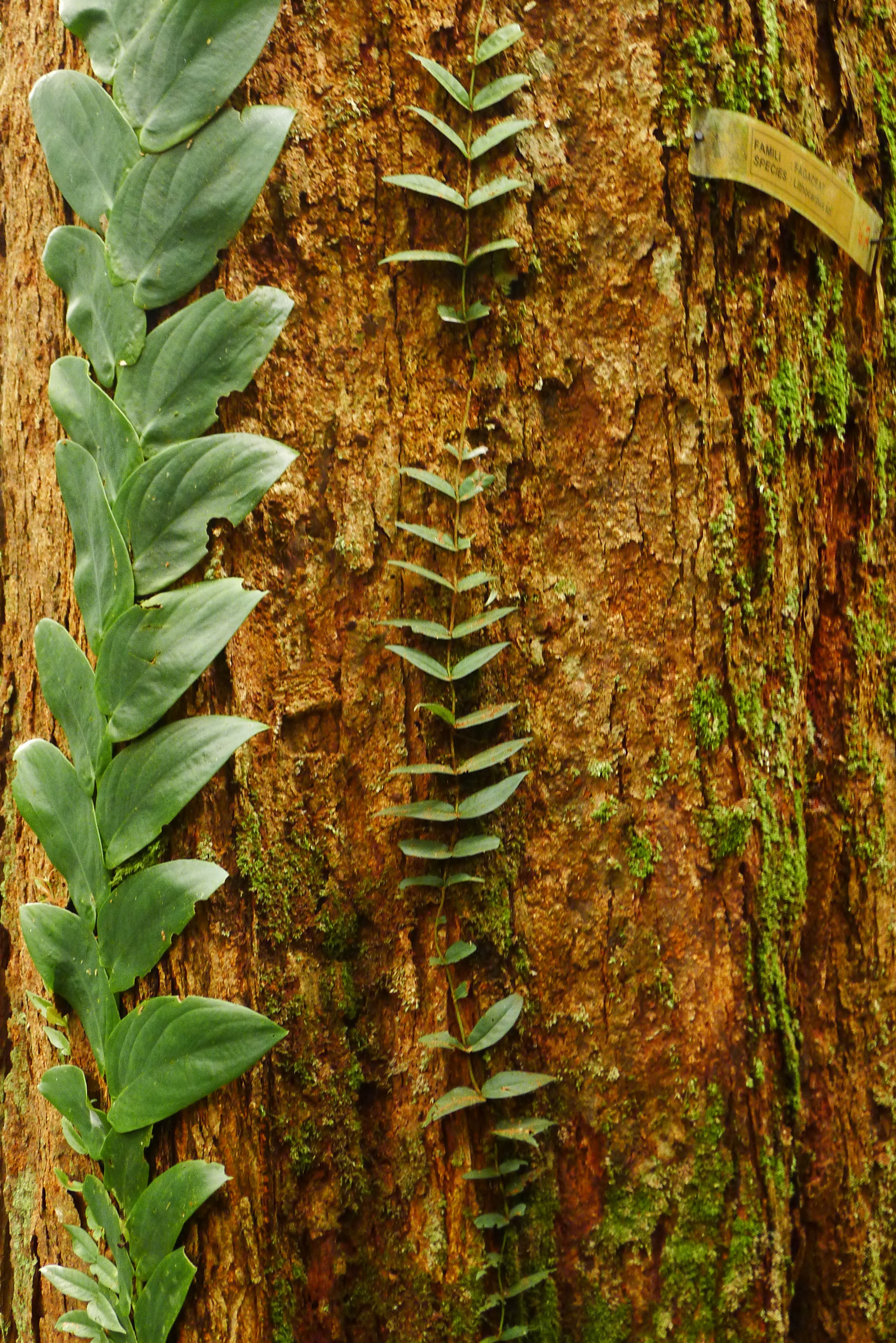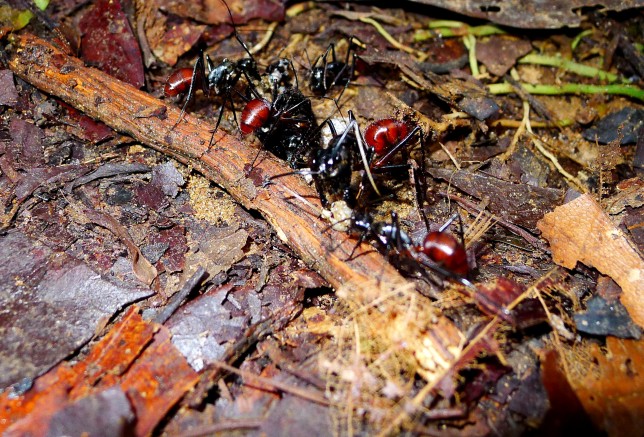 We got surprised by a heavy rainstorm and were soaked in the matter of a few minutes. For the first time in weeks we actually felt a bit cold and warmed up in these warm springs: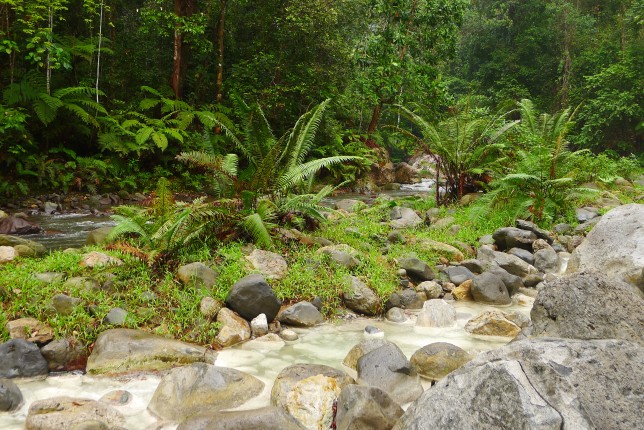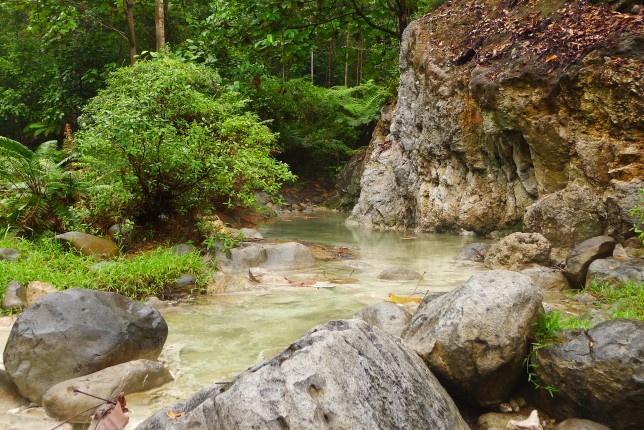 And then it was just s short hike back to our camp site in a soccer field: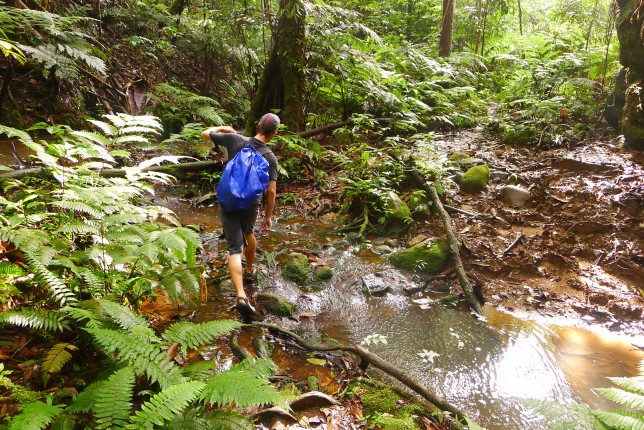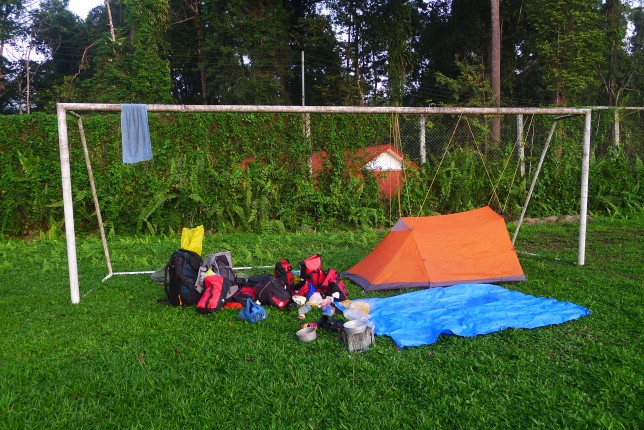 The next morning marked the first of many to come where we actually managed to start cycling with the first light. We had planned on doing that for a long time as it kept getting hotter. Now in Borneo the humidity was also a major factor which finally made us getting up earlier. And oh, cycling in the morning hours was pure bliss! Climbing hills was easy and I loved the breeze of cool air while coasting downhill.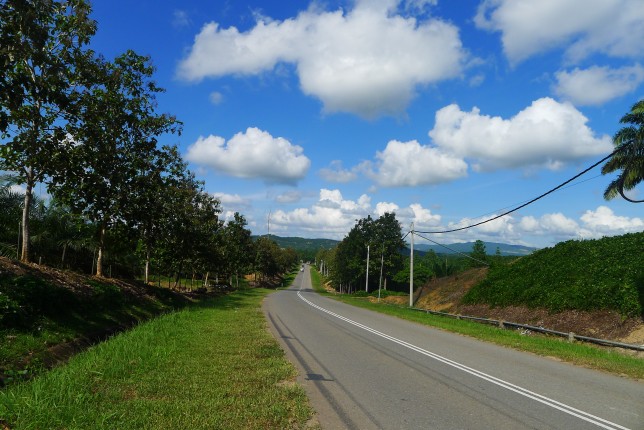 We were in for some wildlife surprises today: It started with a beautiful moth on the toilet building of our camp site…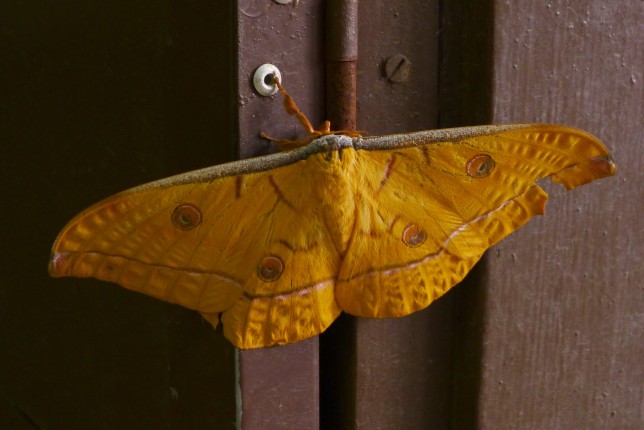 …and right after this sign…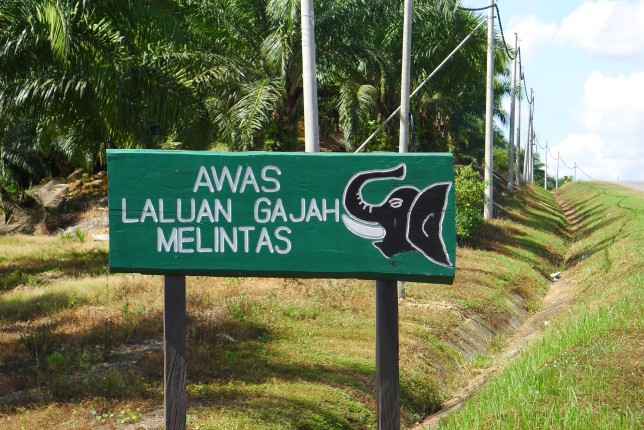 …Torsten actually spotted an elephant in a plantation! I've read that they move into the palm oil plantations as their natural forest habitat gets smaller and smaller with all the logging. Still, it was pretty amazing seeing one in the "wild" without a zoo or anything. Over a few minutes we had a cloud of about 20 locals around us who stopped their cars to see what we were looking at. So I guess elephant sightings are not that common here!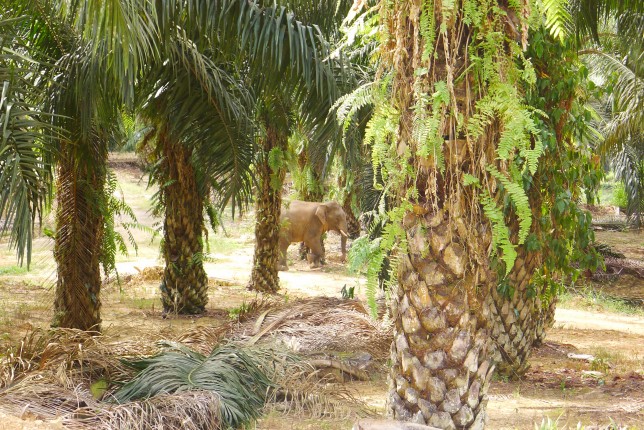 For the rest of the day we had beautiful views over hilly plantation land accompanied by comfortable roads.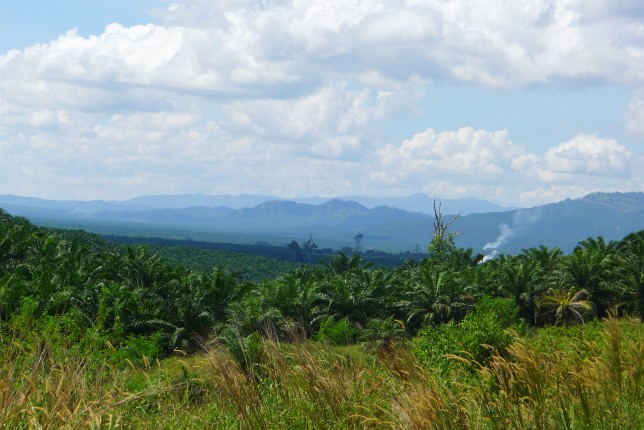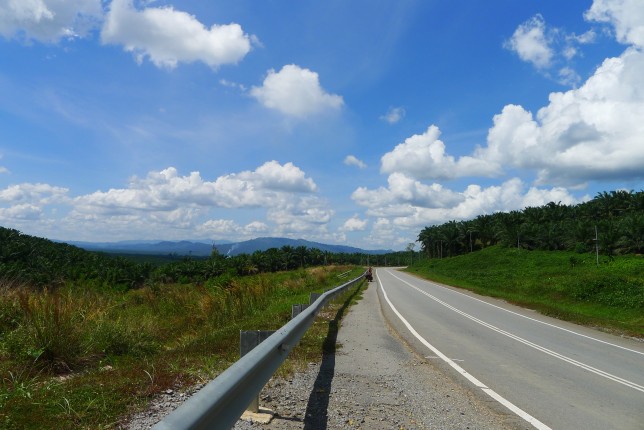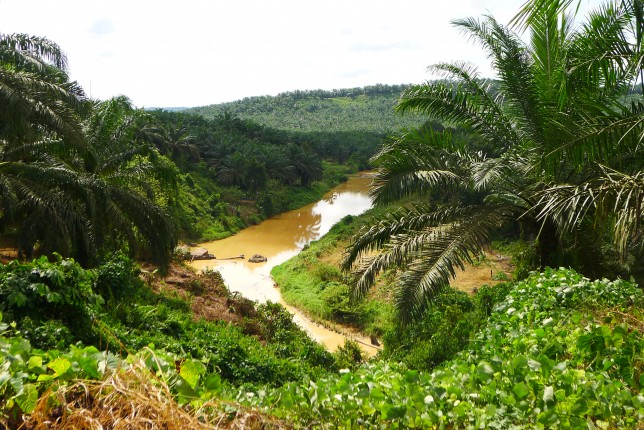 The cycling got a bit more challenging though. While we enjoyed that breeze in the morning hours there was absolutely no wind later. Only the scorching sun and high humidity. So this is when we really got to know the most important feature of the Kalabakan Road: Apart from one 20k stretch some time in the end it was just never flat. And by that I really mean n e v e r. It was Up and Down or Up Up Down or Up Up Up Up Down Down Up Down Up Up. You get the picture.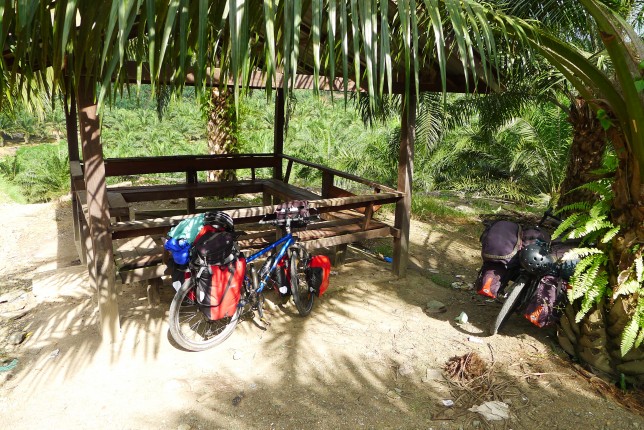 During noon we found a little pagoda and I took a long nap. The heat exhausts my body in a very special way.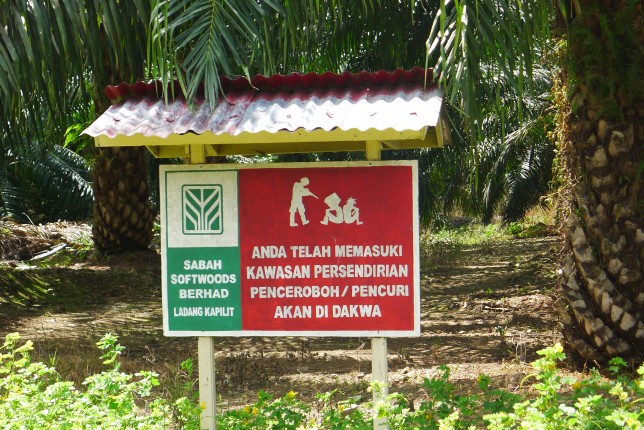 After that we cycled on, wondered about crass signs in palm oil plantations and finally found a place to camp at the Rest House in Kalabakan. It was a long day.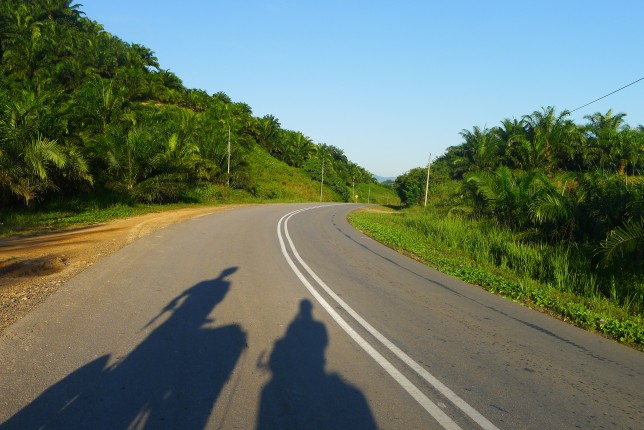 Nevertheless we got up early the next day and cycled on. The morning hours were beautiful again and the morning sun spread a warm light around us.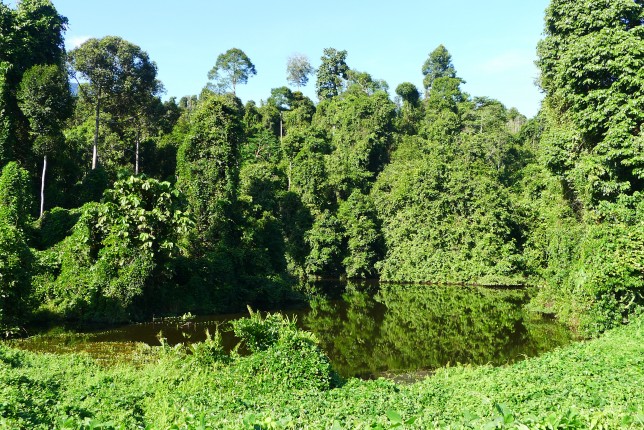 Today we left the plantations and finally cycled through forest. There was more shade on the road which felt great. Also we noticed a big difference sound wise. There seems to be a lot more insect life in the forest. Also a LOT of monkeys but they are usually too far away to catch with my little camera.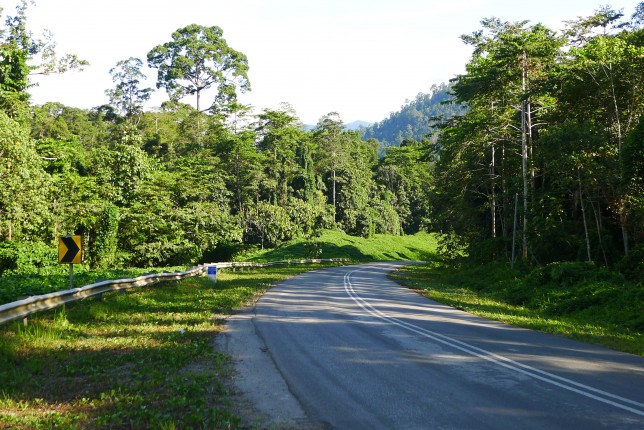 When it got hot we found a stream which made a perfect picnic place. And it was even deep enough to swim in and thus marked about the only time of day when I felt entirely comfortable.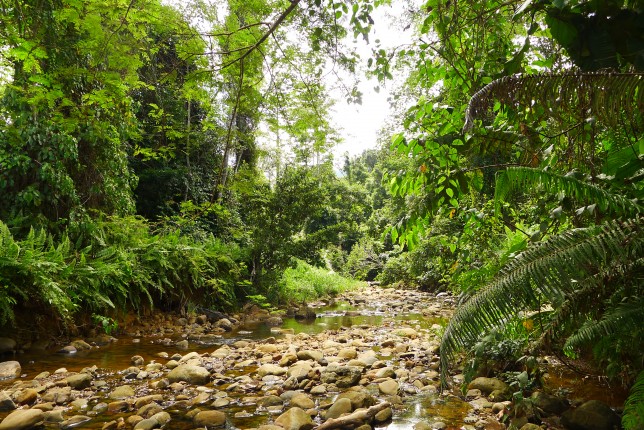 After that we basically cycled up and down hills in the jungle. The 'jungle' triggers these wild and exotic images and yes, that may partly be true. The forest around us was a 100 shades of green, lush and overgrown. It was just beautiful. Often we would hear a swooshing sound and then see a monkey flying through the trees. We listened to birds in the distance and the loud singing of cicadas. Of course the forest is so dense that you wouldn't see an elephant 5 metres away from you as there is too much green in the way. So our elephant spotting yesterday was quite lucky indeed.
After Kalabakan we barely encountered any traffic except for the palm oil and logging trucks with the very friendly drivers. That was fortunate as the gradients kept getting steeper today and we had a lot of 10+% ones. So we could mostly make use of the whole road and cycle up in switchbacks. It was still over the top exhausting. The uphills were long and steep and I usually had to stop a few times to rest and give my body a break. Hopefully there would be a patch of shade to bring my body temperature down a bit but if not I would just stand in the scorching sun and try to catch my breath.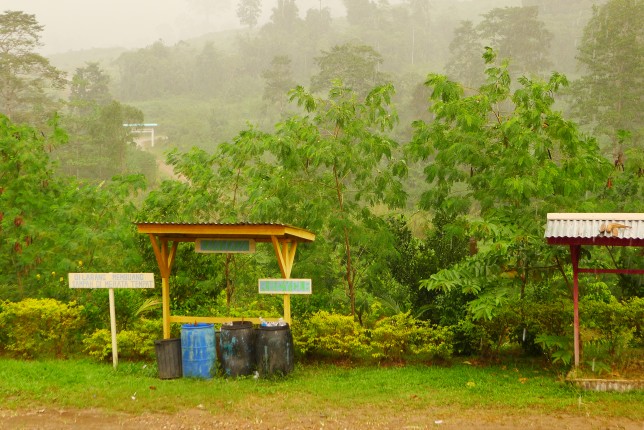 Keeping the spirit high under these conditions was quite the task. But then we were once again rewarded in the highest possible way: When we had researched the road we found an Organic Farm in the middle of nowhere and thought we would just ask to camp there. And that's what we did. The manager was very friendly and even offered us a room to stay in.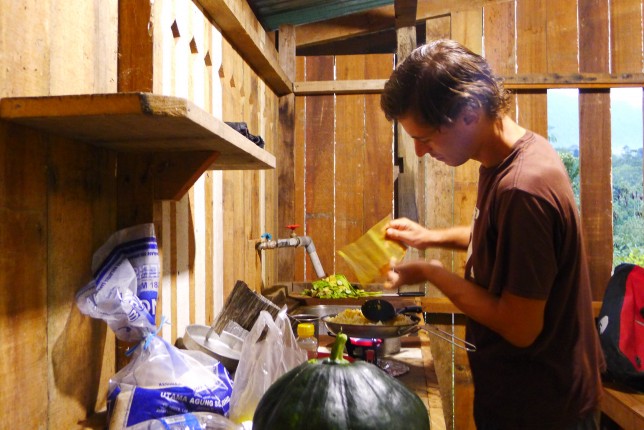 We cooked some dinner and couldn't have been happier about having a place to stay when the heaviest rain started 10 minutes after we arrived. We talked away the evening with Tony, the manager, found out more about the farm and were then invited to stay another day.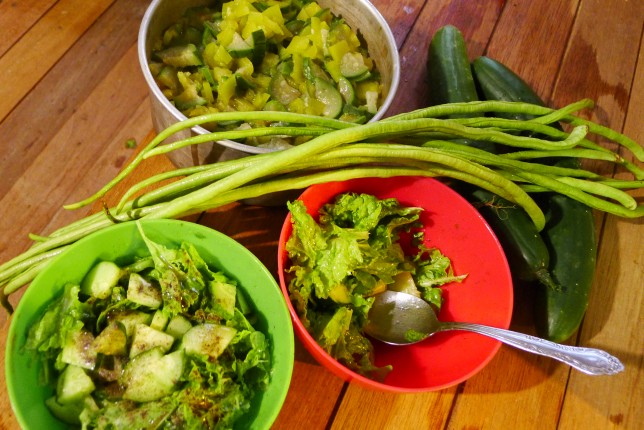 In exchange for some help we got rice and fresh organic vegetables and thus had our first lettuce-cucumber salad in months! It's absolutely not that I don't like local food, but sometimes a little taste from home goes a long way.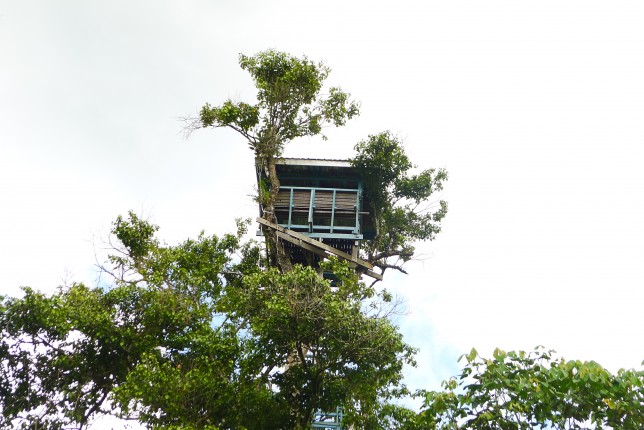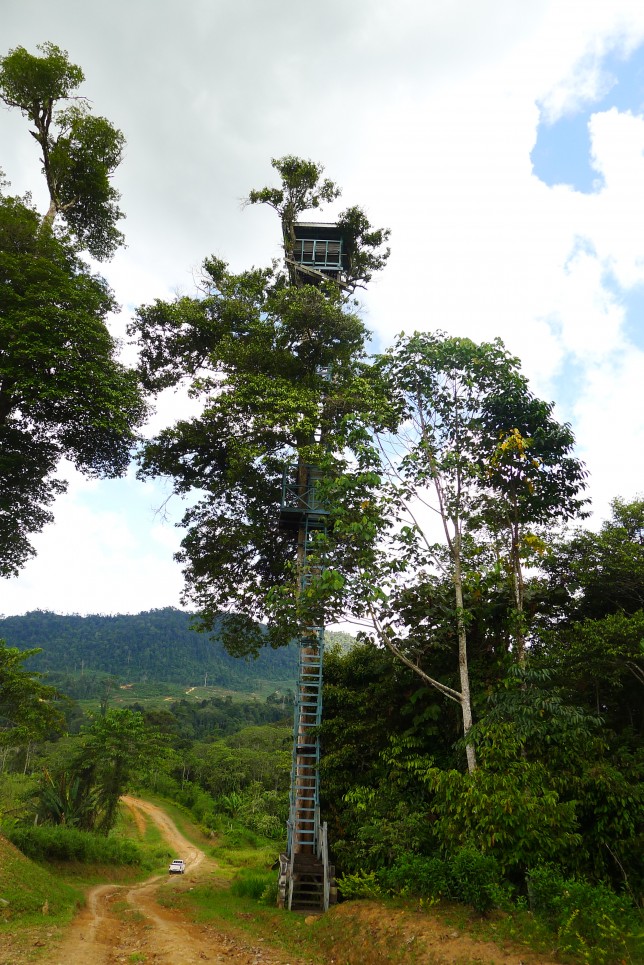 We climbed up a fantastic tree house about 20 metres high and marvelled about the built in toilet and the fantastic views over the farm from up there.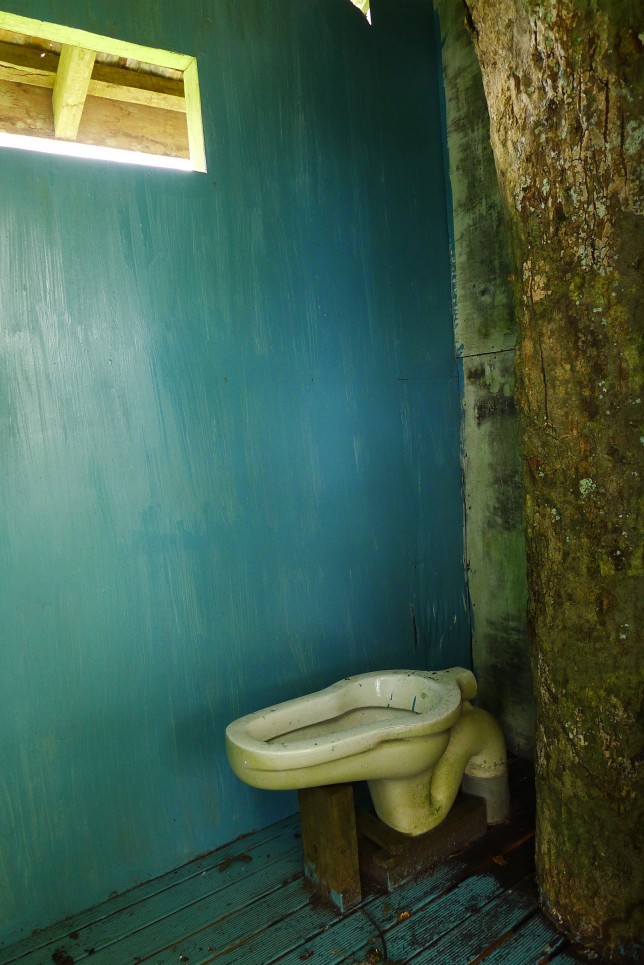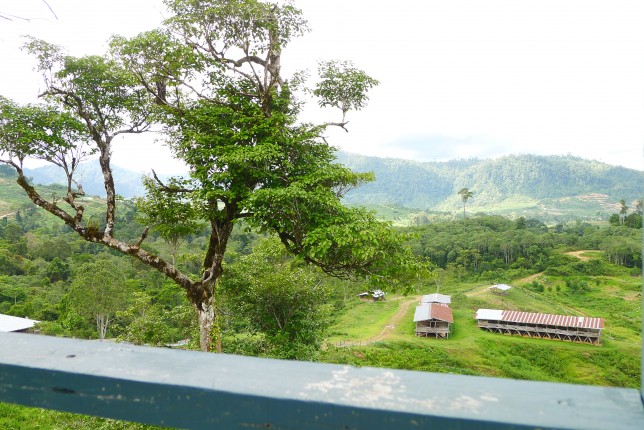 We helped getting rid of weeds for a few hours and I was absolutely humbled by the hard work and the people doing it every day.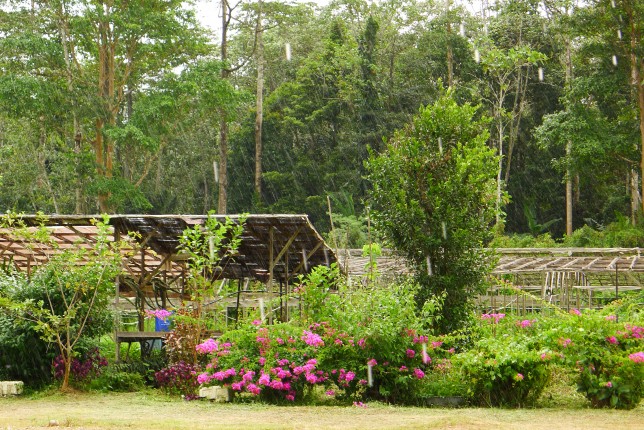 Once again I know deep down that all the exhausting cycling is worth it when we discover places like these.
Oh and look who said hi! A bit scary…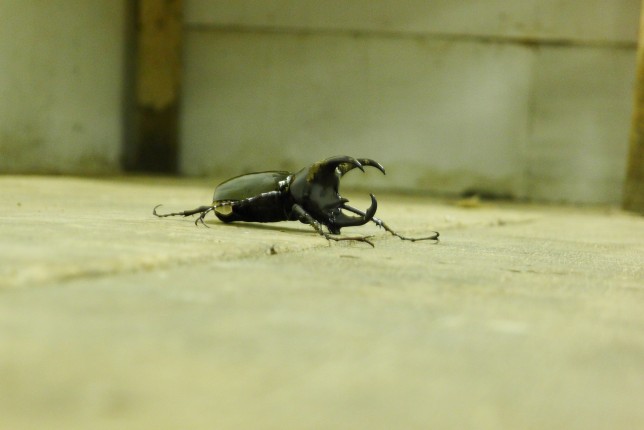 On the next day we had about 90k to cycle until we would get to a small town with hopefully a place to camp. We got up early, had breakfast and cycled off. and cycled through the muddy drive (from all that heavy rain) up to the main road  and almost instantly got stuck. The 500m to the main road took us about 15 minutes and then we needed about 30 minutes to get all the mud off the tyres and brakes. And there we were, once again drenched in sweat.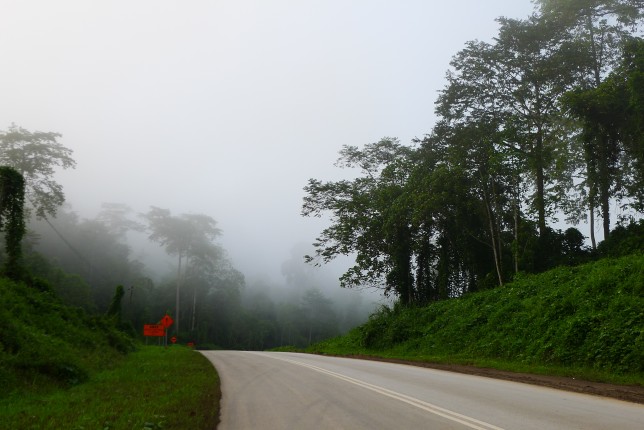 So after that slow start we finally cycled off when it already got hot.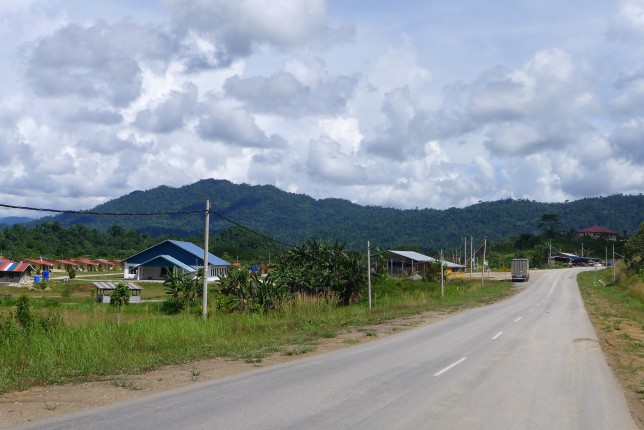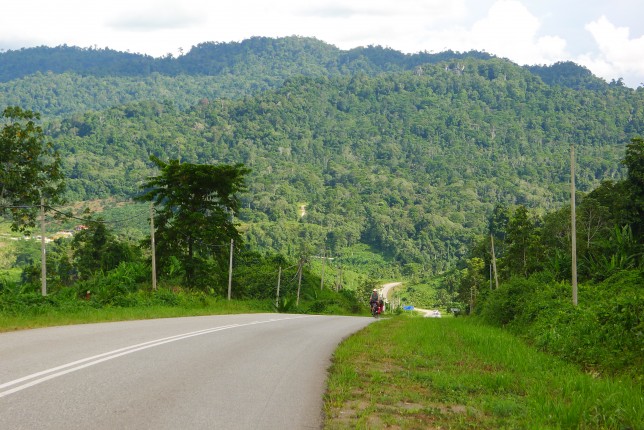 With the never ending sun and many steep hills we got to Sapulut after about 8 hours later. With my body shaking from exhaustion the food in the restaurant never tasted so good and the coffees were amazing. We sat there for about an hour and relaxed before we got on to find a place to sleep. Being as tired as I was, I just wanted to find a bit of grass ANYWHERE and crash. Preferably with a bit of water around to wash. So we asked around but weren't really that successful. Then one of the locals suggested we try asking at the nearby church.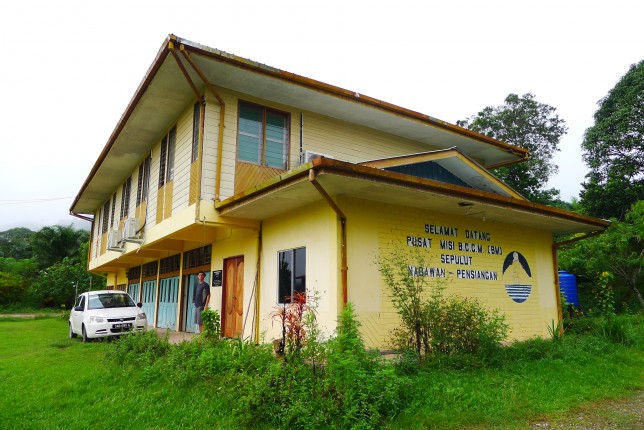 We asked how nearby exactly and he said just down the road, maybe about 10 minutes with the bicycle. Do you know about that thing how never to trust motorists when it comes to distances and tiny things like elevation? Yep, that's a thing.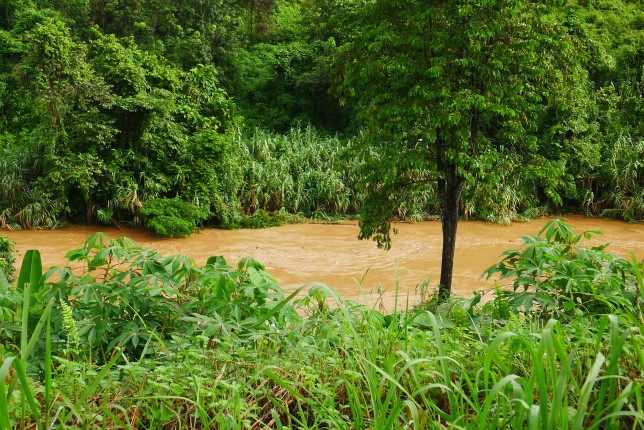 Long story short, the very helpful local showed us the way on his scooter and soon we turned away from the main road, cycled down all the way to the river valley on a gravel road (all of which we would have to cycle up again tomorrow).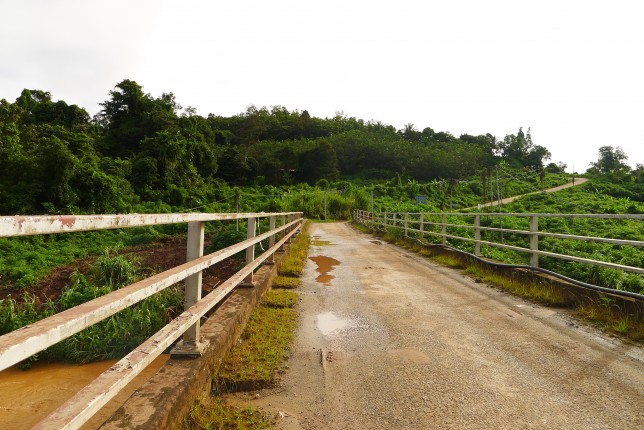 And that's when I completely lost it. Somewhere in my mind I was aware of the fact that the guy was being nice and going out of his way to help us. But I was so utterly exhausted that I didn't care about that at all any more. As we kept going downhill and then over a few more hills along the bumpy road I started to cry and curse and simply wanted to quit right there and then. When some dogs started to chase after me I rethought that option but overall it wasn't my finest hour.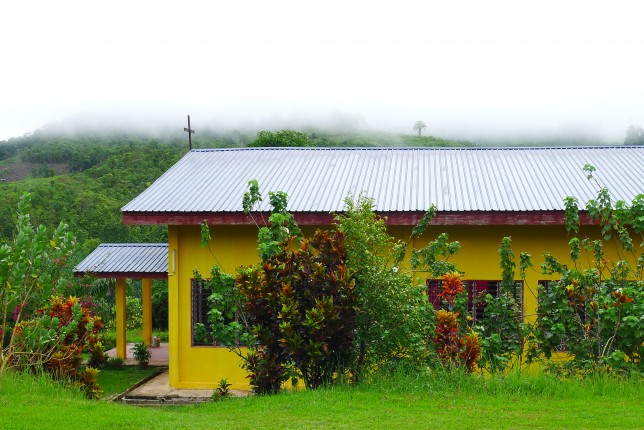 When we finally got to the church (me after pushing up a few hills) the nicest family was – of course – waiting for us and welcomed us into their home. It was incredible. They must have noticed my lack of composure but it didn't matter. They were so absolutely kind, warm and welcoming, showed us to a room, to the kitchen and the bathrooms. We talked a little bit, made plans for breakfast and then they left us to relax. When the rain started and thunder growled in the distance I slowly started to regain my composure and thought to myself that this couldn't have been more perfect. Somehow it always turns out well in the end.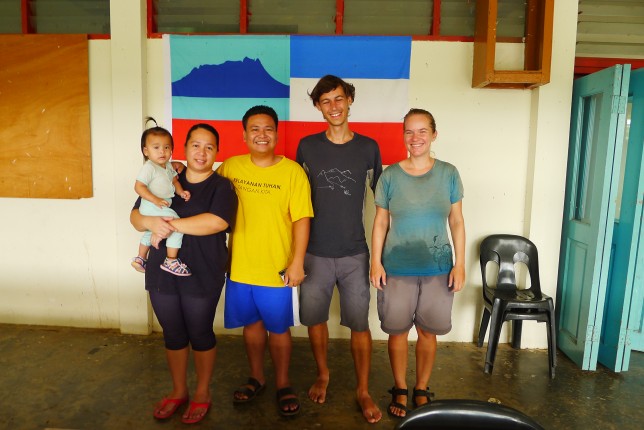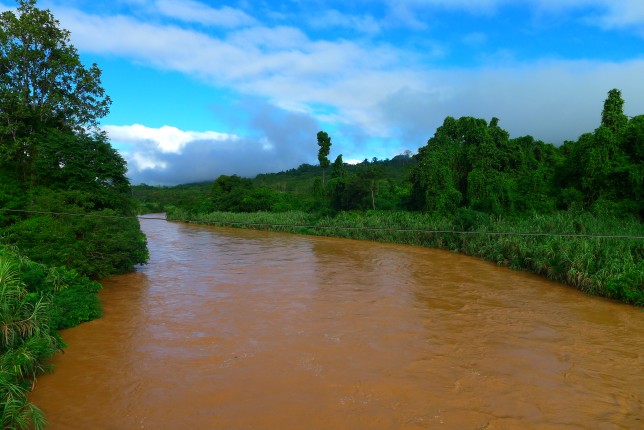 The next two days were slow ones. Before leaving we had a beautiful breakfast with the family, got to know each other a little and in the end I couldn't thank them enough. As they were going to drive the road up to the market anyway they took our luggage to the main road. That meant that cycling uphill was fun and didn't take long at all. We looked around at the market, got a few snacks and said good-bye.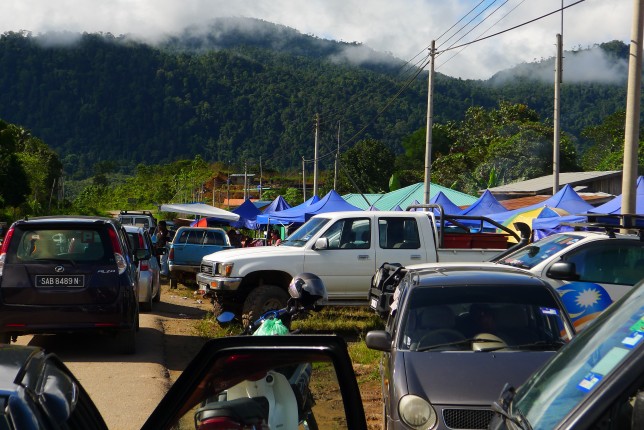 Over the next two days we didn't cycle as much, had longer breaks and I found it increasingly hard to keep up the motivation.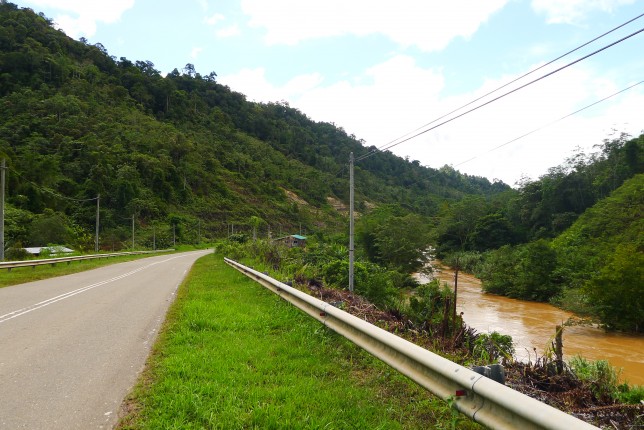 There was one 20k flat stretch but apart from that another hill always came up and I knew that it was time for rest.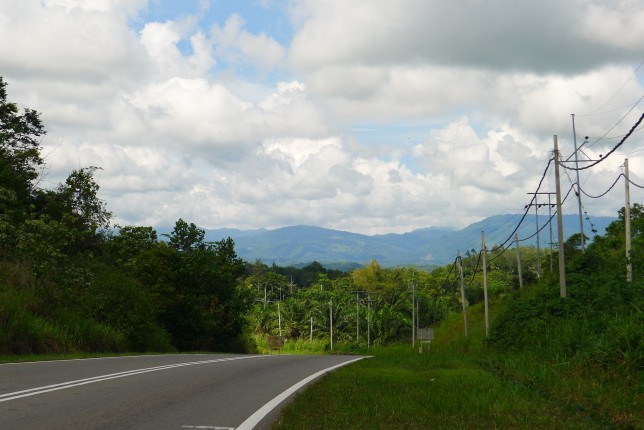 In addition to that Torsten's achilles tendon started to hurt which is why we contacted our warmshowers host in Tenom. We planned on cycling the last 40k to Tenom very slowly or hitching a lift but when she offered to come get us in her pickup truck. And when I saw all the remaining hills we still would have had to cover I didn't mind one bit.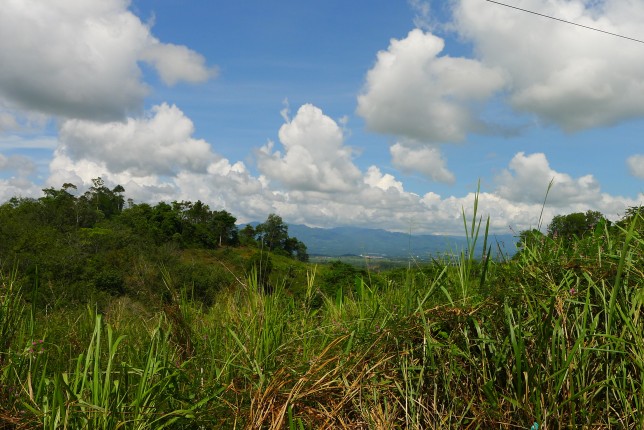 So cycling the Kalabakan road was again a compilation of the most diverse things and feelings: Bliss in the morning, beautiful nature, friendly and helpful people but also relentless heat and humidity, steep gradients and an overall feeling of exhaustion. What stays is once more that someone will always be there when you need it the most. And for that I am so so grateful.