As Indonesia has a lot of islands and we want to explore at least some of them, we found ourselves wanting to extend our 30day Visa On Arrival. On the net we found information that Mataram on Lombok is an easy place to do that and in general we have to agree.
Here's how we did it:
We wake up early and are at the Kantor Immigrasi Mataram when it opens at 8 to beat the crowd. We wake up relatively early and are at the Kantor Immigrasi Mataram at about 8:20am with one other person in the room for visa extensions.
A nice lady gives us some forms to fill out (in a red folder) and tells us which copies she needs. Theoretically that would be copies of our passport (the passport and the visa page) and of your return ticket out of Indonesia. We tell her that we travel by bicycle and want to take a PELNI boat out of Indonesia. She then tells us that we can also hand in a copy of our used inward flight ticket to Indonesia instead of an outward ticket. I don't really understand that but am far from questioning this easy solution to our problem. No fake flight bookings needed, yay!
We leave the building and walk straight to the copy shop. We leave the building, look confused and the guy responsible for the car park walks us to copy shop nr. 1 to copy our passport pages and to copy shop nr. 2 (closed) nr. 3 to print our ticket off the internet (doesn't work) phone via usb.
As we are well prepared with our own pens we sit down in a coffee shop to fill out our forms. We go back to the Kantor Immigrasi, use their pens and fill out our forms which is easy enough.
We hand in our forms, passport and copies to another nice lady. She tells us to write our name and passport information on the red folder as well and we do that. Then she gives us a number and tells us to wait until they call our number. In the meantime they check if everything is okay with your forms.
We wait about 15 minutes, get called and are handed a receipt with our information on it. We are told by a nice man to be back on Tuesday (counting from Friday this means two working days) to collect our passports with the visa extensions.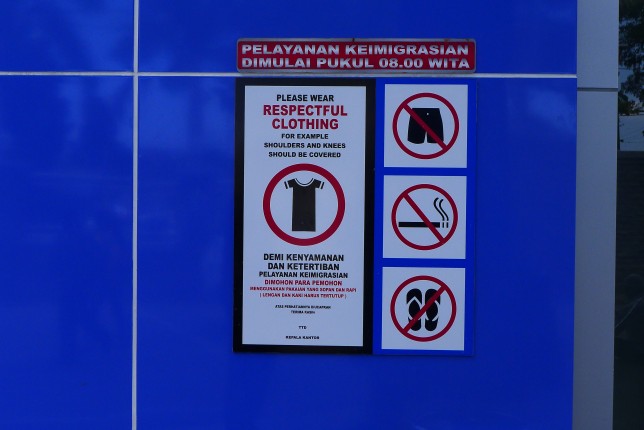 Due to our snorkelling trip we come back 3 days later and get our passports back. and find out that today is a public holiday and everything is closed.
So we come back the next day and pick up both our passports with the visa extensions. I can pick up and pay for my visa extension,  but Torsten is told that there is a problem with a supposed overstay from an earlier visit to Indonesia. It is not really an overstay as can be gathered from the passport stamps, and everyone understands that, but the mistake is in the system and so they can't accept any payment for the visa extension into that same system. The again – very nice – guy tells us that he is unsure how long it will take to erase the supposed overstay out of the system as it has to go through their Jakarta office. Maybe tomorrow. Also worth mentioning we are not the only ones – this apparently happens to a lot of people – entering and leaving the country from different places can overwhelm their system.
So we come back the day after only to find out that nothing has changed. The same man tells us that he can return our passport and we may try again in Sumbawa Besar or wherever we go next. If we choose to wait here he cannot tell us how long it might take. As restarting the extension process in another place would mean more waiting time (at least 2 working days!) we choose to stick it out and wait right there in the Kantor Immigrasi.
And what do you know, after about two hours, just before their lunch break, Torsten gets called and is able to pay for his visa extension and gets his stamp. It seems that persistent waiting might have done the trick. Probably an extra phone call is less work than getting annoyed foreigners out of the office…
As we compare our stamps at home we notice that I only got 29 days of extension while Torsten got the full 30 days. It's too late for us to do something about that but for everyone else: Better check while still in the office!
There is also photo and finger print taking involved, but they'll explain it to you there and then and it is all done at the same office;)
So all in all I'd say that getting a visa extension in Mataram was quite easy. The people working in the office were really nice and explained everything. Also we didn't need any flight ticket out of Indonesia. Torsten's problem with the supposed overstay was a bit of a hickup but in hindsight we should have just waited the first time when we were told to come back tomorrow. I hope this information helps!