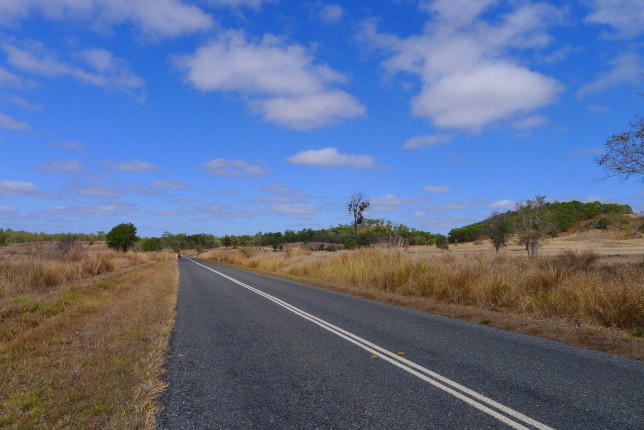 Ever eager to get away from highways and traffic we took our future host Peter's recommendation to cycle the old Marlborough-Sarina Road towards Mackay.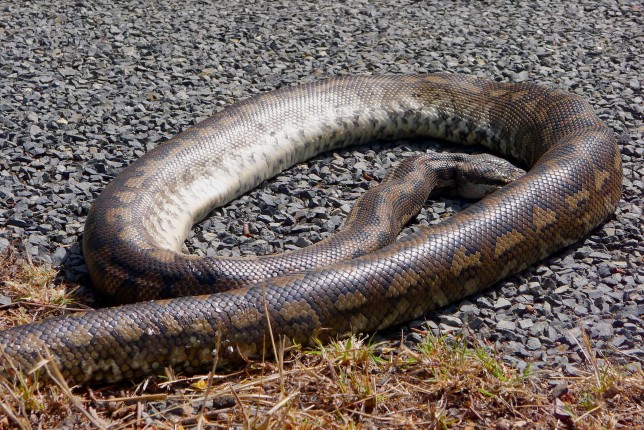 Over the course of three days we would cycle along the old highway, meet few cars but many kangaroos (which are always too quick for pictures though) and a snake and experience sun, lots of hills, rather strong headwinds and meet Bruce. And in the middle I would get a lesson in self motivation.
Setting out, we carried way too much food as there was only a small and expensive store in the middle of the highway. And as you know I'm a bit crazy when it comes to food.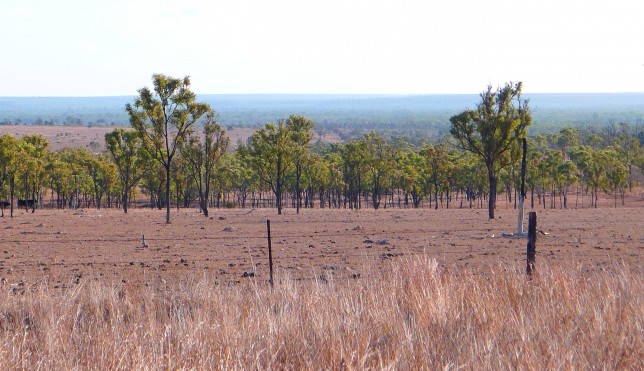 Still the first day was enjoyable, albeit the terrain started to get drier and we couldn't find any of those waterholes Peter described to us. It hadn't rained for a long time in this area. There was little shade and the sun was really strong. So while we were taking a little break someone stopped to have a chat and that's how me met Bruce.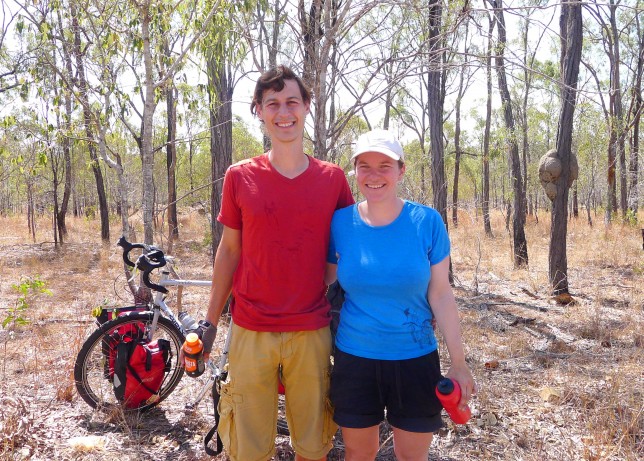 On his way to a work meeting he preferred the quiet road as well. And we couldn't believe our luck when he opened his esky and gave us an iced coffee! Seriously, nothing is more amazing than an iced drink on a hot day like that! He even promised to meet up with us again the next day.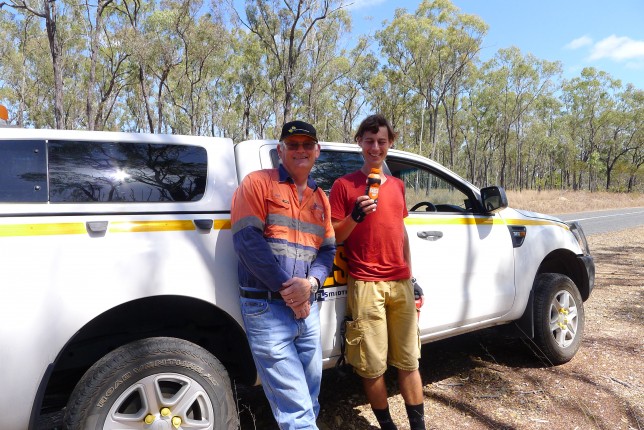 In the evening we made it to Clarke Creek, a small settlement in the middle of large pastures. The school principal allowed us to set up camp in the school yard – how very cool!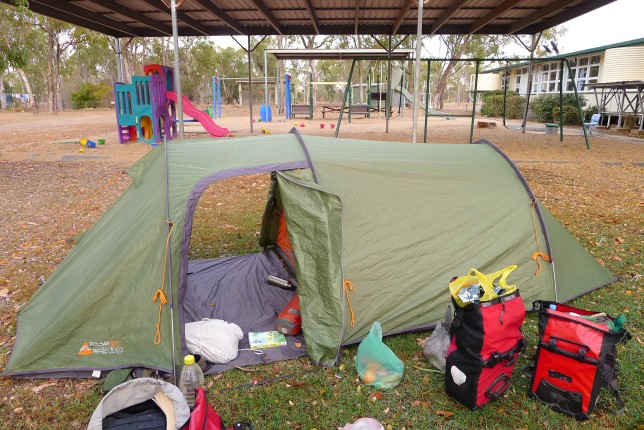 The next day we tried to get up early to avoid the midday heat. Well, we left at 8am, that is something for us ;). The morning cycling was quite enjoyable as it wasn't that hot yet. As the day progressed it got more and more exhausting though.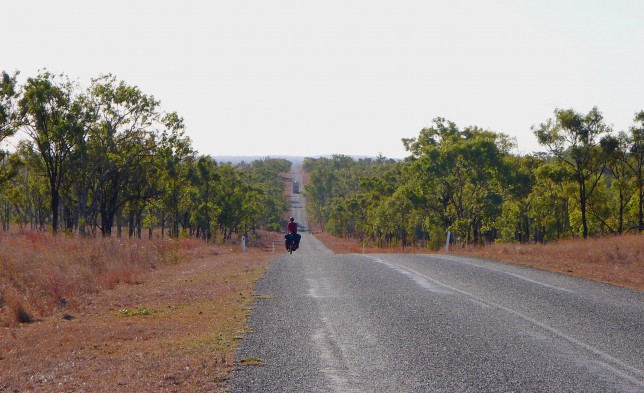 Somehow the mix of being really away from people, from water and constantly fighting with hills and headwinds in combination under the relentless sun got to me. I was grumpy, did not want to cycle anymore and let Torsten know how beat I was. Repeatedly.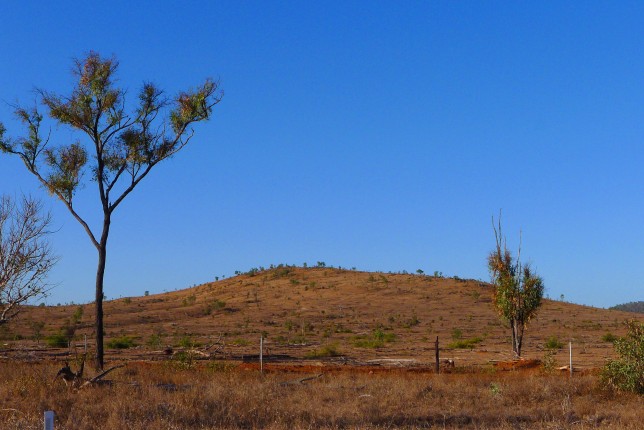 It was really bad until I realized something. It was not my body that couldn't cope. Quite contrary to the beginning of this trip when I often had to stop during hills to rest my legs, my body wasn't tired. Sure, the sun was exhausting but my legs were doing fine. It was me, my mind, my motivation that was lacking energy. And as all of Torsten's attempts to better my mood weren't really successfull, I realized that I will have to deal with self motivation in order to make this trip an enjoyable one.
And so I tried different strategies which I don't remember in too much detail now. What had probably the most effect was the realization itself and thus the separation of my feelings from the conclusion. Before I felt bad because I thought I'm tired and this is too exhausting for my body and that's why I can't cycle any more. Later I was still tired from the sun but my muscles were fine and I realized I had to find ways to keep myself occupied. Thinking good thoughts rather than all the bad ones (this sucks, this is boring, I don't want to). Usually this isn't that big of a problem but with the scenery not changing much and hill after hill and constant headwinds it can get boring and frustrating.
And then we met Bruce again who gave us chilled yoghurt (oh, so good!!) and isotonic drinks out of the freezer. Thank you so much, Bruce!!
In the evening, after a long hard day, we met two fellow campers who were on the lookout for rare birds and we enjoyed talking, laughing and sharing stories. And I realized one more thing. People just make everything so much better. And my lack of motivation had a lot to do with being away from people, too. As beautiful as being alone in nature is, sharing that with someone and connecting with people really is a gift.