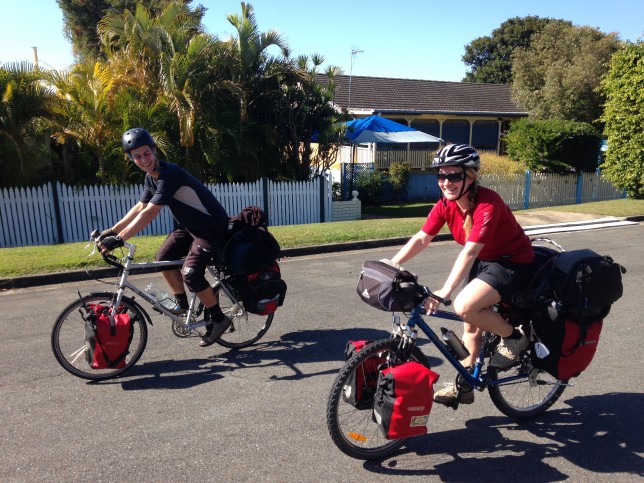 Hi, this is Lisi and Torsten. We're on the road since July and September 2014. Our first stop was beautiful New Zealand with some work, more travelling and lots and lots of hiking.
In July 2015 we set off to Australia to start our way home. As we want to experience this journey as much as we can we chose the bicycle as mode of transport. Being outside a lot, going slowly and having lots of encounters on the road – these are just some of the reasons why.
Lisi (who is mostly writing this blog):
This journey is not a vacation from 'normal life' whatever that means. It's life, maybe a little different. I want to experience more of the world, more of its people. I want to ask questions, listen to answers and subject myself to change.
I want to experience nature and the different relationships of humankind with nature. I need to know more about the problems that we cause to nature and what that means for different people in different places.
What I think about: different styles and ideas of living, alternative concepts of development and (de)growth, discrimination and prejudices. Very important question: What is (supposed to be) 'normal'?
Deutsch:
Hallo von Lisi und Torsten! Wir sind seit Juli und September 2014 unterwegs und haben zuerst fast ein Jahr im wunderschoenen Neuseeland verbracht. Ein bisschen haben wir dort gearbeitet, sind mehr gereist und waren ganz viel wandern.
Im Juli 2015 haben wir uns dann von Australien aus auf den Weg nach Hause gemacht. Da wir diese Reise in ihrer Laenge wahrnehmen moechten, haben wir das Fahrrad als Transportmittel gewaehlt. Viel draussen sein, langsam unterwegs sein und viele Begegnungen haben – das sind nur ein paar Gruende dafuer.
Lisi (die hauptsaechlich diesen Blog schreibt):
Diese Reise ist fuer mich keine Auszeit von meinem 'normalen' Leben, ich sehe sie vielmehr als eine Um- und Neugestaltung. Ich moechte mehr von der Welt und ihren Menschen erfahren, ich will fuer mich selbst und andere Fragen aufwerfen und ueber Antworten diskutieren.
Ich moechte Natur erleben und damit auch die verschiedenen Beziehungen, die Menschen zu Natur haben. Ich will mehr ueber die Probleme erfahren, die wir Menschen der Natur verursachen und was das fuer Menschen an verschiedenen Orten dieser Welt heisst.
Themen, die mich interessieren sind: Verschiedene Lebenskonzepte, alternative Entwicklungsmodelle, Vorurteile und Diskriminierung. Immer wieder stehen fuer mich dabei die Fragen im Raum: Was wird eigentlich als normal bzw. selbstverstaendlich angesehen und welche Alternativen gibt es dazu?