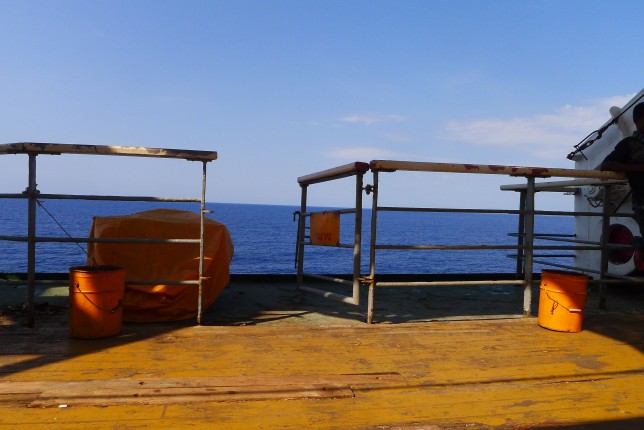 After a mere 20hour boat journey we were dropped in the port of Makassar, Sulawesi. I was a fair bit nervous before embarking on the boat as I've read a few too many horror stories about travelling on the big Indonesian PELNI boats with bicycles. But not to worry: Instead of going with the flow or even trying to get a good place we let all the others go ahead. At the end we somehow carried our bicycles up a few stairs which undoubtetly wasn't too much fun but also over in a few minutes. Our bicycles remained intact, we got beds and I really enjoyed staring out at the sea and doing nothing all day long.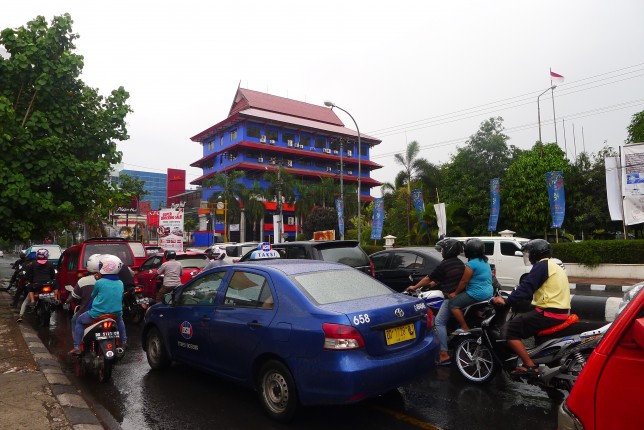 So, Makassar. Oh it was different here! After mostly riding alongside scooters on the previous Indonesian Islands I was a bit overwhelmed by all the big cars and the traffic jam which they caused. To be fair it was our biggest city in a long time.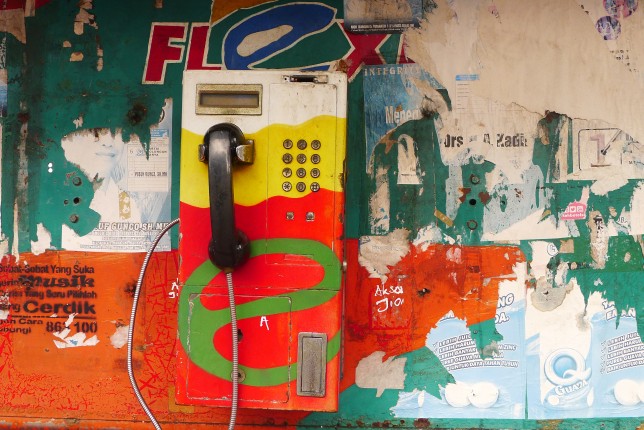 At the same time I really liked our now urban surroundings. I can't really say if I prefer rural areas or cities. Cycling is of course way more relaxed in the country side. The people there seem to be more open towards meeting other people in our experience. But then again, sometimes I need to be in cities. To feel the different vibe, to experience different subcultures and styles of living.
We looked up our host's address and hopped on our bicycles for a quick ride to his house. We didn't really know what to expect.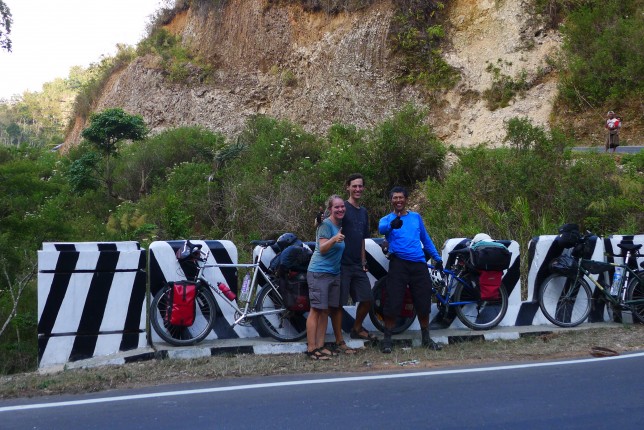 Back on Flores we met Andri, a fellow touring cyclist from Indonesia. He was really nice and relaxed and we would have loved going together for a while. Unfortunately he was going in the opposite direction. But on hearing that we would go to Makassar he contacted his friend Donny and asked him to host us.
We found the address easily and were greated by Maret, Donny's wife and invited into their beautiful cafe. In the matter of a few minutes I was in heaven!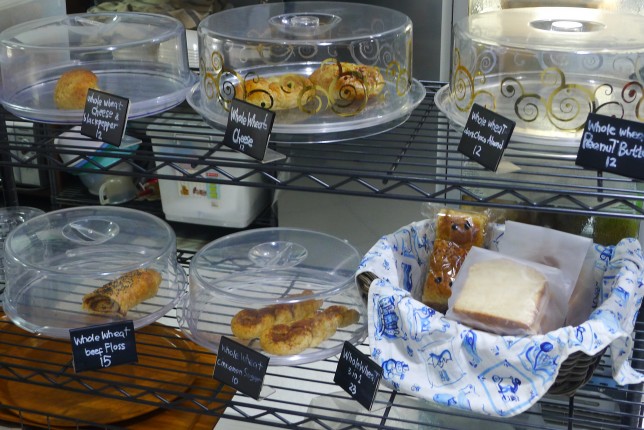 Maret and Donny run a small cafe together and are interested in making tasty and healthy food with real ingredients. No MSG and nothing artificial here. So we sat down, enjoyed bubbly juicy and flavourful drinks and marvelled at our surroundings.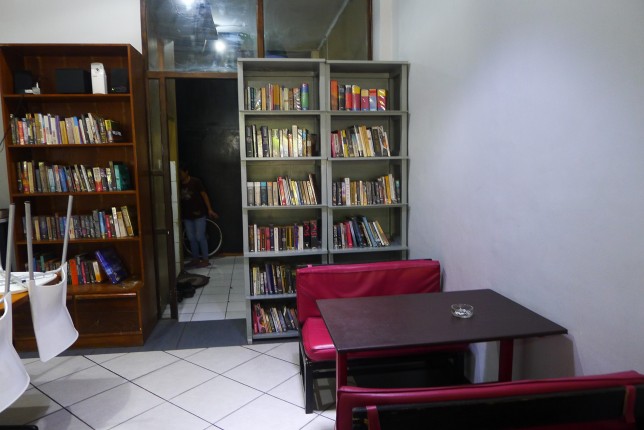 Donny was just giving an English class, there were book cases lining the walls and there was an oven!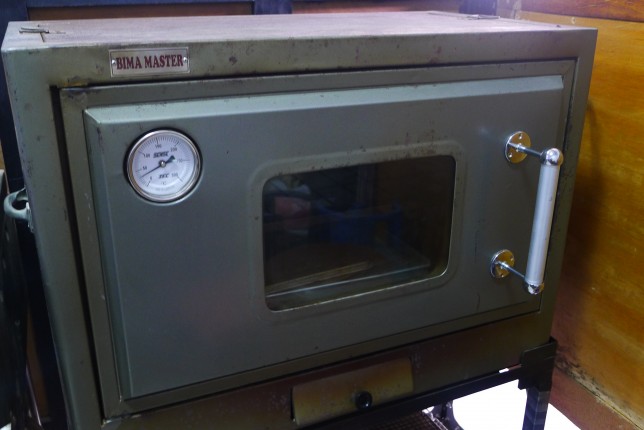 We haven't really seen an oven since Australia, so I had high hopes for one or two baking sessions in the next few days…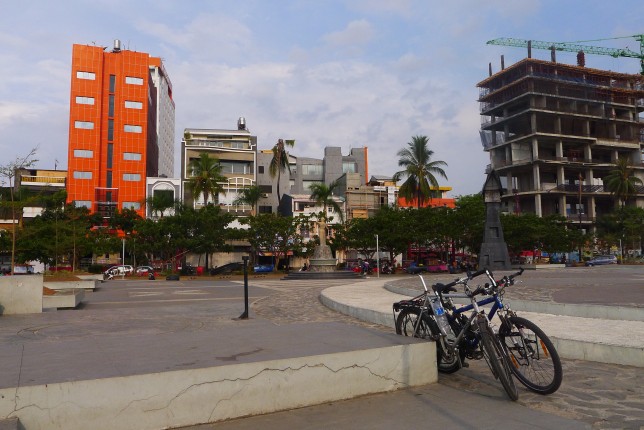 My hopes did more than come true. We tasted a lot of Maret's home made bread and her absolutely awesome veggie burger, we cycled around Makassar and as usual in cities tried to get one or the other thing accomplished.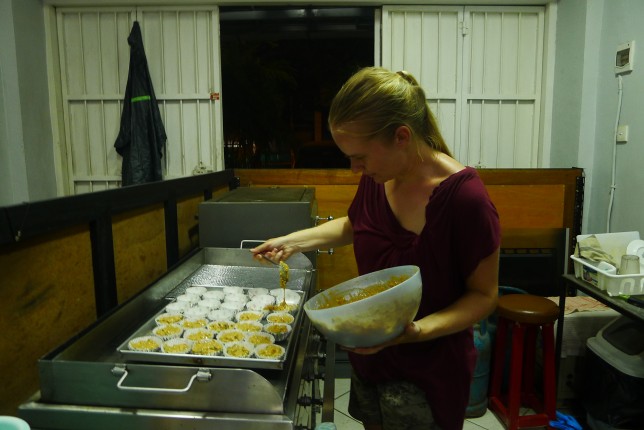 We finally found all the ingredients to bake Apfelstrudel-Muffins and I made about 50 of them.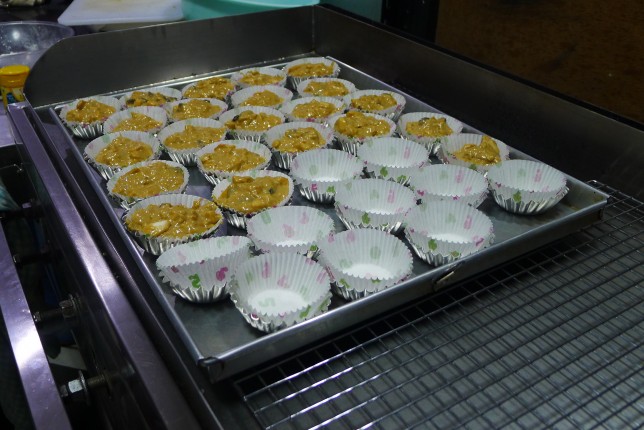 In between all of that we talked a lot with Maret and Donny. About good food, about their idea and their way of running the cafe and about living in Makassar / Indonesia.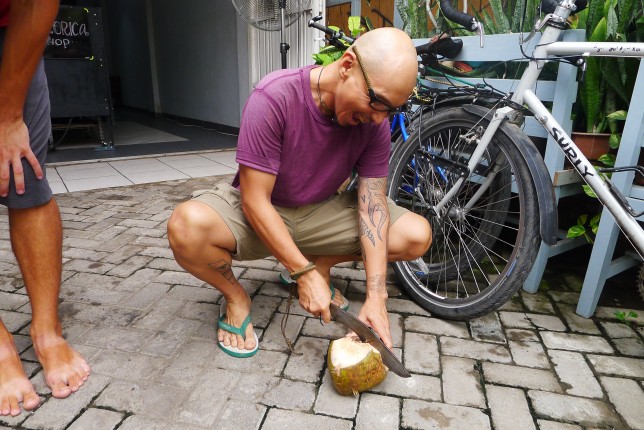 Donny spent several years of his life in the US which made it particularly interesting for us in the way that he gained different perspectives on living while he was abroad. On his return opening the cafe was a way for him to be more himself. He is also a big outdoors enthusiast and we talked a lot about hiking and living in the outdoors.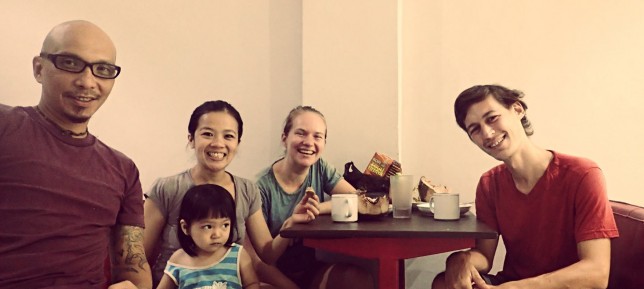 Maret had a different career before working with food and I admire her willingness to learn all about good ingredients and try and error until it works. On top of that there were three kids running around, mostly looked after by Donny. I am incredibly thankful for our stay with you guys and the open and learning atmosphere that you create. That is something I am taking home with me and something that I hope to (re)create one day.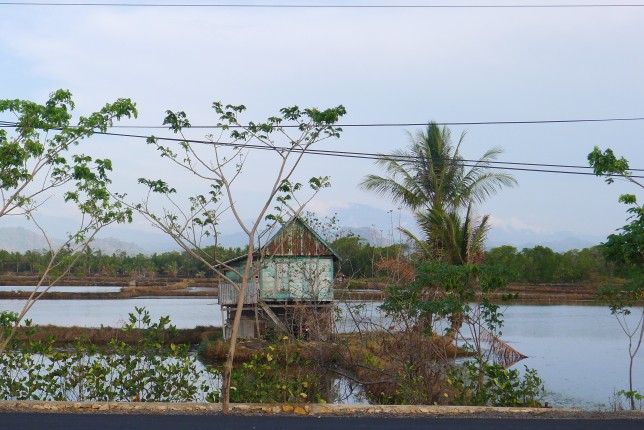 Unfortunately our visa was running out and so we cycled on. In two days our next boat would leave from Pare Pare about 150km away. Just when we left I felt that I was getting sick but oh well, the boat wouldn't wait for us.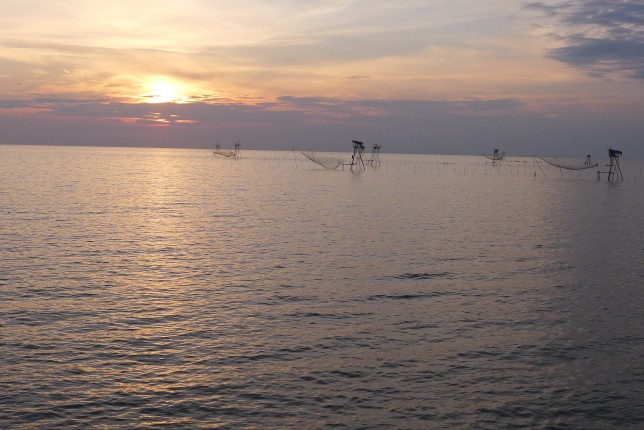 So off we went, on the thankfully very flat road north.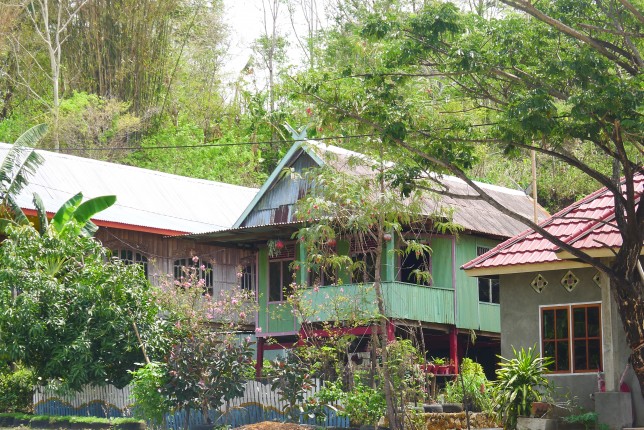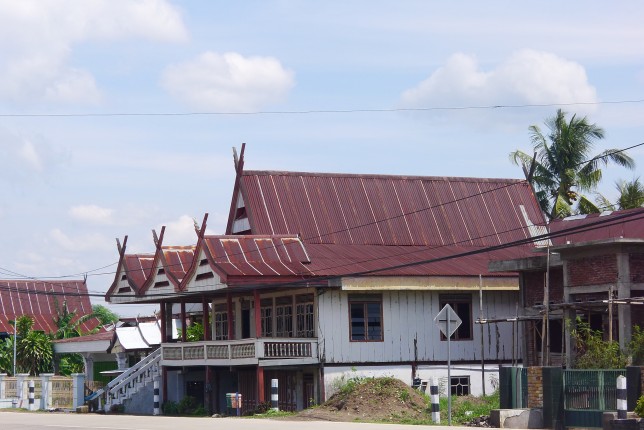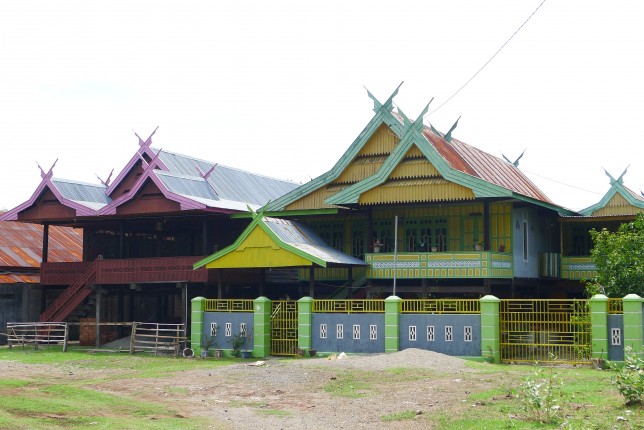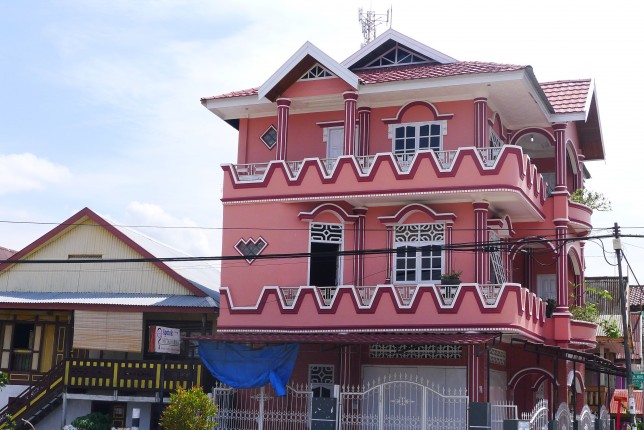 We marvelled at the beautiful houses that reminded me of the houses in Queensland, Australia (maybe except for the last one).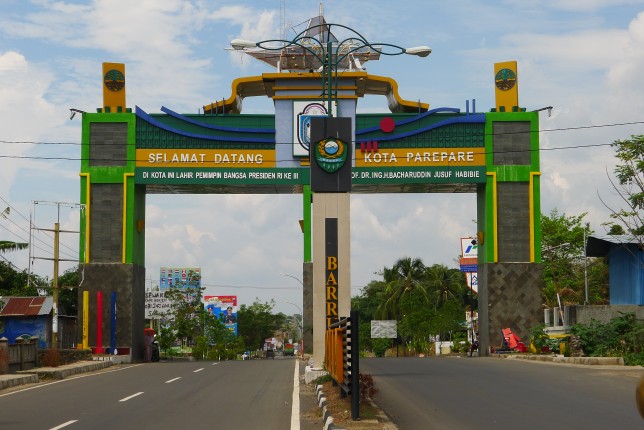 We ate a lot more mangoes, went to a cinema without cinema in Pare Pare, did a lot of selfies with locals and were spontaneously invited to lunch.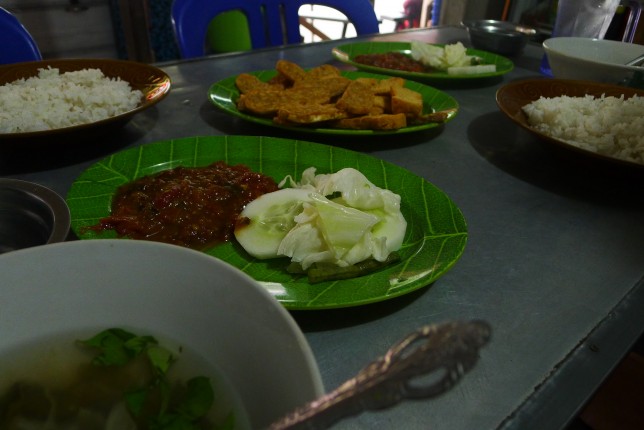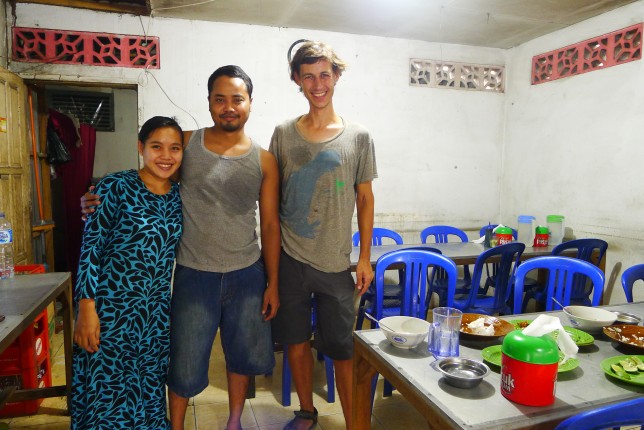 We both would have liked to have more time in Sulawesi and go further up north. But Borneo was waiting just around the corner!