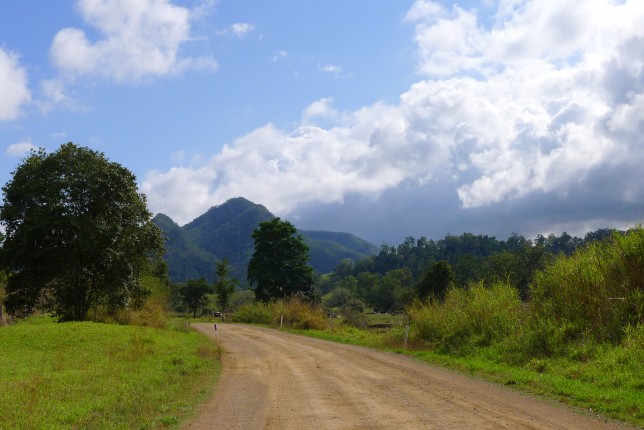 Our host Peter told us that the only place to experience the Great Barrier Reef directly next to the coast would be Bowen. Usually you have to go with a tour and pay for a boat to take you out to snorkel or dive. But in Bowen you can snorkel directly from the beach as the reef is very close! Sounds great!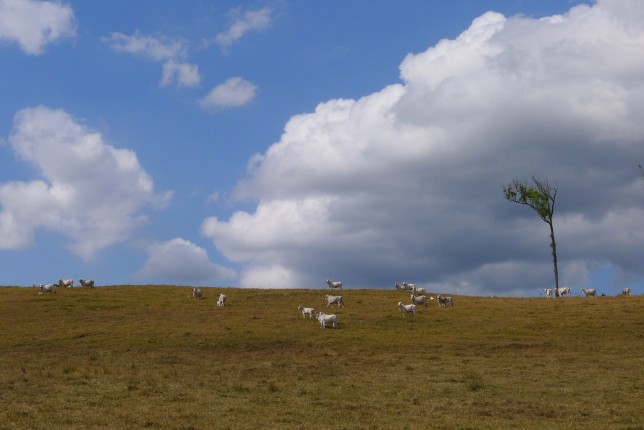 So we cycle north, find beautiful back roads for the most part, camp once with about 50 other campers and once alone in a dried out river bed. We fight a lot with headwinds and I have a hard time cycling into Bowen. Dealing with my motivation is getting better, but at some point headwinds are just no fun. Period.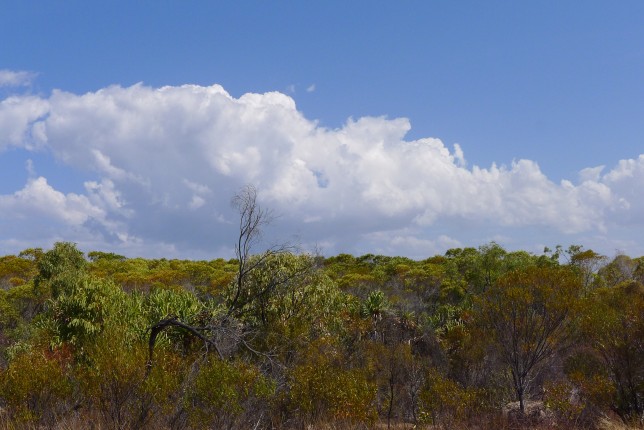 In Bowen we head to a camp site as the local council is pretty strict about free camping. Once we arrive we find out that the town is quite touristy which reflects in the high prices for everything. We settle for the cheapest camp site only to find that reception seems to be closed and no one answers the phone either. It's not a nice camp site anyway – there is almost no space and it looks more like a crowded parking lot. But we have to stay somewhere. So we wait for about half an hour and still nothing. That's when we start to get a bit frustrated as we want to get settled in, leave all our stuff here and go to a different beach to snorkel. I try to call a second time, but again no one answers.
So we decide to make some coffee and have a little snack. And to use the shower. I'm a bit concerned that it might be rude to just use the facilities without having checked in but Torsten is unconcerned stating that we are going to stay here anyway. So we shower and that was the best idea in a long time!
After about one and a half hours of waiting we finally decide to leave. We don't like it here anyway and it's quite expensive on top. So we plan to go to the other beach, snorkel and then just cycle out of town and free camp somewhere. Of course, just when we cycle out, the owner arrives and nonchalantly asks if it was me calling about staying here. However, I still ask about prices to stay here only to find out that they have even gone up. No thank you.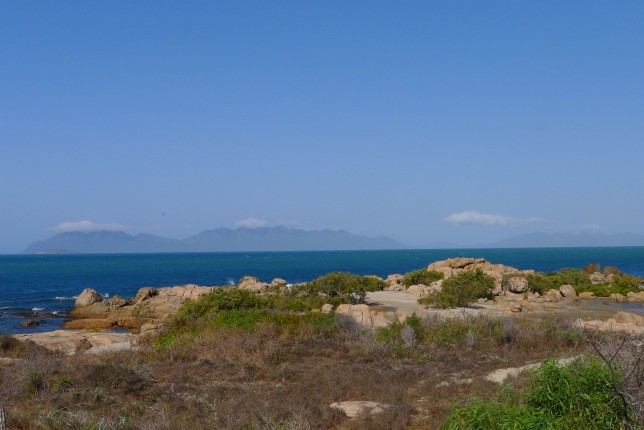 So, off to the beach it is and once we arrive I can only laugh about everything: We talk to some people who just snorkelled and they tell us that the water is murky and you can't see much. Well, so much for that plan.
It's funny sometimes: We usually don't go for touristy things or for the must-sees because we care much more for all the small things and encounters by the road. We both really like being spontaneous and being surprised by what the day brings. Still, sometimes we get caught up in the must-sees and dos and snorkelling in Bowen was one of those things and it got us all stressed out.
Once we ditch that plan it's actually kind of nice. The beach is not too bad and after a snack we go for a nice swim and talk with a local who just loves living here and going for a swim every day. And just as we  decide to leave we meet another local who invites us to set up camp in his backyard. We enthusiastically agree and thus this weird day continues.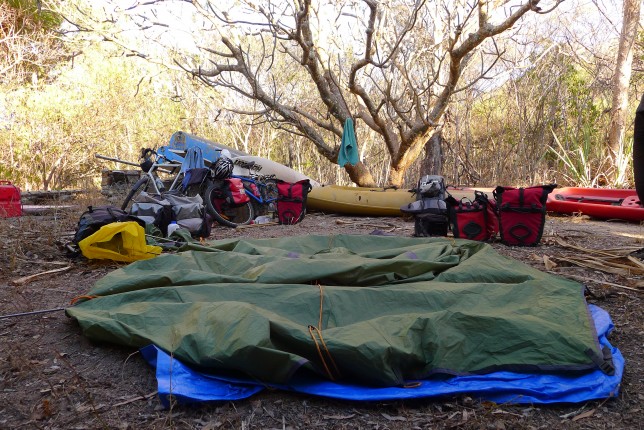 Over the course of the next few hours we make dinner for ourselves and our very helpful host, get talked several ears of and listen to his view about the second world war and how the holocaust was all a masterpiece of Jewish propaganda and completely untrue. He is a Jew himself by the way.
We try to discuss, try to understand where his views come from, but it's like talking to a wall. At some point Torsten just leaves but I stay listening politely, trying to argue, trying to find a way out of this conversation. I get this churning feeling in my stomach as my core beliefs are attacked and I feel increasingly uncomfortable with our host. Finally I manage to say that I heard enough and we say good night.
I just want to go to bed with a pillow over my head but Torsten convinces me to go to the beach and talk it out. And we do talk and it's really good. We talk about where our boundaries lie and how it's hard sometimes to hold those boundaries when someone invites you into their home and you feel grateful for that. We talk about how we want to learn from many people on this journey and how sometimes it's important to listen and how sometimes it's important to say what we think and need. We'll have a long way to figure all of that out.
For now, with the crushing waves and the sand under my feet, I feel calm again and for that I'm grateful.