August 2016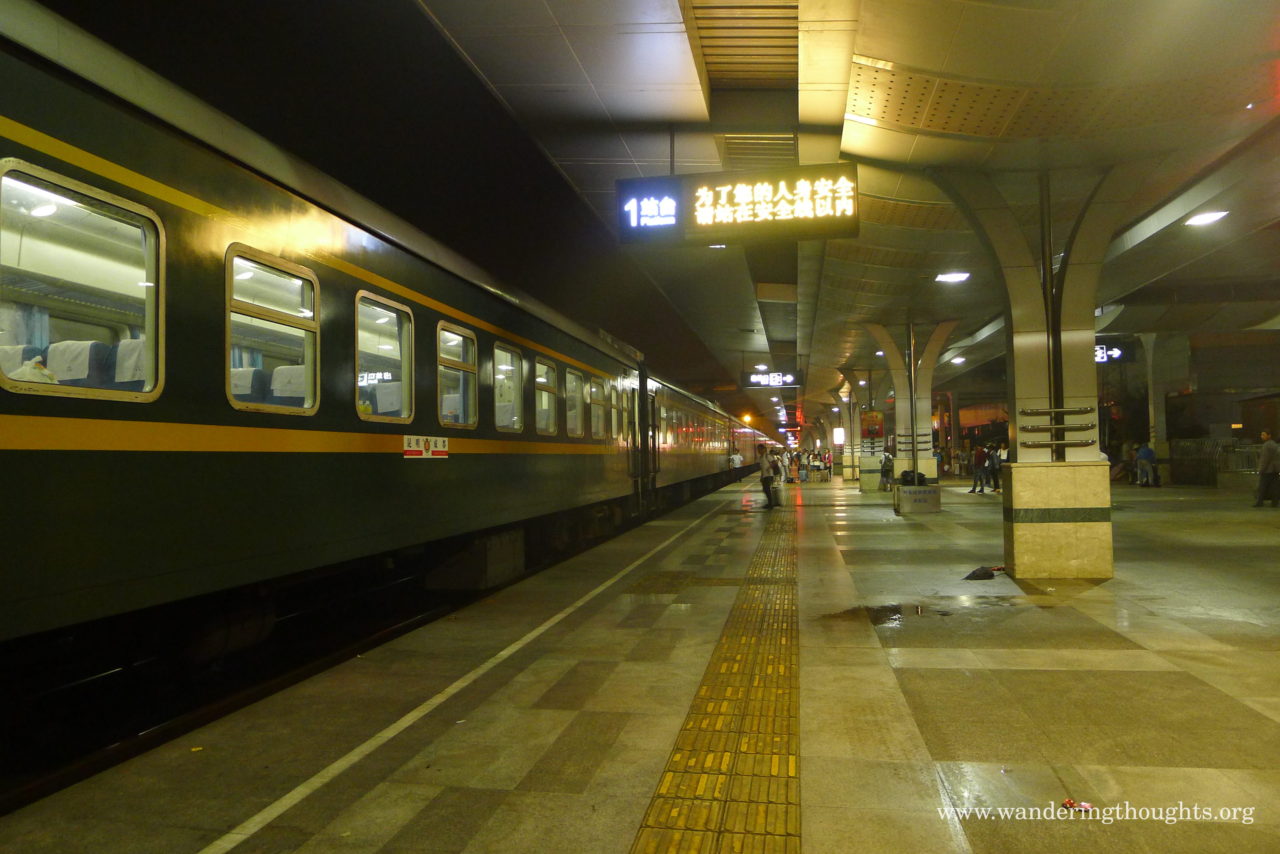 After almost two years of being on the road it was time for a break. Physically, mentally, high time. So we ditched the bicycles, did a lot of research on trains and buses and went on a wholly different adventure!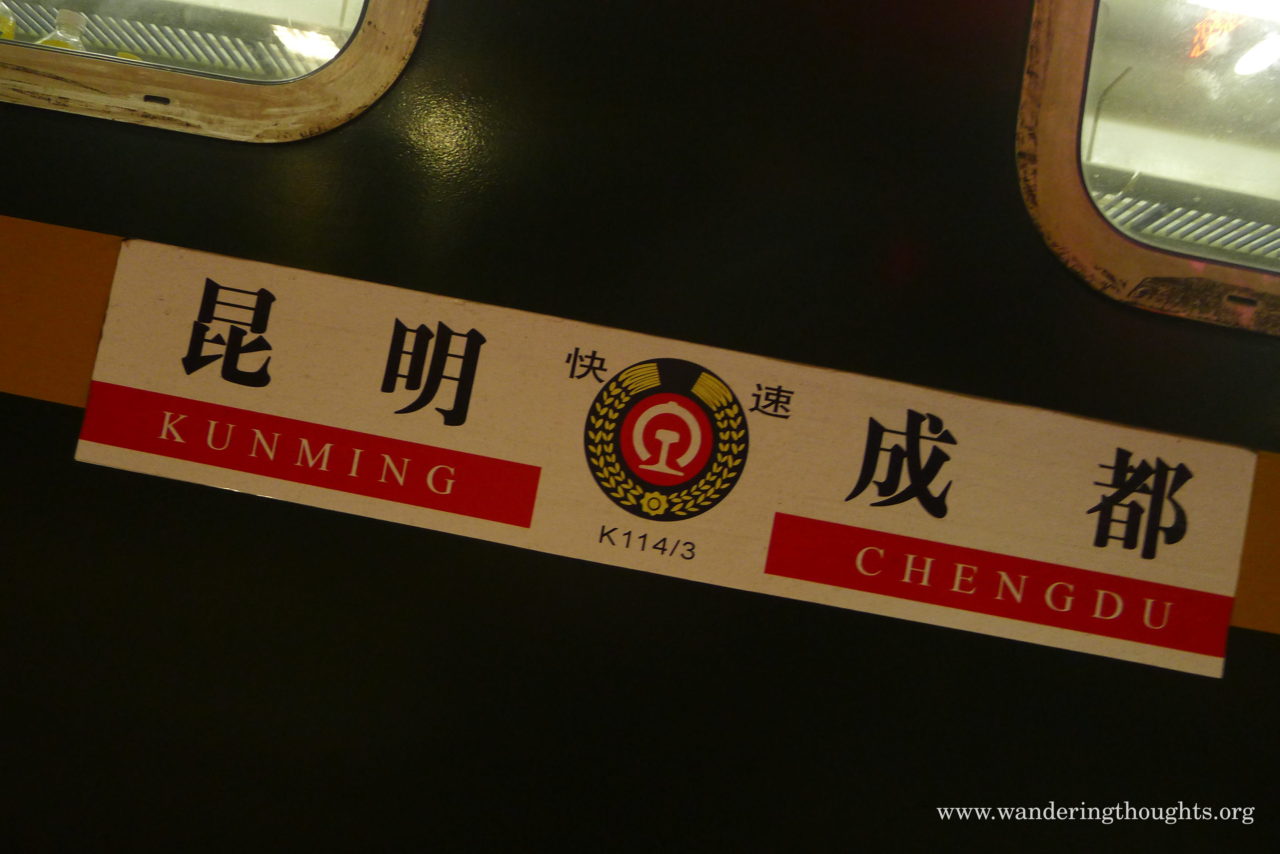 As we have been going so slowly these past years we didn't just want to fly home. So all in all it took as about a month to get from China to Germany. That includes time spent riding trains, buses, shared taxis, some breaks with fabulous hosts and about 10 days in Almaty, Kazakhstan to apply for our Russian Transit Visa.
While I did feel a bit sad leaving the bicycles and thus our independent mode of transport behind, I was also tremendously relieved right from the start. For a while there I would get to relax, take it easy and travel differently. Our first train ride took us from Kunming to Chengdu and lasted about 18 hours. Let me just say it was an experience, not necessarily the most enjoyable one. There are different categories in Chinese trains. To save money we had booked hard seats for an overnight train which is still okay. Once the hard seats run out they do however sell standing tickets which leads to trains being seriously crowded at times. I could hardly move for most of the ride as there were people or luggage everywhere. Still, at least we had a seat, the people with standing tickets were far worse off – especially given that they paid the same price.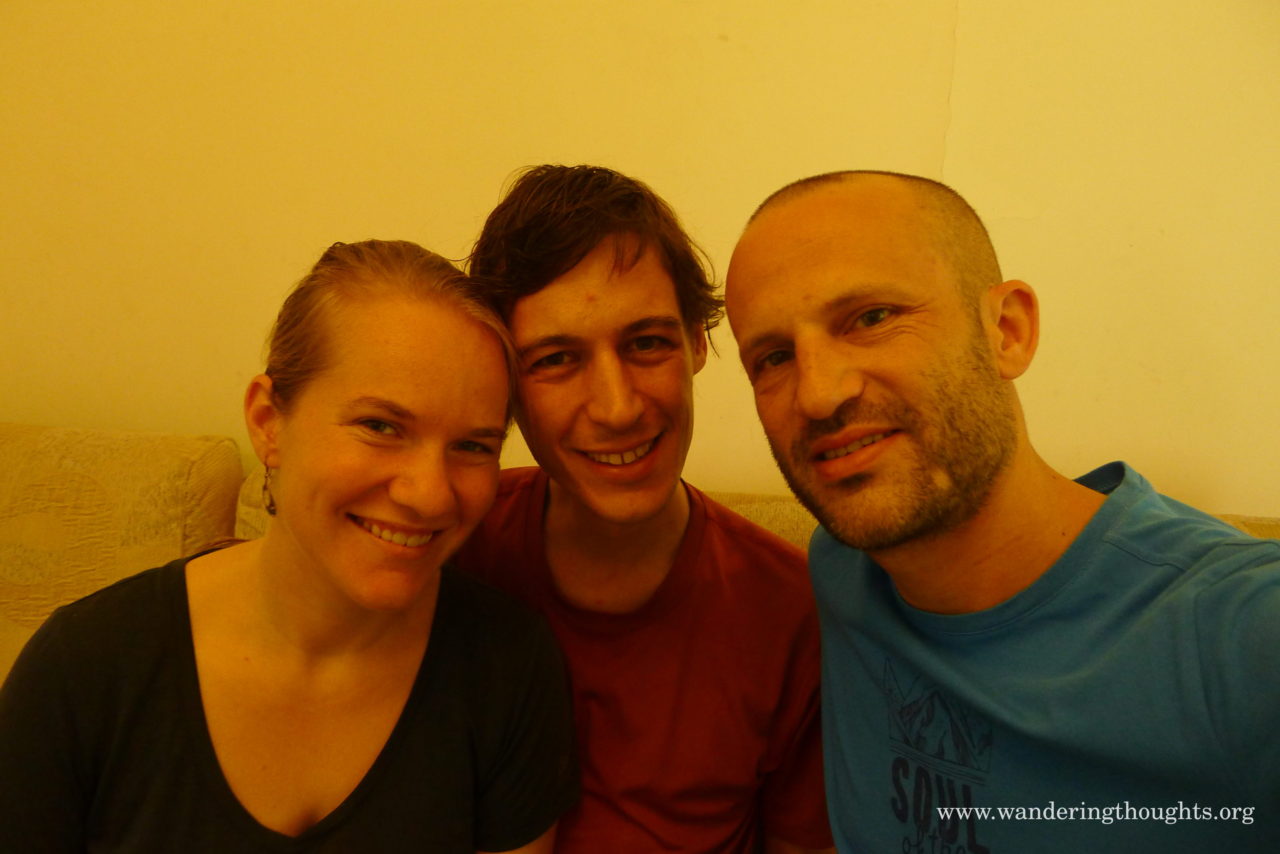 In Chengdu we stayed with Peter, a fellow cycle tourer and now warmshowers host. Funnily he had stayed with a lot of the same hosts back in Australia when he was always a little bit ahead of us. Now, as he was experiencing similar travel fatigue symptoms as me he decided to stay put in Chengdu for a while and teach English. We had fun exchanging stories, eating together and going for a Chinese massage.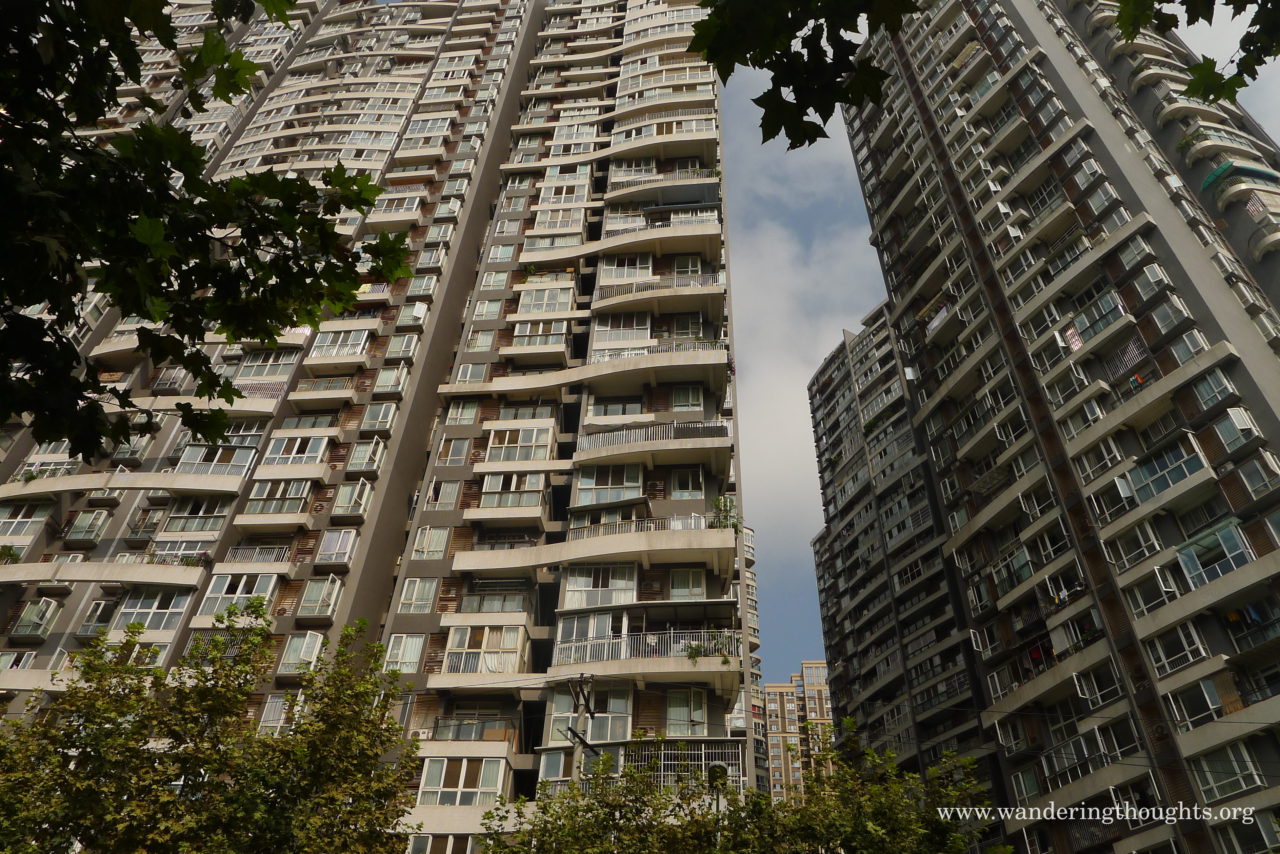 I also loved spending time in some of the bigger Chinese supermarkets with their lovely bulk section.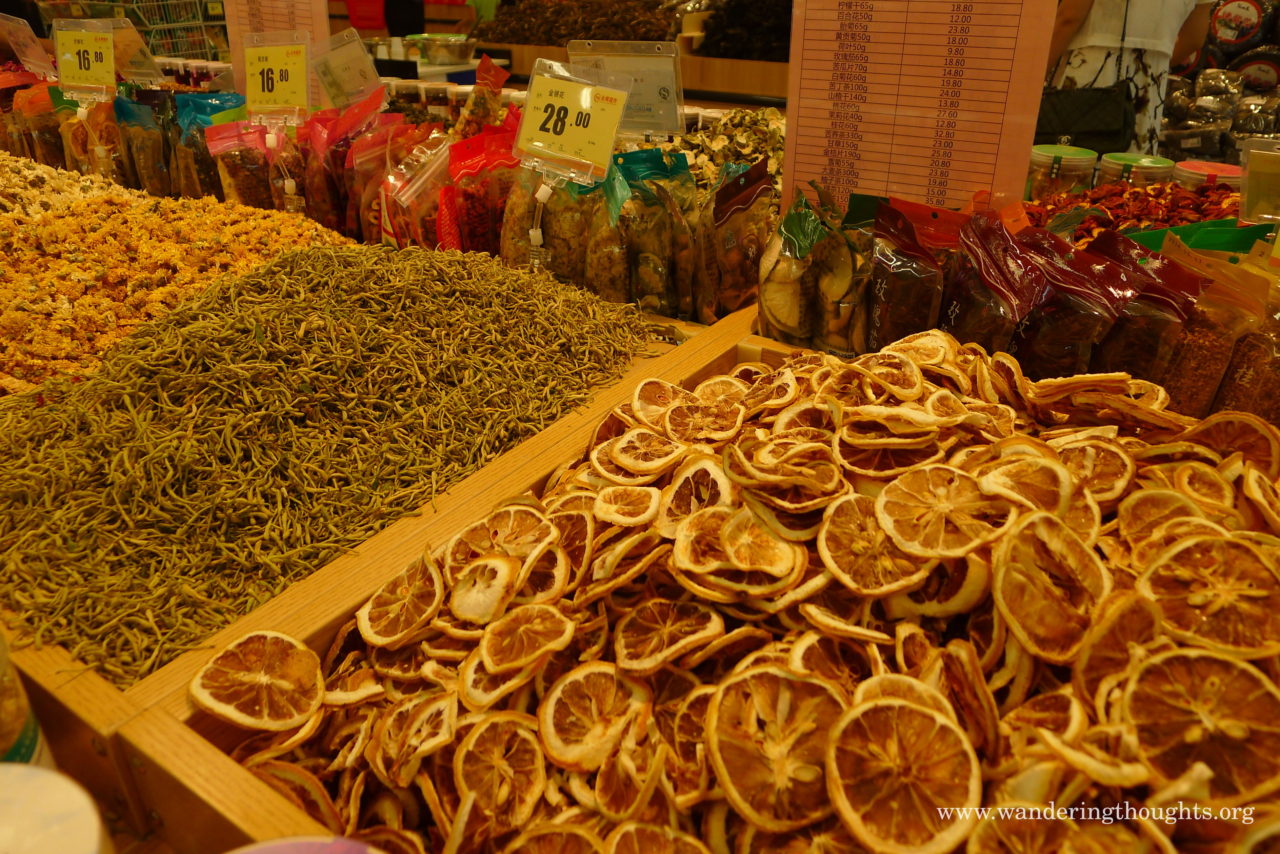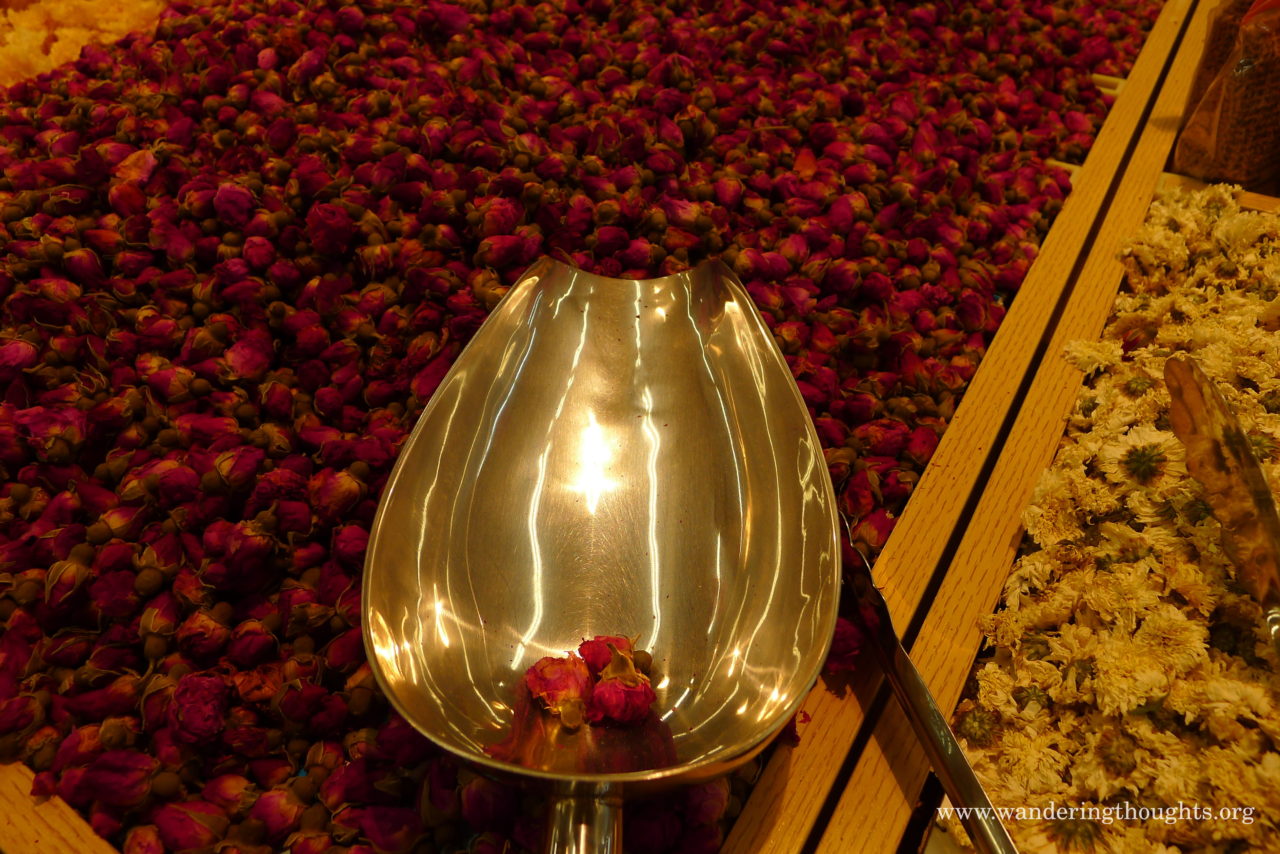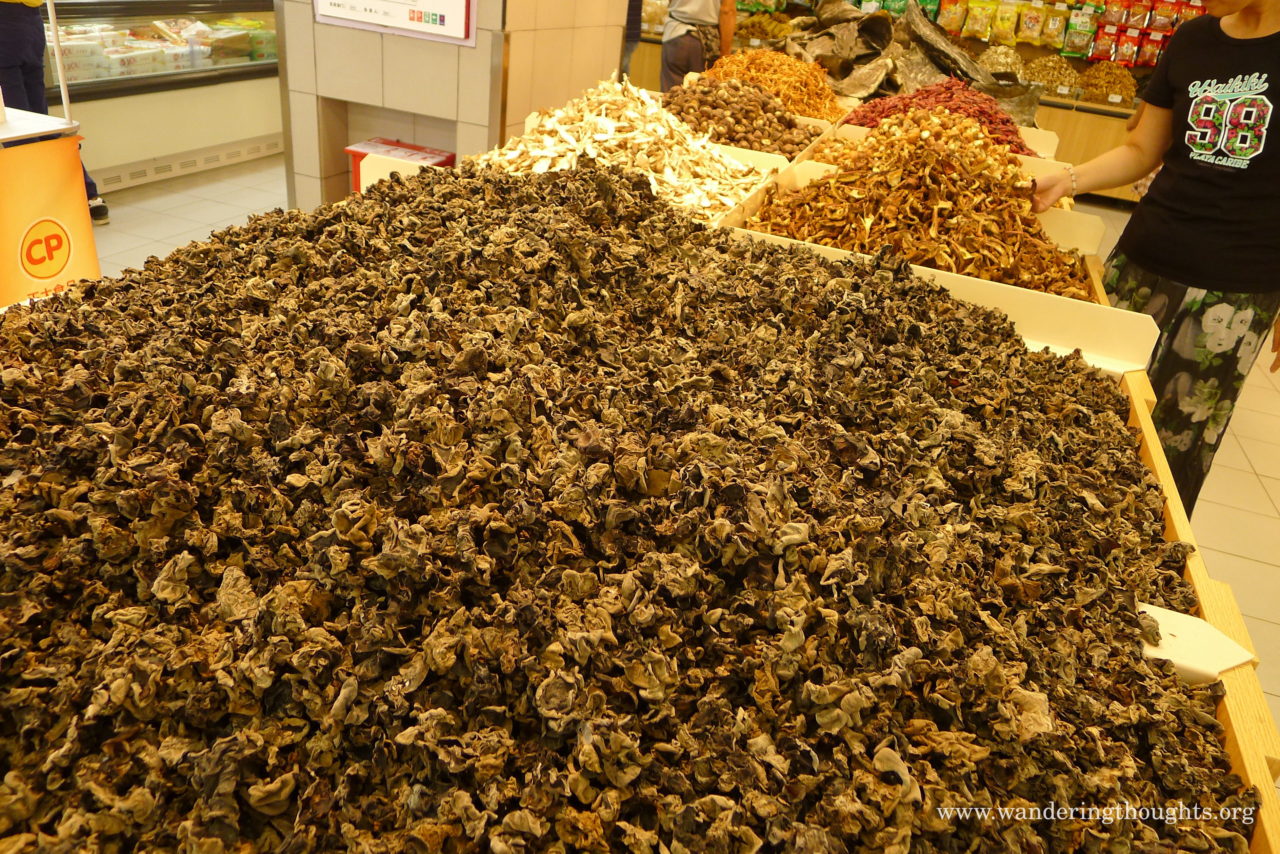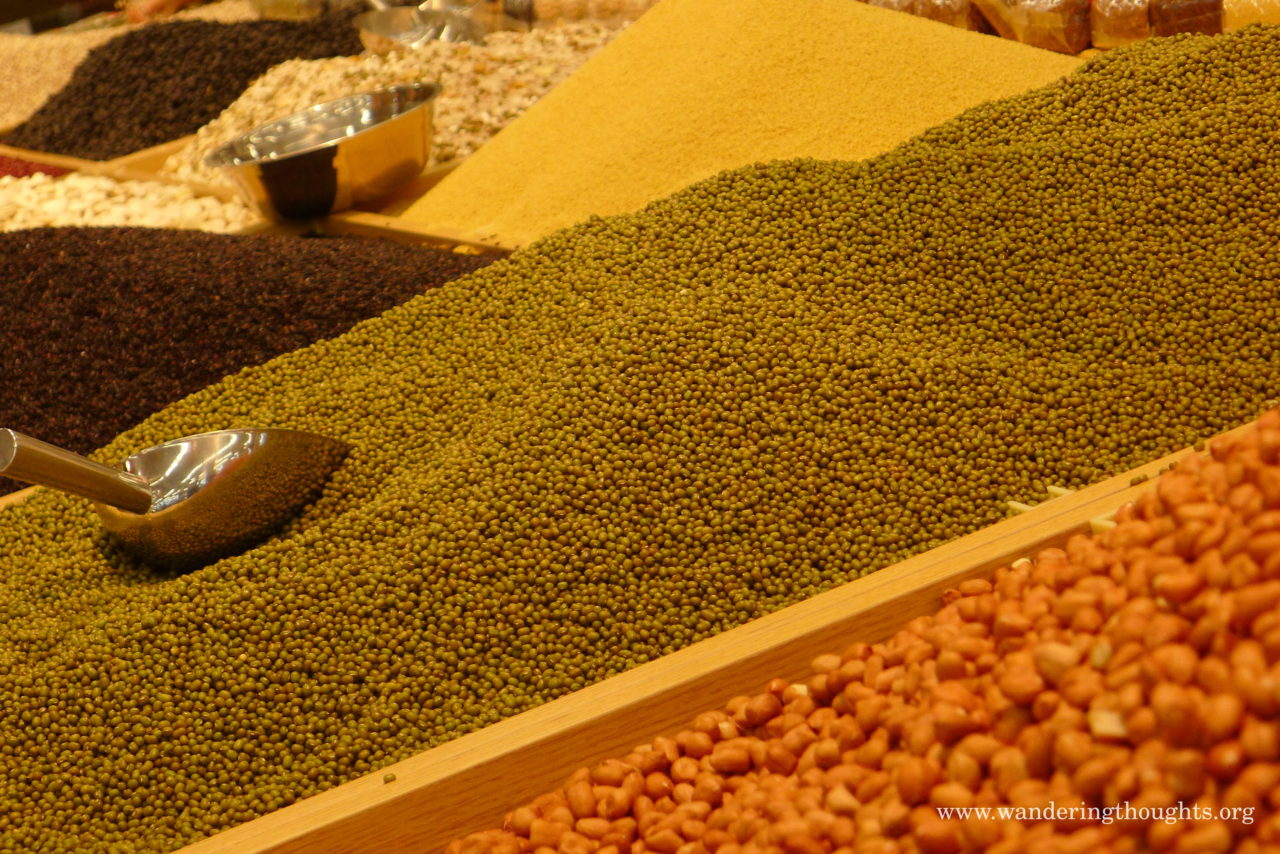 After two days we took a bus to Lanzhou as all the cheap train tickets were sold out. Not bad in comparison, no standing tickets there and only about 10 hours.
In Lanzhou we boarded another train to Urumqui. Maybe a tiny bit less crowded this time but not that much of a difference. The views were so so beautiful though and while I was content of being in a train at that time I also would have loved to actually feel the landscape change from the tropics to desert more gradually.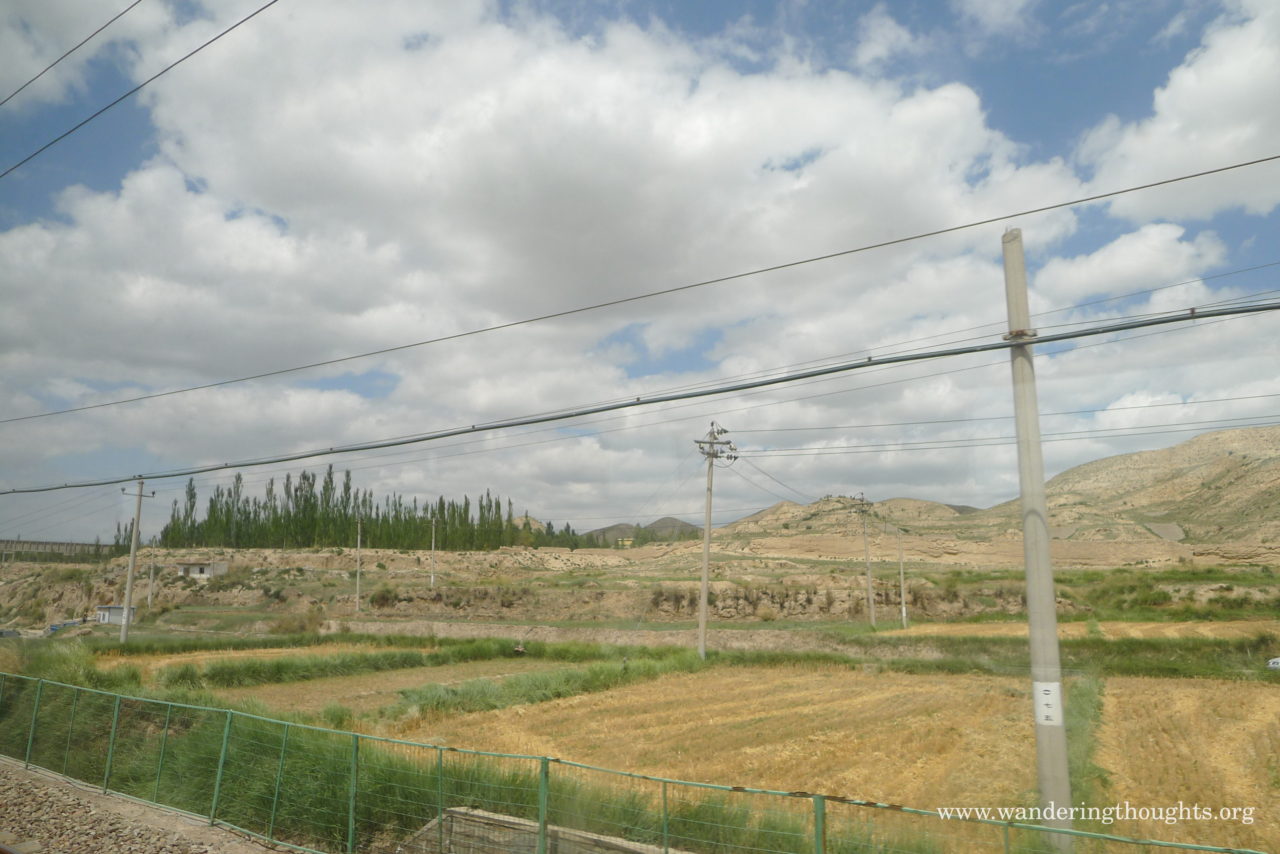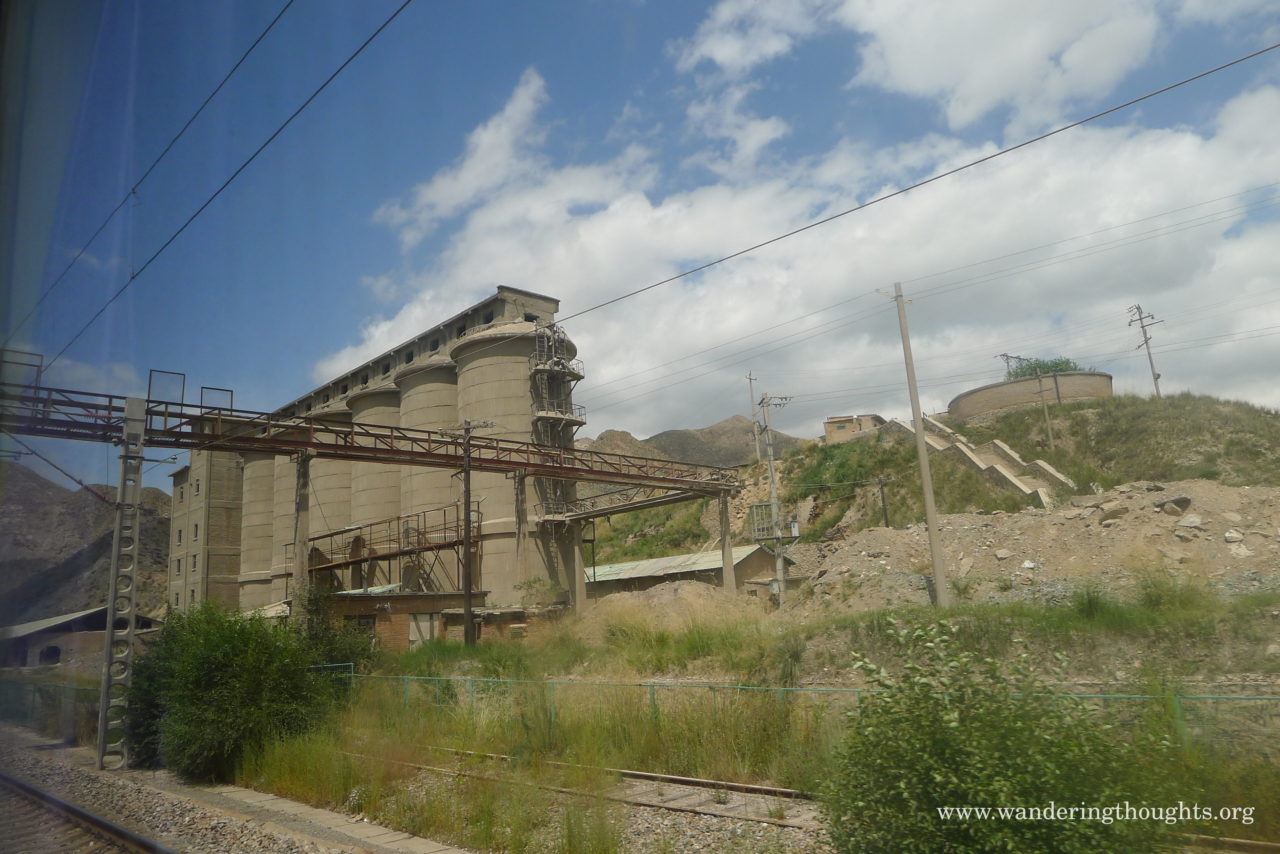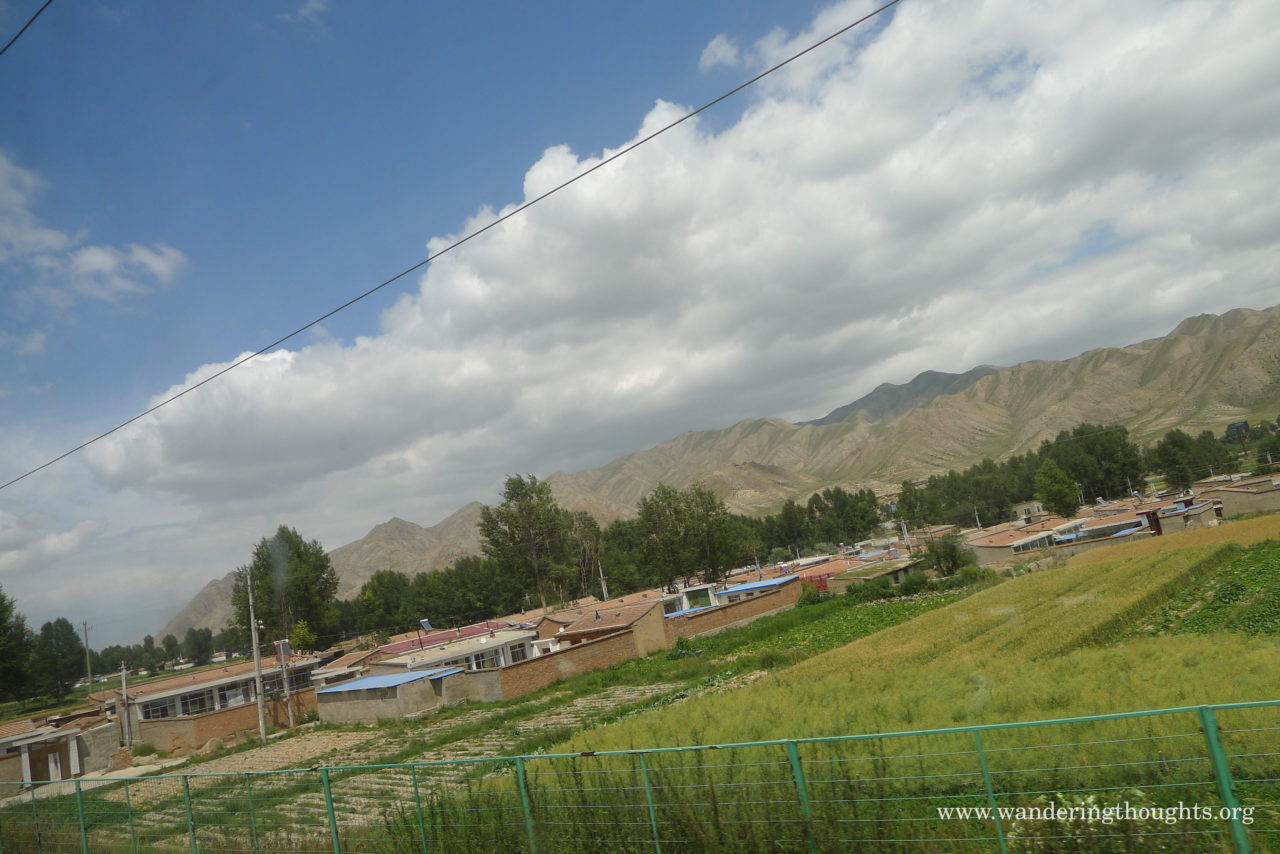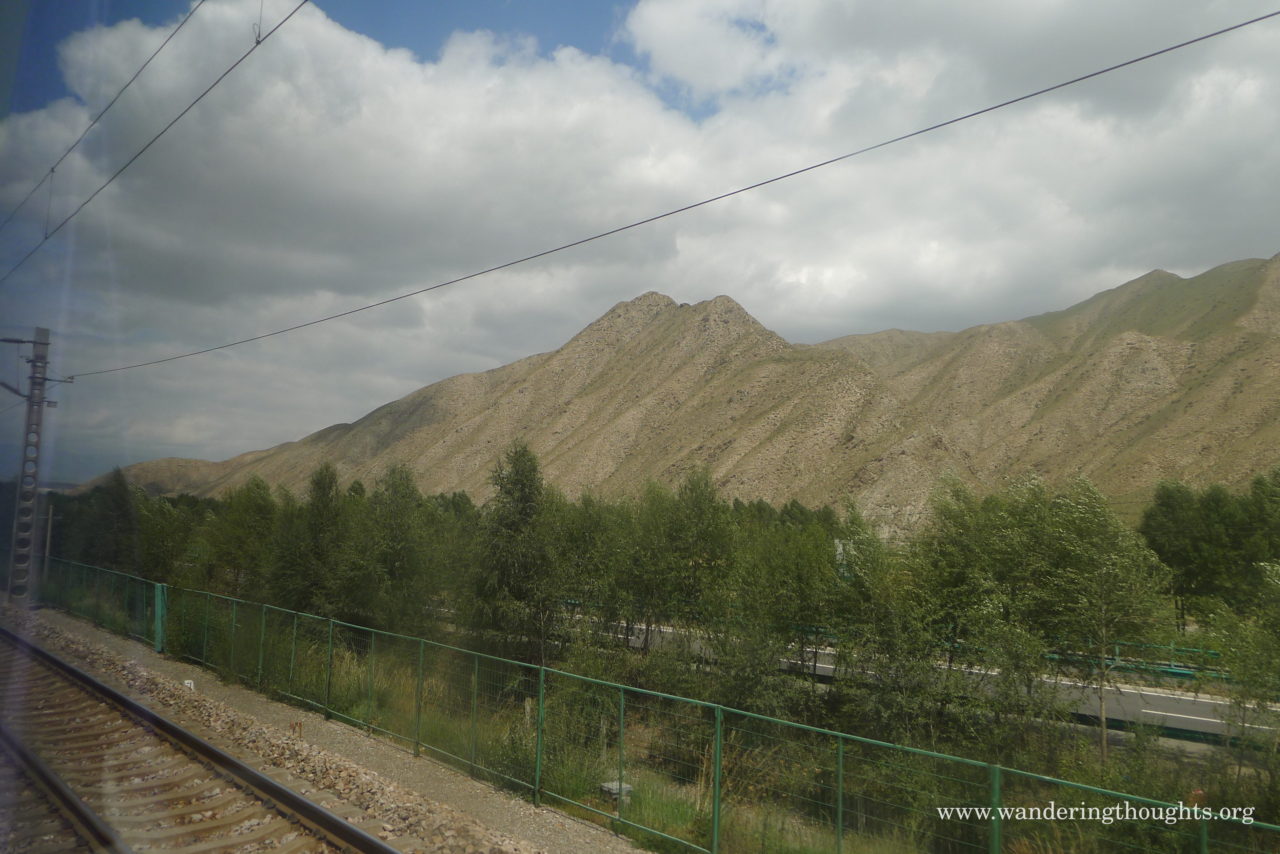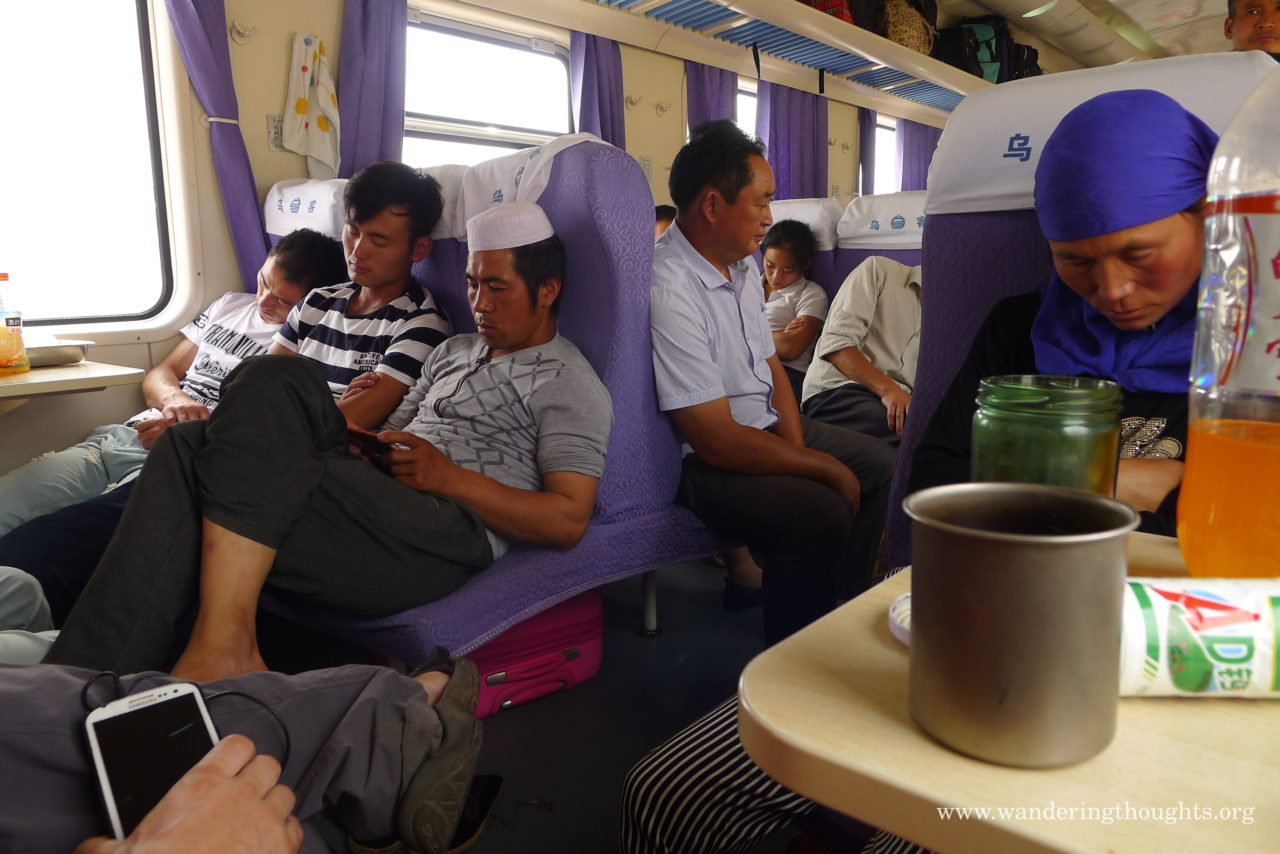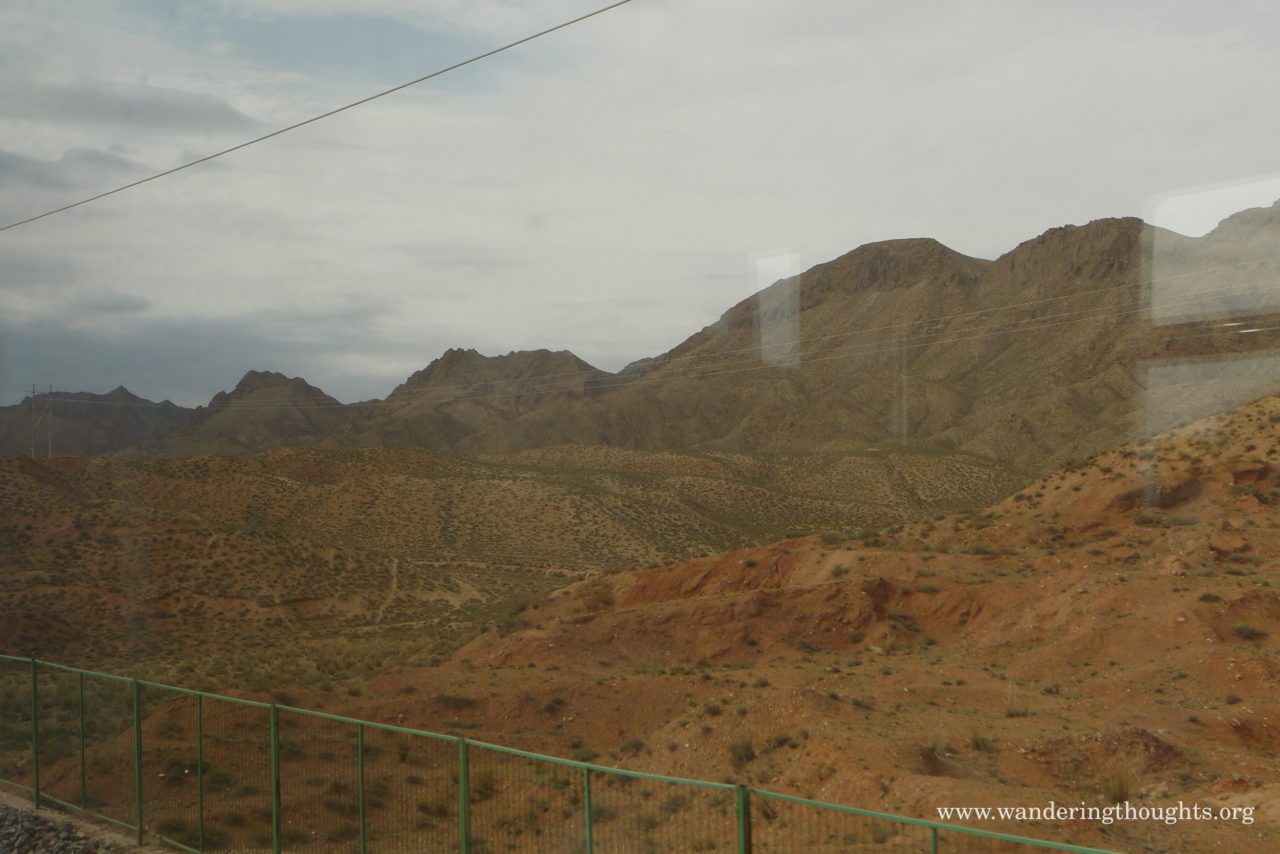 There is one absolutely fantastic invention in trains across China and later on also Kazakhstan, Russia, Mongolia…: a samowar! You can bring your own tea or coffee and have hot drinks all the way. Seriously awesome!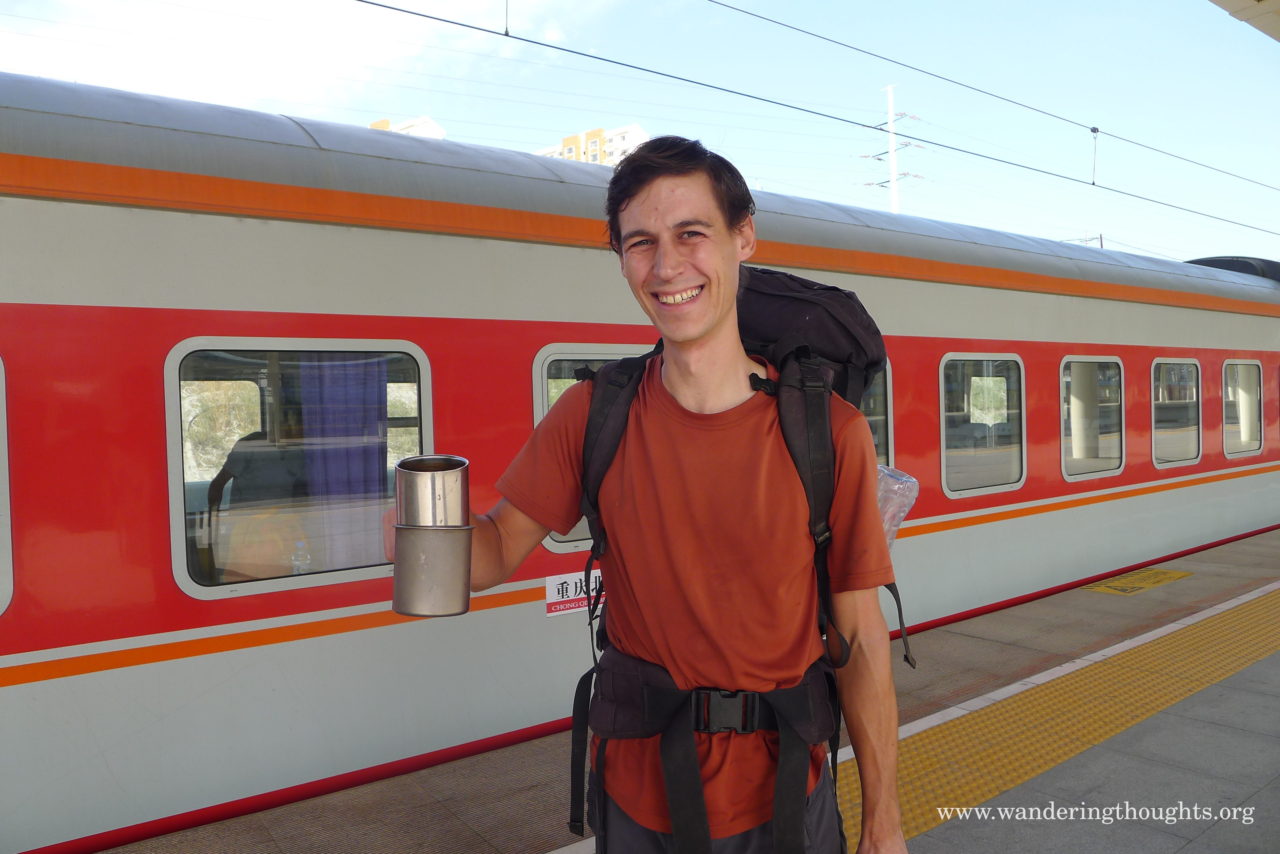 Apart from that I wasn't a big fan of the (self) catering on Chinese trains. Most people bring huge bags full of instant noodle soup and other snacks, all packed in layers and layers of plastic. Only a handful of people take fresh food or eat the rice and meat offered on the train. There are people at the stations selling things like corn, baked potatoes, bread and such but it seemed to me that junk food is the go to option on trains. That's a stark contrast to the absolutely fantastic food we had everywhere else in China.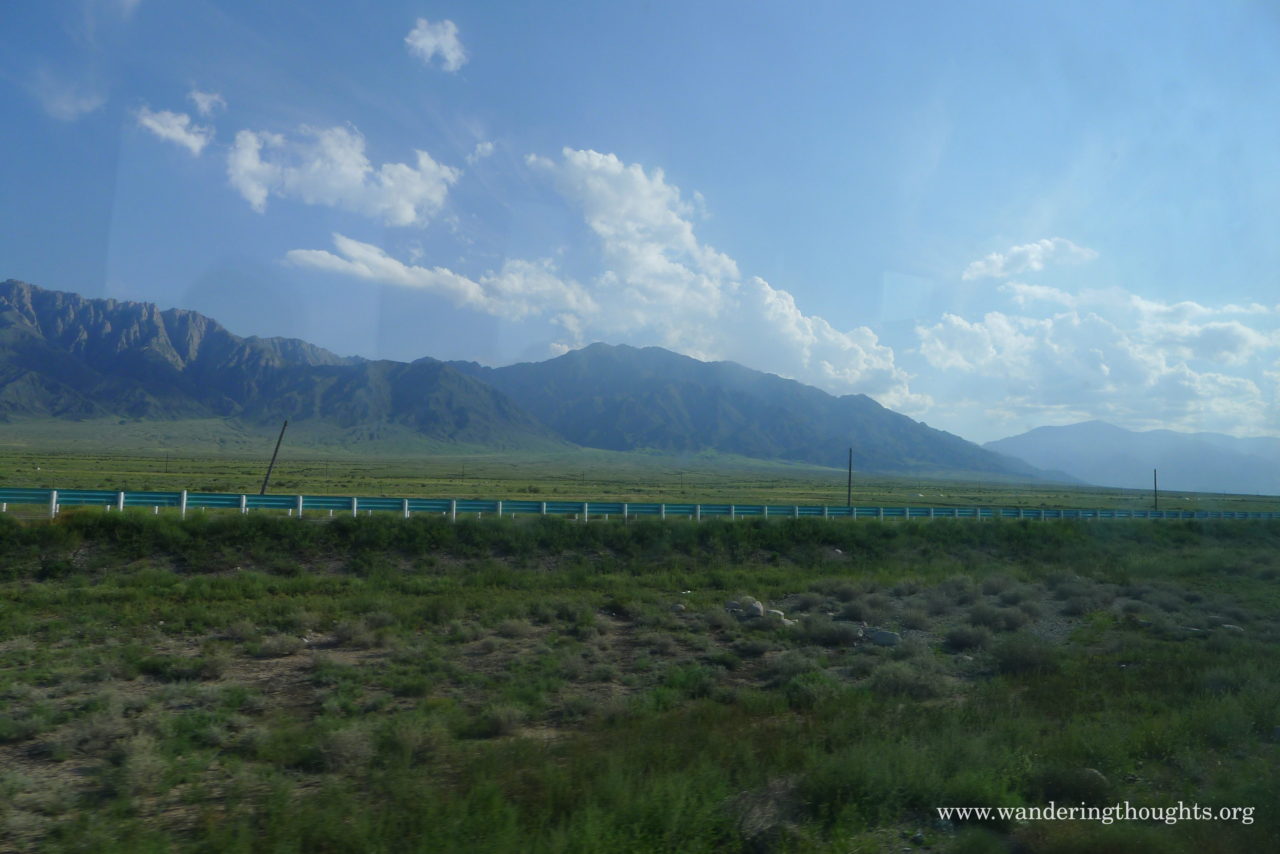 As our Chinese Visa was coming to a rapid end we didn't stop in Urumqi and took the next bus to Yining.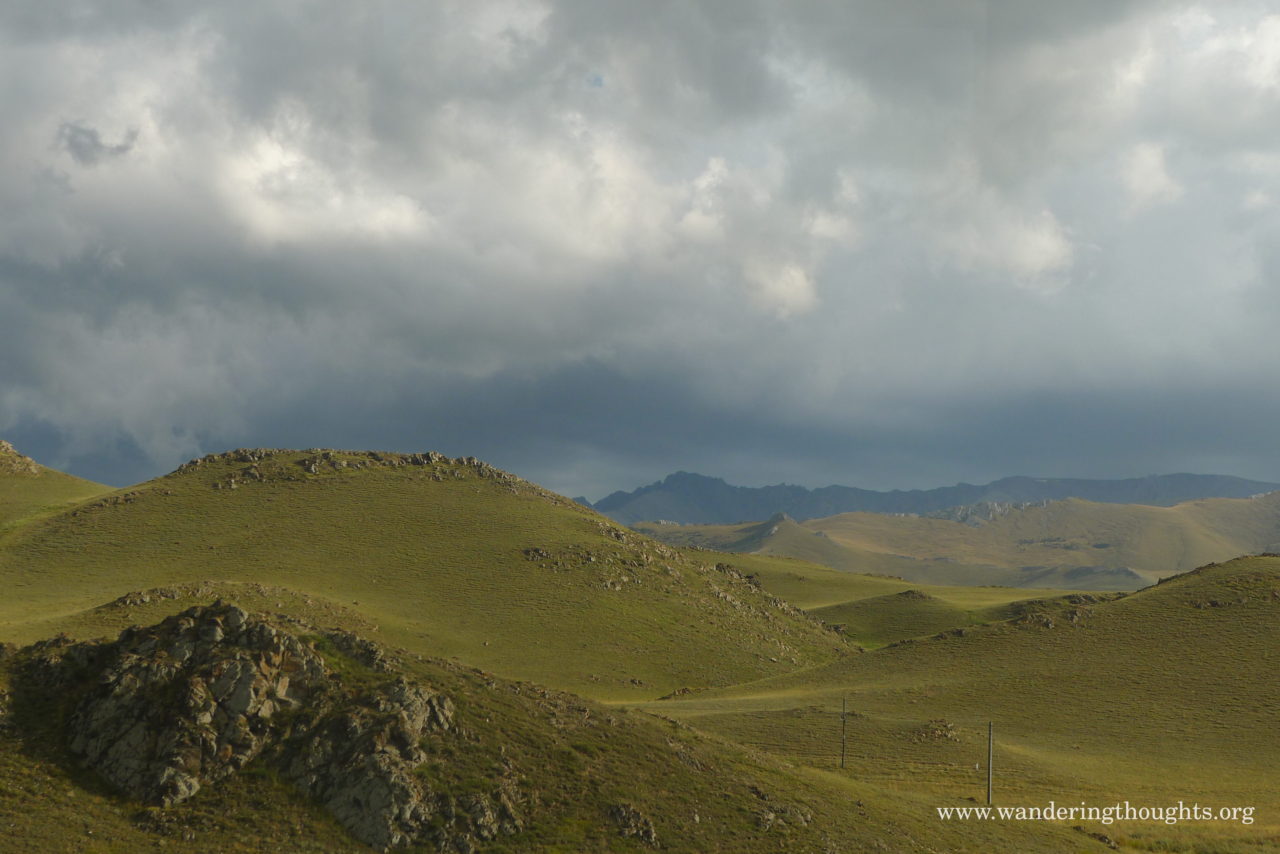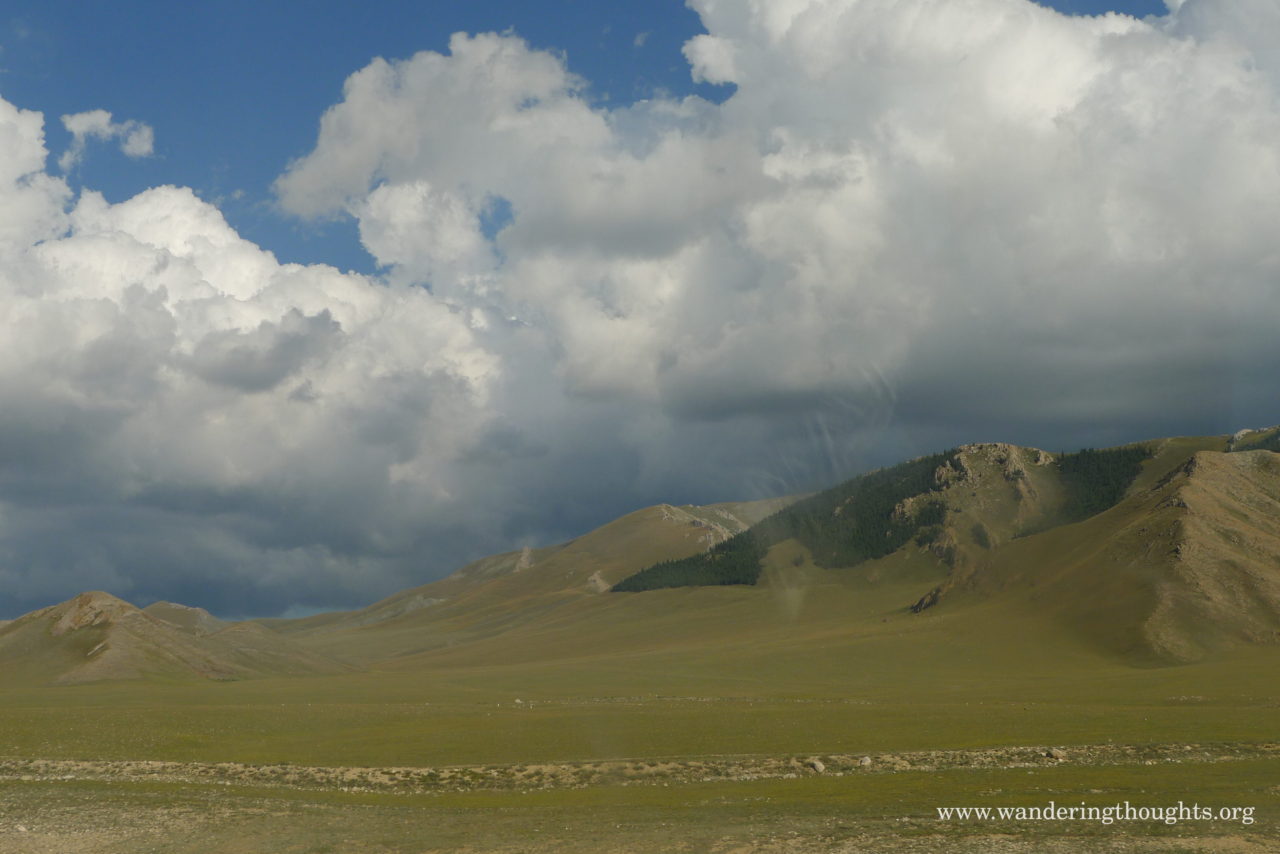 We drove on some fantastically engineered roads and this time I really missed not being able to get off the bus at any time and just take in the scenery. I have never really seen landscapes like these and will come back here one day, for sure.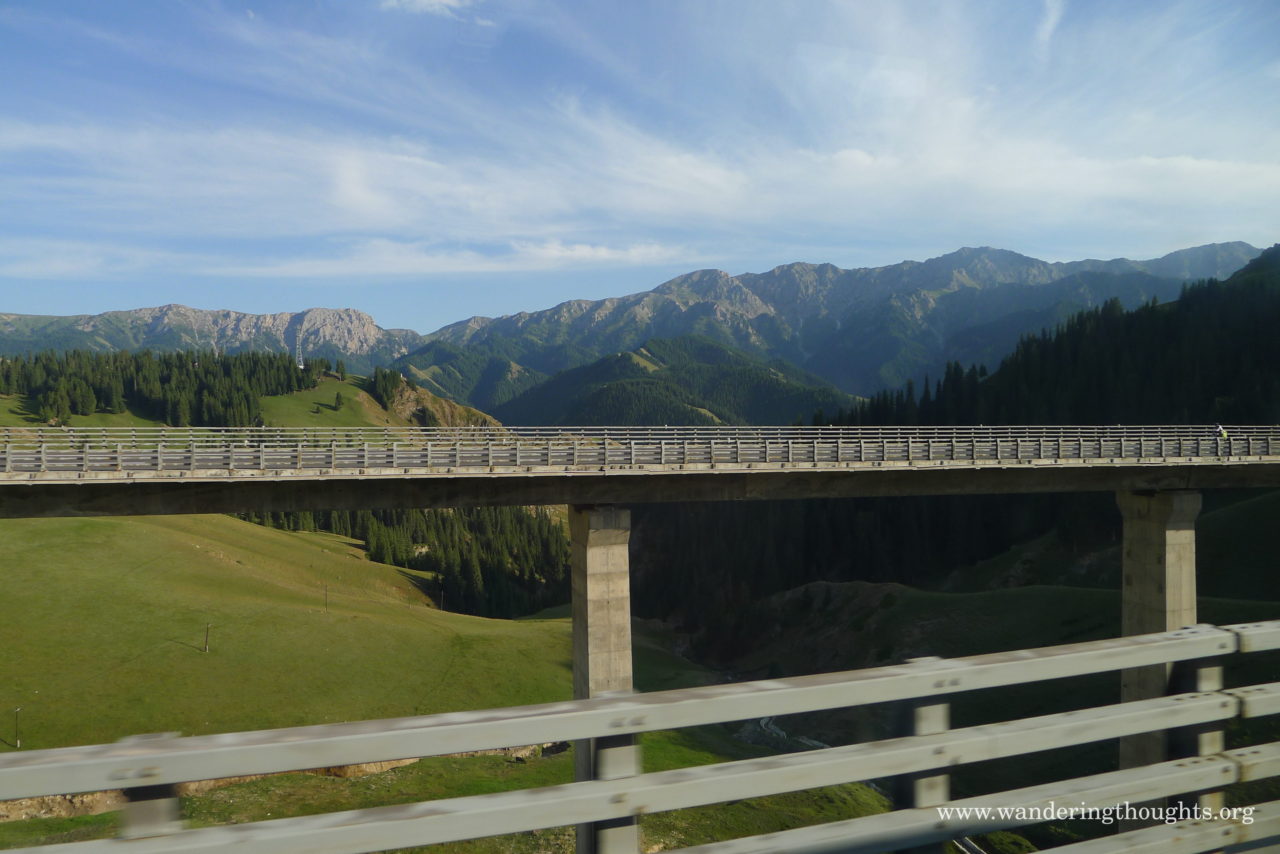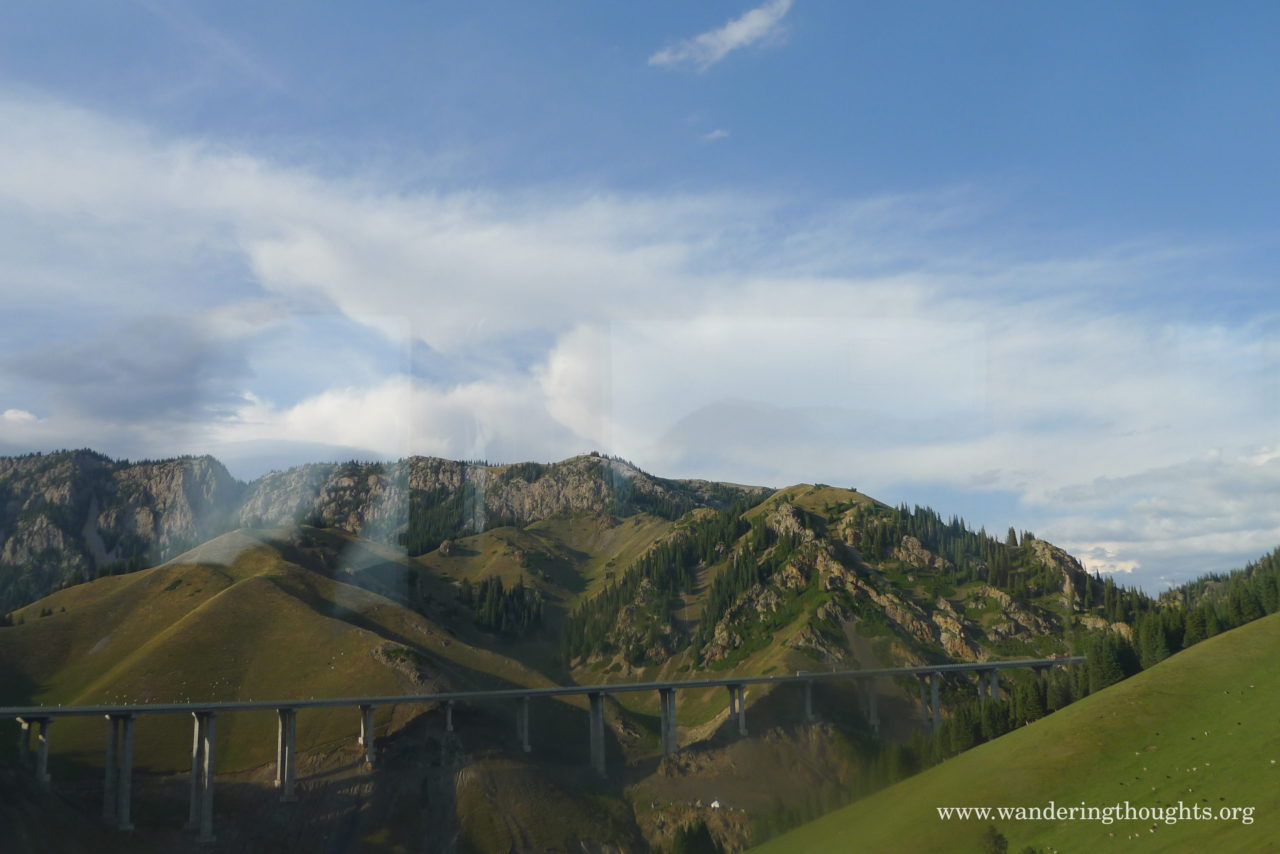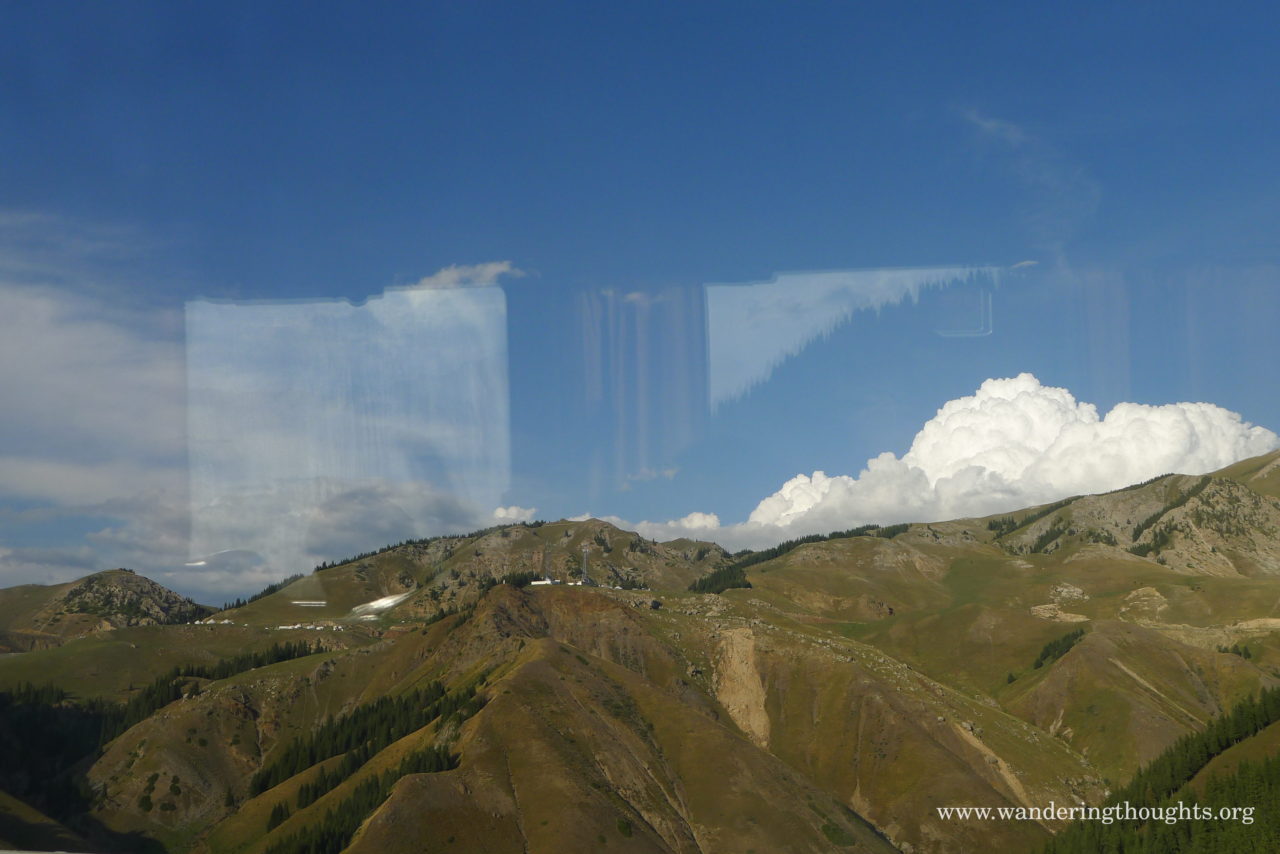 Arriving in Yining was a bit of a letdown though. It took us about two hours to find any sort of accommodation that would accept foreigners. In Xinjiang province hotels and guest houses need to have special permits to accept foreigners and it can be a bit of a hassle finding one. Without the bicycles we were reduced to walking around a lot and ended up taking a taxi to a youth hostel. After travelling straight for a few days we were just dead tired. In the youth hostel we got another surprise as we were only allowed to take the expensive double room. They weren't even allowed to let foreigners into the dormitory. Add that to the expansive vehicle and other security checks in this area and it sure felt different from Yunnan.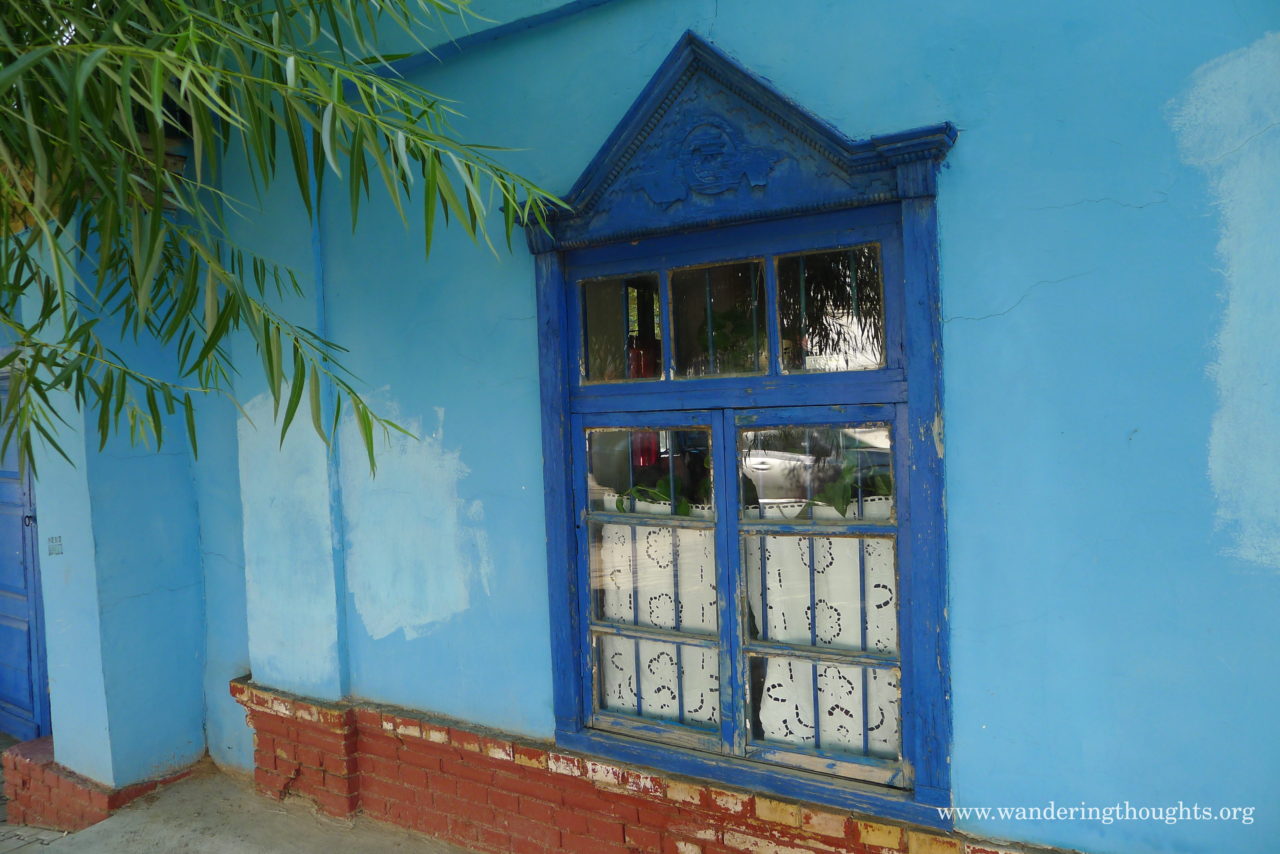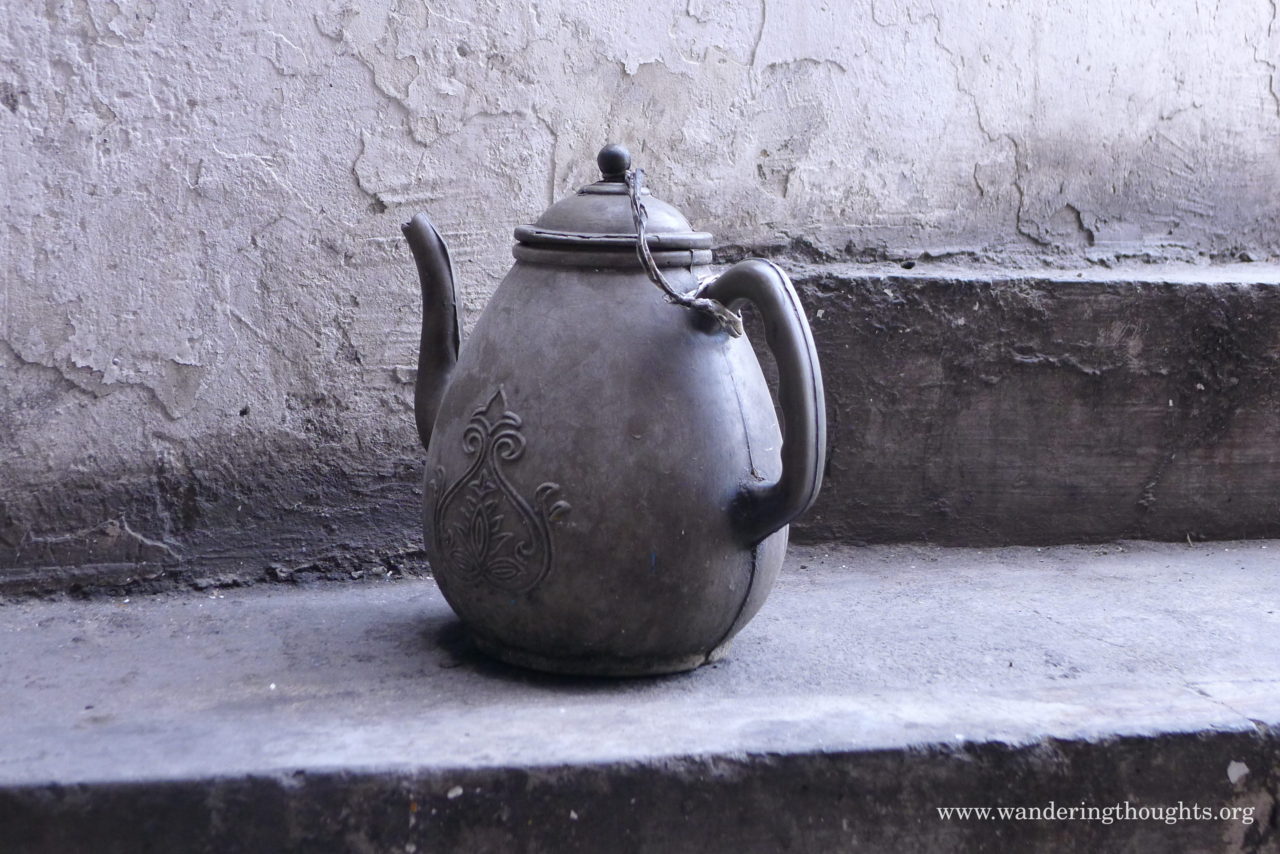 We loved the change in food though, the bread and Laghman, so many new tastes!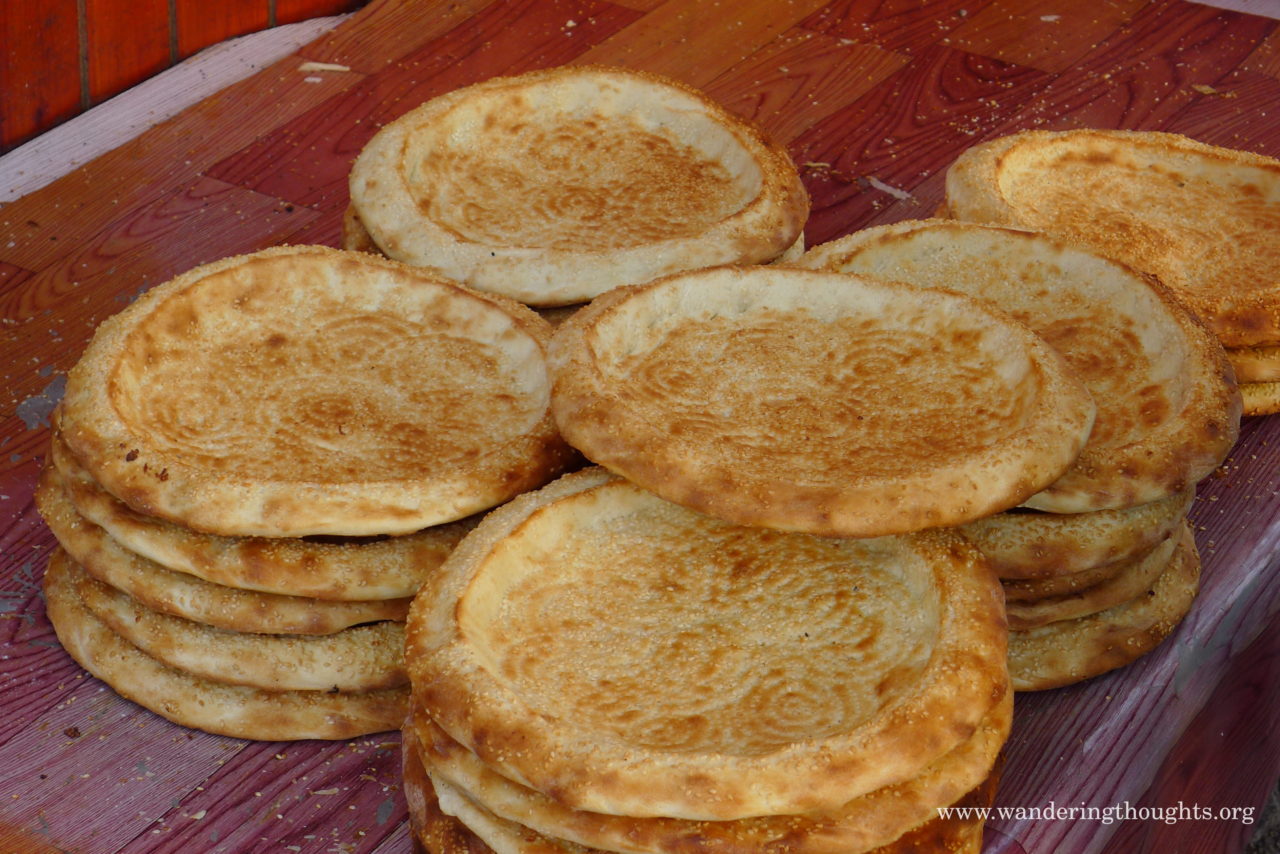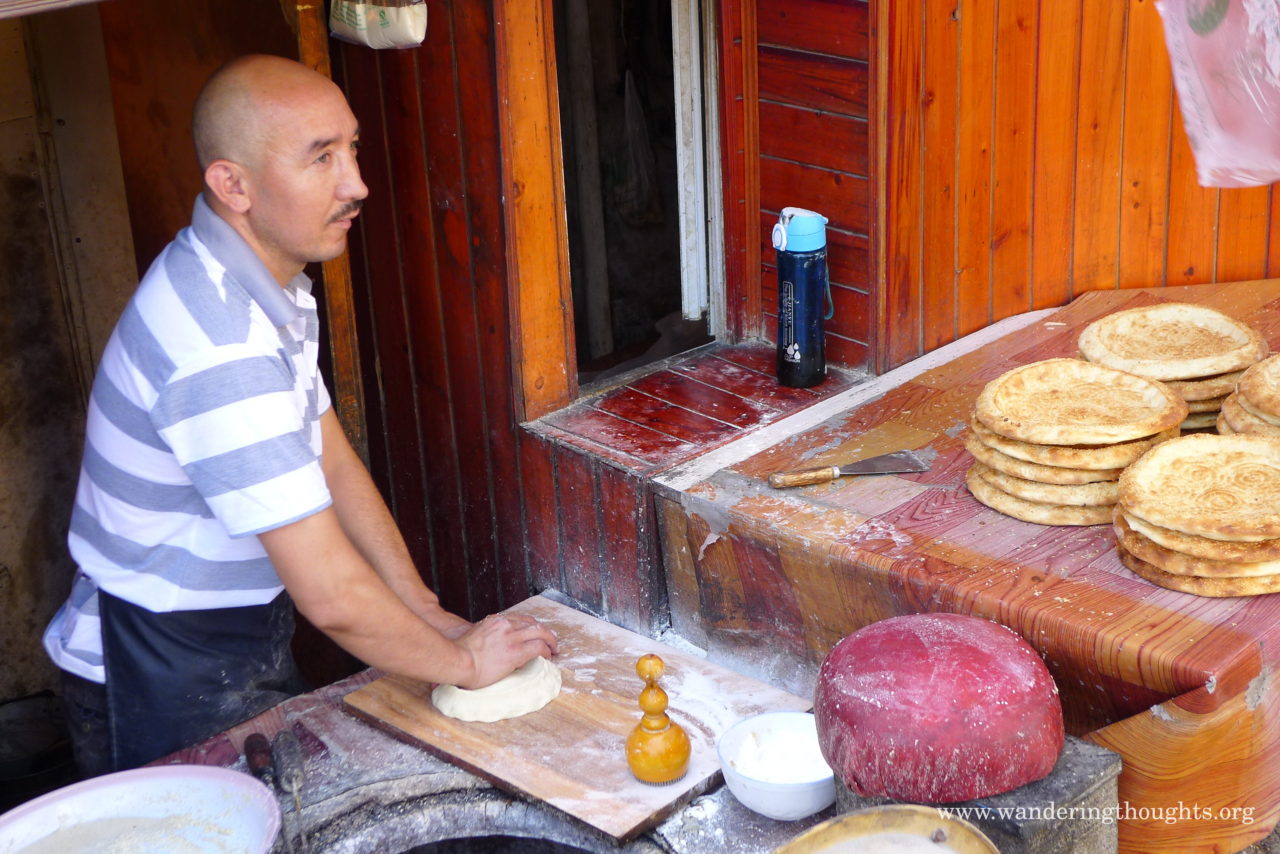 The next morning we took a shared taxi to the border, walked there to see if we could cross on foot and were denied. Why? Because ferrying people over there seems to be too good a business to pass that opportunity up. Well, that's my guess anyhow.
The next hours were a bit of a blur. We managed to buy a ticket for the bus to cross the border. The first bus that took us over the Chinese border was rather empty. But after the actual border crossing we found this: Two buses, one locked and empty. And about a hundred Kazakhs trying to fit themselves and all the cheap wares from China into the one open bus. That went on for about an hour. There was no driver and we weren't really sure what to do. Should we try and board the bus? Would it eventually take off? Should we wait for the second bus? Was our ticket specific for one of the buses?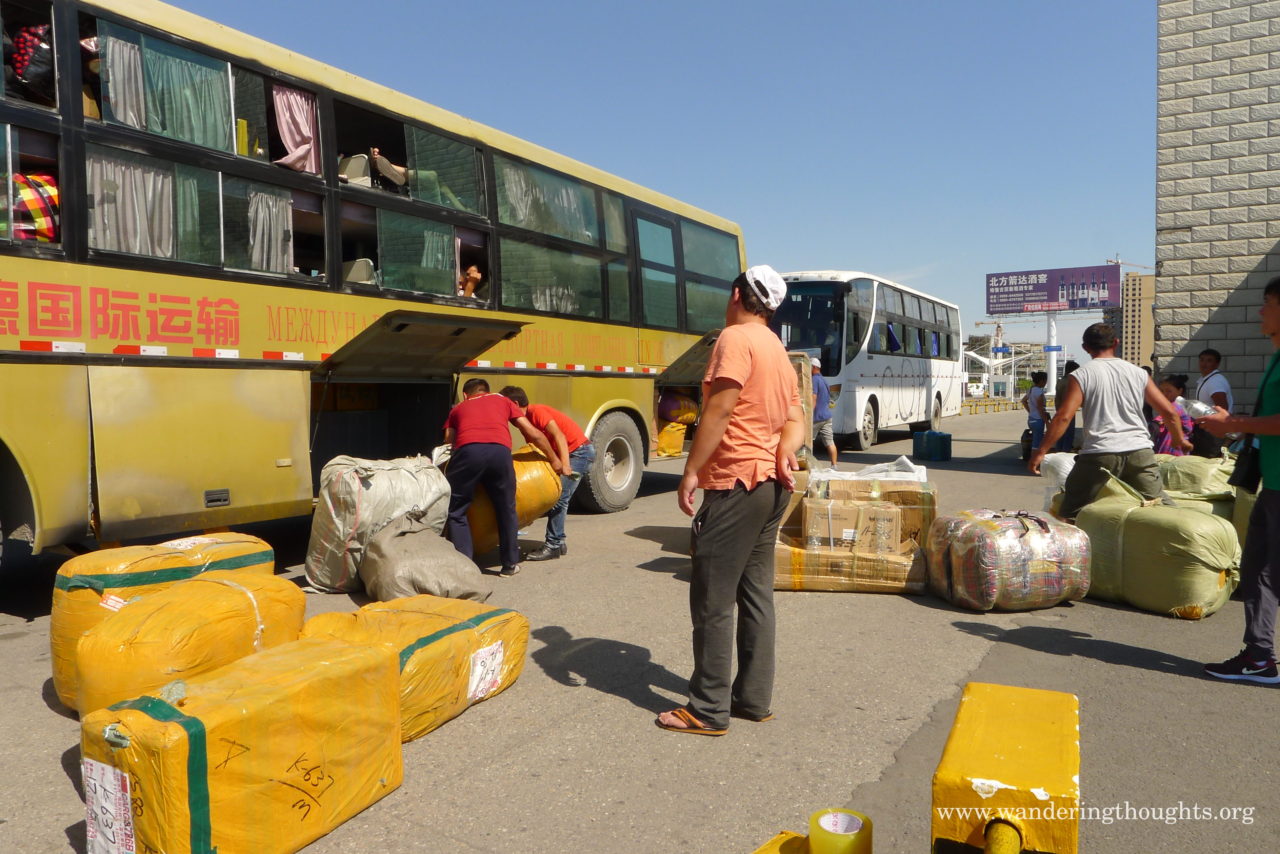 We waited, we asked some people, got confusing answers, got yelled at, pushed off the bus, ushered onto the same bus… and in the end figured we just have to push to actually get on the bus. This is not South East Asia anymore where politeness and staying calm tends to get you further in general.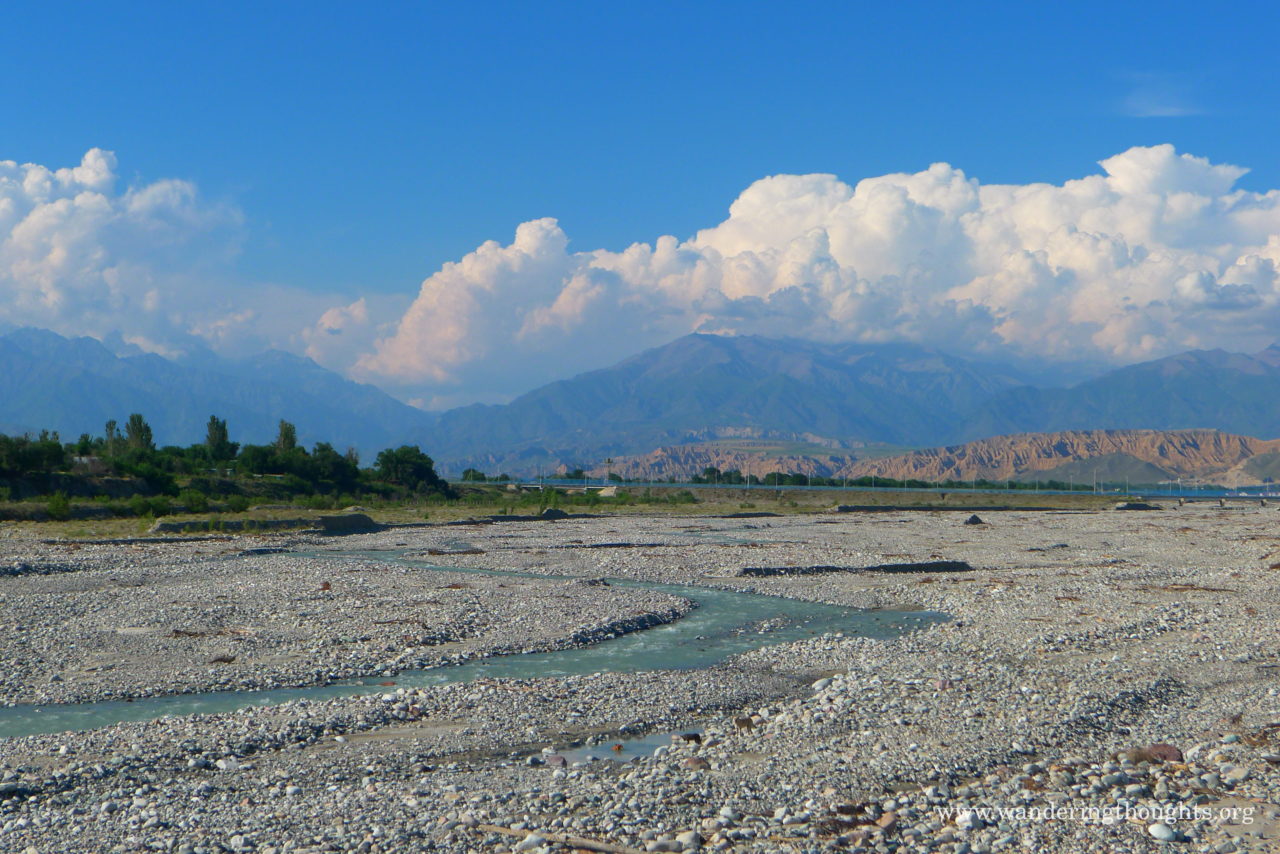 We did get across that Kazakh border. Made some friends in the process who helped us with explaining everything. We saw some money change hands where it shouldn't and discussed with the border guards to let our friends leave with us. In return they helped us find a shared taxi to Almaty. Man, what a day!!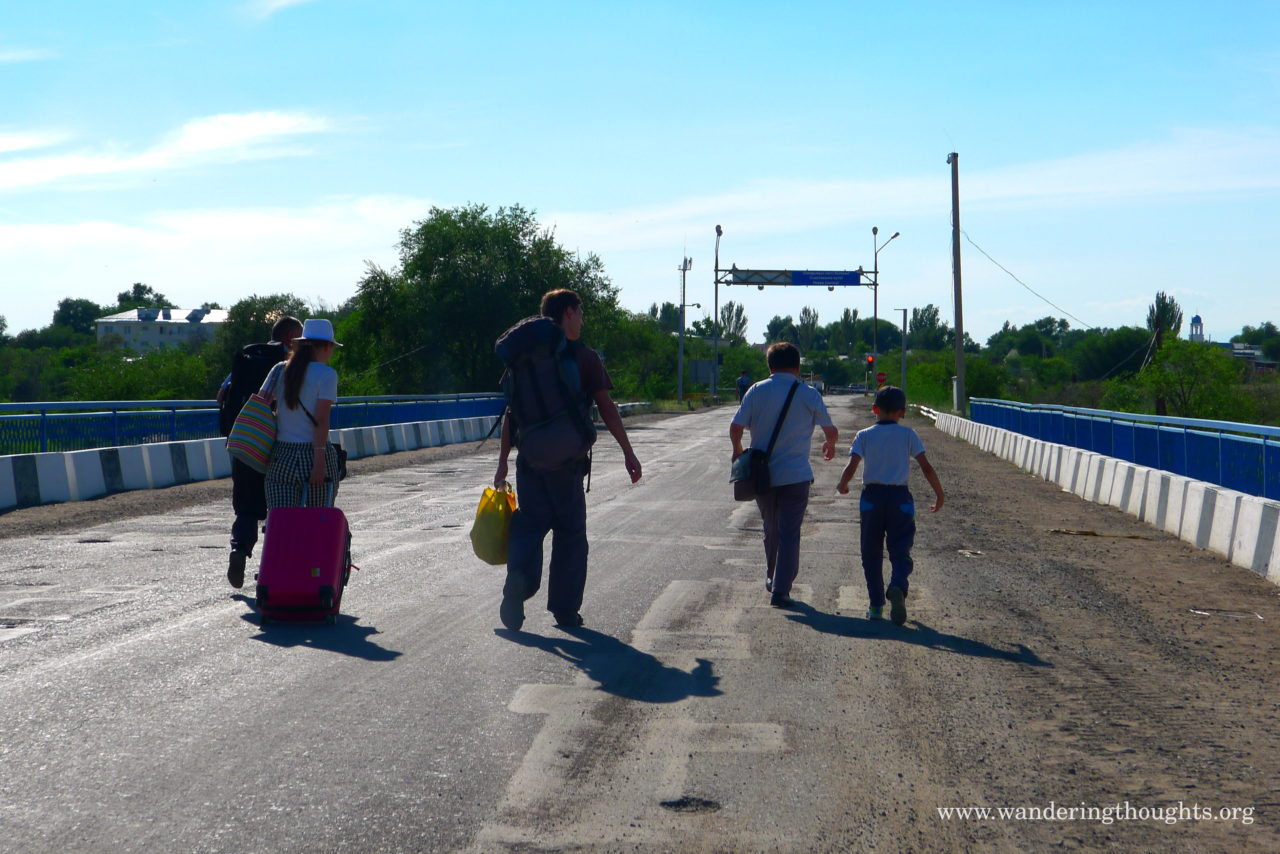 About an hour later we couldn't have been more happy. I will tell you next time why!