Two days later I feel all better and we're able to move on. In the morning we meet our first fellow touring cyclists – two women who are on their way from Sydney to Cairns as well! It's nice talking to them but unfortunately we never meet again. Our speeds must be too different.
Ever trying to avoid the highway we take some back roads and come across a nice swampy river…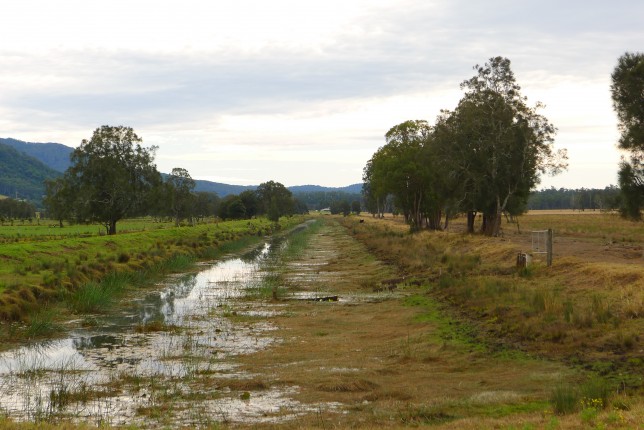 beautiful green bushland…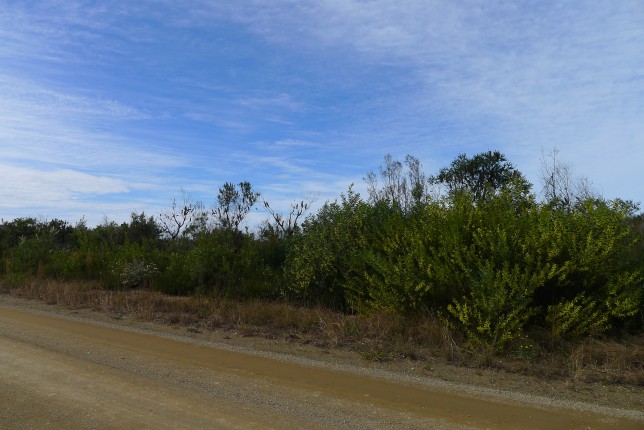 stunning beaches with nice rock formations…
and an easily found perfect free camping spot in time for sunset!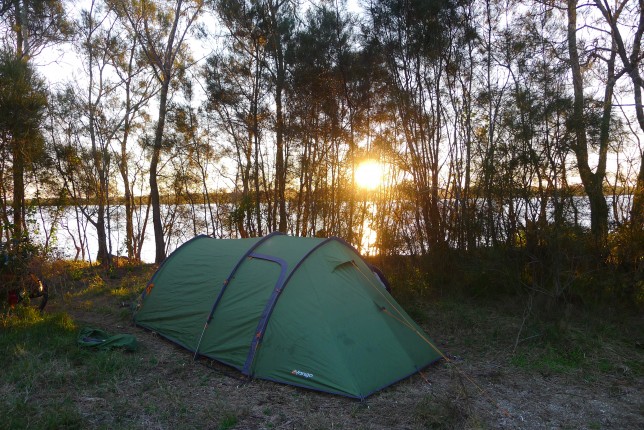 Exchanging stories and getting inspired
In Port Macquarie we decide to stay one more day as we found some hosts on couchsurfing: Sanne and Marc just came back from their 4 year round the world motorcycle tour and are now settling into life in Port Macquarie. It's so interesting to meet them and somewhat funny to be in such different stages of travelling through life. They actually took a break during their tour and came back to Australia to earn some money in between – something I couldn't quite imagine at first but who knows what might happen. Torsten and I keep getting inspired by people and their stories and by all the places to discover in between Australia and home. And all that inspiration seems to be adding up to a lot of possible outcomes :).
Too much sand
The next day – after much consideration – we decide to take a quiet road next to the beach. Research and talking to people tells us that this road might not be the best and have sandy patches in between. But as people keep dismissing beautiful roads which are perfect for cycling we end up not believing them this time and go ahead. At first it's nice going on hard sand and we even pass a road works crew who are just redoing the road.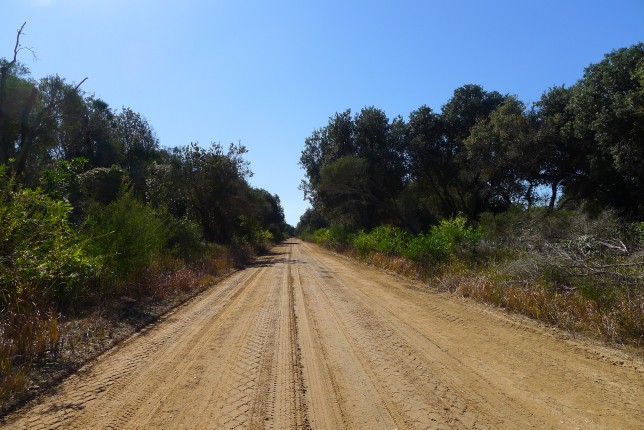 But after about 5k the road keeps getting worse and worse. The hard sand vanishes and we soon give up trying to cycle through the patches of soft sand.  This car apparently didn't make it at all: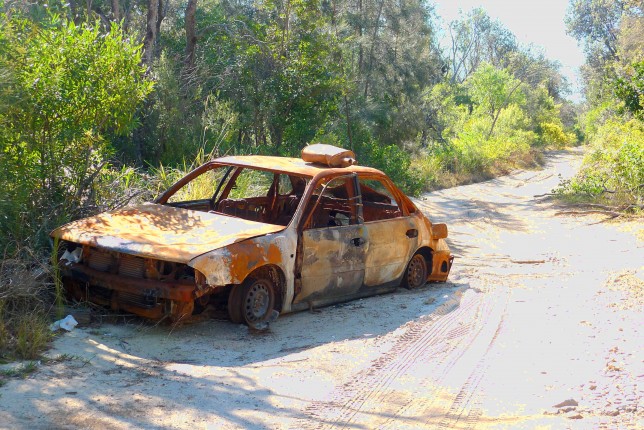 In the end it is so bad that we have to push – that's when Torsten proposes to try pushing on the beach instead as the sand might be harder there. Well, it is anything but. We are now pushing our heavily loaded touring bikes through the finest sand ever and sink in deeply with every step. I have to stop about every 20 meters because it is just too damn exhausting. I curse and scream and cry but there is no one there to listen but the endless waves and the blistering sun. It really truly sucks. I wish we would have listened to the advice we got but turning around doesn't seem like a good option either. So we keep on pushing: Torsten just gets on with it and I curse a little more. And then just when I think I cannot possibly do this for 5 more k (that's when the road will get better again) a pick up truck passes and the driver asks me if I want a ride. YES, YES and neverhaveIbeensosureofanythinginmylifeYES!!! To my explanation that taking that road was a pretty stupid decision, Tim (the driver) just comments that we all make stupid decisions from time to time. So we chuck the bikes and all the luggage on the truck and enjoy the ride like nothing else. The ride and especially the honest offer to help which was in no way condescending was another little but in that moment very very big part of the magic of cycle touring. Thank you Tim!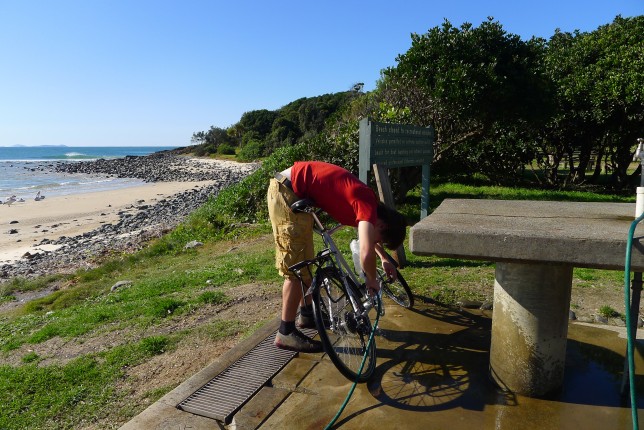 Later that day after giving our bikes a thorough wash we see our first kangaroos and have to look twice to confirm that that's what it is. Unfortunately it's quite hard to sneak pictures as they usually hop away when we stop. And then we finally arrive at our host Eileen's house and get to stay in her comfy camper van and rest.
Built up energy
In the next morning we enjoy a relaxed breakfast with Eileen and get to know her a bit. It's really nice of her to take as in as she had lots of guests in the last weeks – so thank you!
And thus the roads take us north and it's mostly boring highway-cycling today. But as it's not too hilly we make some progress and together with the fact that the search for a free camp is not too successful at first we end up making our first 100k-day! It is truly exhausting but I'm exhilarated as well: Often I still feel slow and too tired at the end of each day, but my muscles are getting stronger it seems!
So we're ready to celebrate at our beach side camp with a hot drink and lots of food. Unfortunately the gas cartridge we bought earlier doesn't fit our camp stove which is a bit disappointing as I really need some comfort after that much physical exertion. But oh well, we have leftover (cold) rice and vegetables in the beautiful evening light on the beach and then our warm sleeping bags – it's freezing at night! Sleep well!