While we are waiting for the rest of our gear in Sydney we decide to explore the area around us for a bit. I want to go hiking because I miss it already and our warmshowers host recommends the Blue Mountains which are just a 2-hour train ride away from Sydney. So we change our daily routine just a tiny bit and get up really early to make the most of the few hours of daylight in the mountains. We hop on our bikes, find the bike compartments in the train and are only slightly puzzled when they look just like a normal entrance area (the one before you get to the seating area). Then we notice the hanging devices in the ceiling where you can hang one bicycle per compartment – good enough!
With a coffee in our hands and home made cinnamon buns for breakfast we thoroughly enjoy the train ride. It slowly meanders through the city outskirts until it reaches the smaller villages in the Blue Mountains. It is a nice feeling finally being on a train again – something I used to do all the time in Germany. So after a while we get off and cycle to the trail head in beautiful sunny weather. Once we are there I ask a family for sunscreen – assuming that it would be a cloudy day I didn't bring any.
---
After that we set off to a 3 hour hike (could have done it faster if not for the many many photo stops) on the National Pass Trail which leads over / under / along sandstone cliffs. In the morning the valley was still covered in clouds which was seriously stunning and made me stop for pictures just about every two minutes.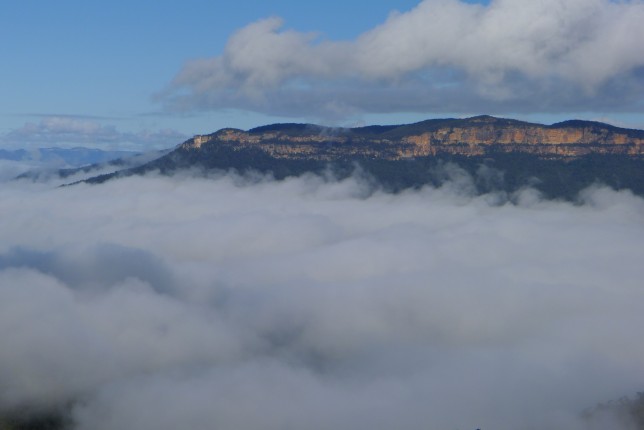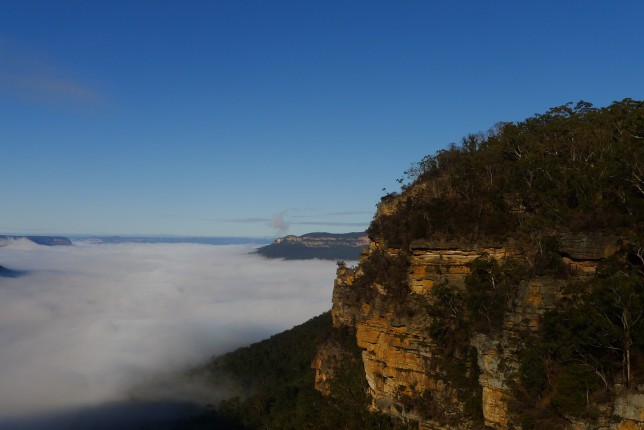 Apart from that the track was easy but really nice and we smelled eucalyptus trees and saw some really colourful parrots!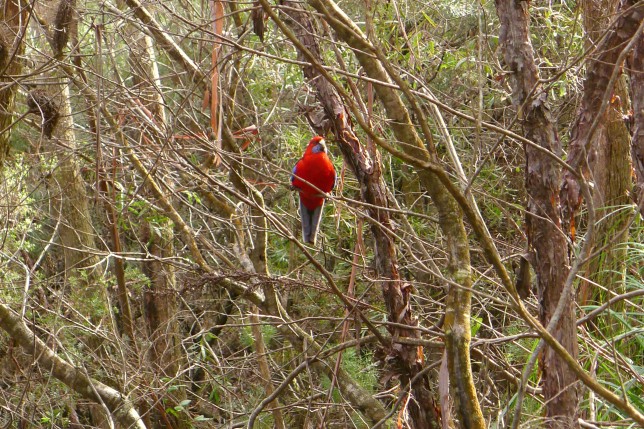 After returning  to conservation hut we enjoyed a coffee and then cycled on to Katoomba while making several stops along the way. Whilst the train ride was mostly on relatively flat terrain, the bike ride sure was not: Up and down we went and after hiking that sure is exhausting. So we made breaks for buying food and to do one smaller hike to explore the area a bit more. And then on to the Three Sisters which are probably the most famous sandstone formation in the Blue Mountains. They are also accessible by road which is why there are busloads of tourists.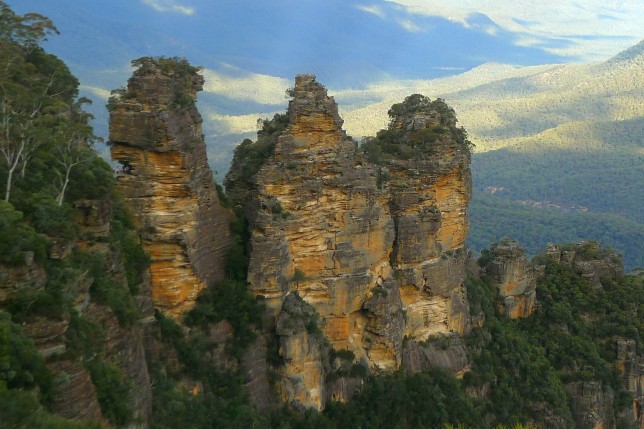 ---
As exhausting as the combination of hiking and cycling was, it still made me realize that I enjoyed it so much more than similar outings in New Zealand with being in a car and stopping every so often to walk between 0 and 30 minutes to look at something. With cycling between things it is the journey that is the main event and not necessarily the things you are cycling towards. On that day in the Blue Mountains I felt every hill, every bit of wind, the sun and the slight overall chill (it is winter after all). I felt my exhaustion going up a hill and the exhilaration of coasting down. I was happy to get off the bike for a while and go on exploring into the bush and then again happy to cycle on. And maybe happiest while settling down in the train towards home, eating huge amounts of food and reminiscing about a wonderful day outside. I am really looking forward to a lot more of that.