February 2016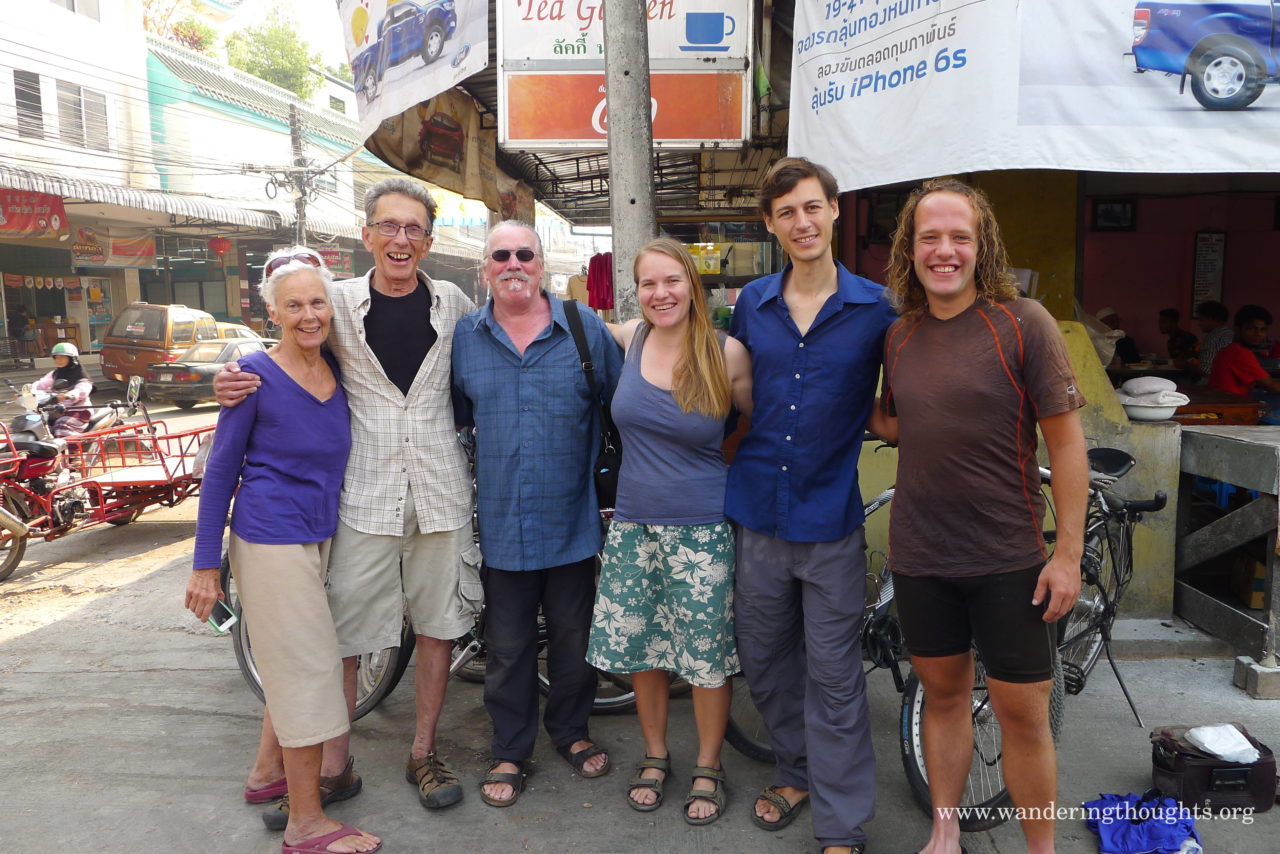 After exciting Myanmar because of our group permit to cross into India we spent an enjoyable week of rest in Mae Sot, Thailand. The small border town and especially the Green Guest House was a perfect place to be to relax, do some errands and write and work. We met with Susan and Nat, two photographers living in Mae Sot for 6 months a year.
And slowly slowly the guest house filled up with more cyclists as more and more members of our group showed up. We had fun getting to know everyone and exchanging plans and future routes.
That was it for our group though. Early next morning we cycled to the border, ever optimistic if not quite sure what would happen next. Our agency Burma Senses had left us with more than vague instructions what to do at the border. So we were not really sure if we should be upfront about our plans to cross into India as an individual  unaccompanied group or just be vague about it. We were processed quickly and got our entry stamps. As the agency had stated before that our entering as a group with the permit was very important we thought we should at least get the border staff to acknowledge the permit and showed it to them. Long story short – it all went downhill from there. We then spent the whole day at the border, discussing with various officials, talking to our contact at Burma Senses over the phone and later trying to reach said contact who would not pick up the phone any longer.
The border staff was not impressed with our permit and got increasingly angry at the agency for having us set up with the document. In the end they would not even let us enter Myanmar on our still valid tourist visas. After more discussions we could agree on returning to Thailand that evening and coming back to Myanmar the following day as six individuals. We would then be allowed to enter but not to cross into India. I guess this was a case of 'saving face' – we were somehow punished for trying to enter with the invalid permit but on the next day we could just be treated as normal tourists and everything would be forgotten.
Burma Senses eventually reacted to our emails complaining about their lack of support, saying that it wasn't their fault and they did everything they could. They agreed to pay us back our money immediately and did just that. We still weren't happy with them just stopping to respond to our calls when it got difficult and were left wondering if this happened due to differences in communication. Torsten and I grew up with solving problems directly and talking about them and maybe our contact did not. Talking to many people all over SE Asia we learned that it is not very common to talk openly about problems. Of course this is nothing more than an assumption based on what happened.
(For a longer version of the events see below.)
The upsides to that day was the group of people we shared it with: Our group of 6 was – except for one person – very relaxed and we managed to make that day full of surprises kind of fun.
In any way, some decisions had to be made. We had spent so much time trying to organize the Myanmar – India border crossing and after all of that it still didn't work out. We talked, decided that we had really enjoyed Myanmar and still wanted to see more of it. Flights out of there to India were really expensive though and that's why we planned on flying from Bangkok. In regards to that it didn't really make sense to cycle up north to see all the sights like Bagan and Inle Lake and then take buses back south to make it for our visa deadline. After all the buses to get to Myanmar we really just wanted to  cycle. So we opted to go south straight away and then to exit Myanmar through the Htee Kee border crossing to Thailand. From there we would cycle to Bangkok, see our fantastic friend Toom again and then fly to India. More on that next week!
A change of plans but that just comes with the territory of overland travel, doesn't it?
And for those interested – here is the slightly longer version of our permit troubles, first published on the Thorntree Forum:
So, we were going to cross from Thailand (Myawady) to Tamu/Moreh with bicycles. Found one agency (Burma Senses / Asia Senses) who offered to organize the permits without need for a guide. All others we contacted said this was not possible at all. Managed to get a group of 6 cyclists together as was cheaper with more people.
They changed rules/options a few times, apparently both in Tamu and Myawady staff has changed recently and the current ones are extremely diligent/bureaucratic. We were told that Tamu would only let you leave after checking with Myawady that we entered already in a group, with correct permit, on the prescribed date.
So we got the permits from the agency, however when entering in Myawady staff insisted despite what the permit said we could only go with pilot car, guide and officer of Ministry of Hotel and Tourism with us all the time(!!) (ruling out any "cheating", too). Apparently they called lots of senior Ministry staff and decided that the permit could not be honored any more. Everybody was friendly and we had the impression they really just wanted/had to to follow the rules from high up/not make any mistakes, bribes were never suggested! Ministry of Hotels and Tourism and Immigration are quite separate and we gathered that Ministry staff were the "problem" in our case. Eventually our agency told us they saw no way to make it work and literally abandoned us at the border – not OK! A few more hours of discussion got us to at least keep our visas – we had to return to Thailand for the night, but were allowed in as "regular" tourists only the following day.
The agency did refund all our money right away, so lost quite a bit on this, too. Not sure if they were just too optimistic or naive, had overestimated their contacts, …
I spent a lot of time trying to organize this and am pretty sure for the time being crossing Myanmar to India overland is currently impossible. Have not heard of anyone just showing up at the border and getting through, but did hear of people showing up and not getting through.
Options you have now seem to be Exotic Myanmar – but only if you want to go India to Thailand. They can do individual permits to enter from and leave to India for 2x$80, people can usually leave to Thailand even though they are not supposed to. Must be applied for before entering Myanmar. Thai to India this does not work, they said clients who tried where not allowed to leave at Tamu.
We heard rumors the situation may go back to normal maybe in April ($80 permits, no same border rule), if you have time maybe you get lucky.
Last, you can go on an organized tour. This has always been possible and will set you back about $500/person for 4 days if you are several people. It is not possible to join another group once in the country and say, just go for a day from Mandalay. Four days rushing through the country makes only sense for overlanders by motorbike or car, where flying isn't really an alternative, in my opinion …
We really enjoyed our almost six weeks in Myanmar nevertheless, don't let this keep you from going! We have now cycled back to Bangkok via Dawei and are flying to Kolkata on Thursday 🙁
It was still great to meet so many interesting people due thanks this – staying so cool and calm all 10 hours stuck at Myawady it was almost fun!
Currently (August 2017) the border seems to be closed for individual travelers in both directions. Permits cannot be obtained. But as the situation changes rapidly and frequently, check here for updates.