January 2017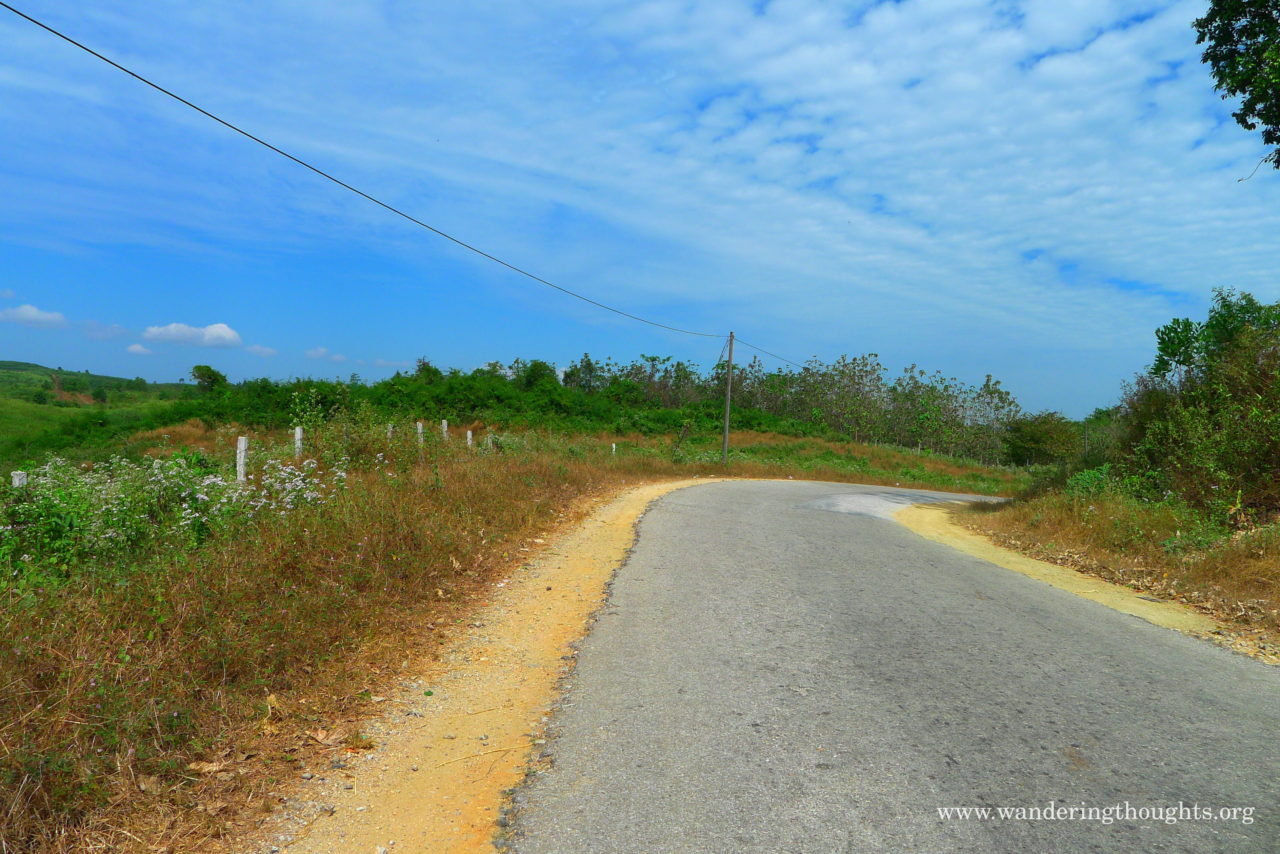 We spent the whole month of January cycling in Myanmar. Our route took us from Ngwe Saung Beach back to Panthein and the hills weren't even that bad this time.
Monks were a part of daily life here in Myanmar. They would usually get up early and walk around the monastery. The locals would then donate food to them which is seen as a good deed in Buddhism.
On our arrival in Panthein I was once again reminded why vegetarianism is the right choice for me. Mistreatment of animals seems to be common all over the world.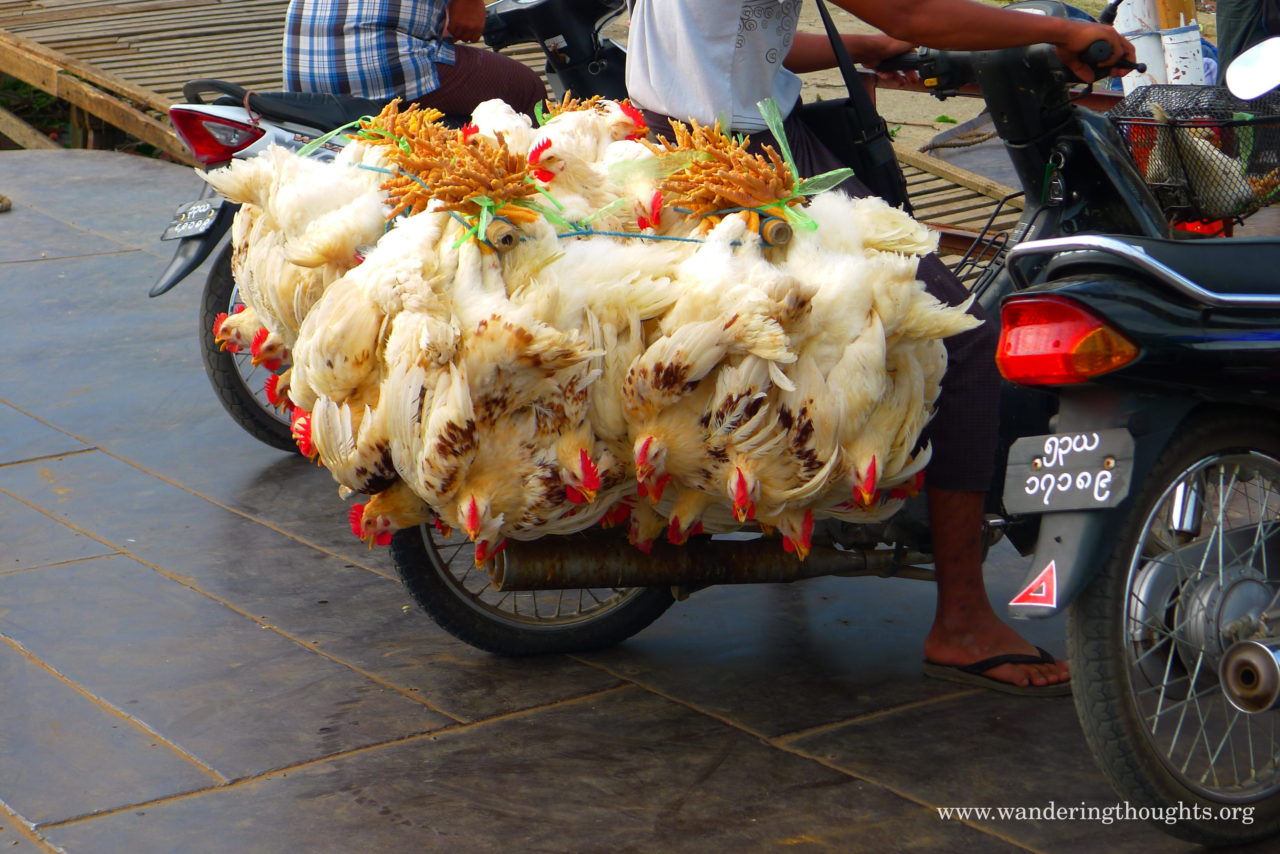 We did find excellent vegetarian food though. It's almost funny that so many people always question the feasibility of cycle touring without eating meat. Many times we get asked what in the world we eat when everyone around seems to be eating meat only. In over one year of cycle touring we only had very few problems though. On the contrary being a vegetarian makes us learn the language better and discover more food quickly. Of course it doesn't always work out but mostly it is really not a big deal.
In Myanmar it was exceptionally easy. Once we had gotten the hang of pronouncing a few words we could easily explain what we wanted and mostly we were just offered a myriad of delicious dishes. In this case the owner of a road side restaurant kept bringing us more and more food until we were so stuffed that we could hardly move.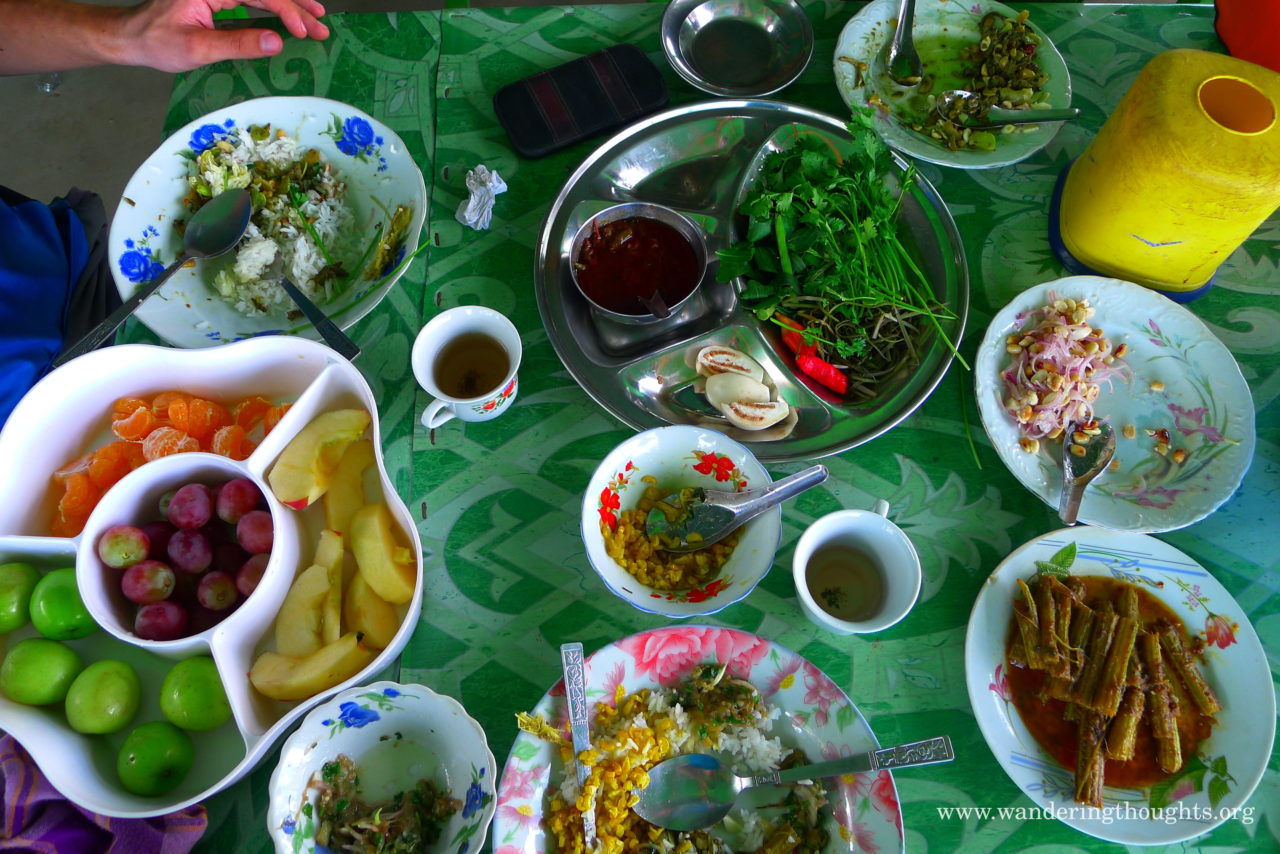 Temples and pagodas were another part of daily life and we saw many golden buildings by the side of the road.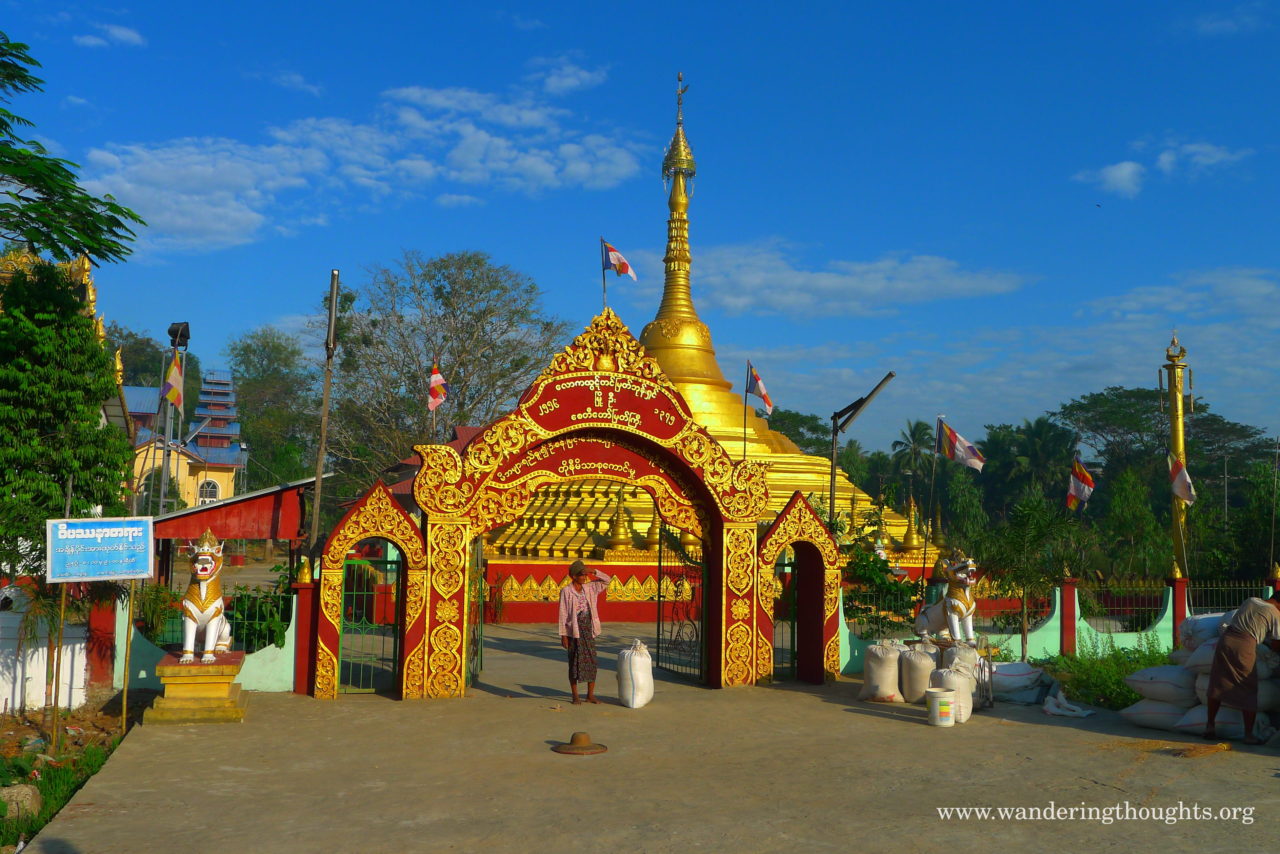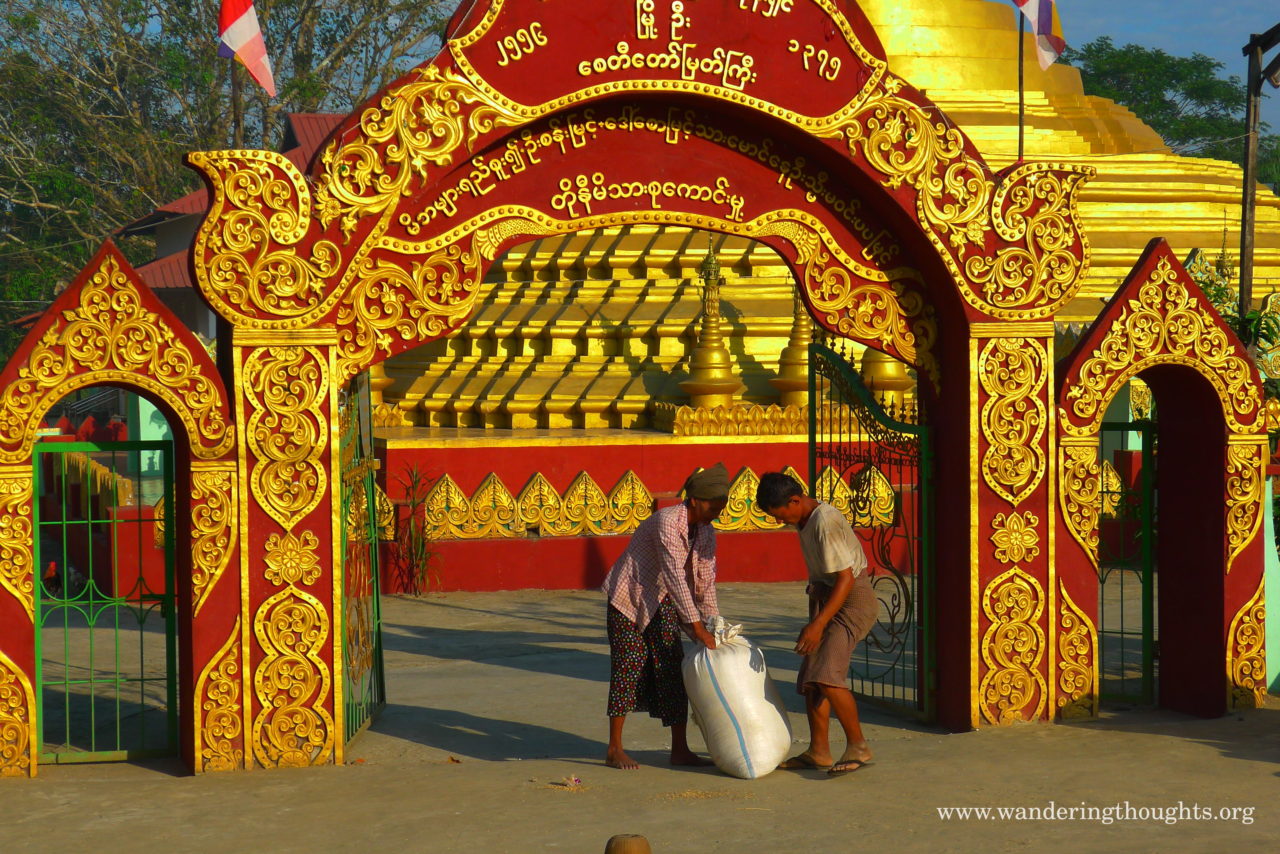 We also saw many people collecting money for temples. Talking to locals it seems that a lot of energy (money and otherwise) goes into monasteries.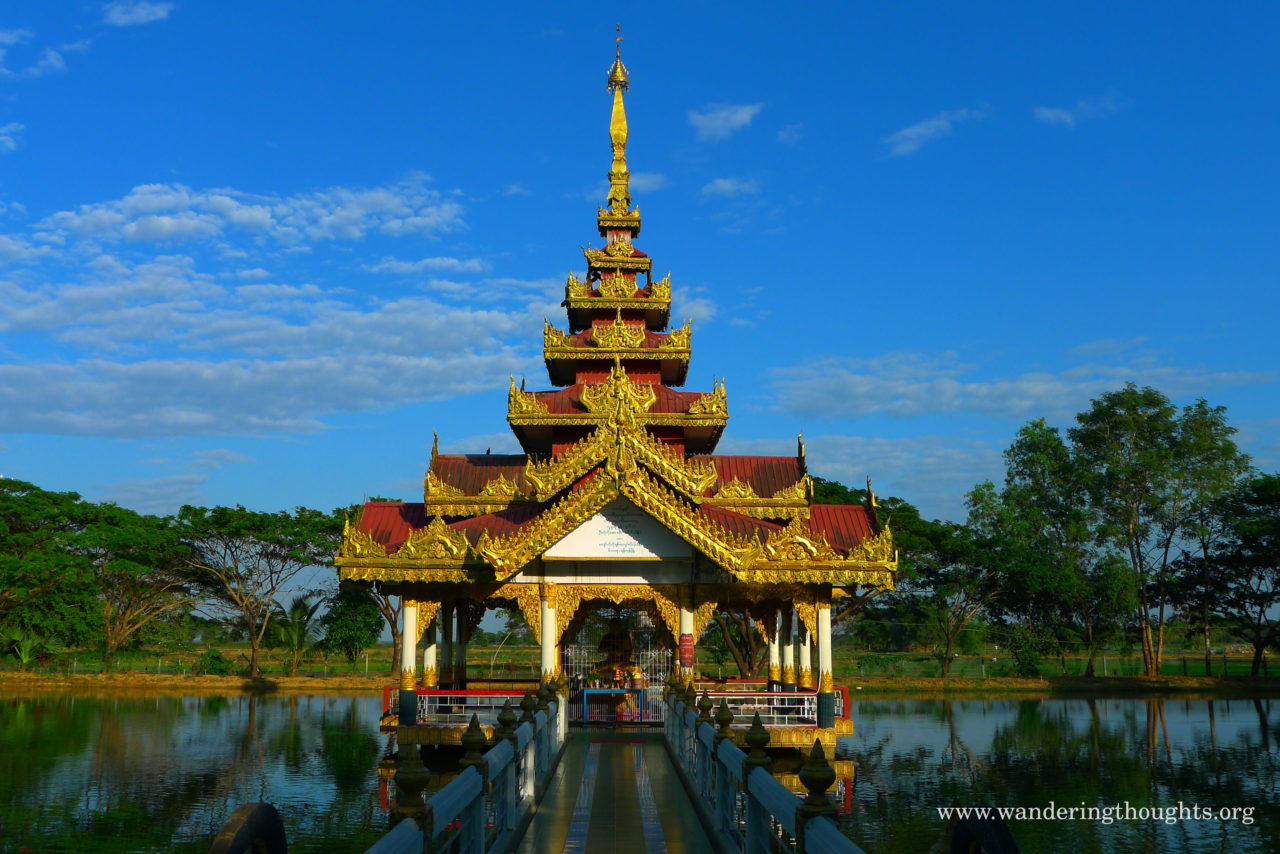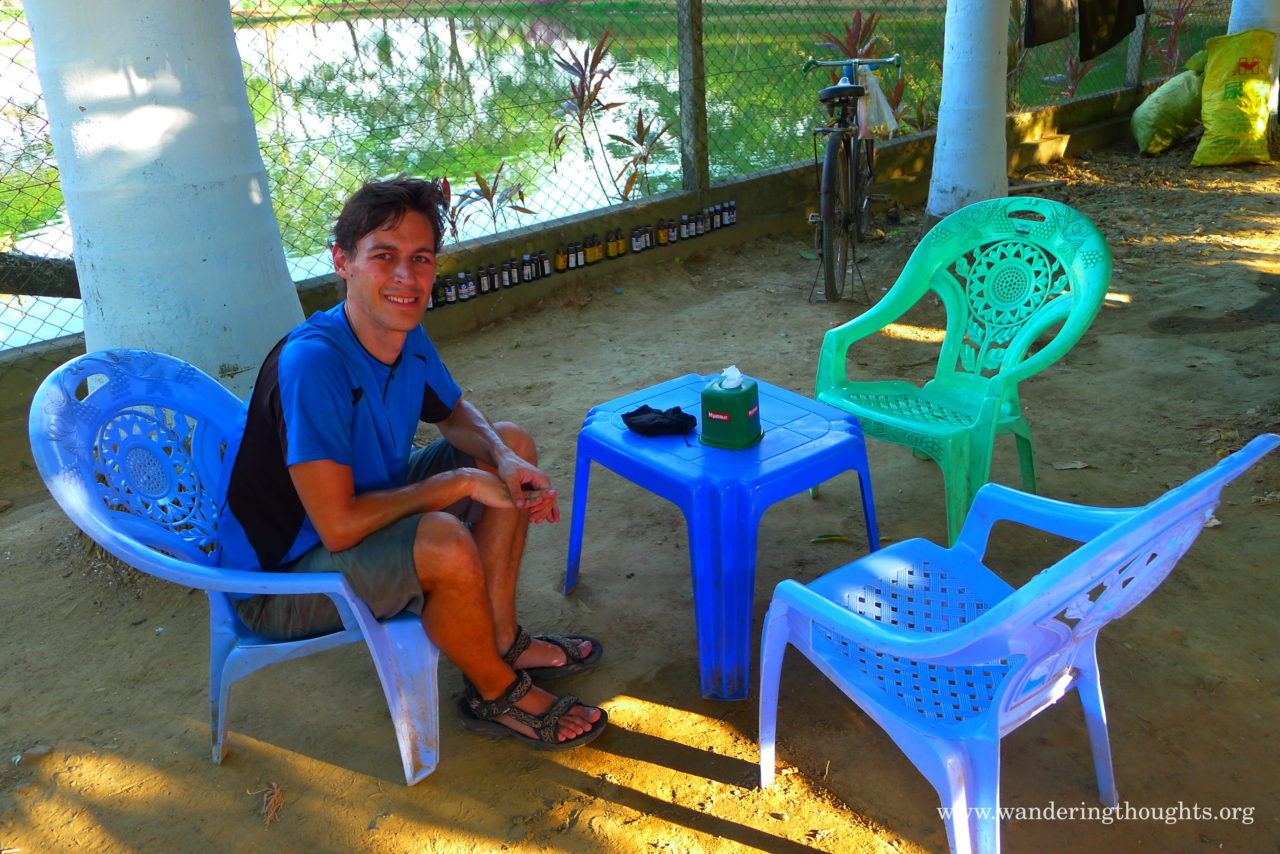 On our way north we stopped at road side stalls for sugar cane juice, we found nice and quiet roads and beautiful sunsets.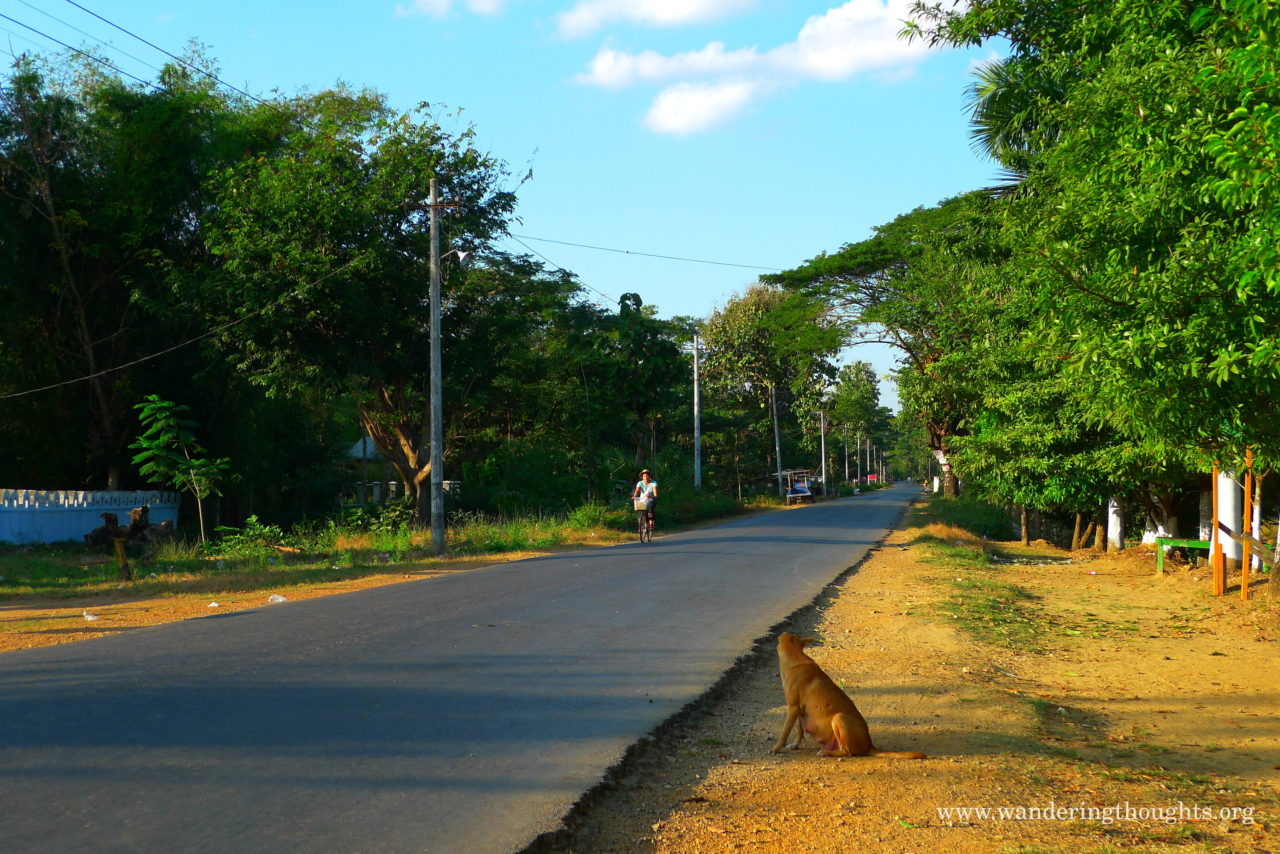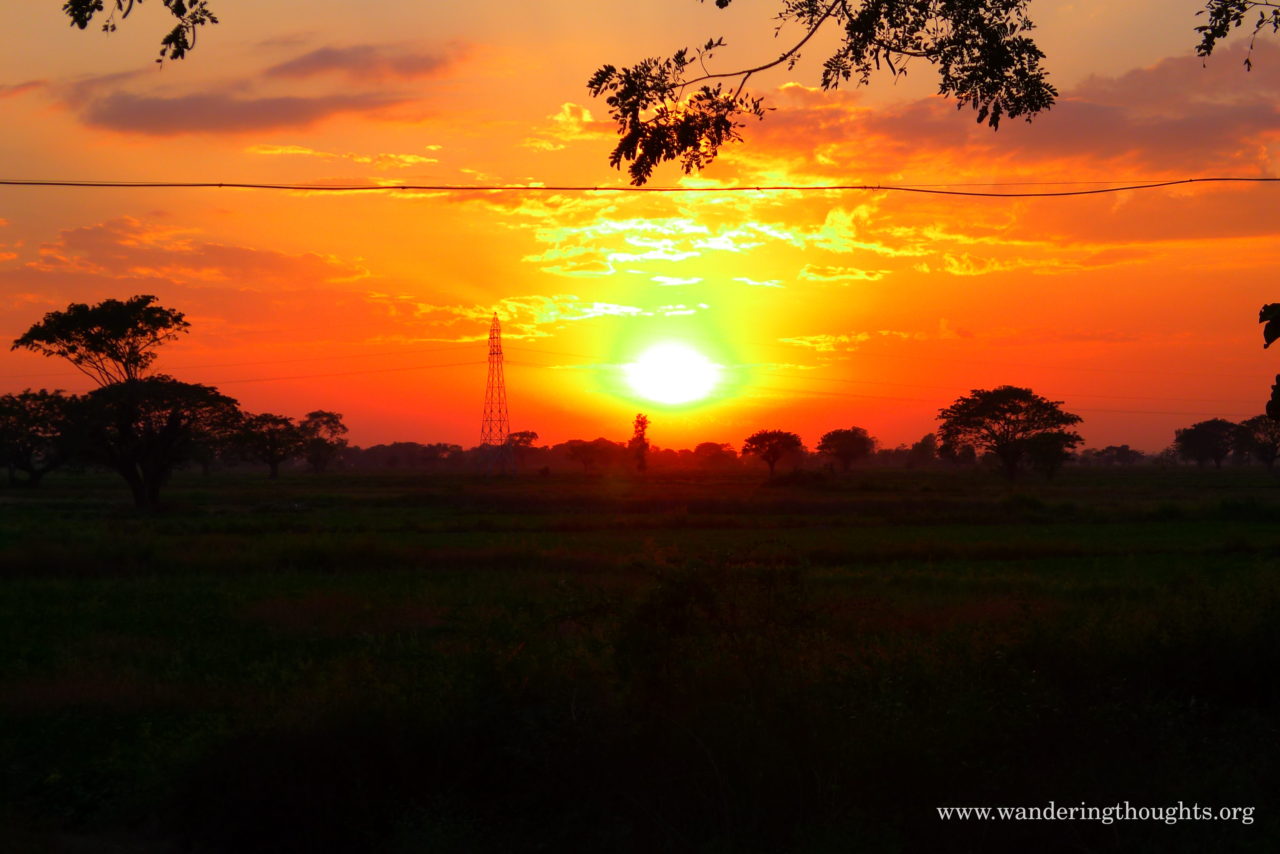 Locals were always curious to talk to us and occasionally we met someone who spoke really good English. That is always a good opportunity for us to get a deeper insight into a place.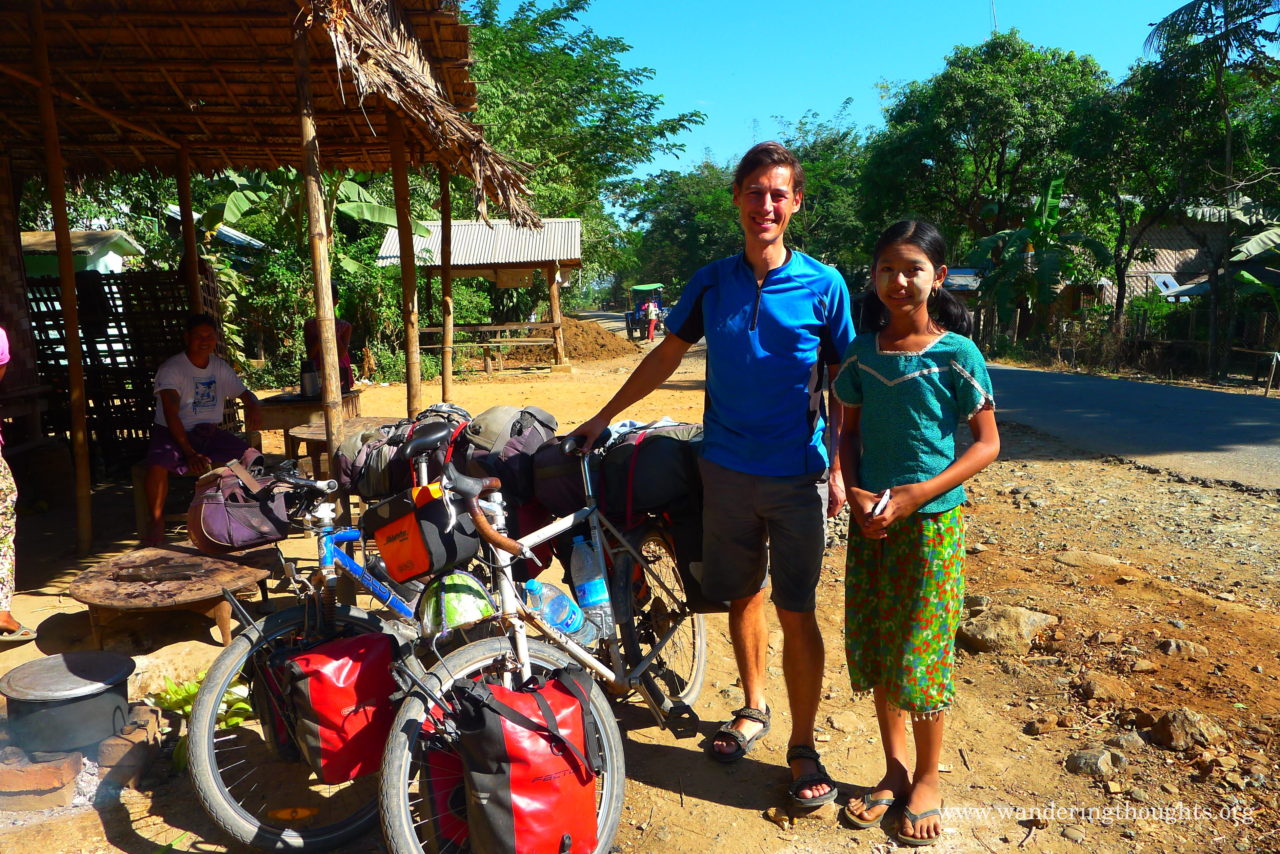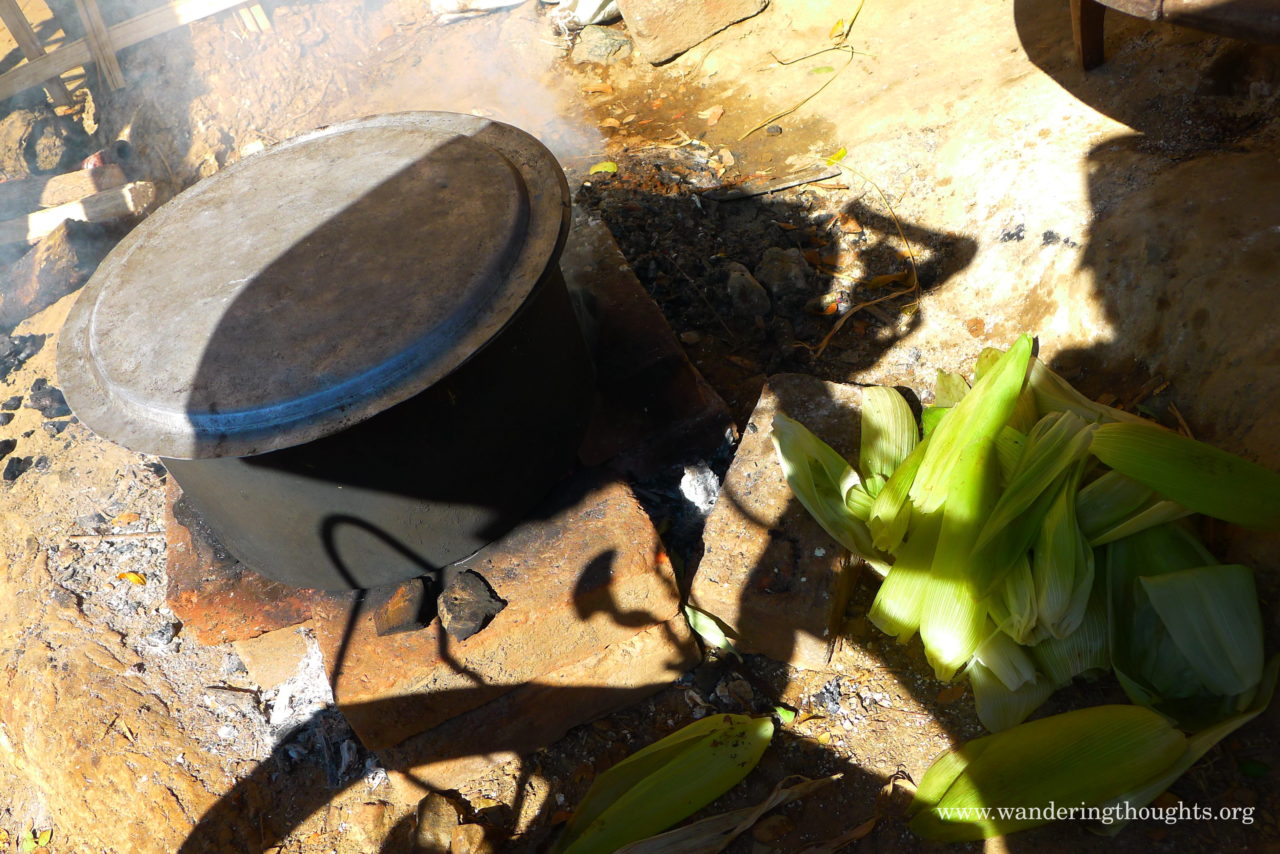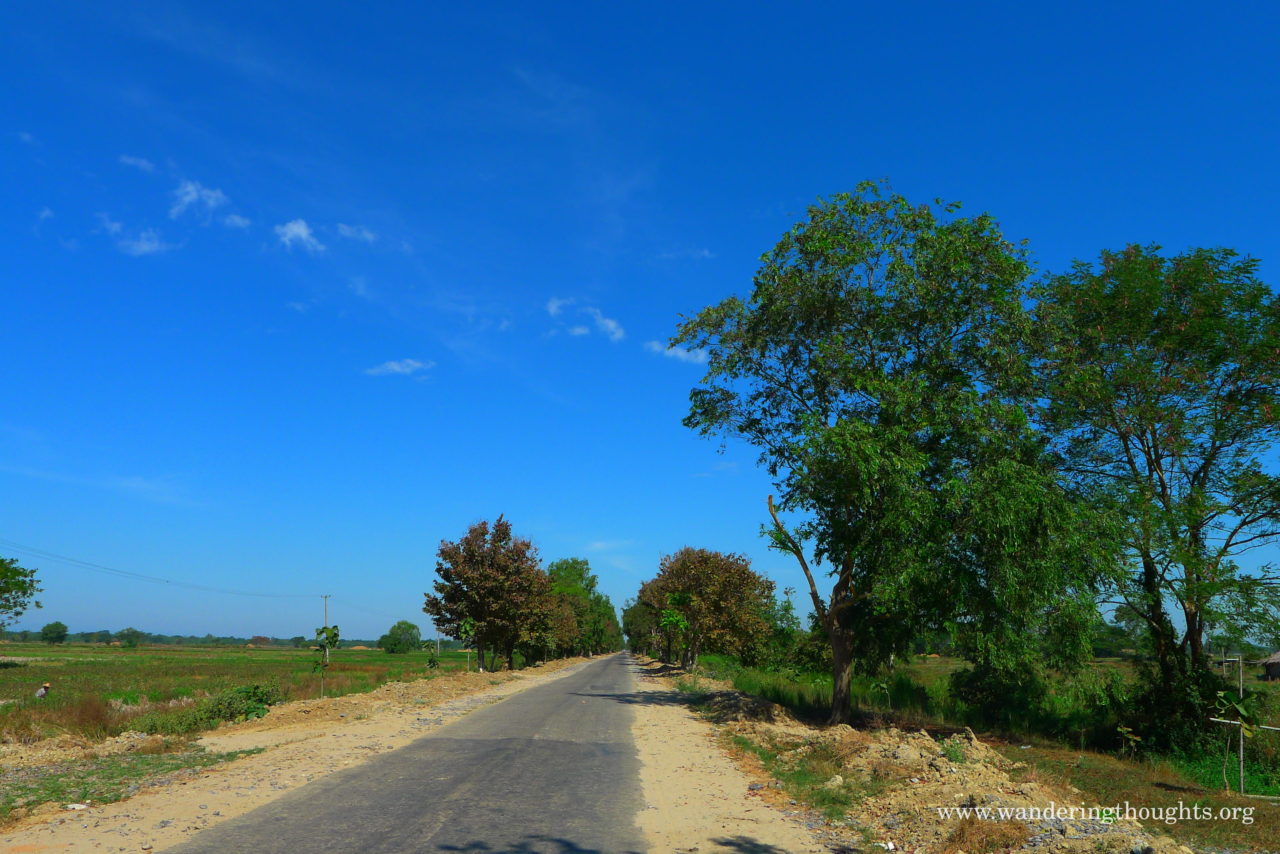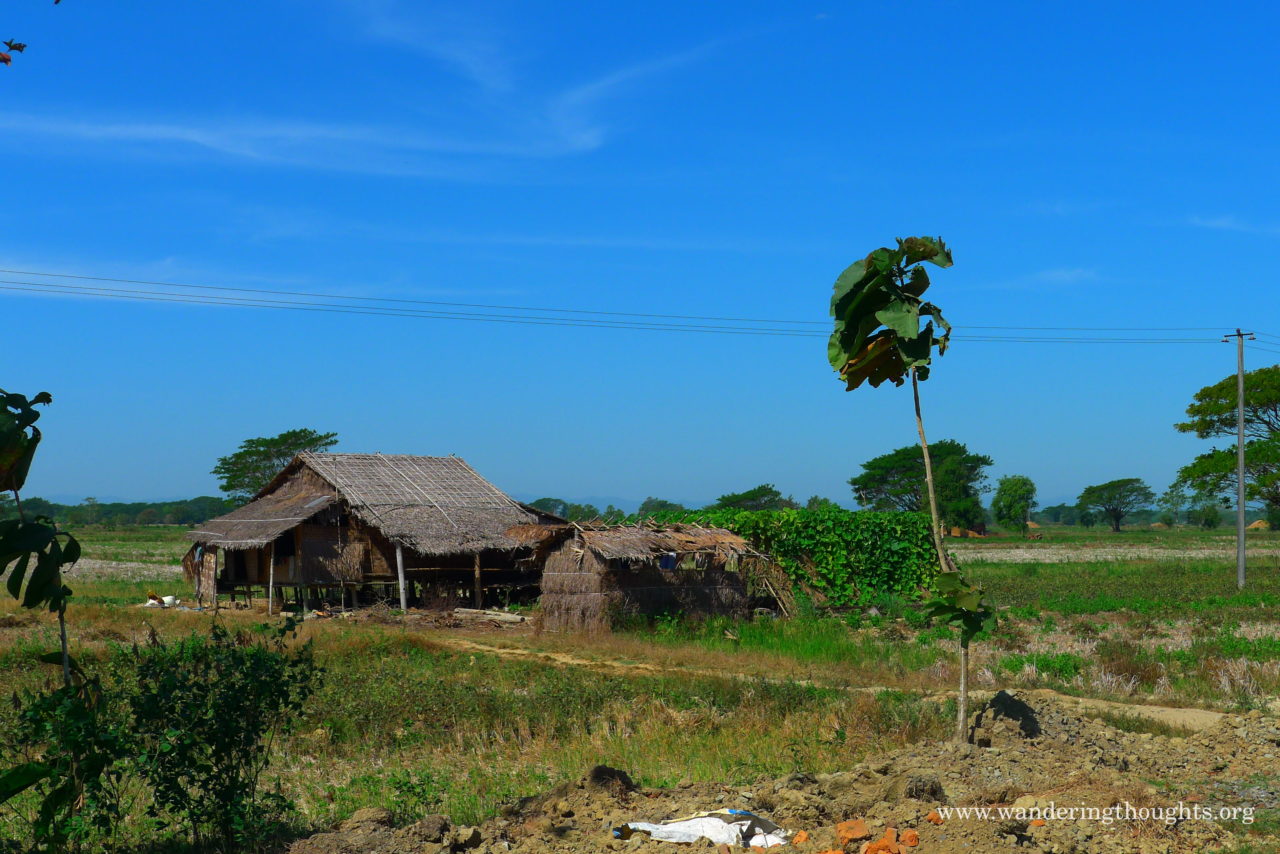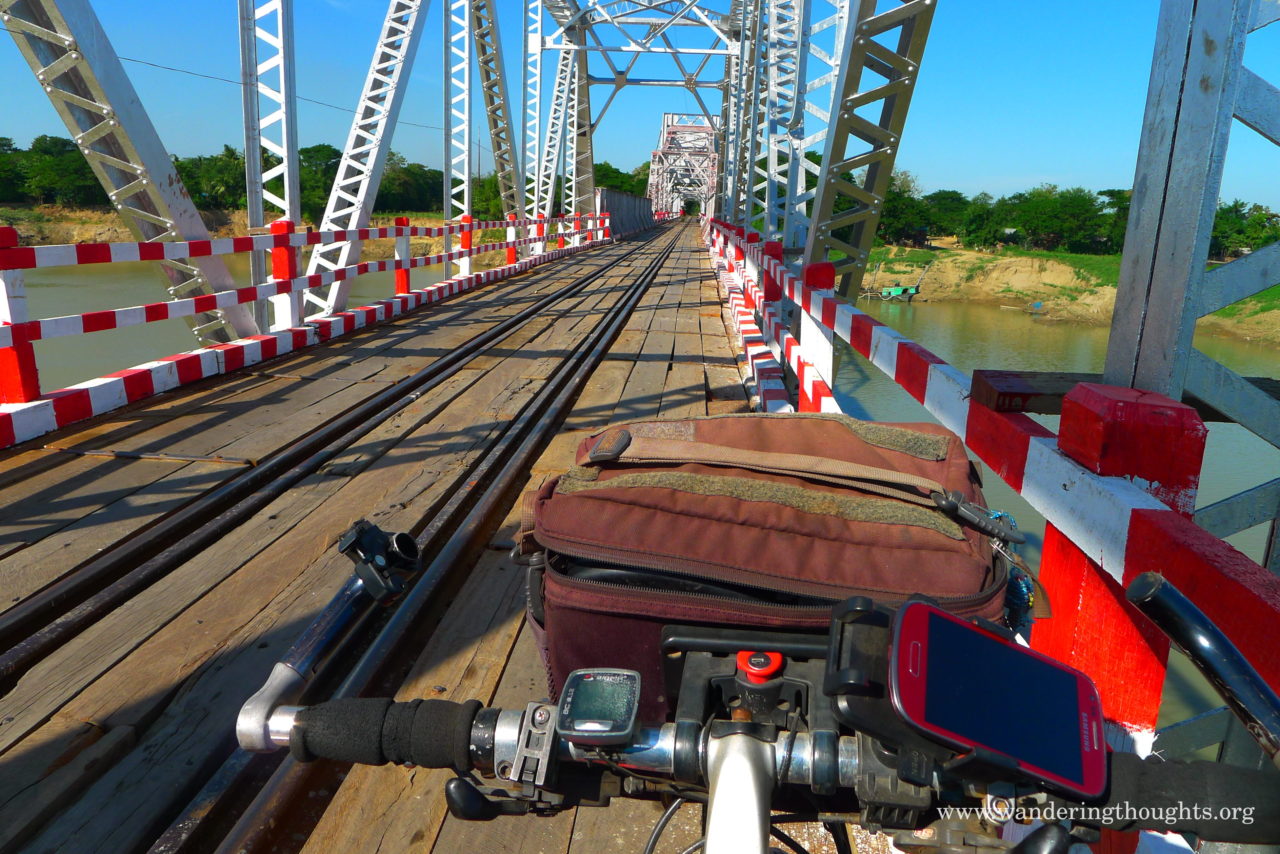 Finding places to sleep along the road was actually much easier than we had thought. Usually we could find accommodation between 5 and 8 Dollars for a room, only sometimes a little more than that. The prices seem to have gone down a lot since 2013. Also it seems that it has gotten easier for guest houses to get a license to host foreigners.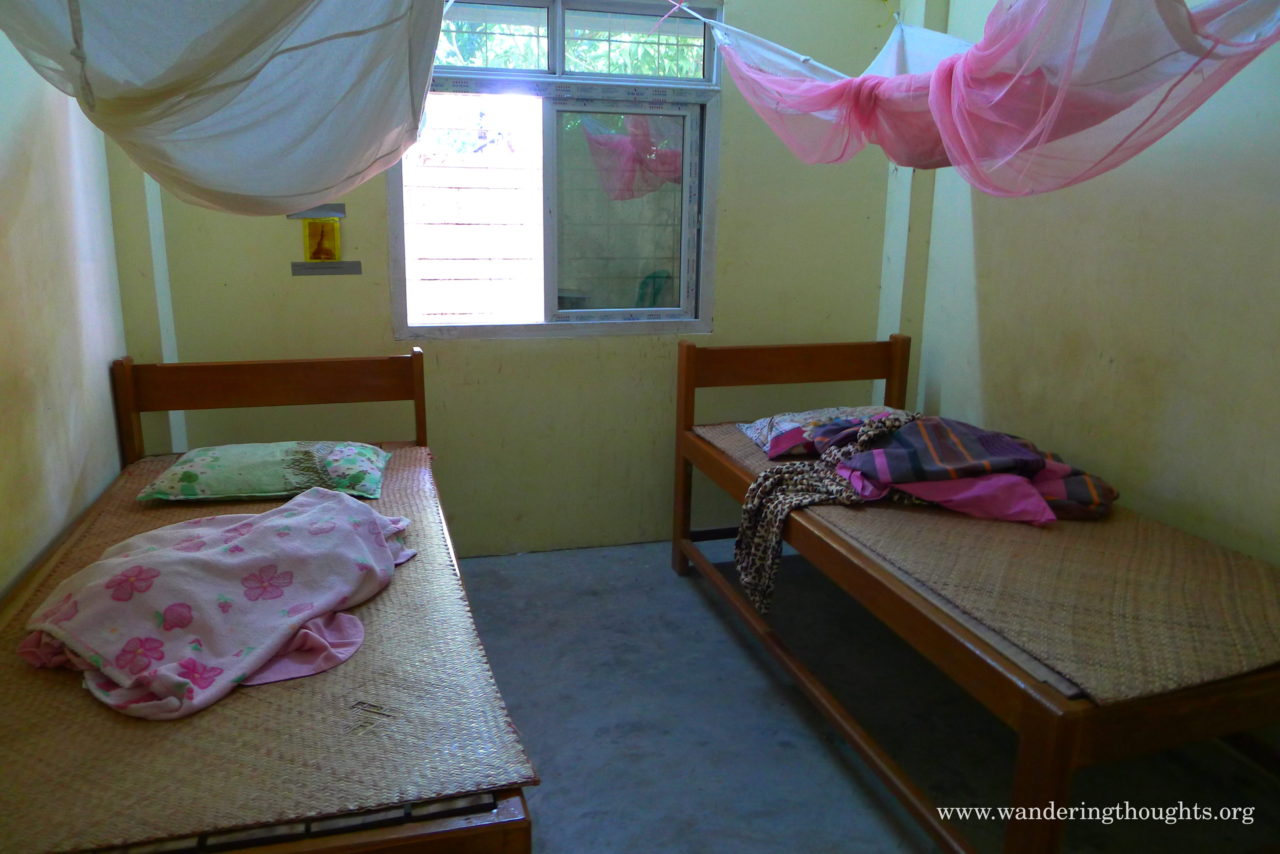 It still happened eventually that a place turned us away but not nearly as often as we had expected.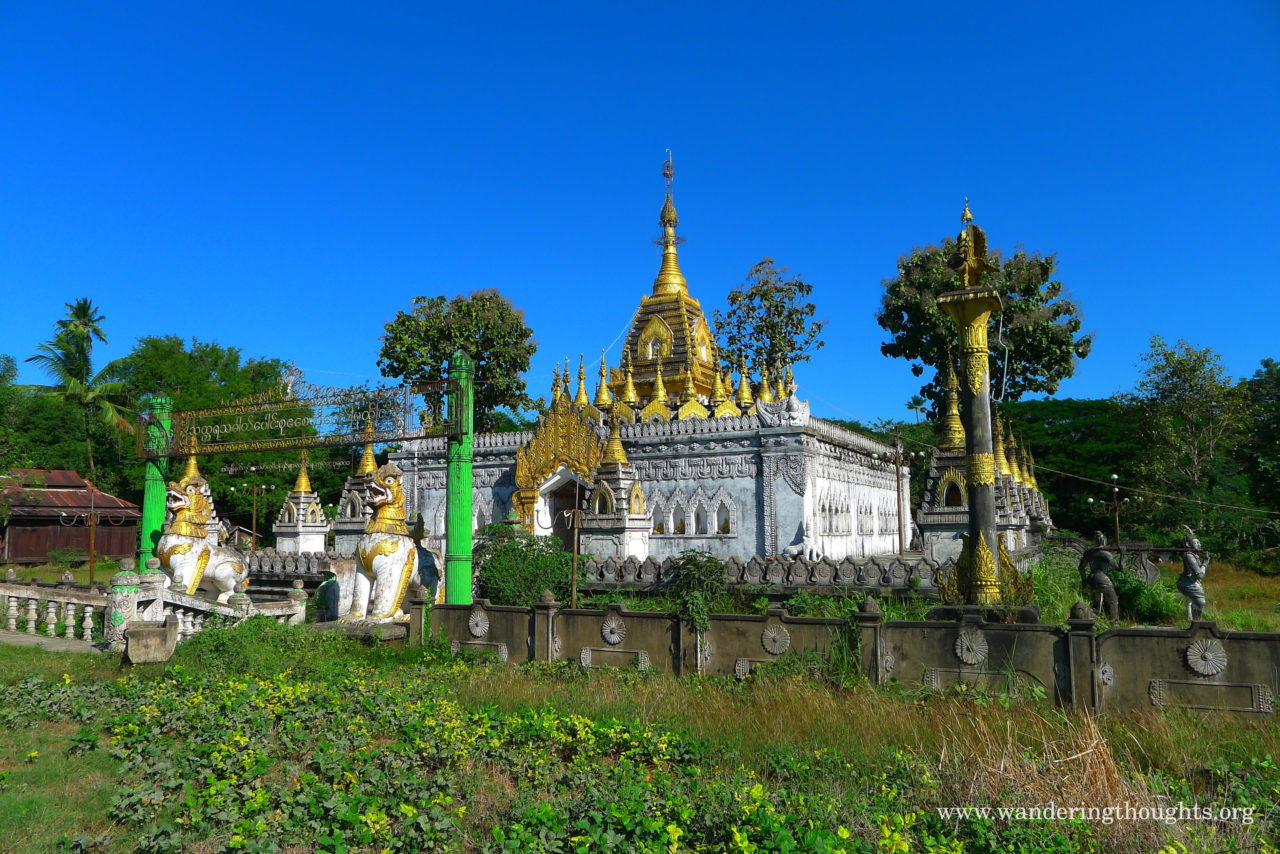 On the few occasions when we couldn't find anything we camped or asked to sleep at a monastery which was never a problem.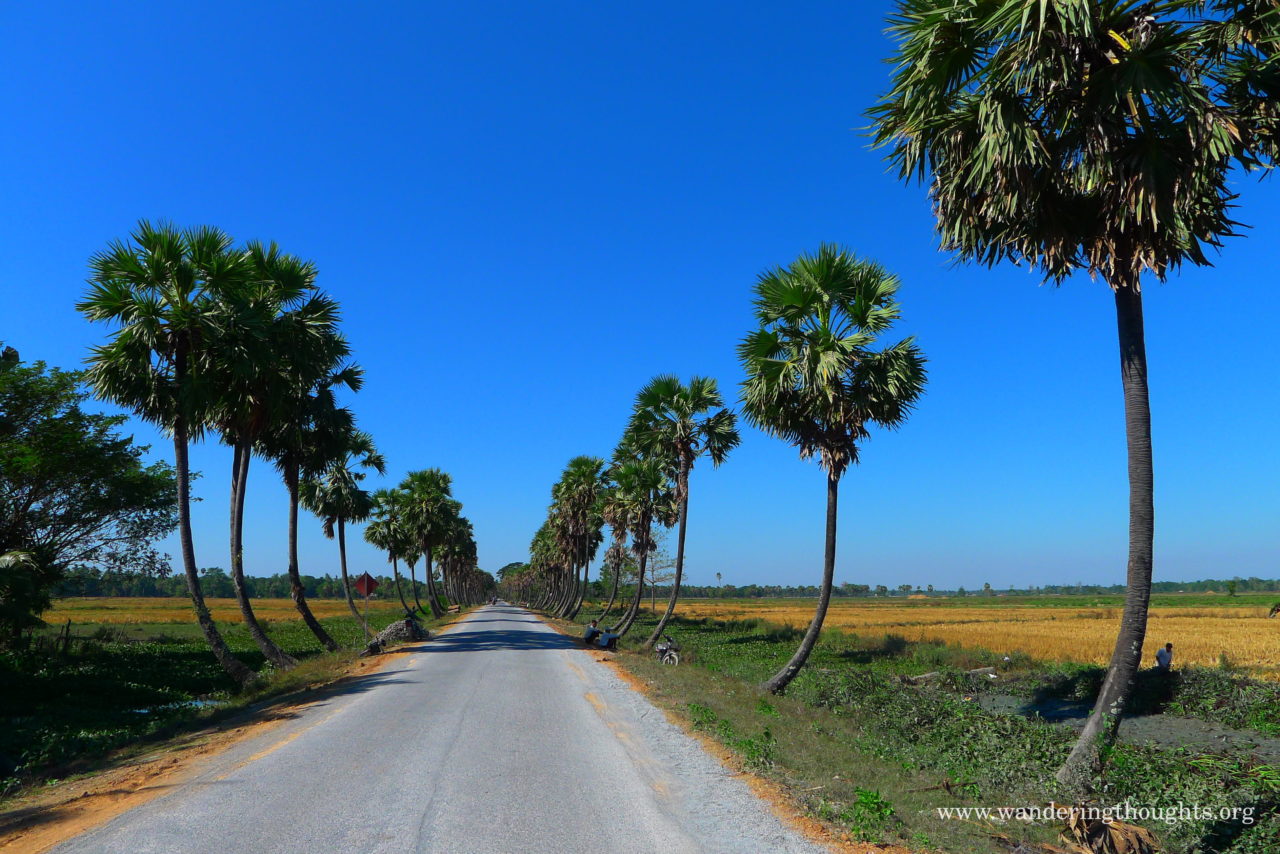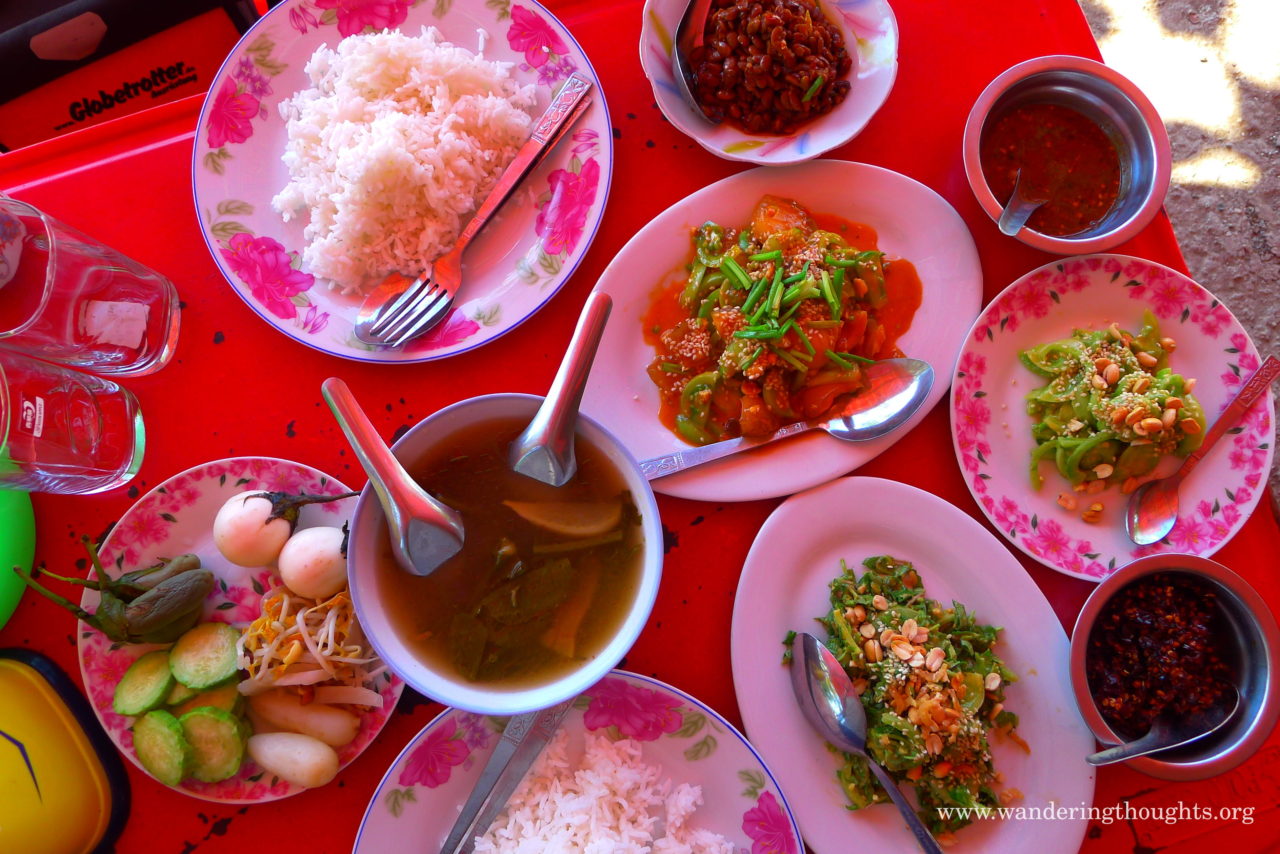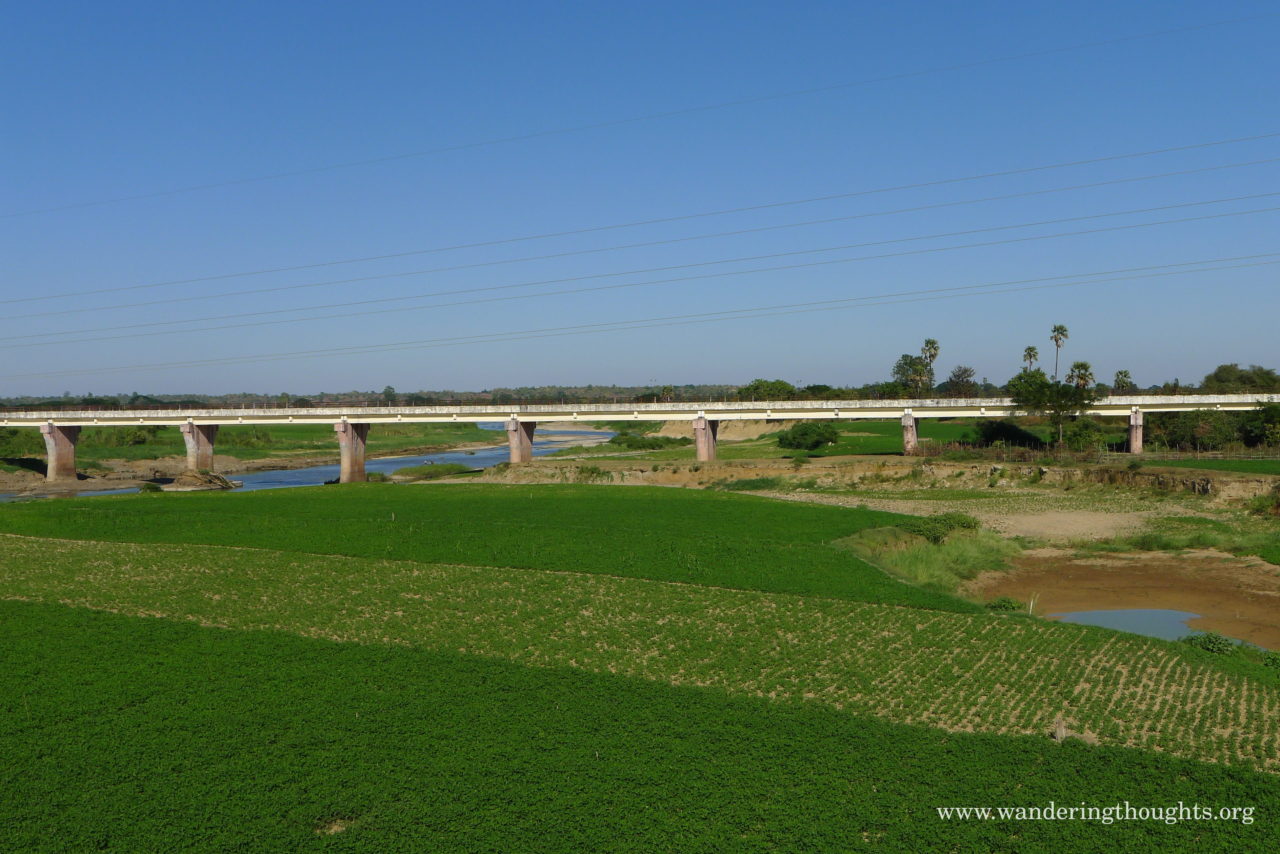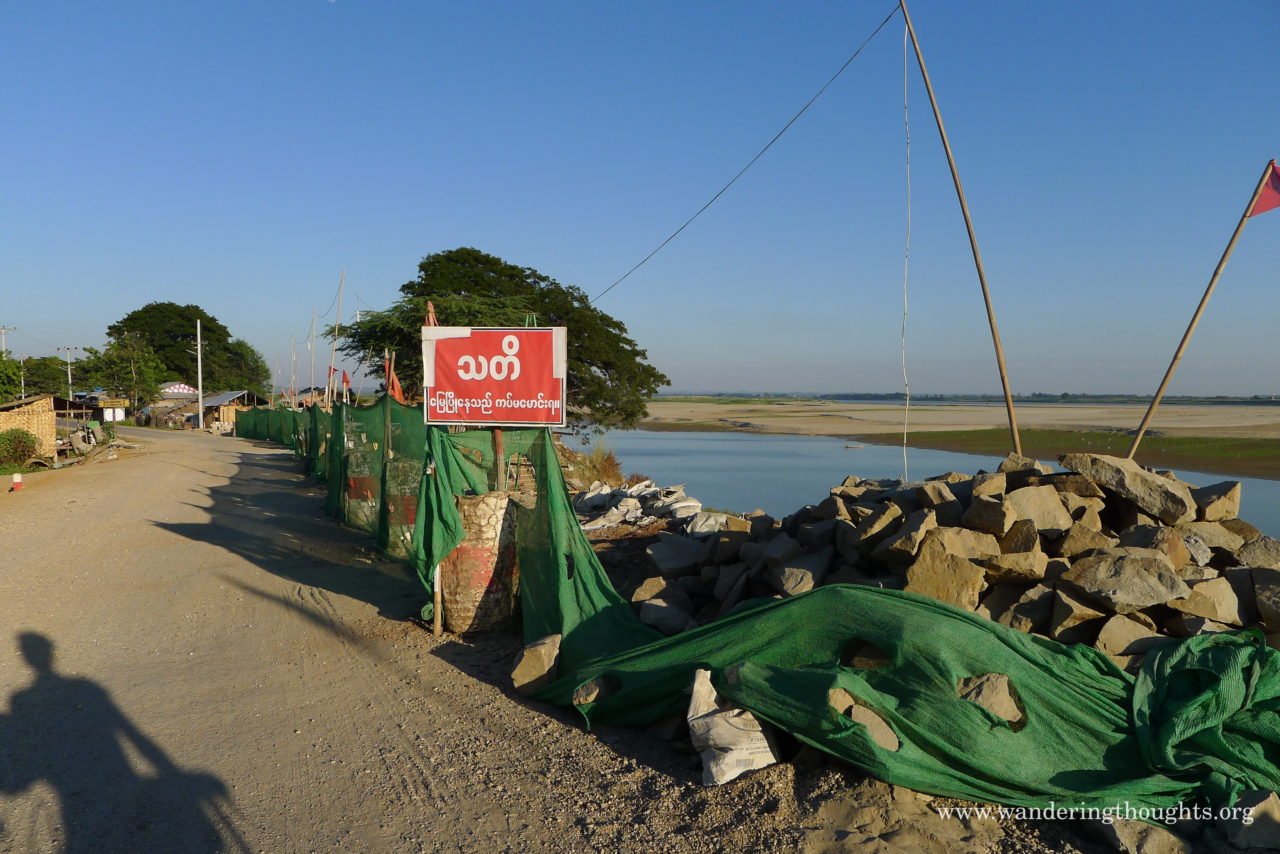 After a while we crossed the mighty Irrawaddy river into Pyay. After a quick search for a guest house we settled in for a few days of rest. We both enjoyed Pyay a lot. The small town has a lot of charm and the night market offers delicious food once again.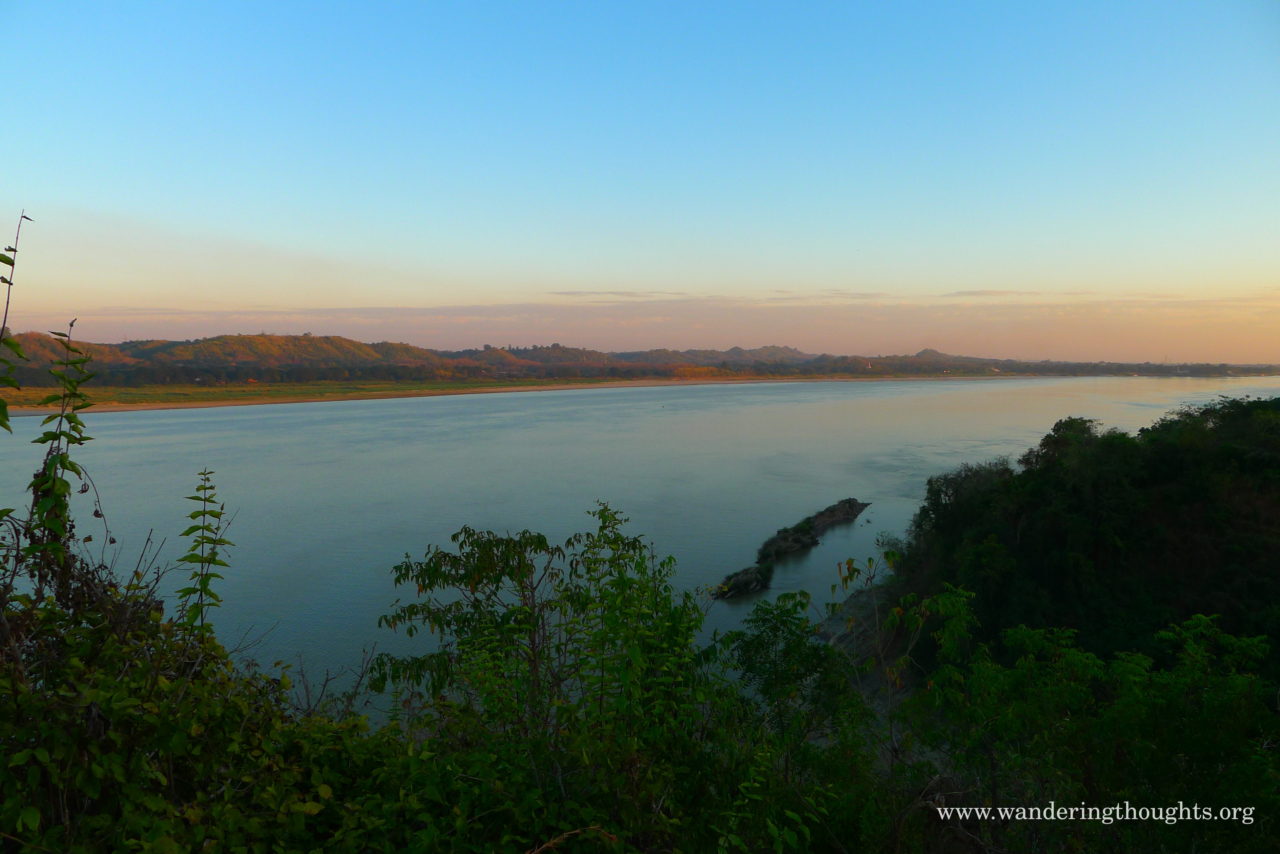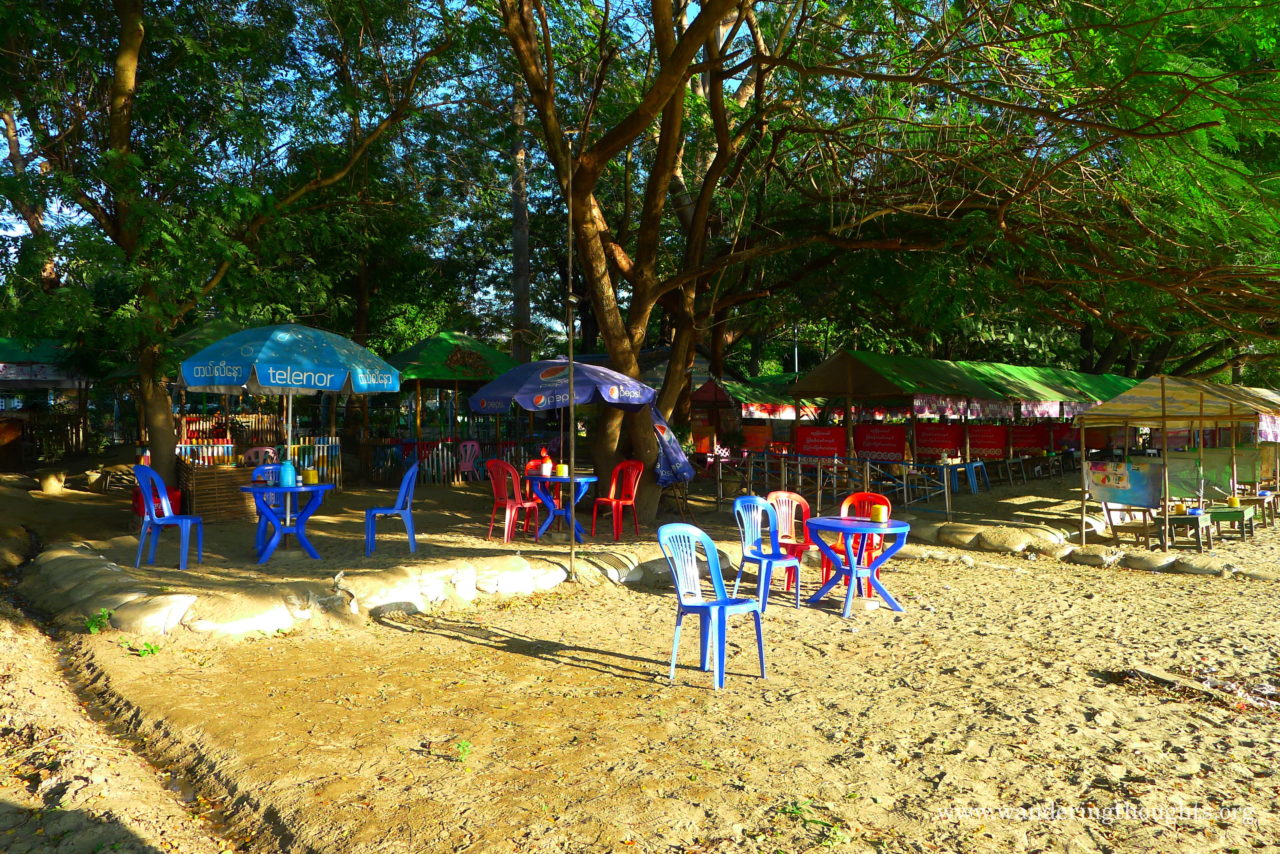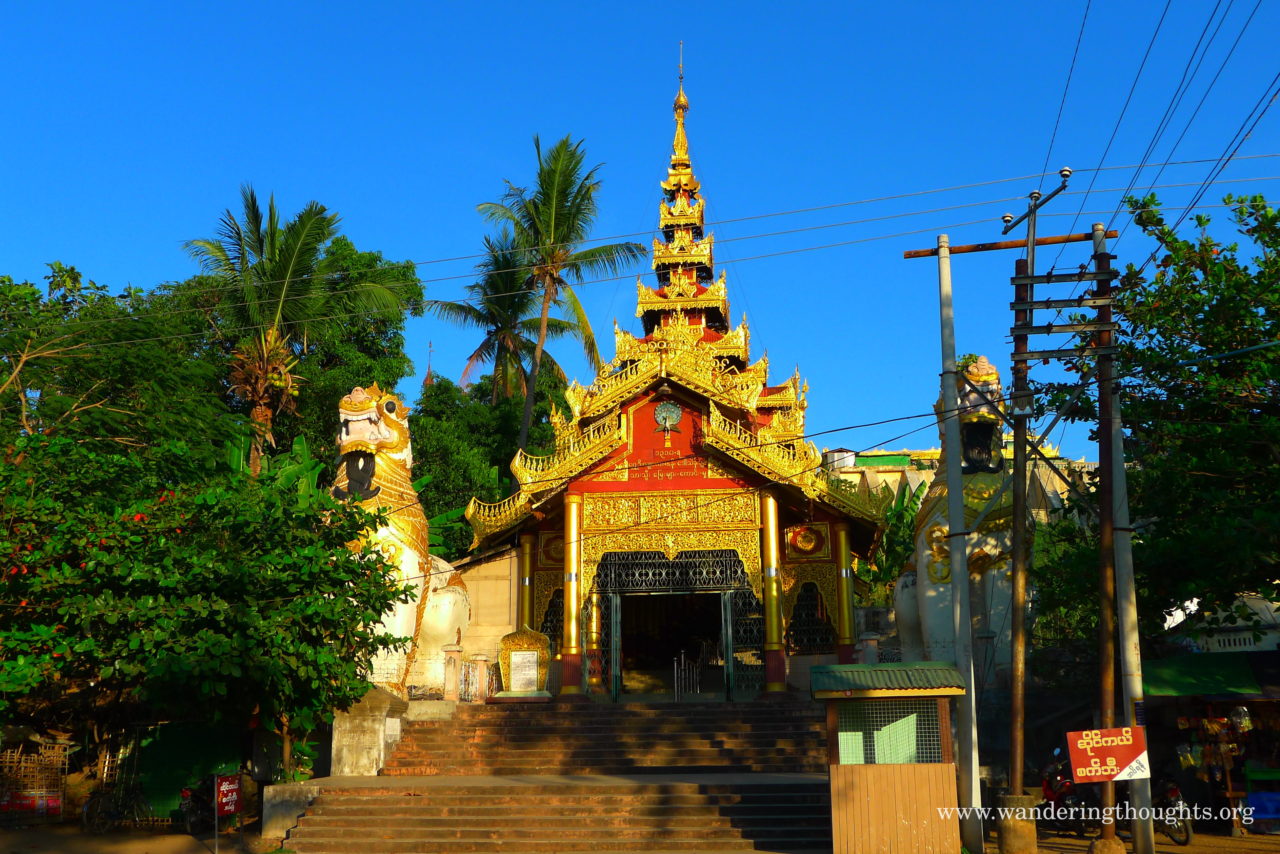 Apart from enjoying city life and meeting other travelers we also spent lots of time with a rather bureaucratic issue. As some of you might know the border crossing between Myanmar and India has been a complicated one for a while. It used to be closed then opened up but you still had to get a permit to cross as an individual traveler. At the time of January 2016 all but one agency had stopped issuing permits though. Thus began our lengthy discussions with Burma Senses, the only agency that was still considering getting a permit for us. It was more expensive than before though and we were therefore trying to find a group of cyclists to share the cost. Not an easy task, bringing 5 and more people together, each with different dates in mind and not so much willingness to compromise on routes and dates.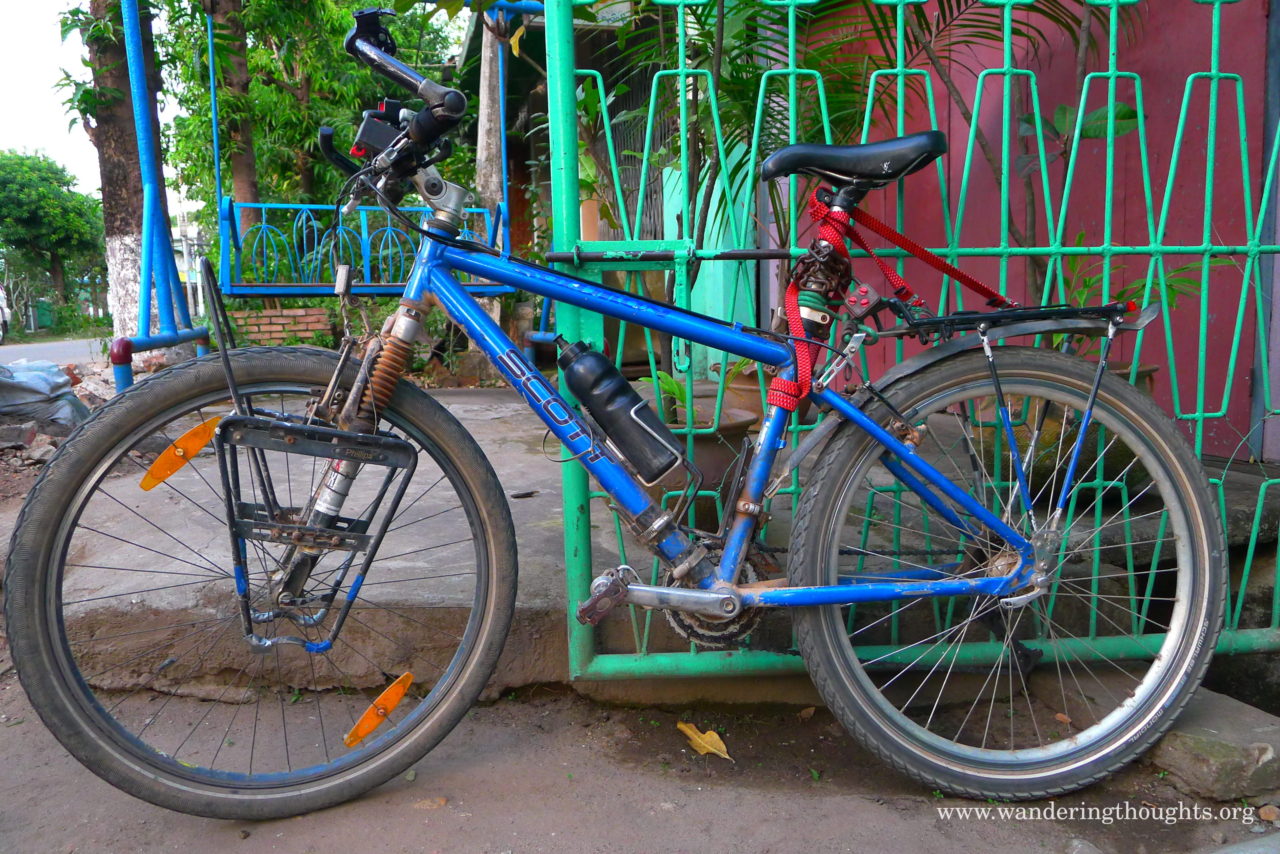 It was all slowly coming together though and thus we spent some time taking pictures of our bikes for the permit and organizing our future route through Myanmar. For the joint crossing we actually had to exit Myanmar once more and enter together with the group.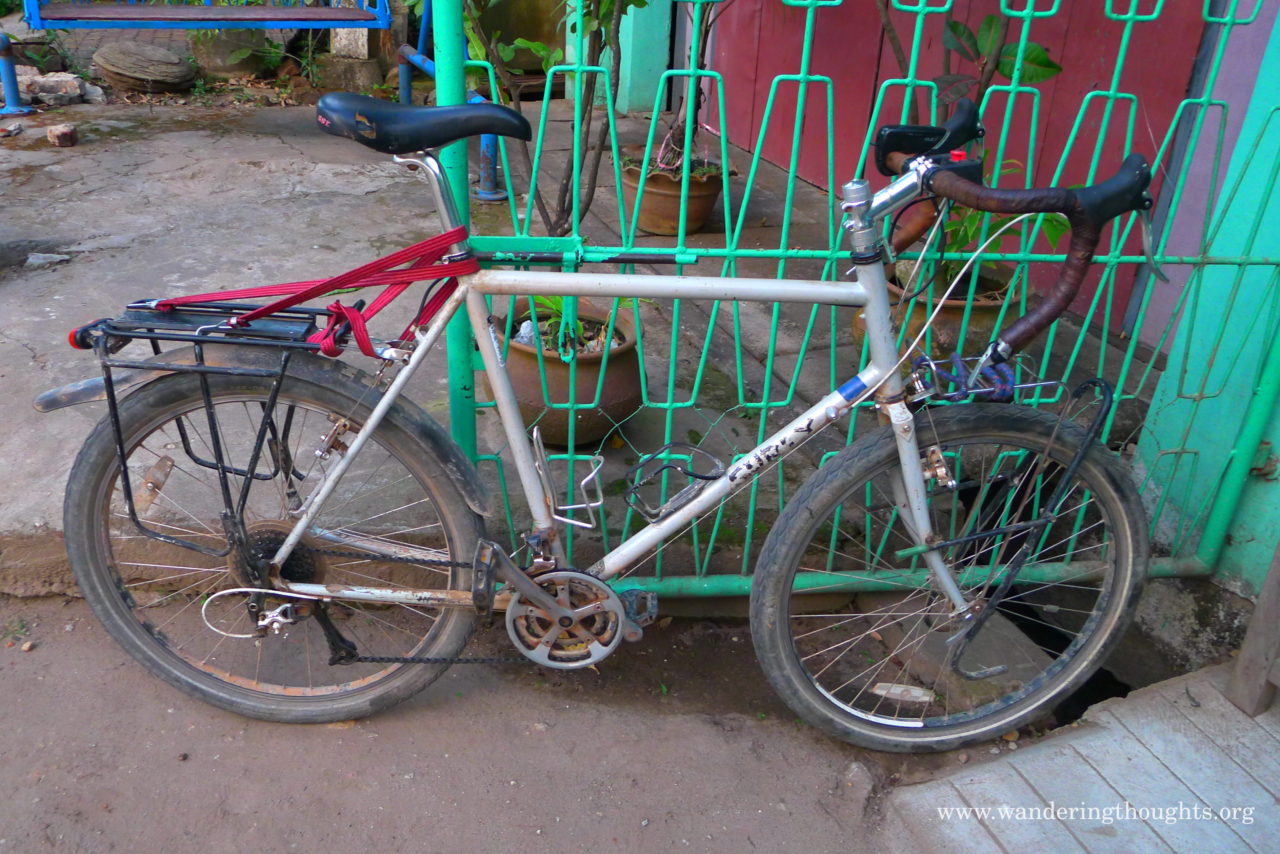 So we planned on cycling to Taungoo where our friend Barbara who had previously hosted us in Borneo, Malaysia, was working at the moment. Afterwards we wanted to cycle back through Hpa An and to Mae Sot. On our second time in Myanmar we planned to see some of the big sights like Bagan and Mandalay further north.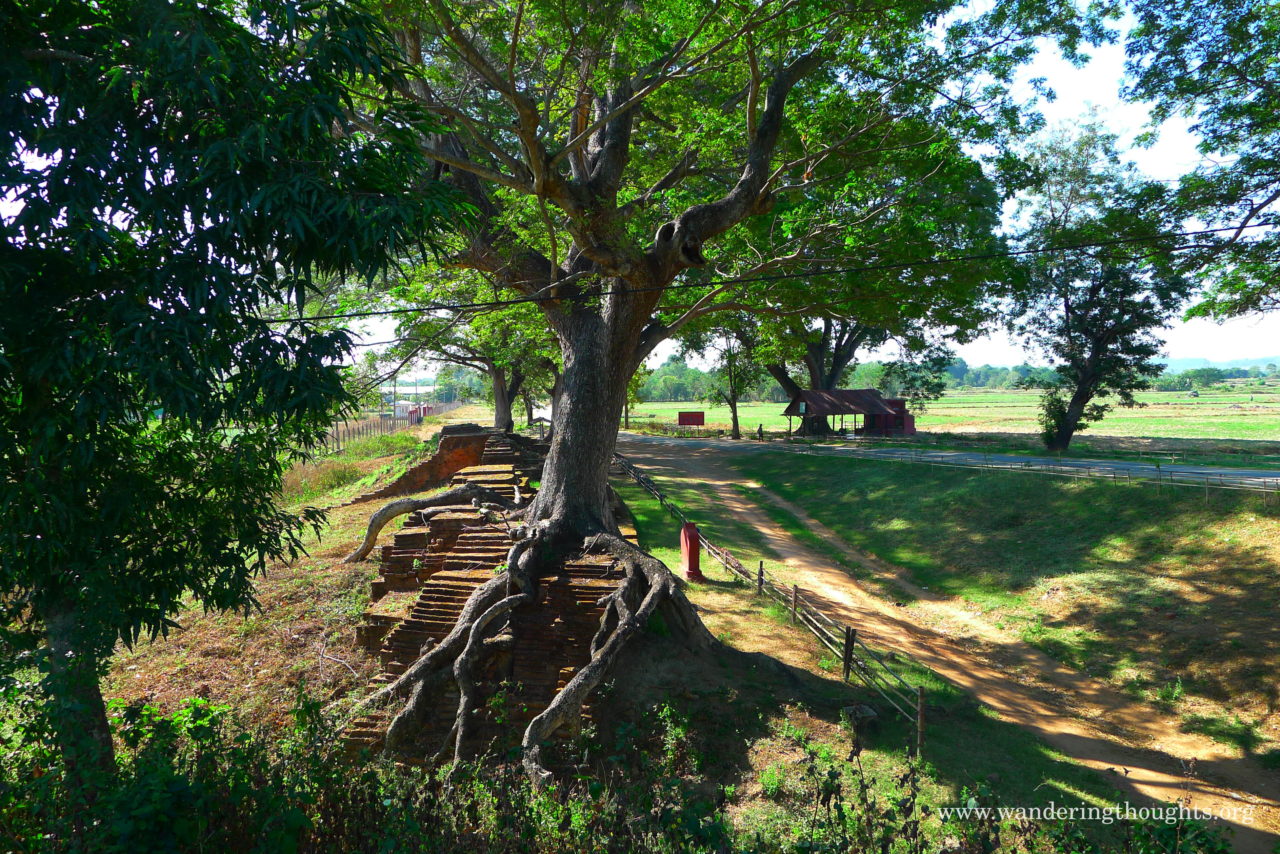 From Pyay we headed east on a beautiful small road that went through a few villages and then lots of forest.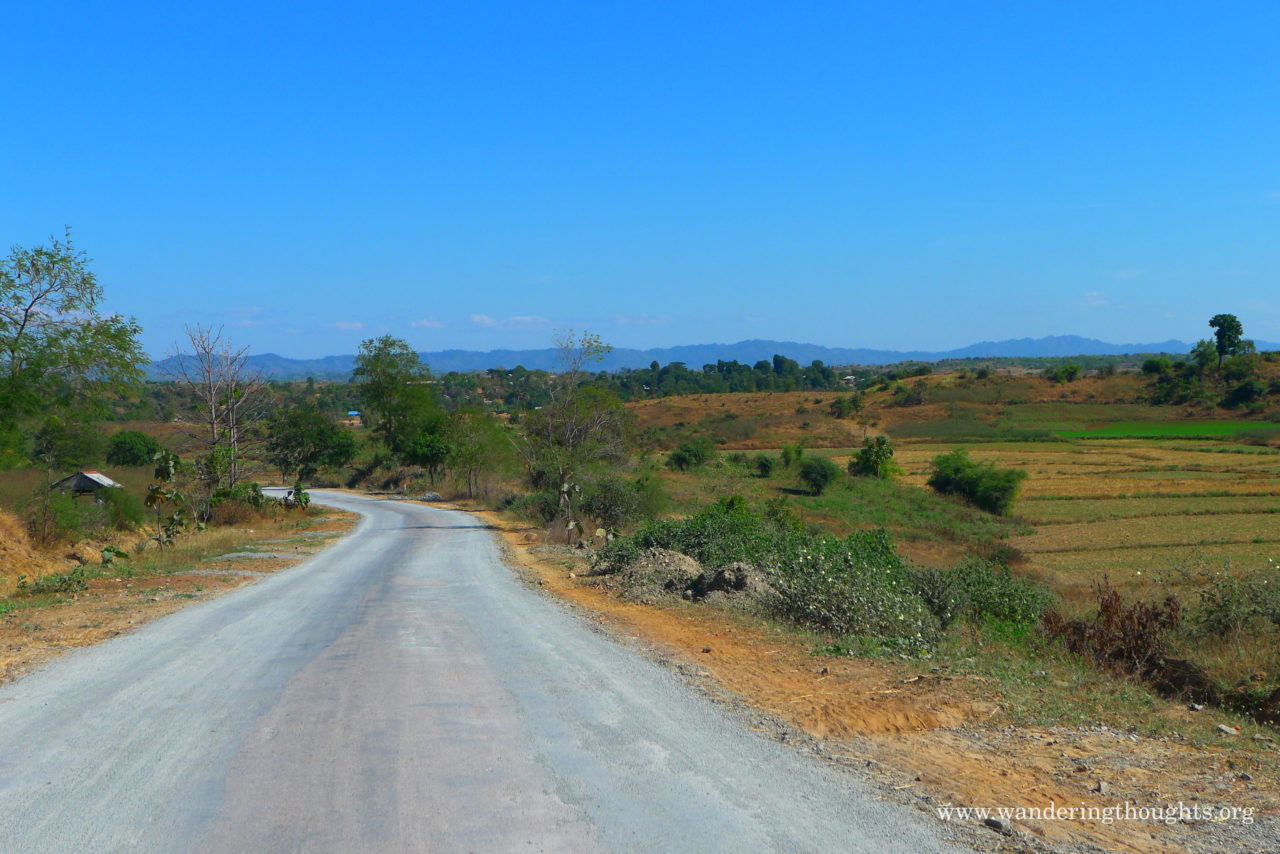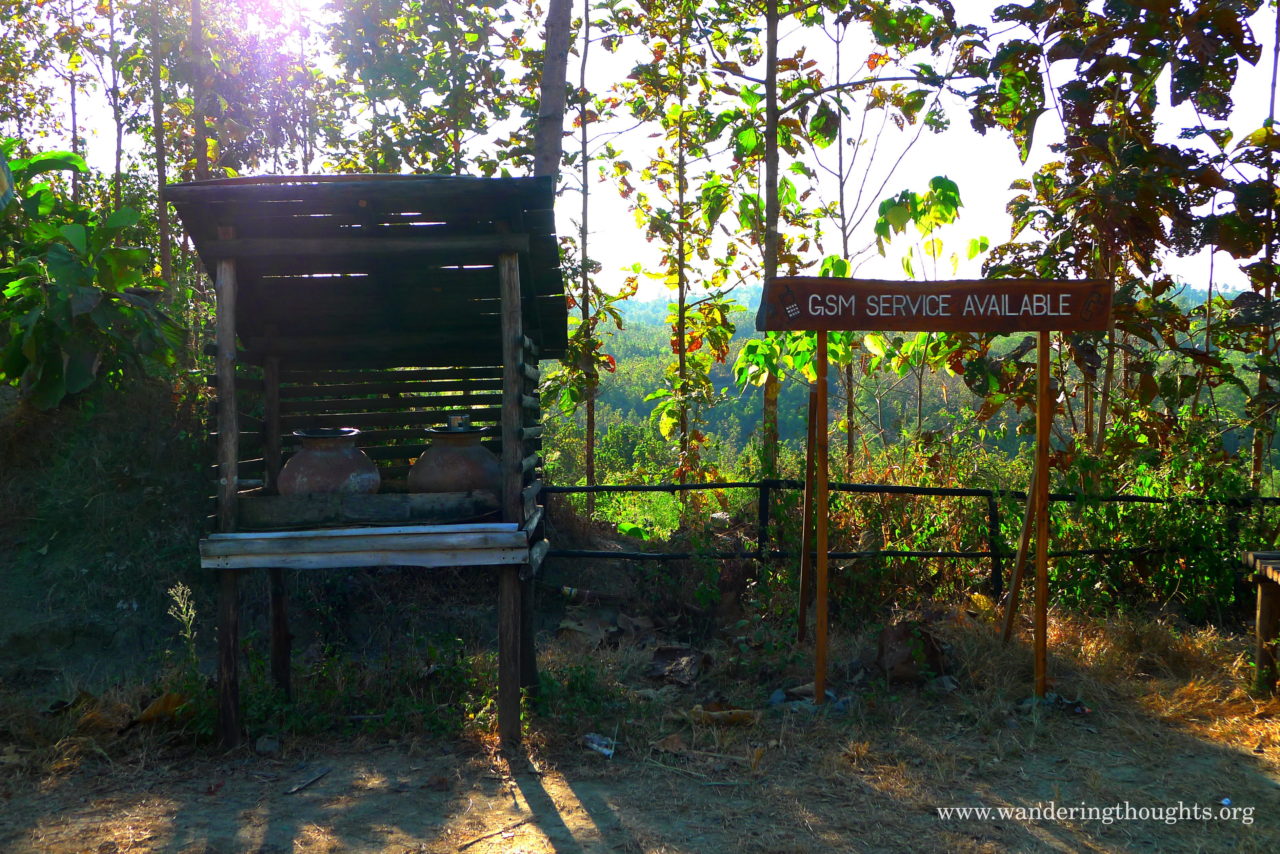 This is the place where we camped for the first time.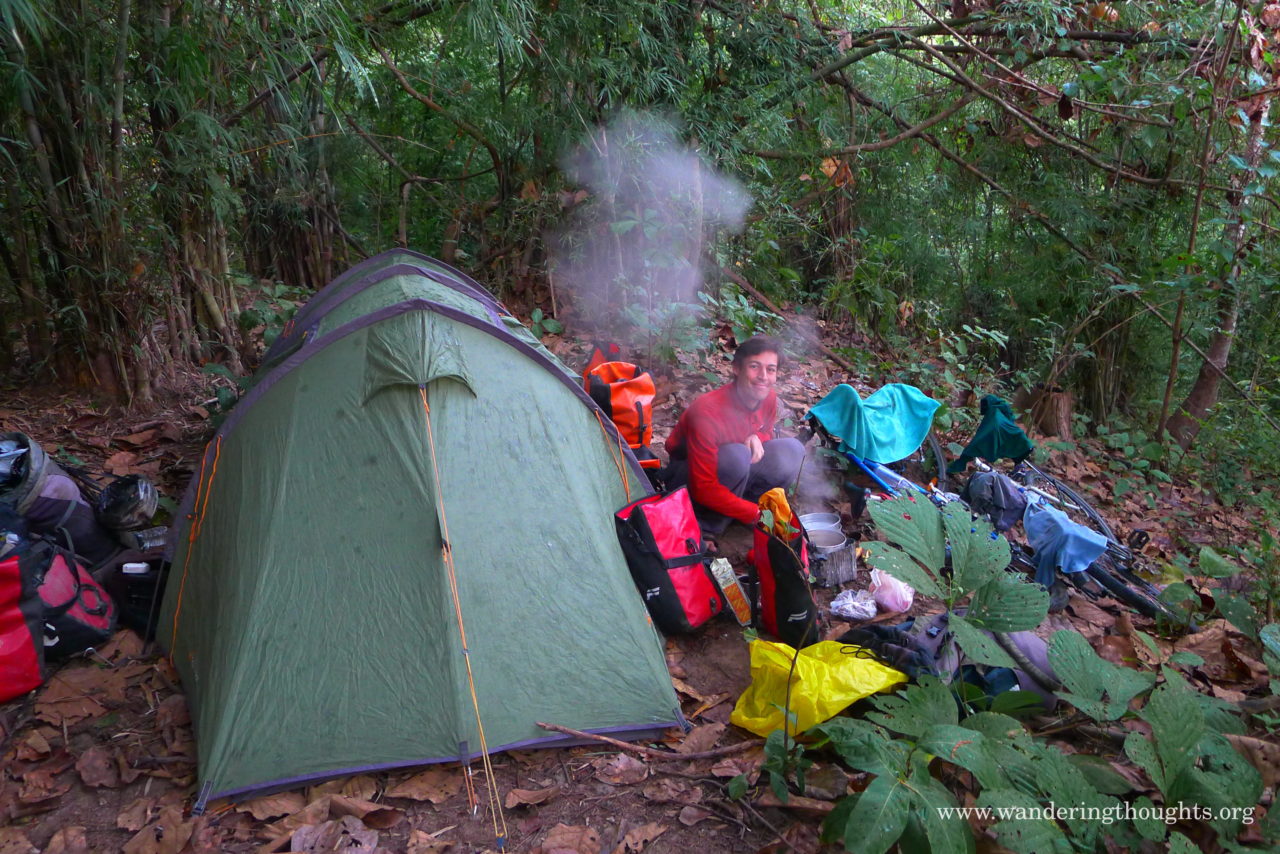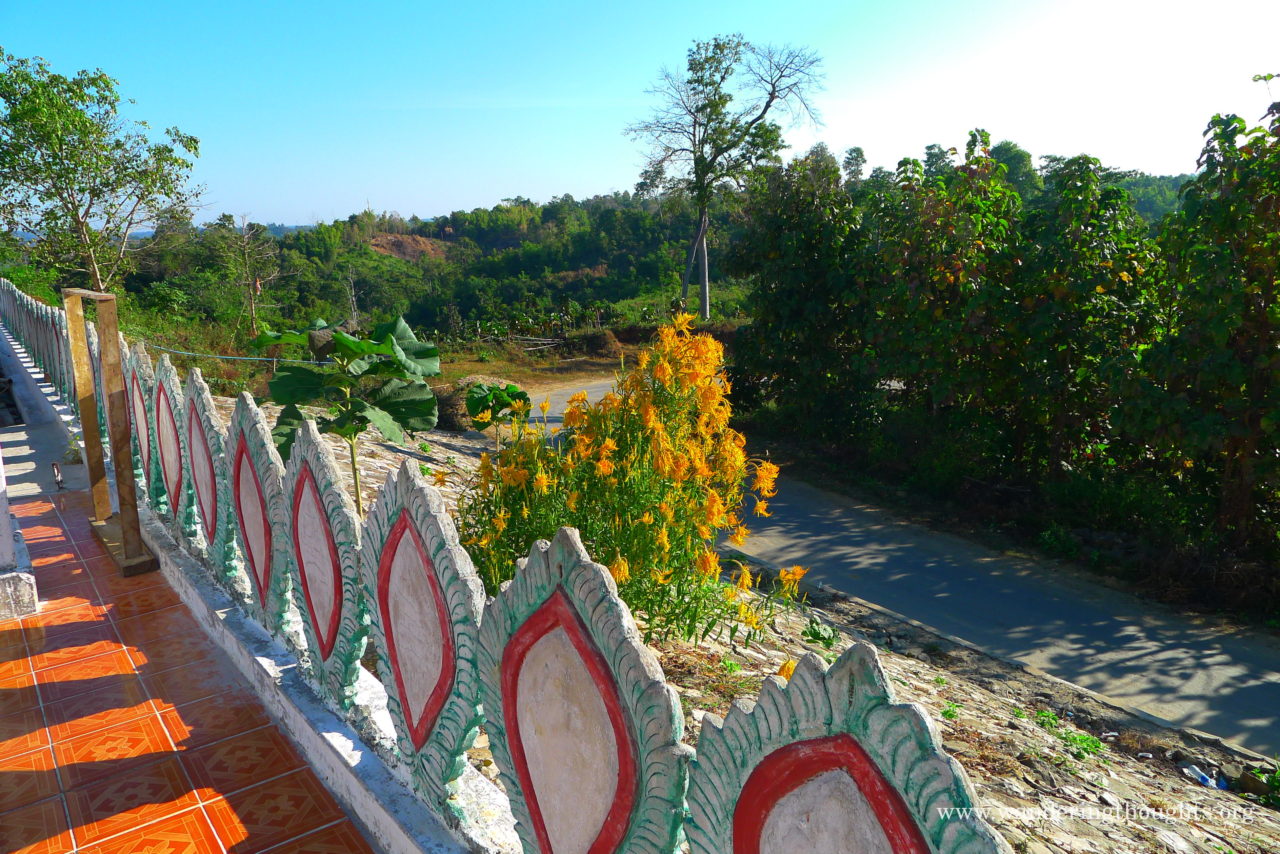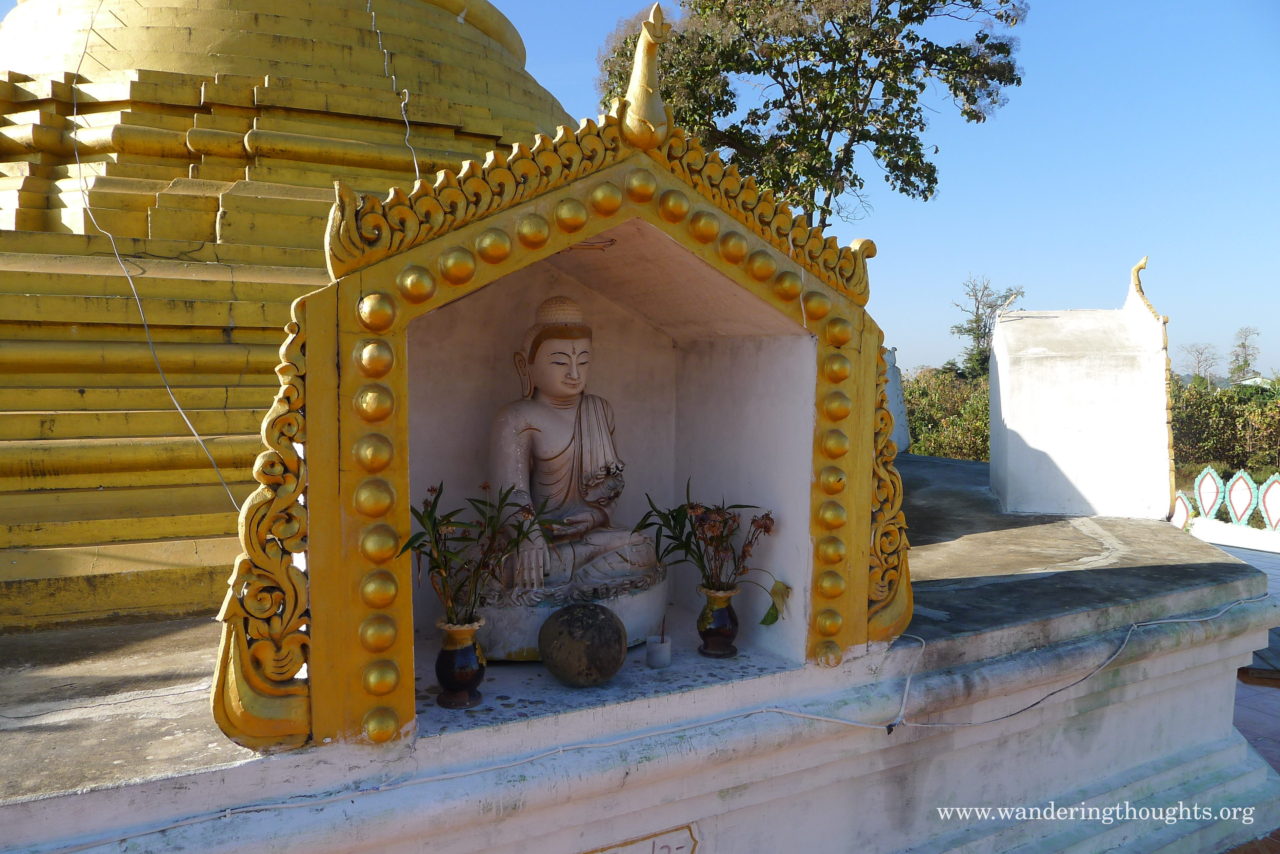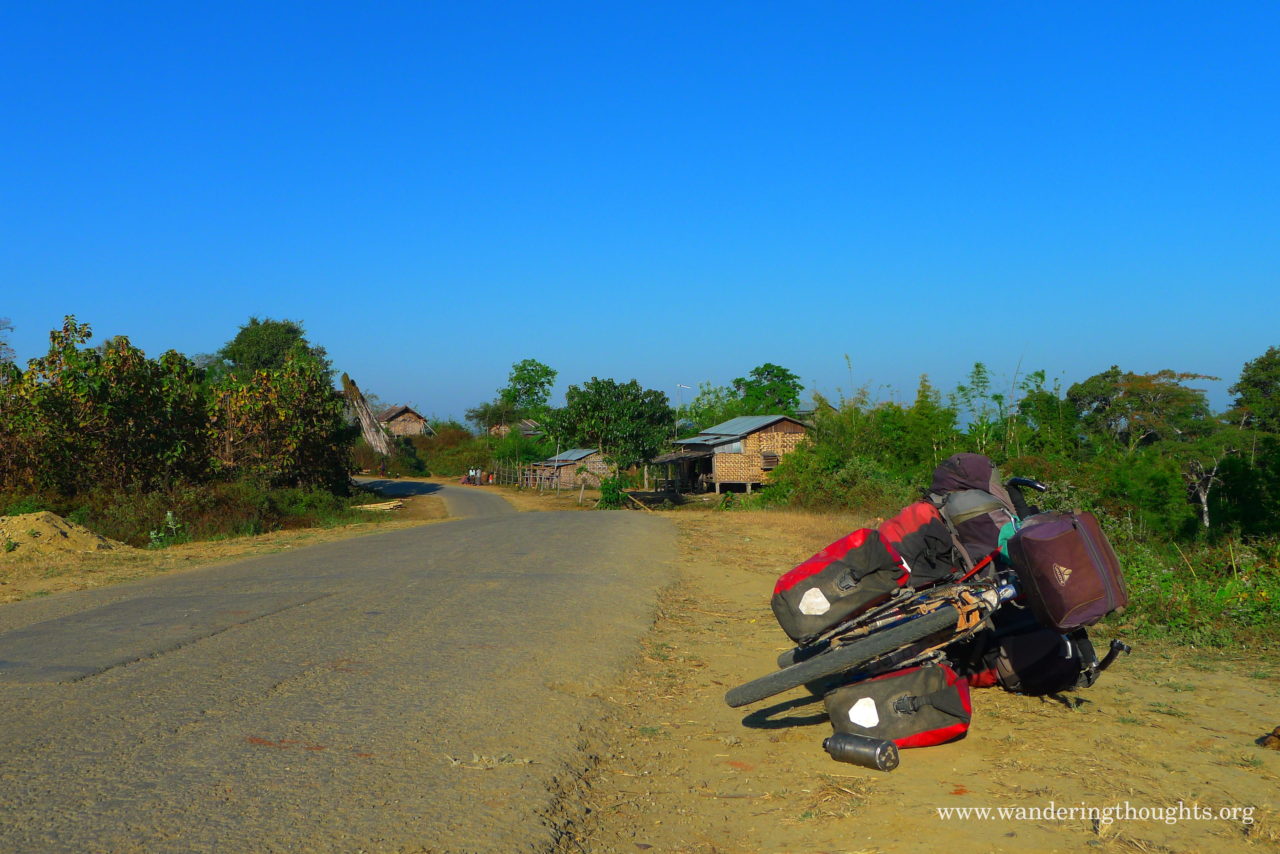 We absolutely loved this road. It was really exhausting as it went up and down on steep climbs all the time but the lack of traffic and the relatively new asphalt made for three perfect cycling days.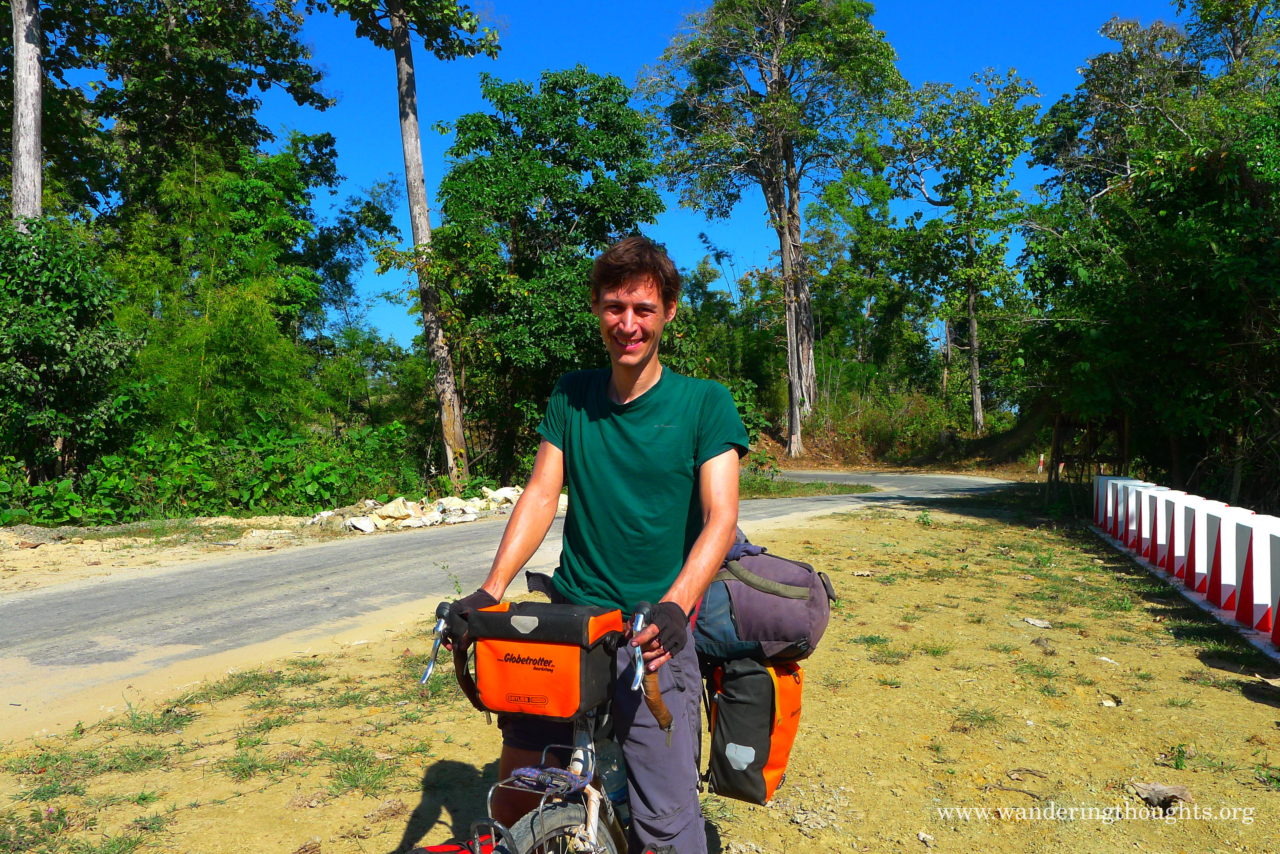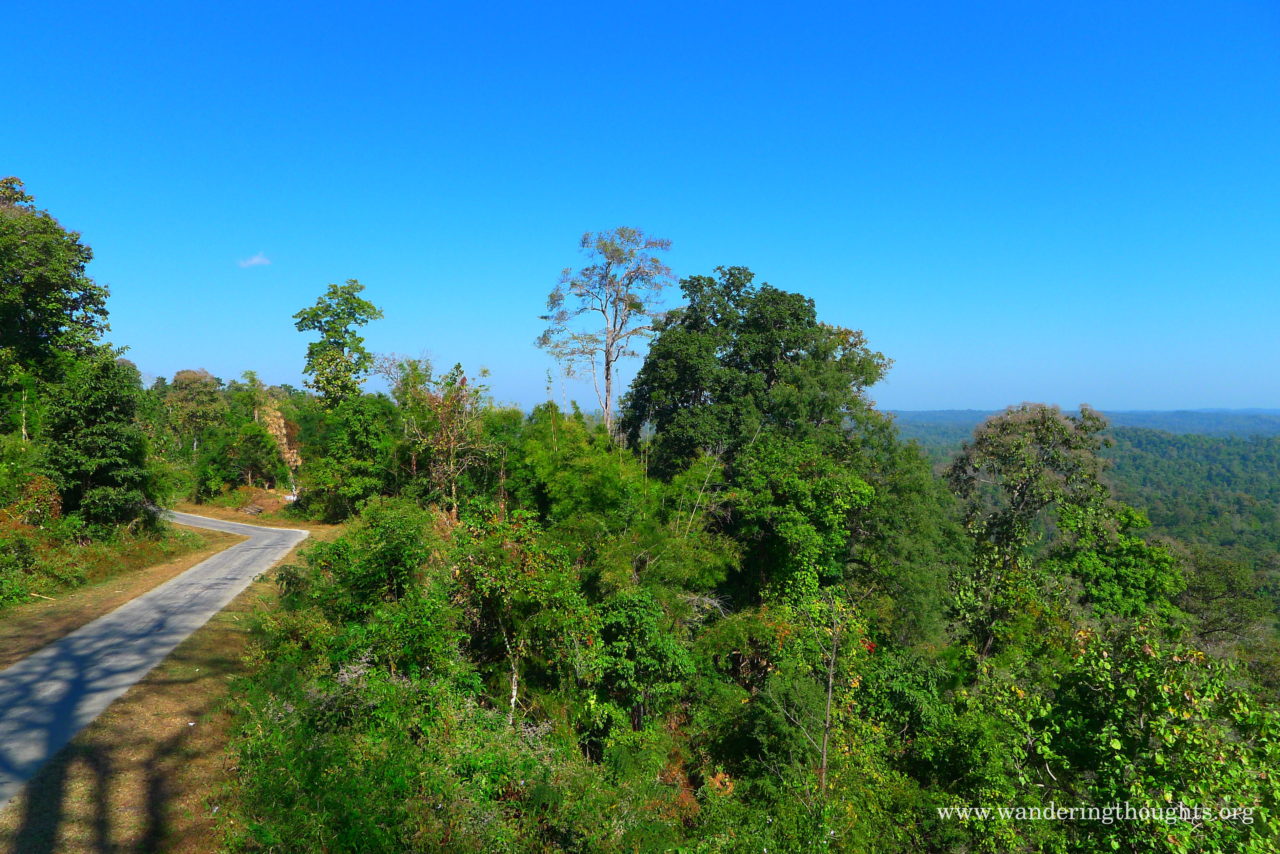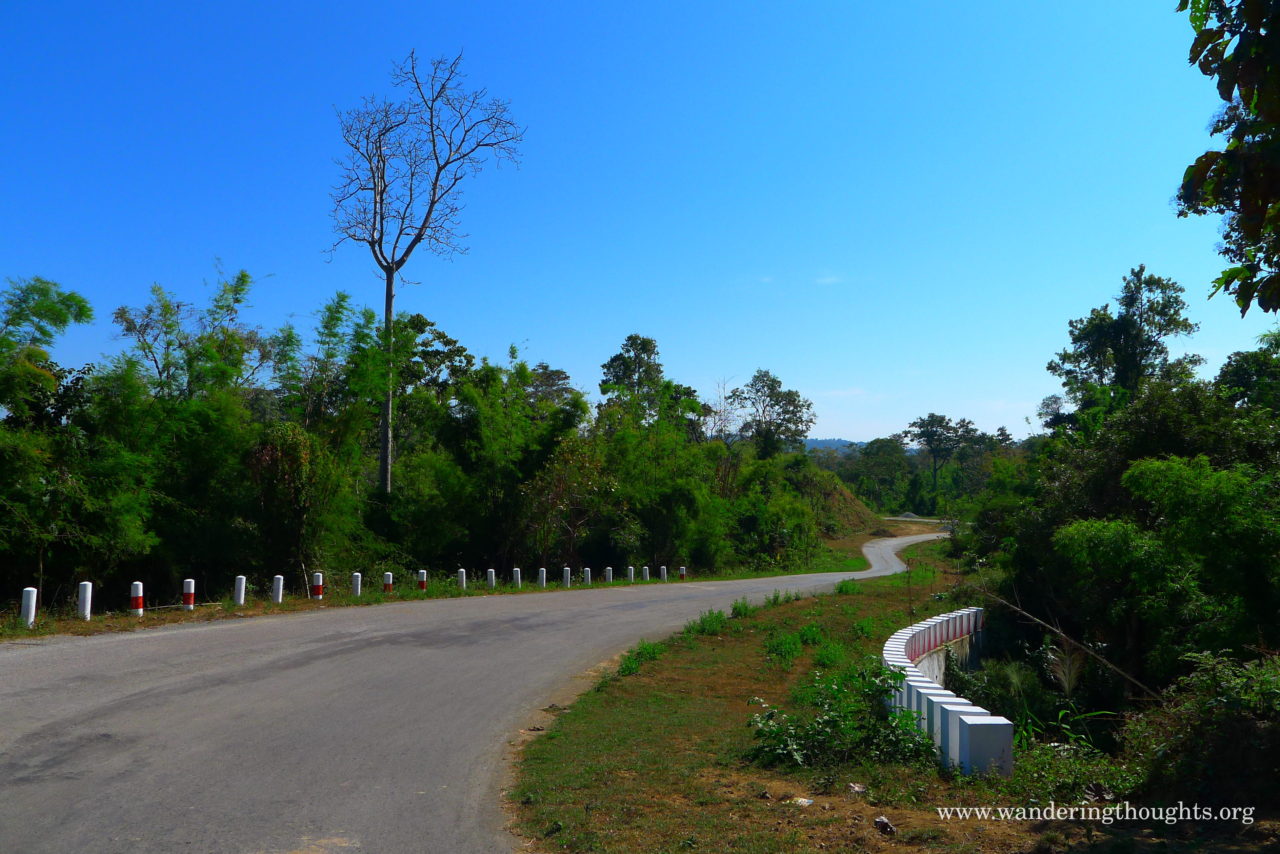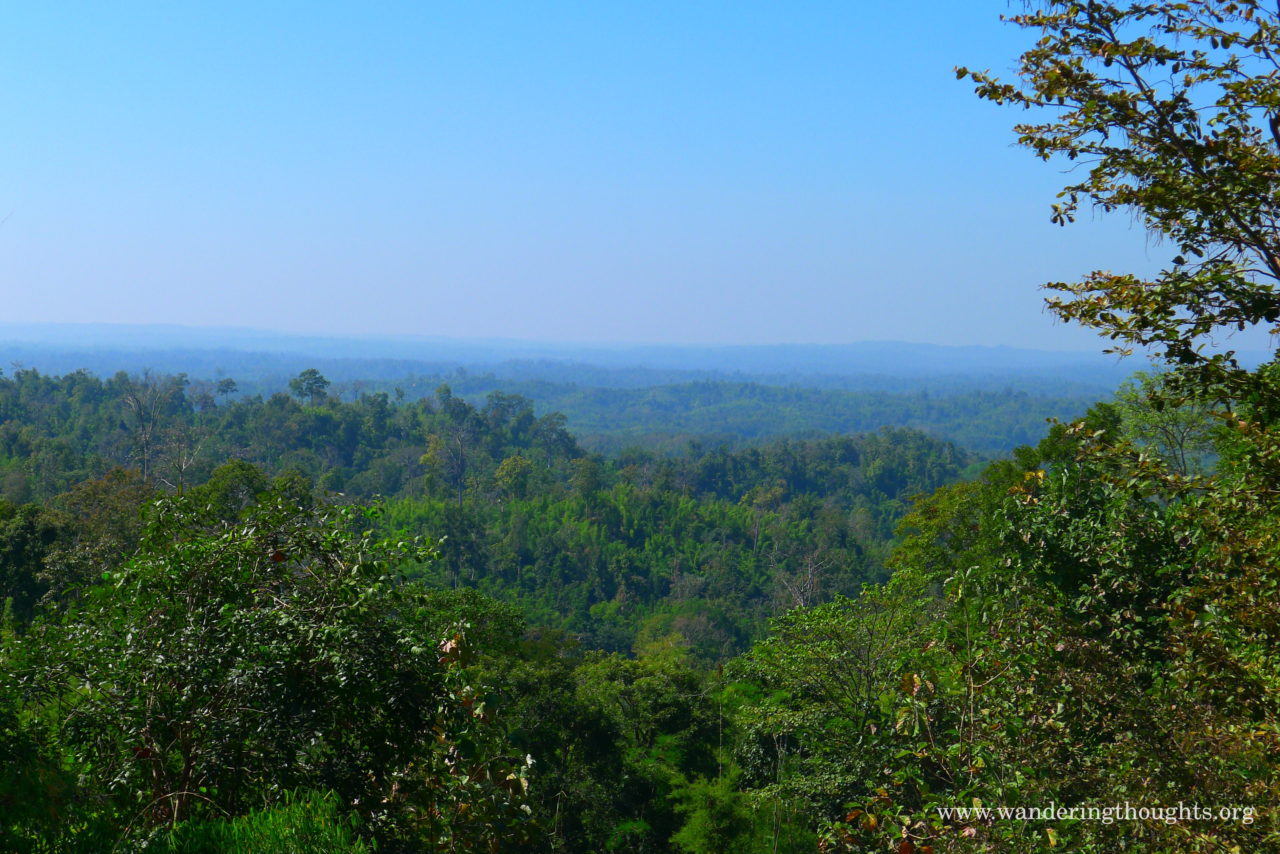 We camped once more before the end and this time we didn't get much sleep. As we couldn't find a real hidden area we set up behind some trees next to a pathway when it was already dark. After we were already asleep we suddenly woke up to someone shining a torch on our tent. Shit, we thought, now they are going to get the police and we will have to move during the night.
Our solution to all of this was to keep really quiet and hope for the best. After a while we heard more voices and thought that would be the police now. But… nothing happened. All night. Except for us being awake until 3am and listening to each and every small sound. Of course after a while everything sounds suspicious…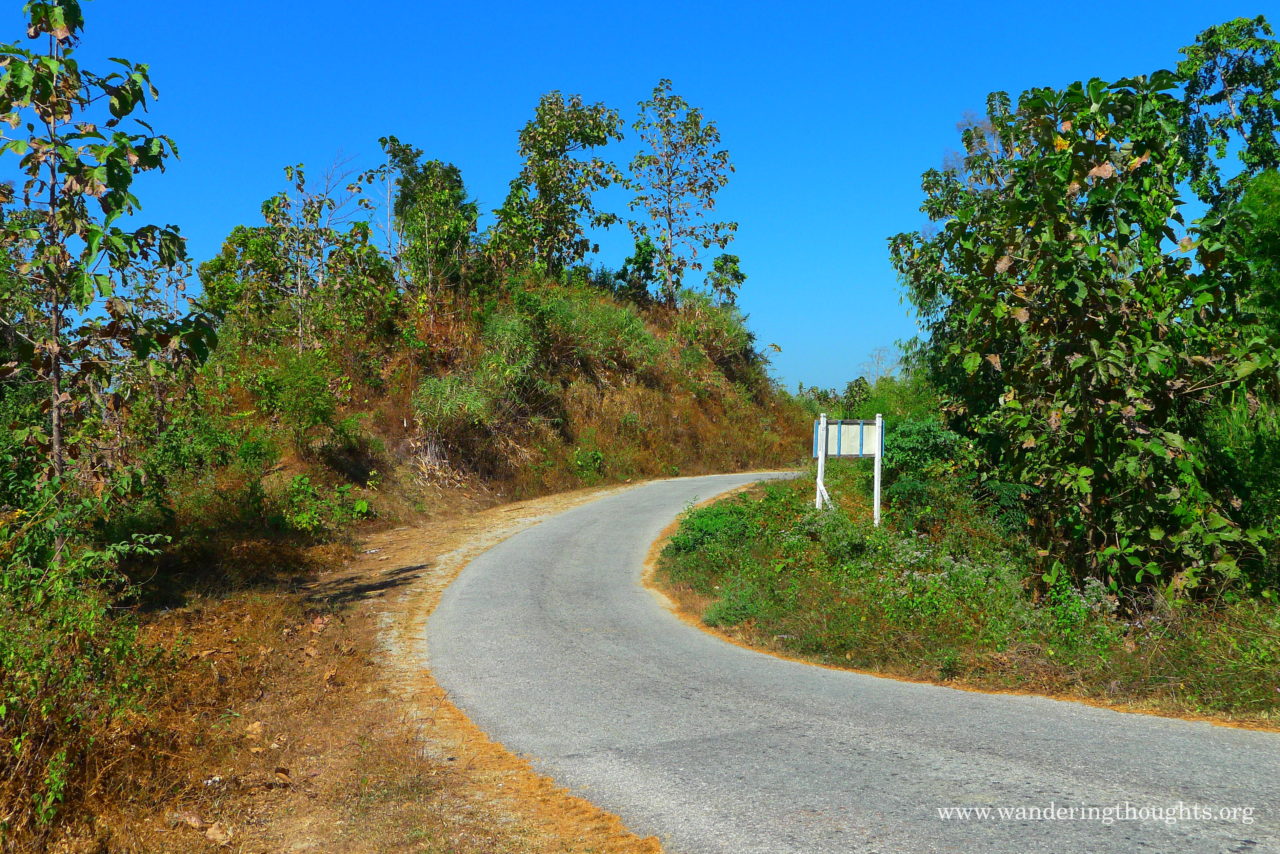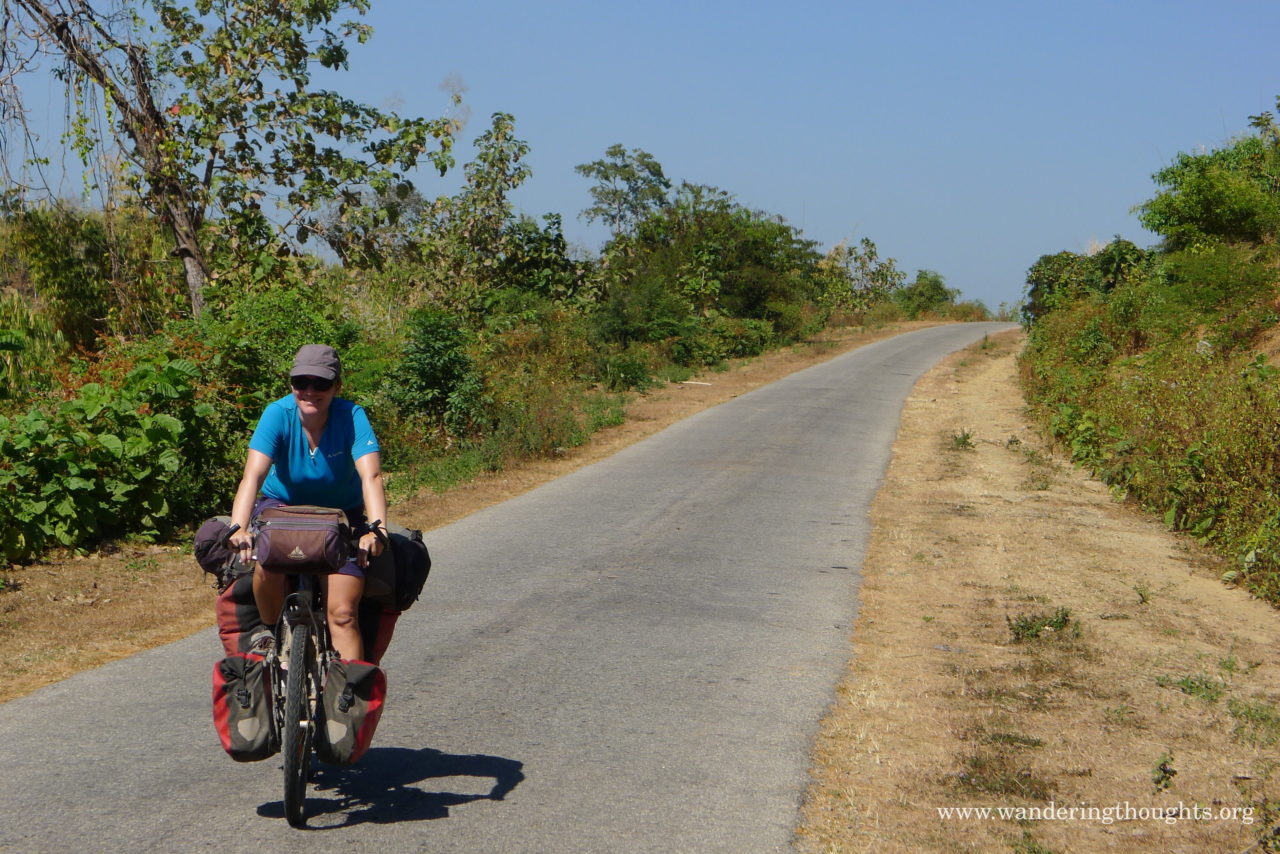 Arriving in Taungoo we met this lovely lady again who seems to attract cats everywhere she goes :). We could sleep in a vacant teacher accommodation and enjoyed a few days off. As always we focused on eating instead of sightseeing but this time we were also invited to give a talk at Barbara's school.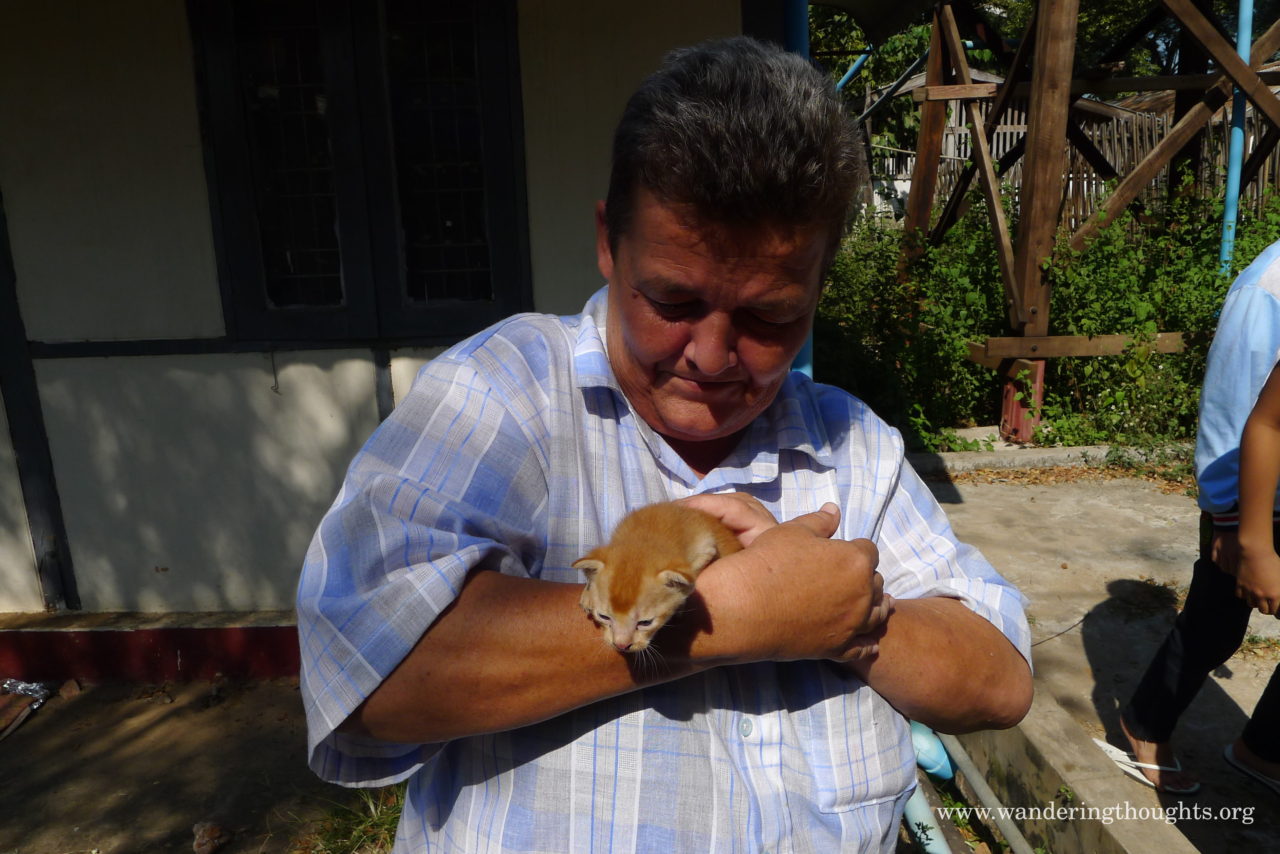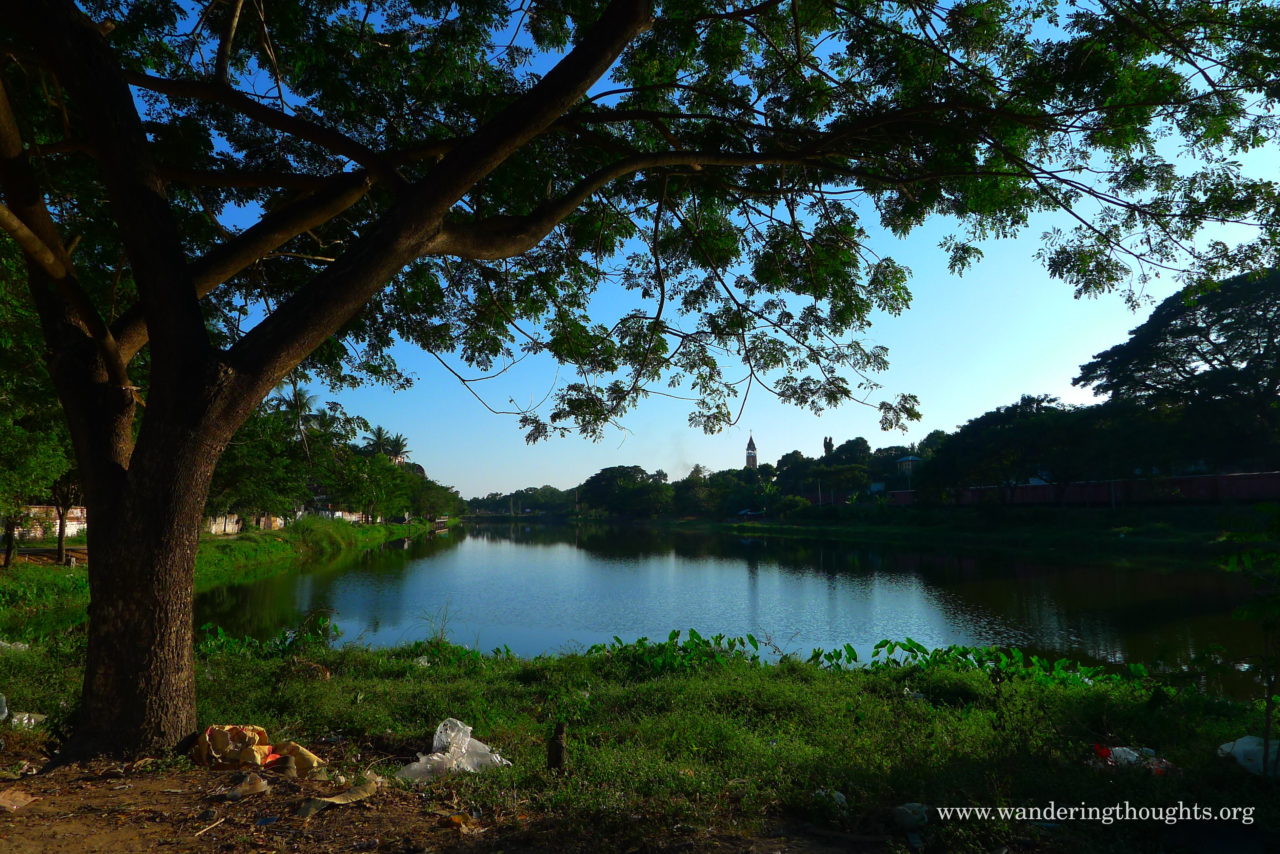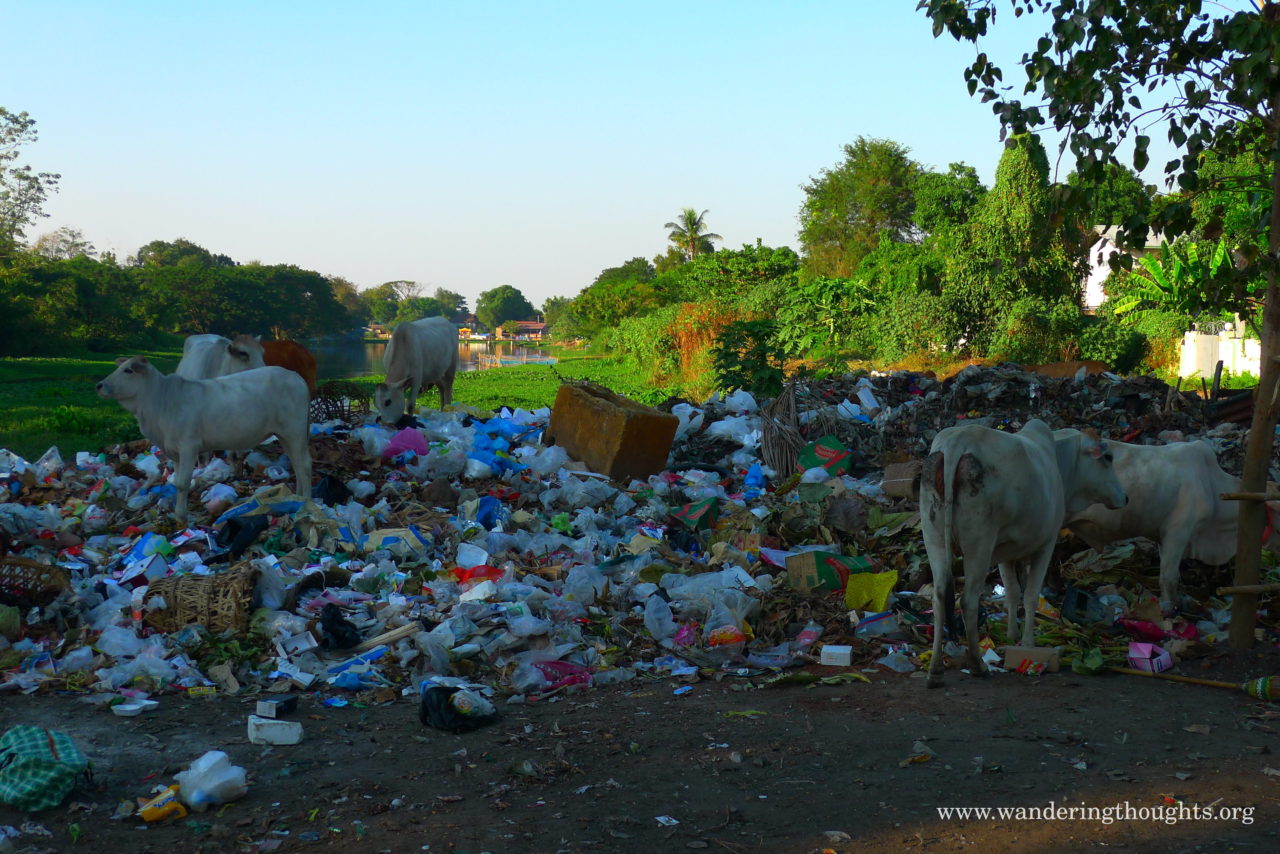 It was awesome to talk to the teachers about our travels and experiences.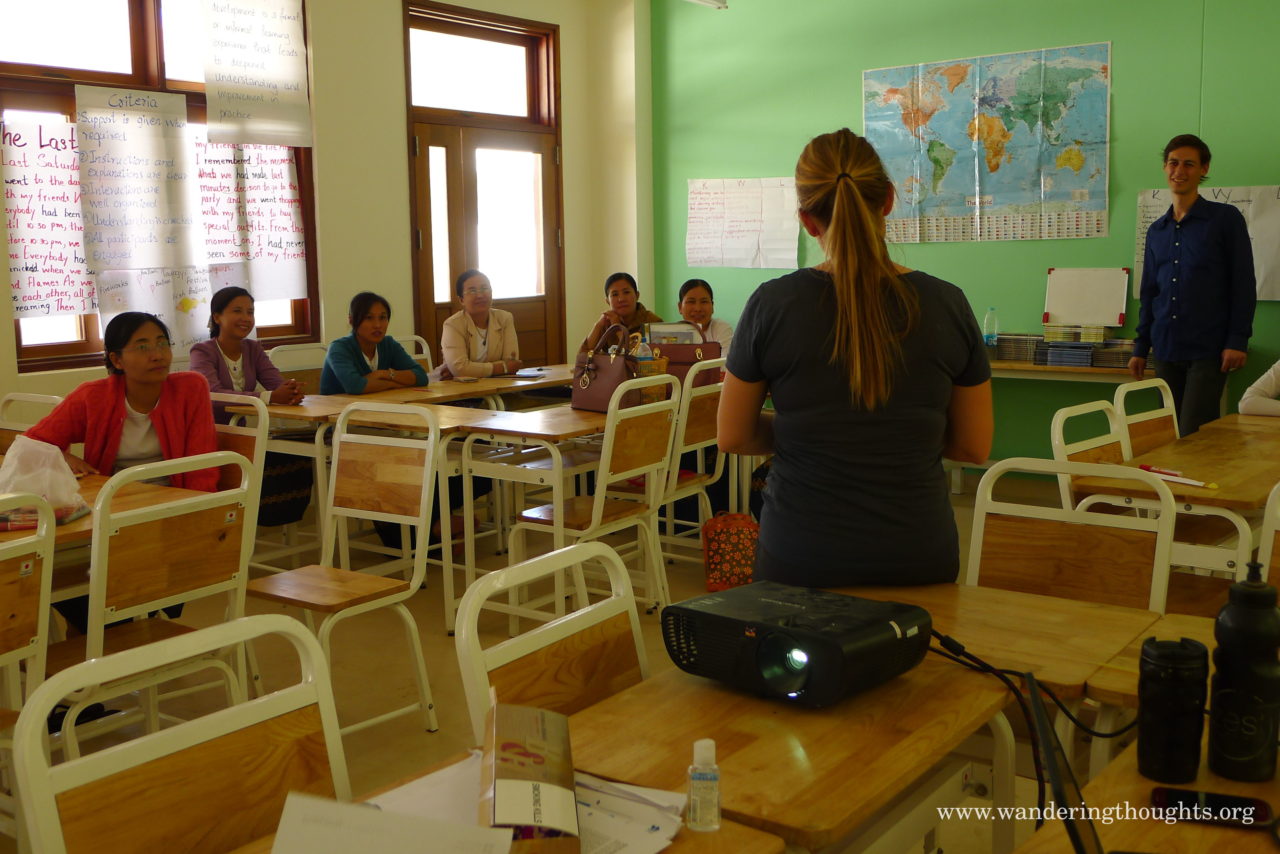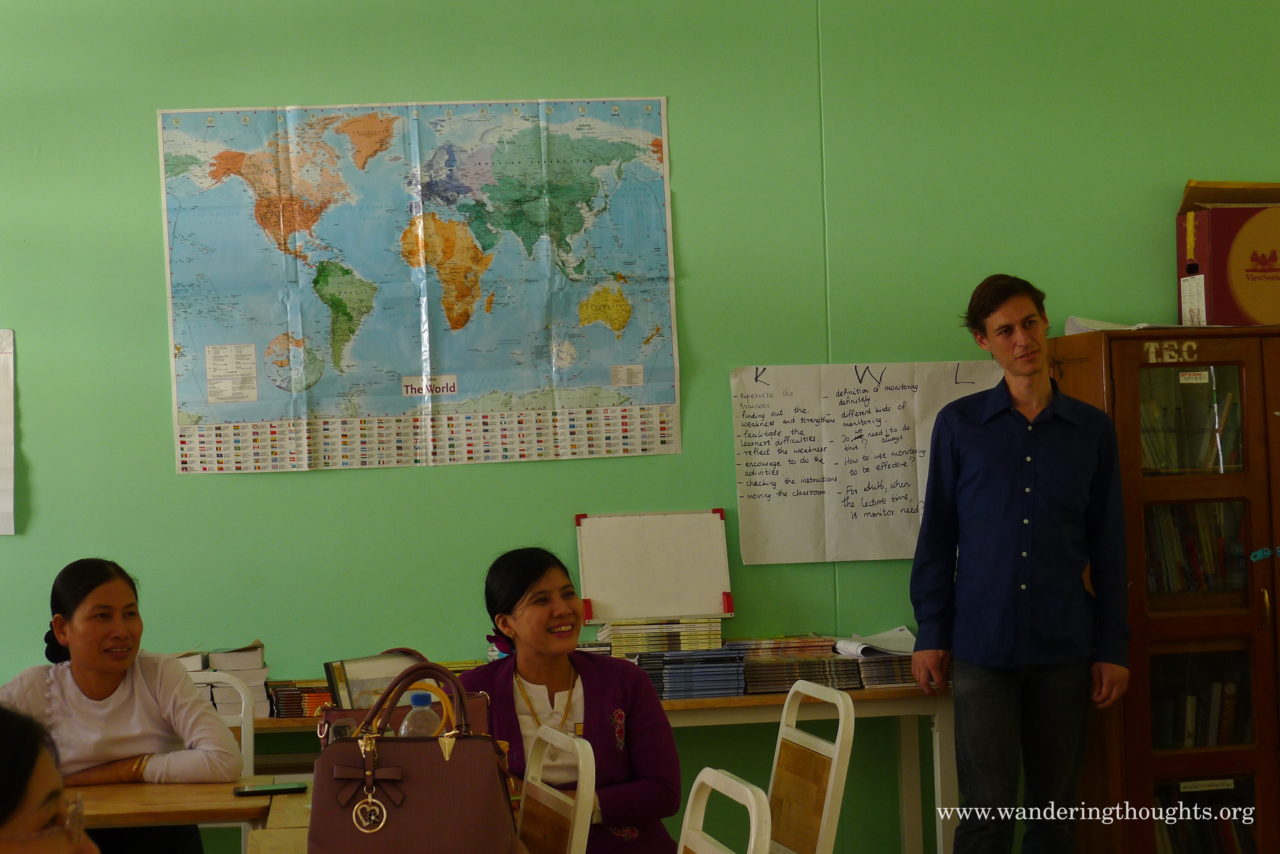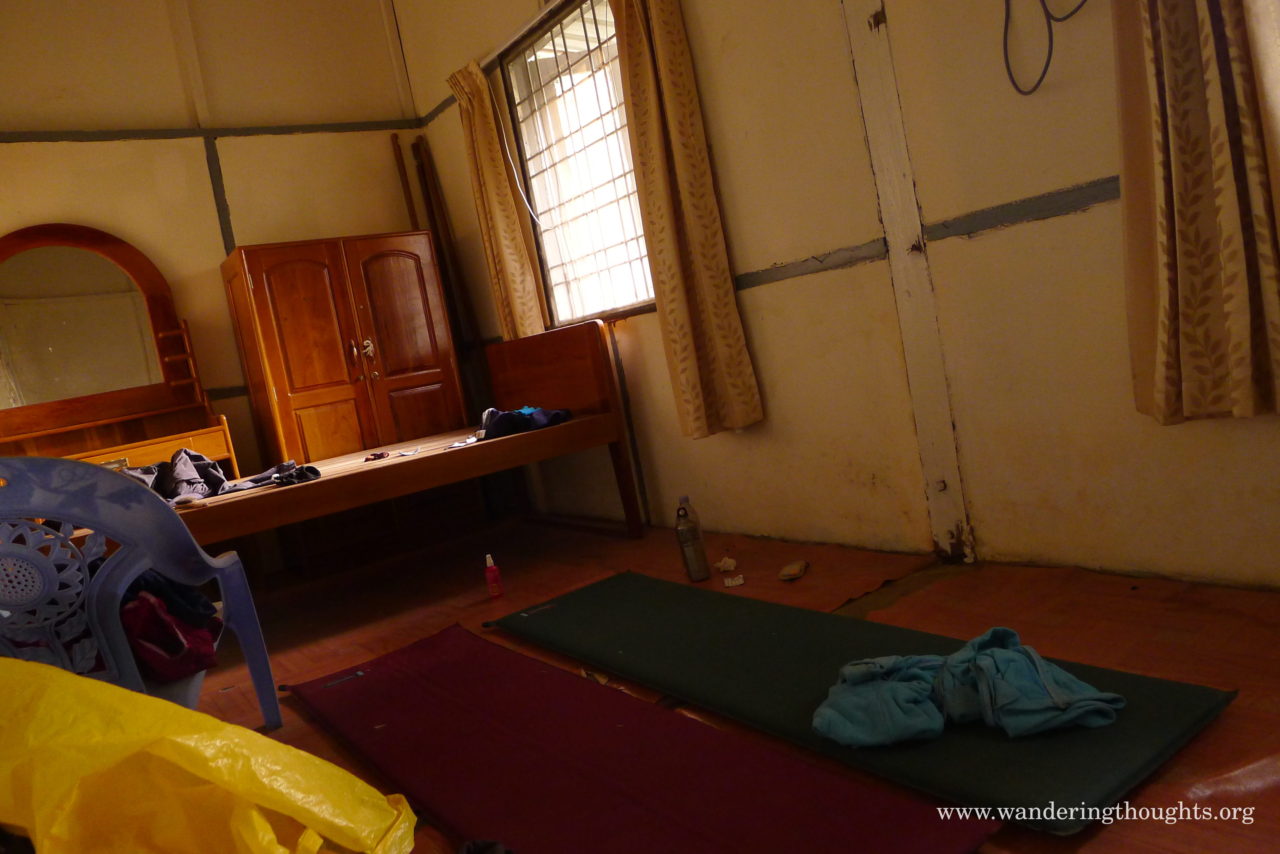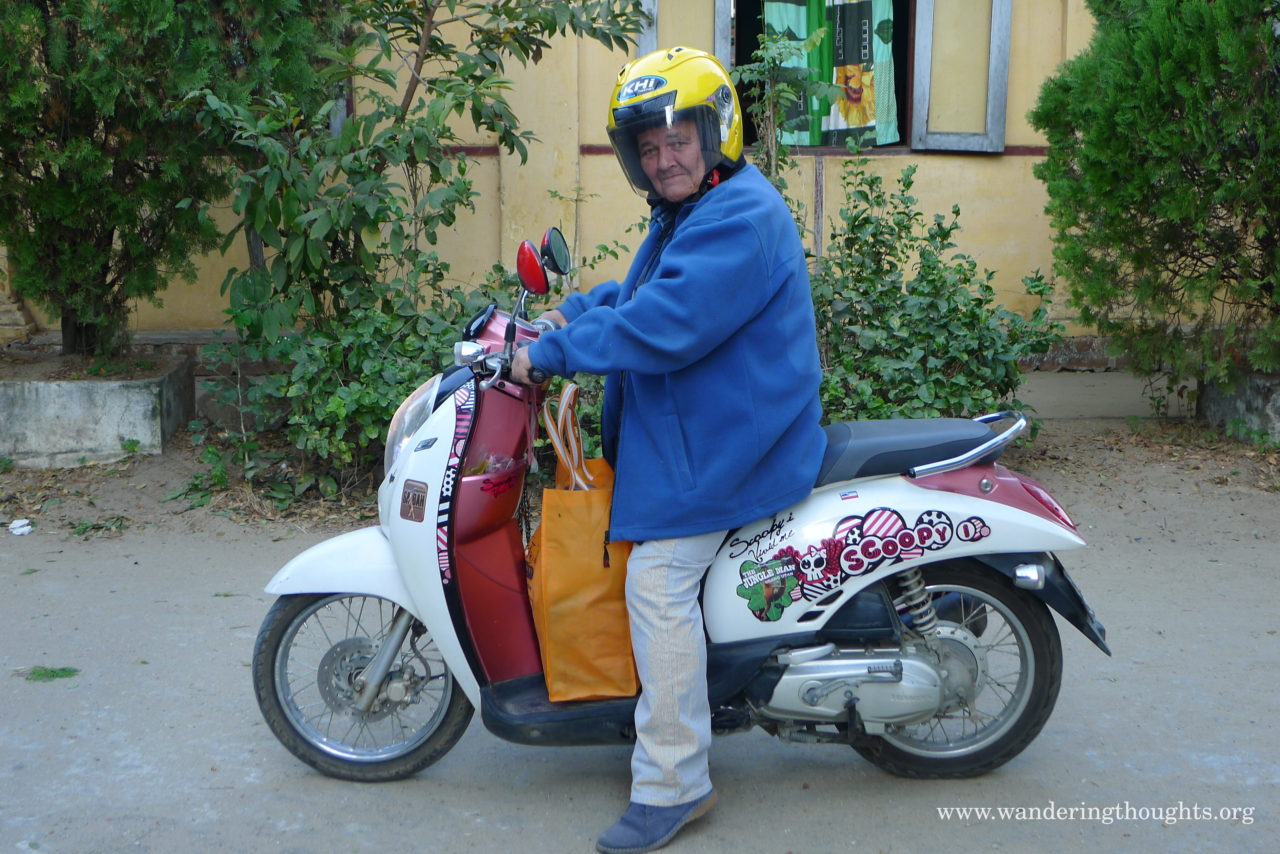 From Taungoo we turned south once again. We actually tried to cycle east towards the border in order to find a quieter road going south. But alas it was not going to be. After about 15k the police found us and without further explanation made us turn back. We tried discussing with them but there was just no point at all.
The police was a bit of a constant in all our time through Myanmar as well. Sometimes when people talked to us we just got a feeling that it wasn't just out of curiosity. And more often than not we were than asked for our passport. Sometimes they followed us for a bit but never really for long.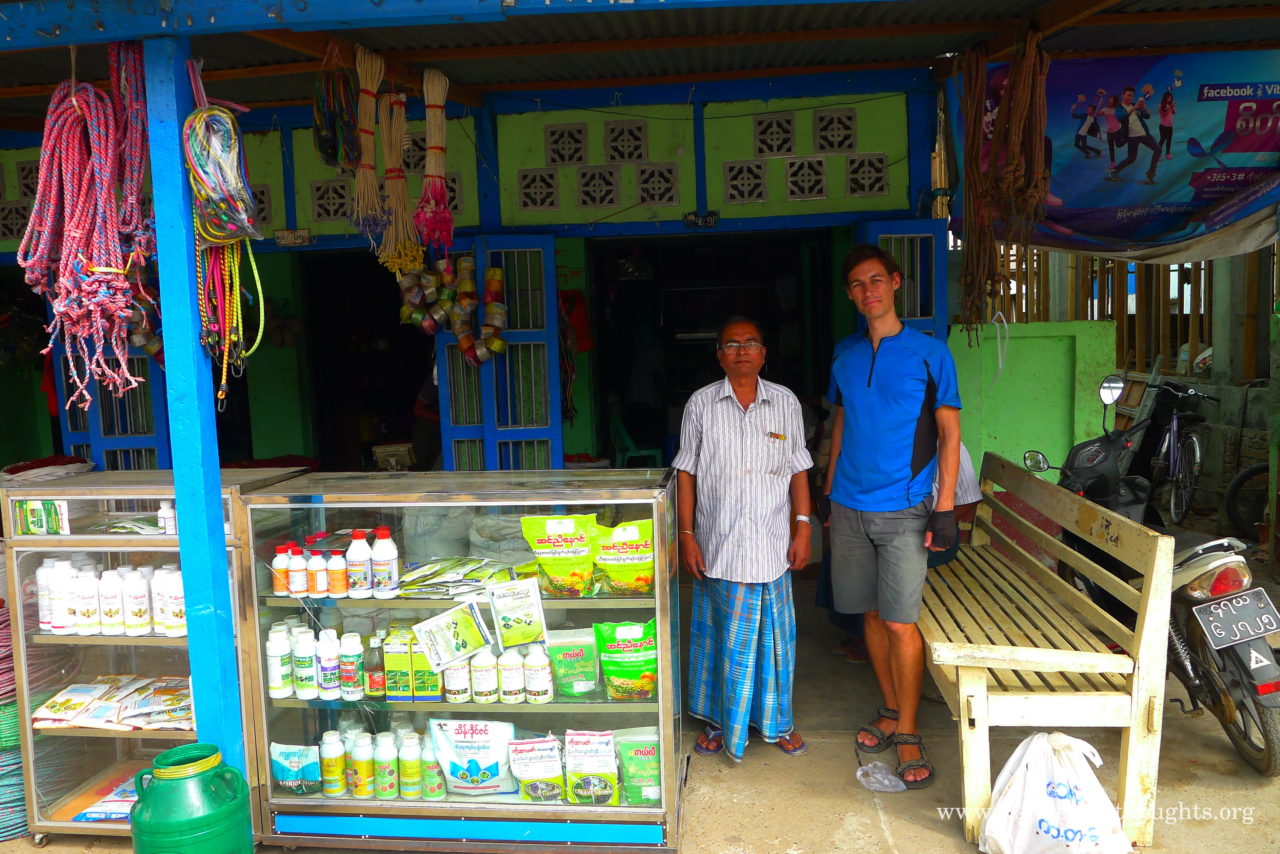 Mostly we just met really nice locals though. This guy for example was originally from India and had been transferred here a long time ago. There was a big Indian population in this area which was especially apparent in the food choices.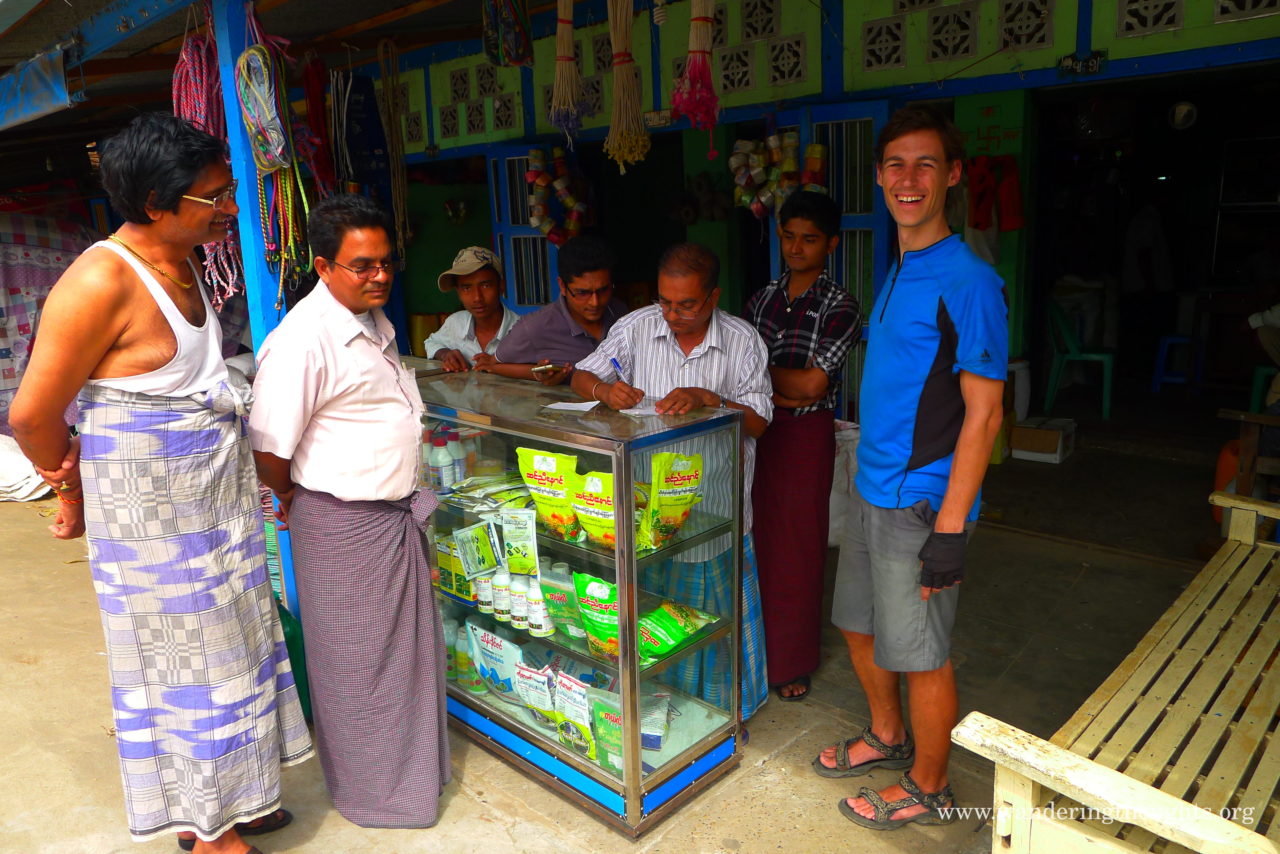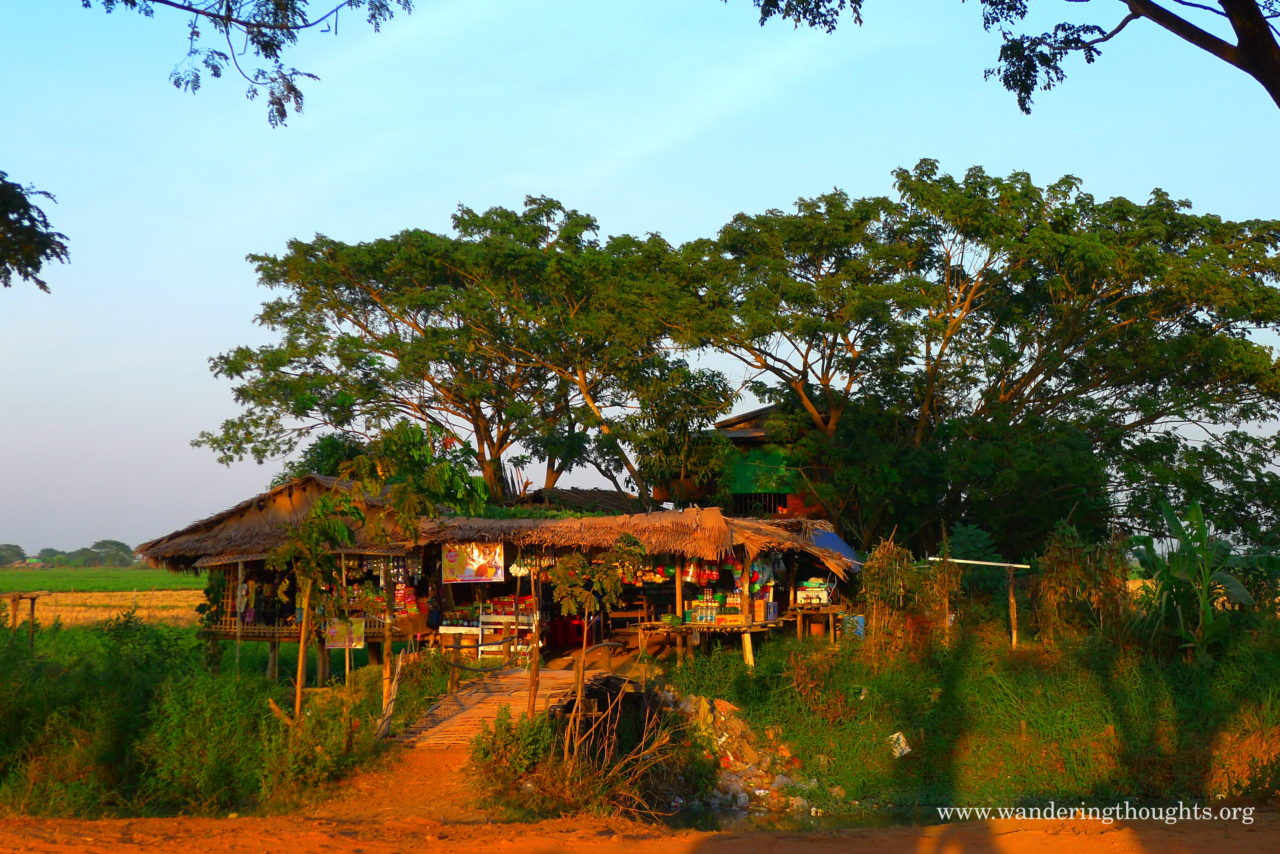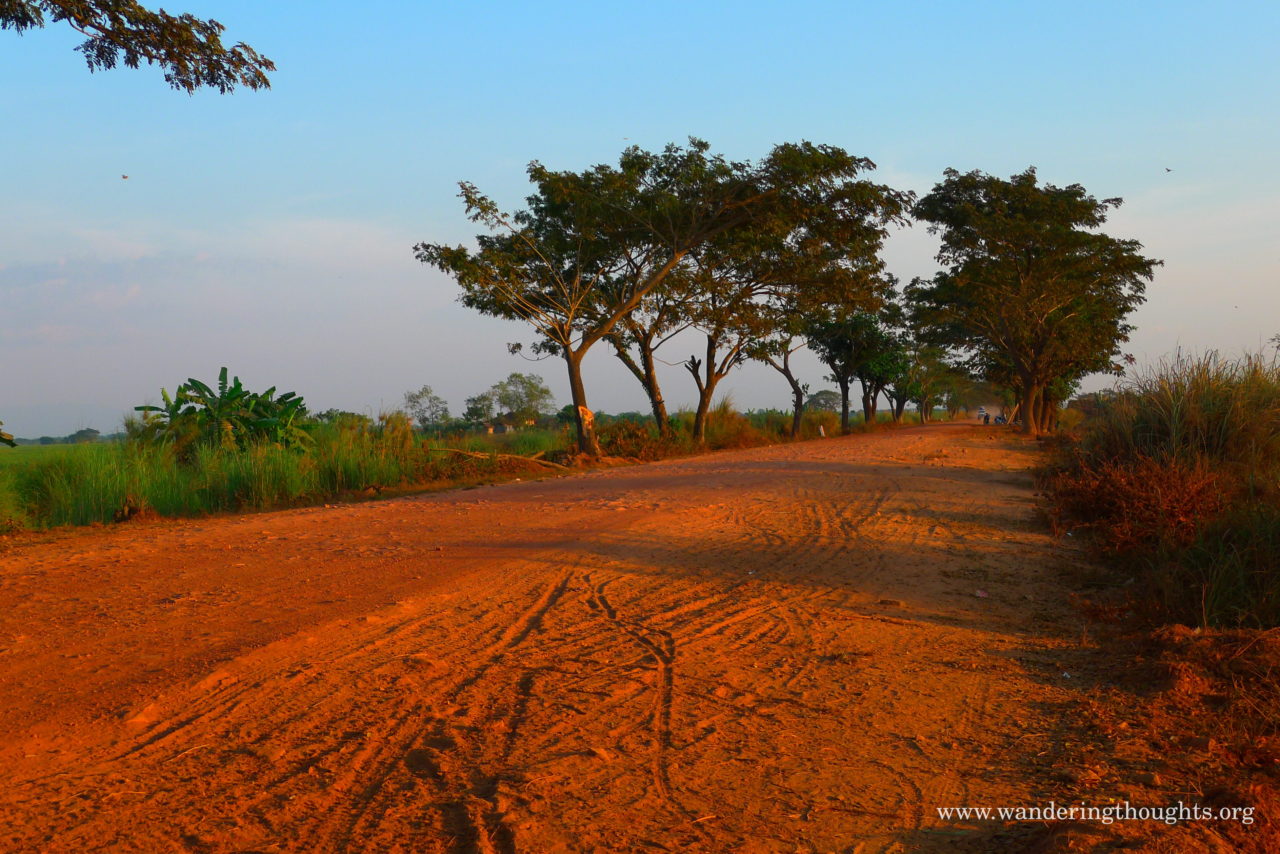 A few times we slept in monasteries as well. This one was really interesting as it functioned as a social hub for the whole village (in the middle of nowhere). They had a TV and at night everyone (well, the men) gathered around to watch sports and chew Betel.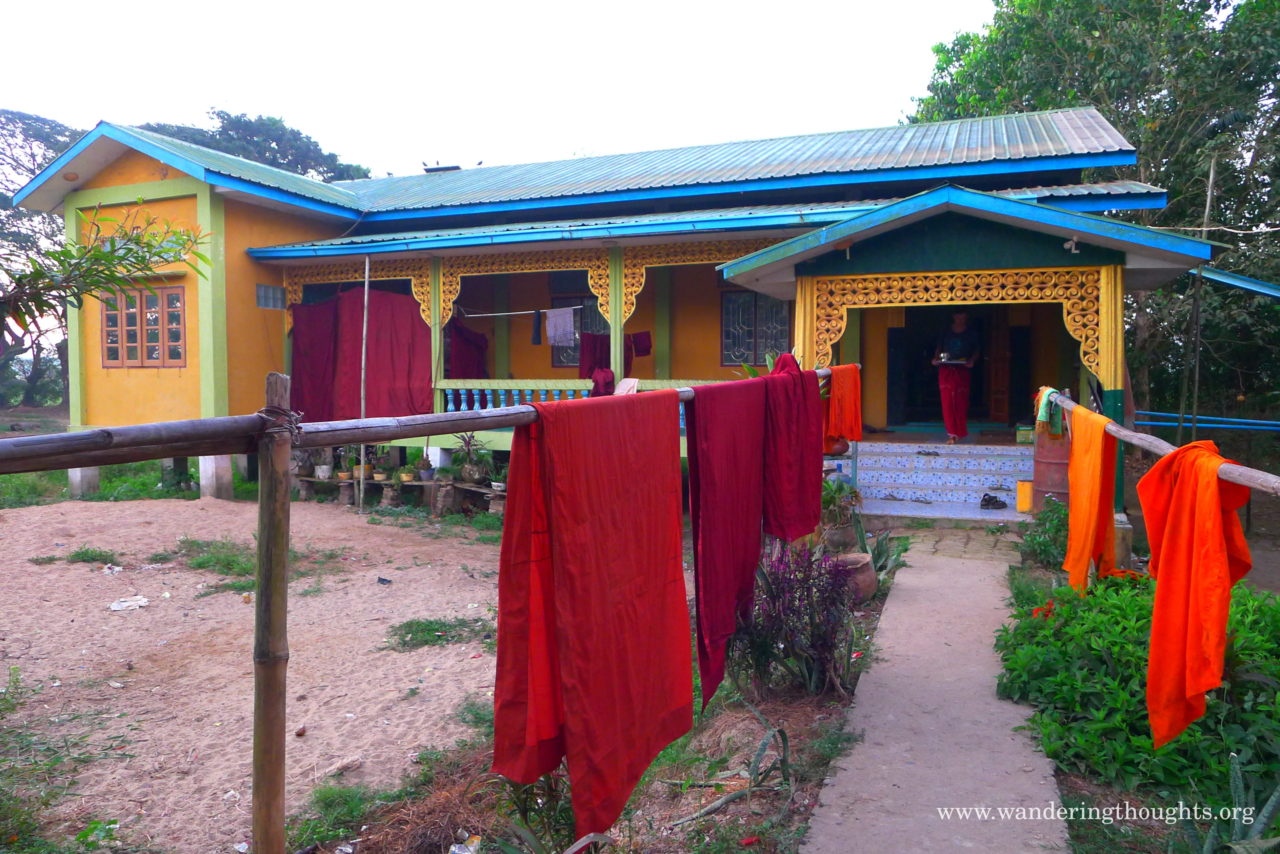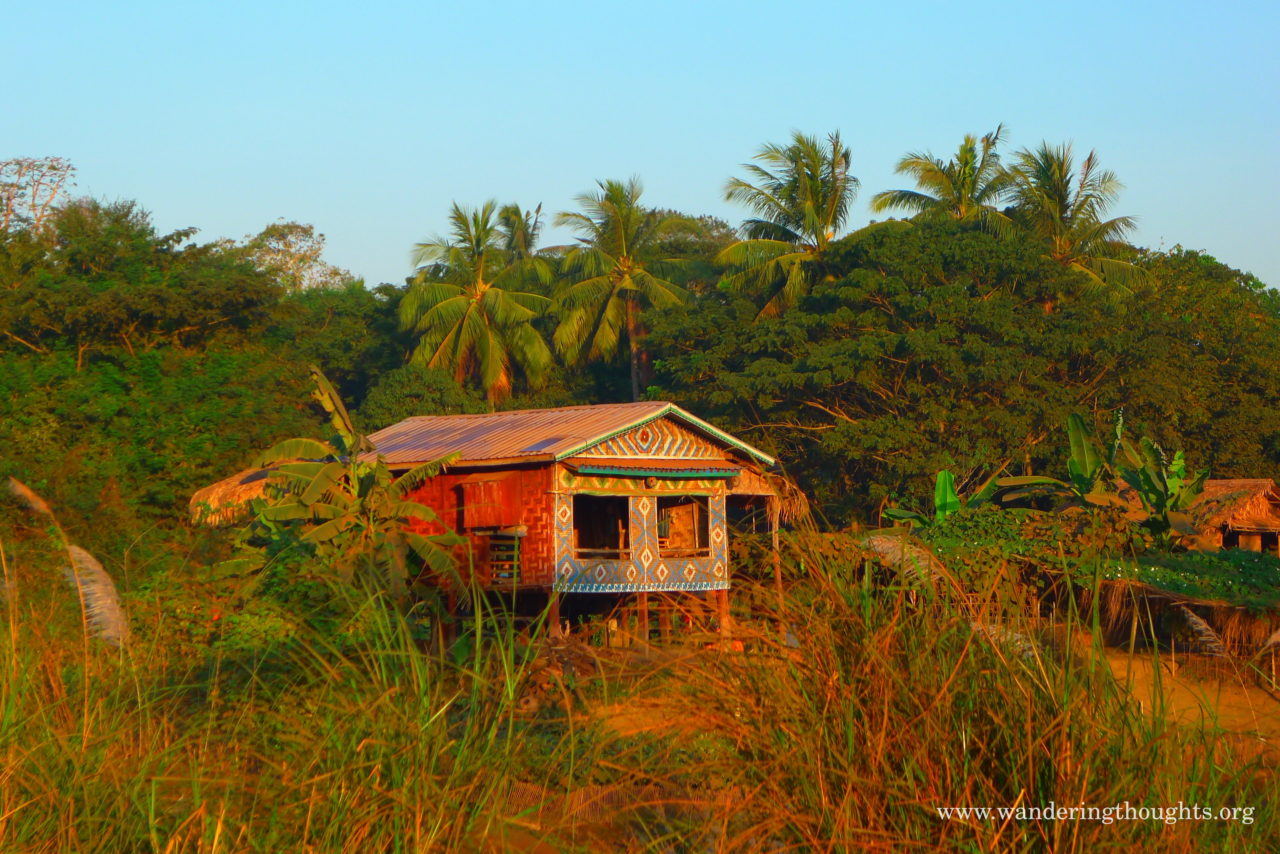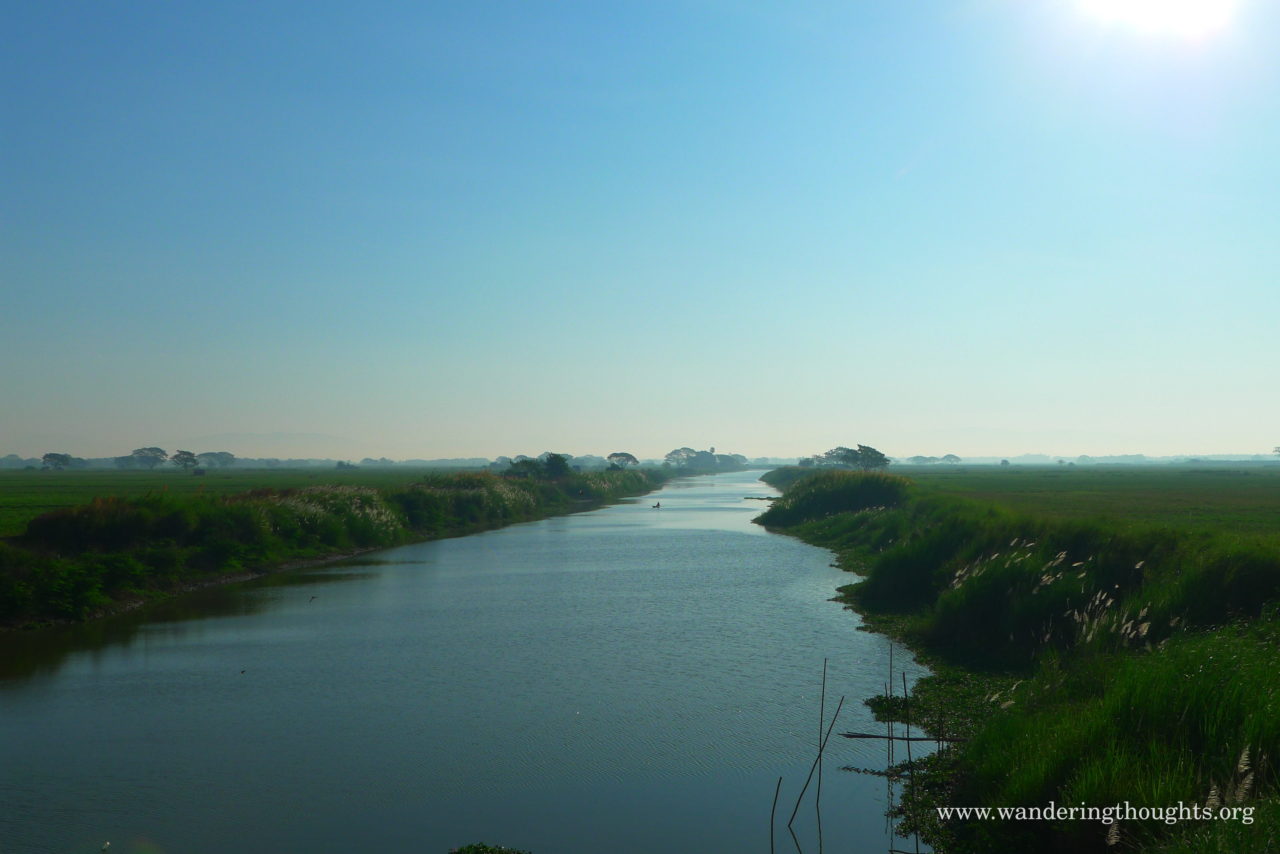 On the next day we chose an off road route to Hpa An as the Highway riding was getting on our nerves. It started with hard packed dirt which was nice enough. The locals that we asked about the route seemed to be rather concerned and not really sure if it would go through.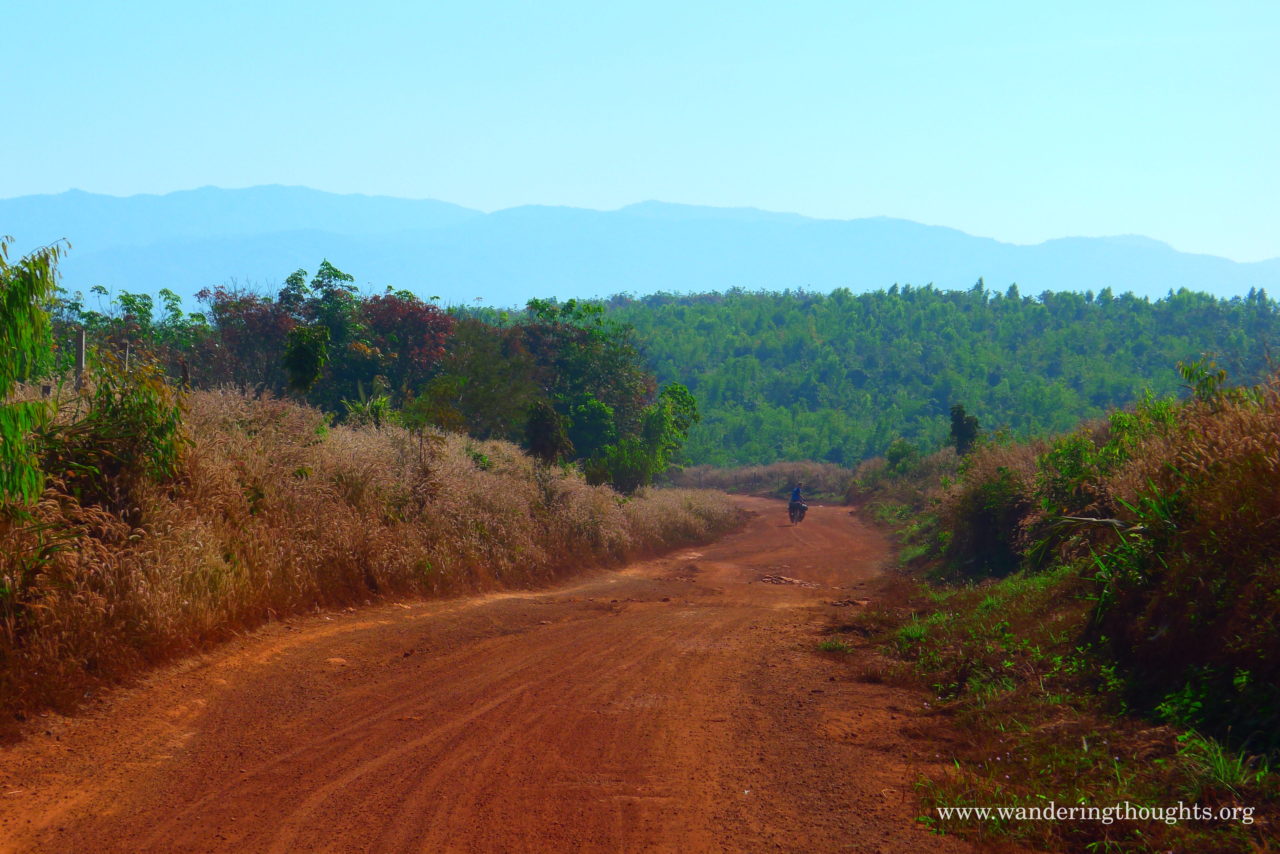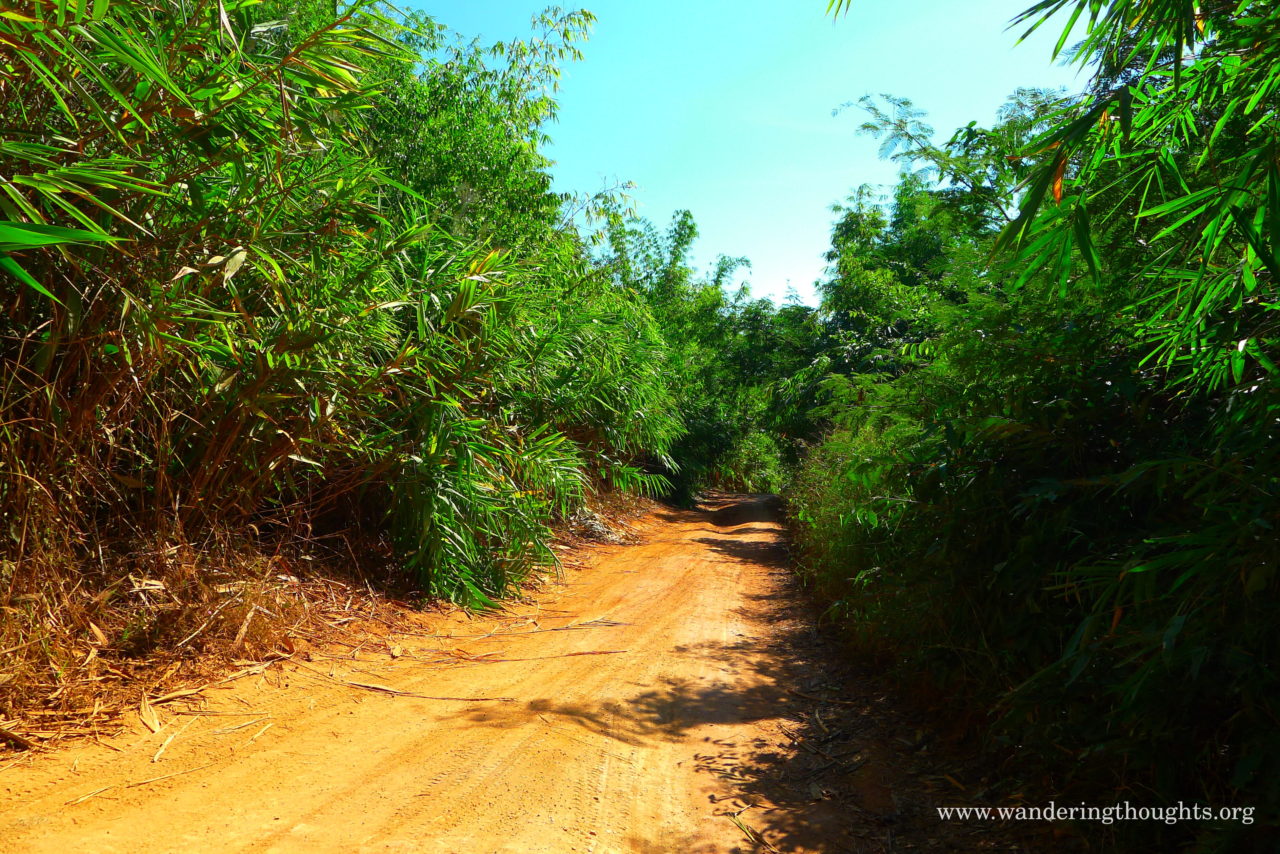 The path led through thick forest and bamboo and eventually became more of a single trail.
We met more concerned locals and even someone who – without words – asked for paper and started drawing a map out of this forest for us. We were humbled by this incredible kindness and showed him our map on the phone. Without the GPS we would have been seriously lost though. There were so many turns and not a lot of people to ask where to go.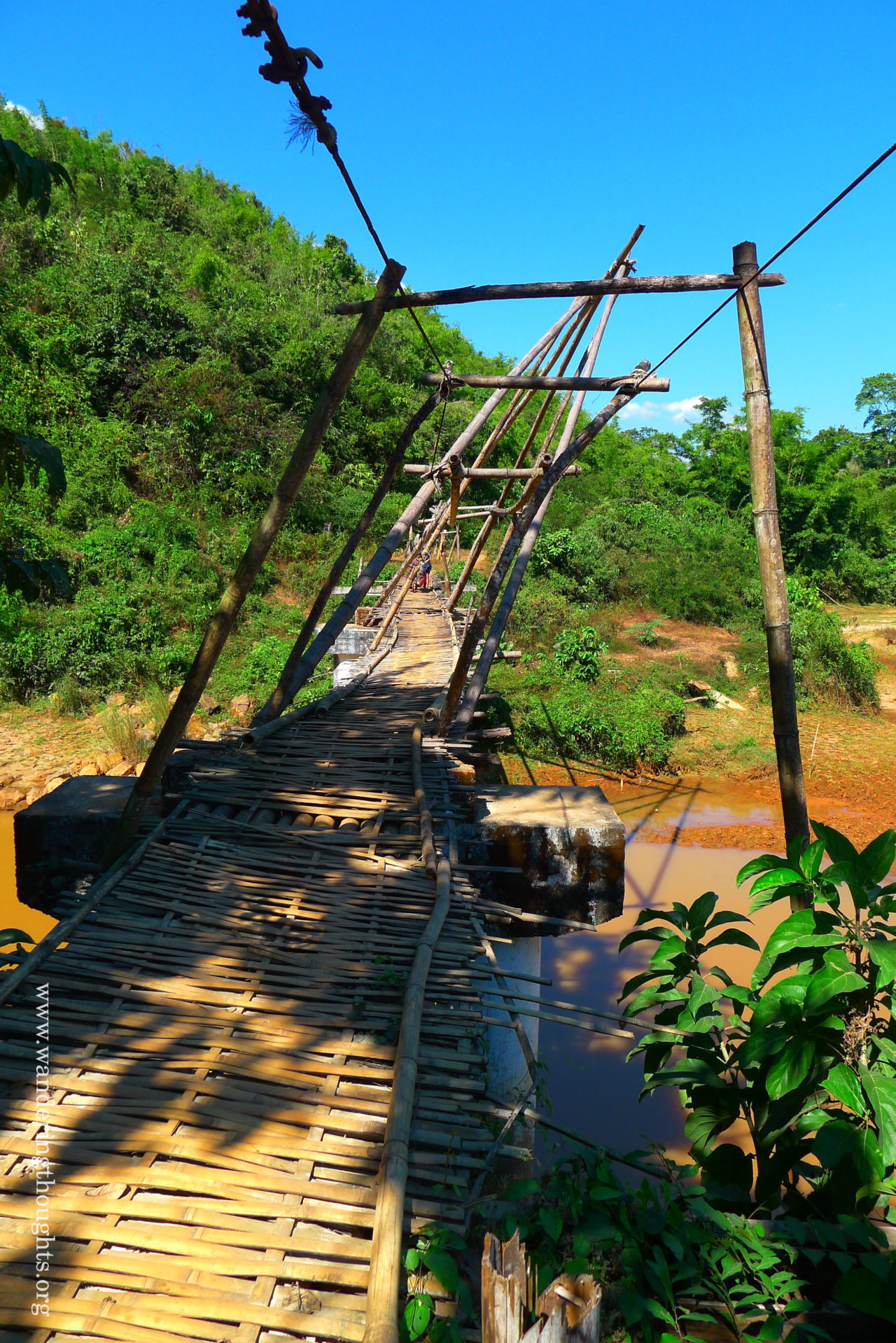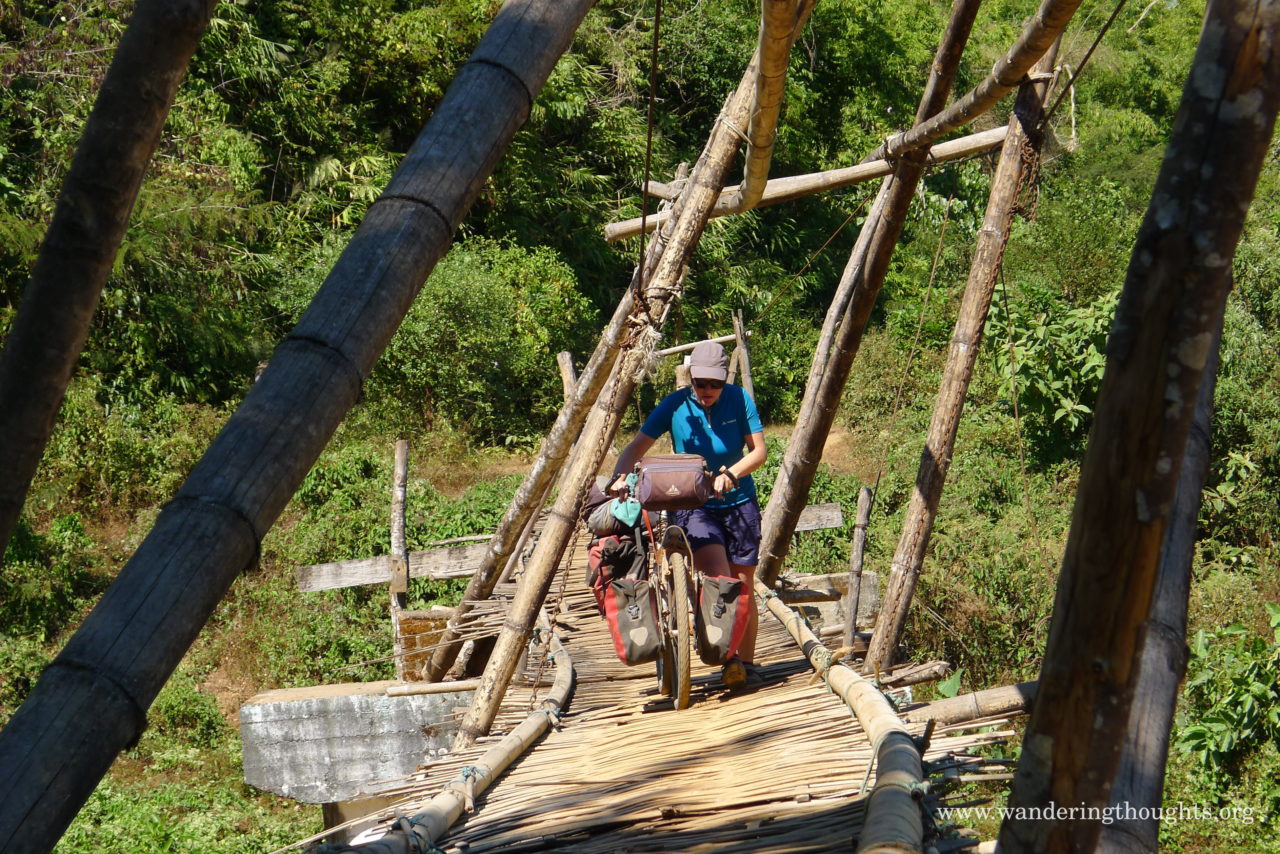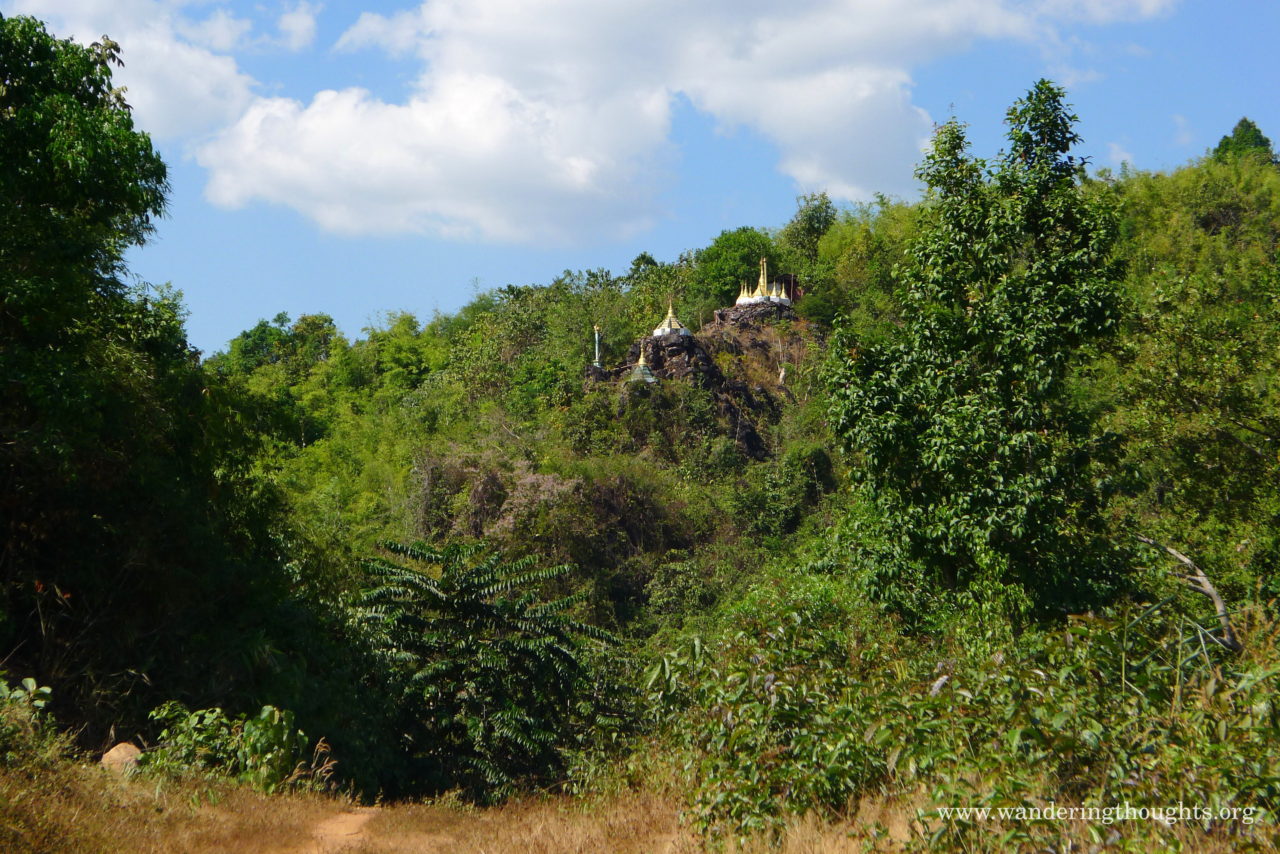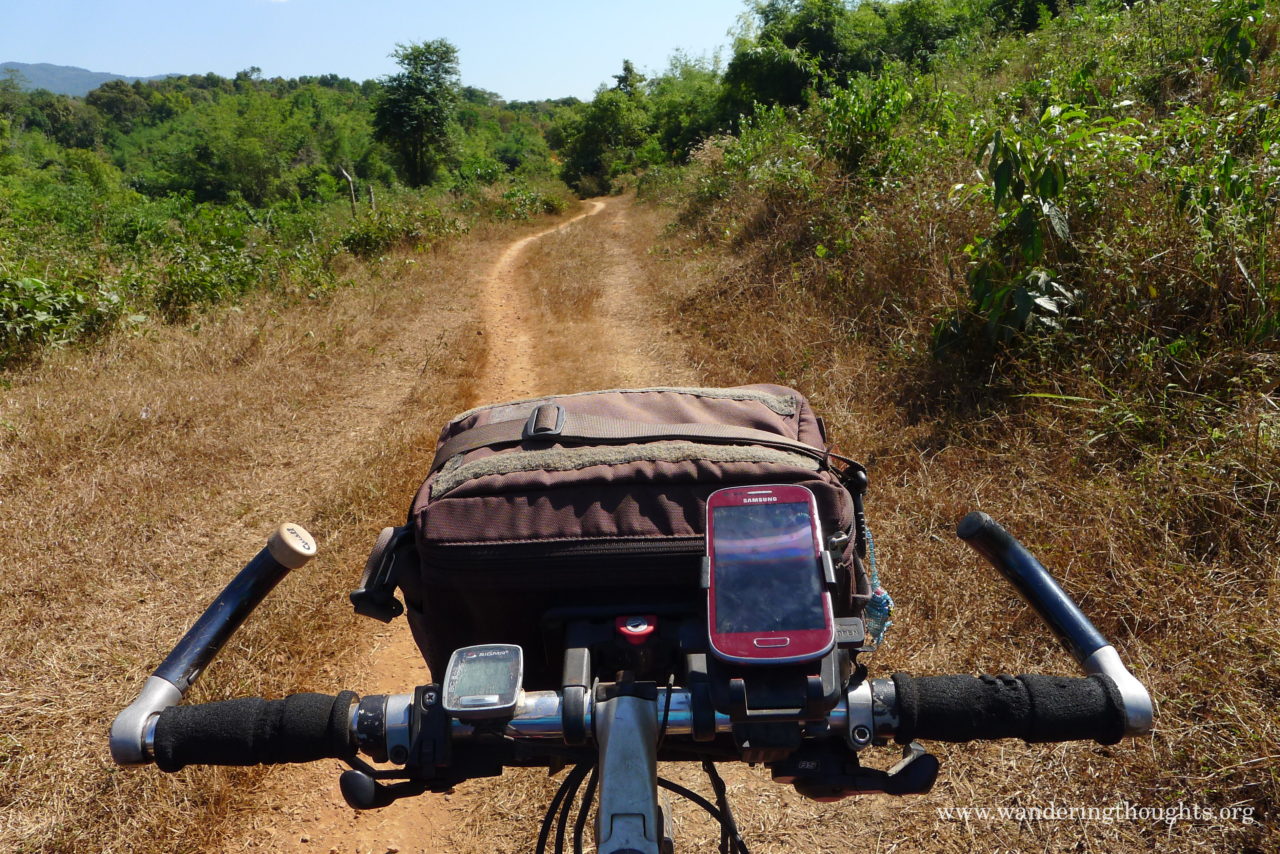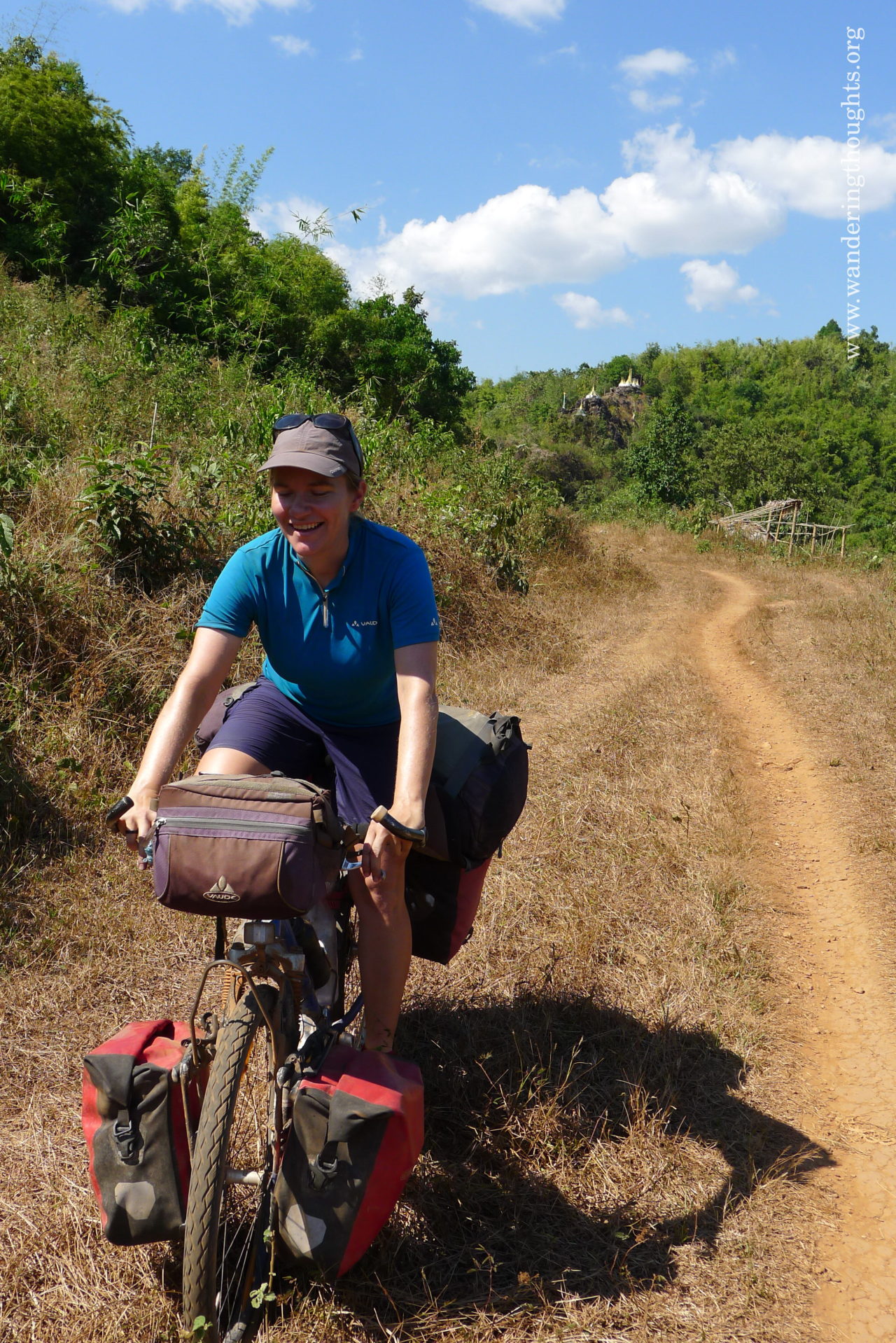 After a while we came across some rubber plantations…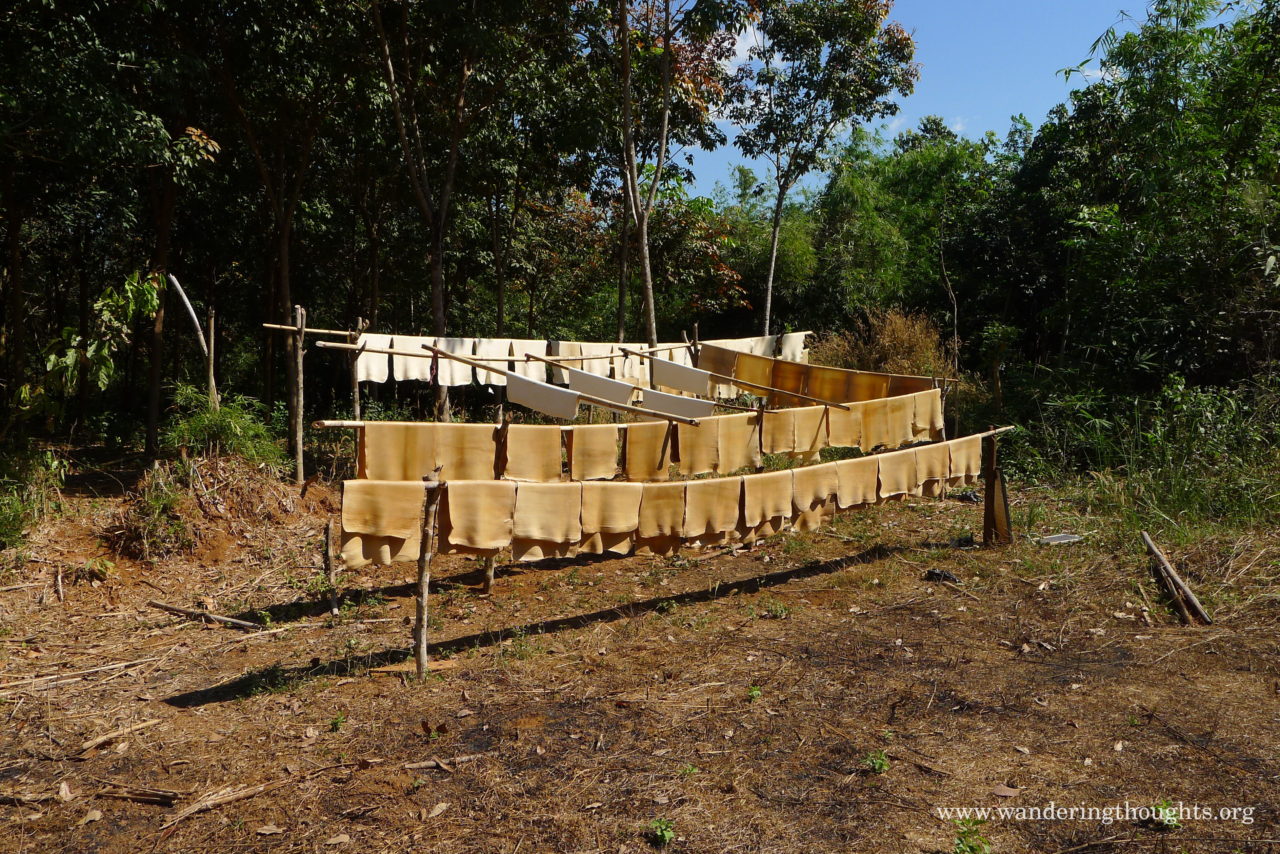 … and thankfully even here there was fresh water to be found.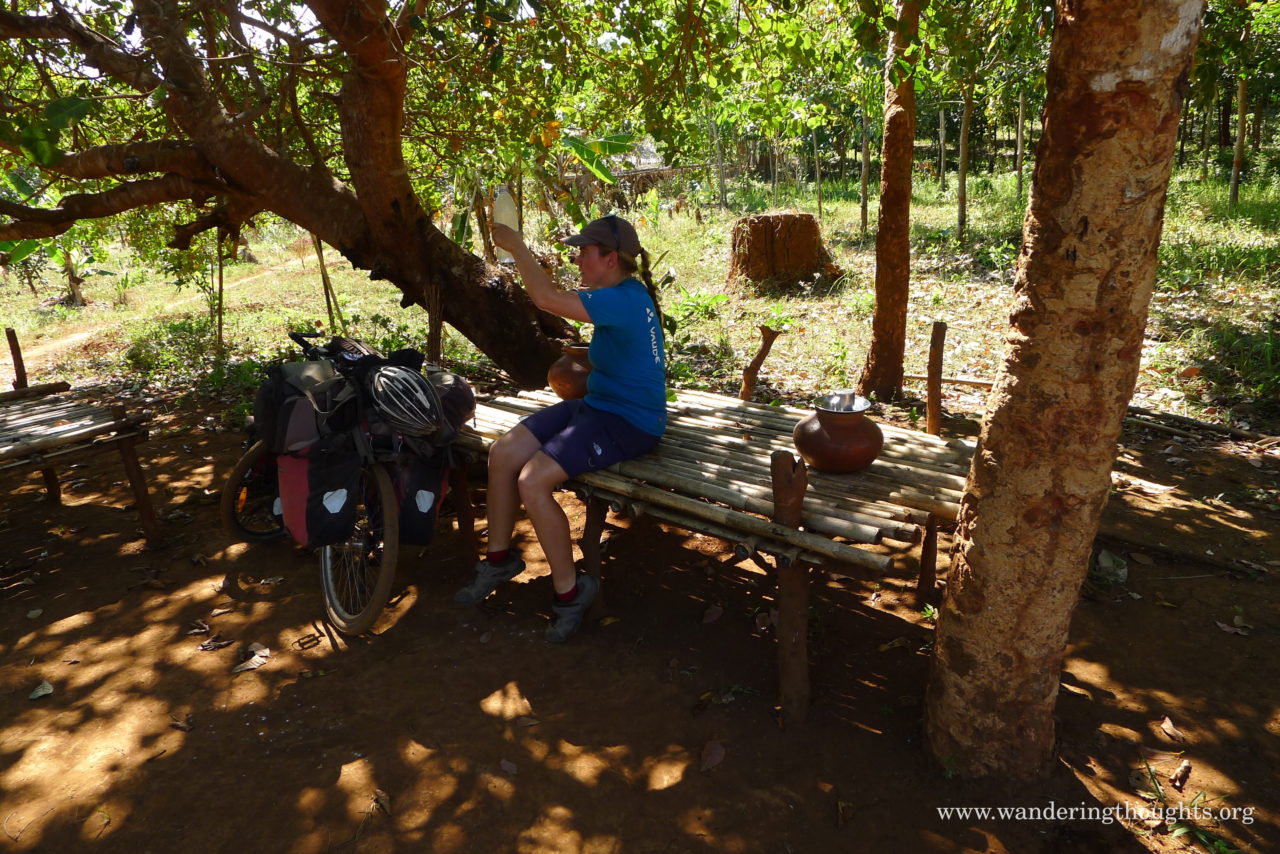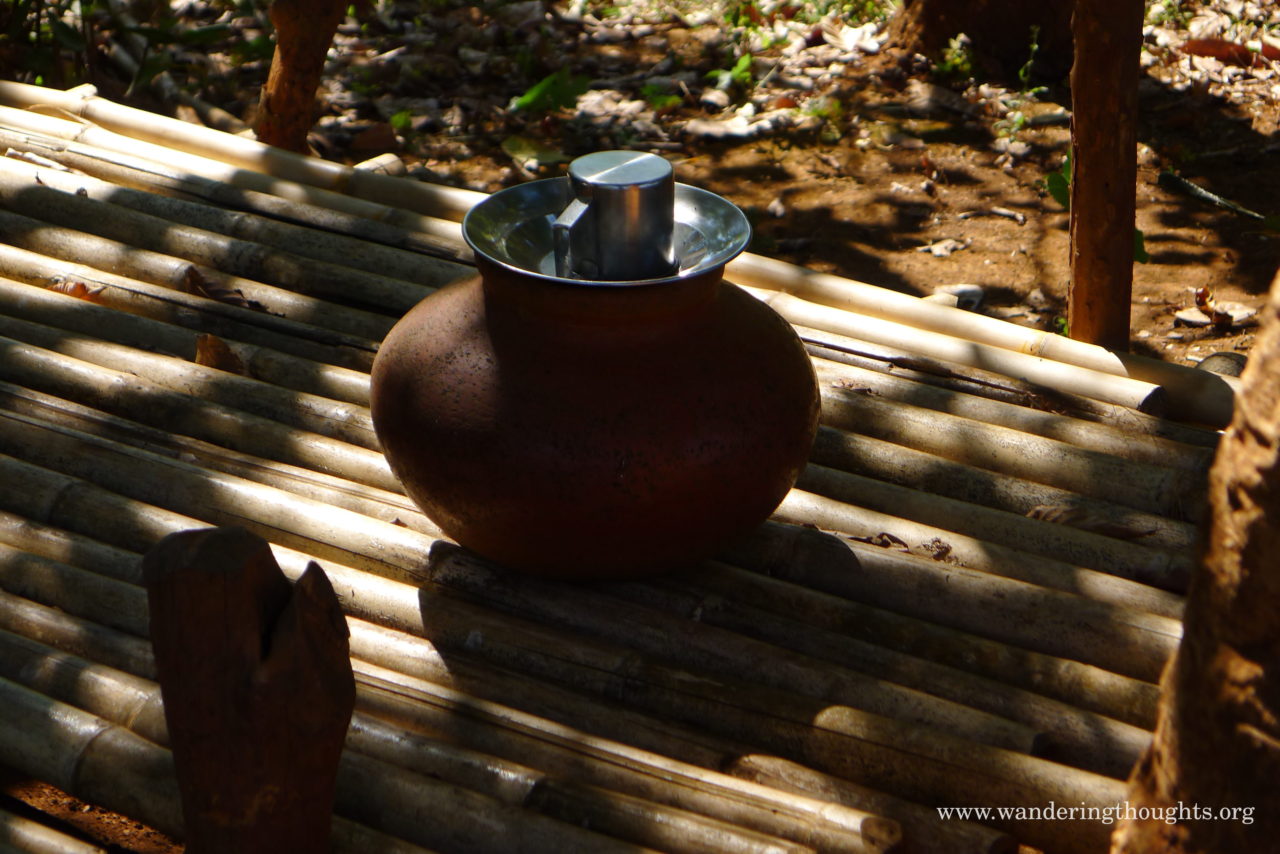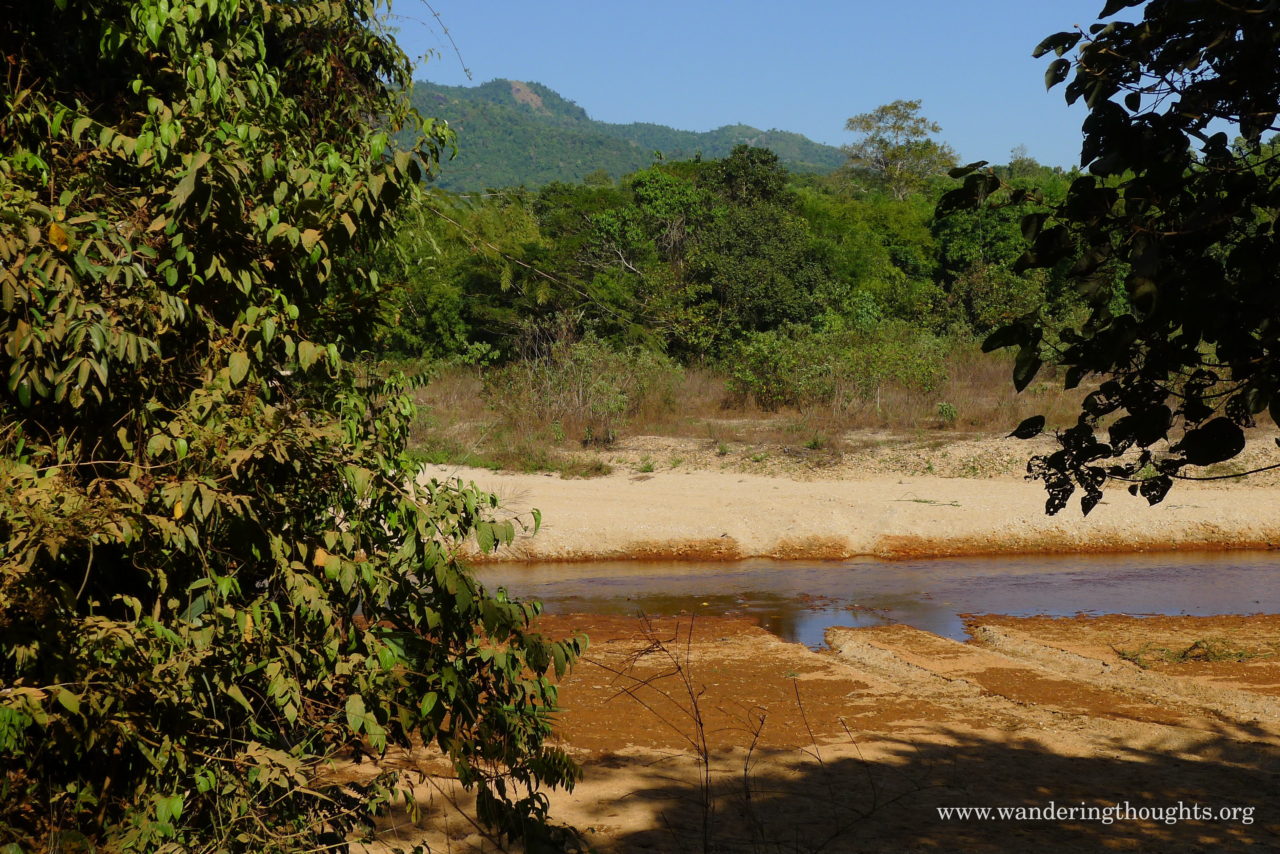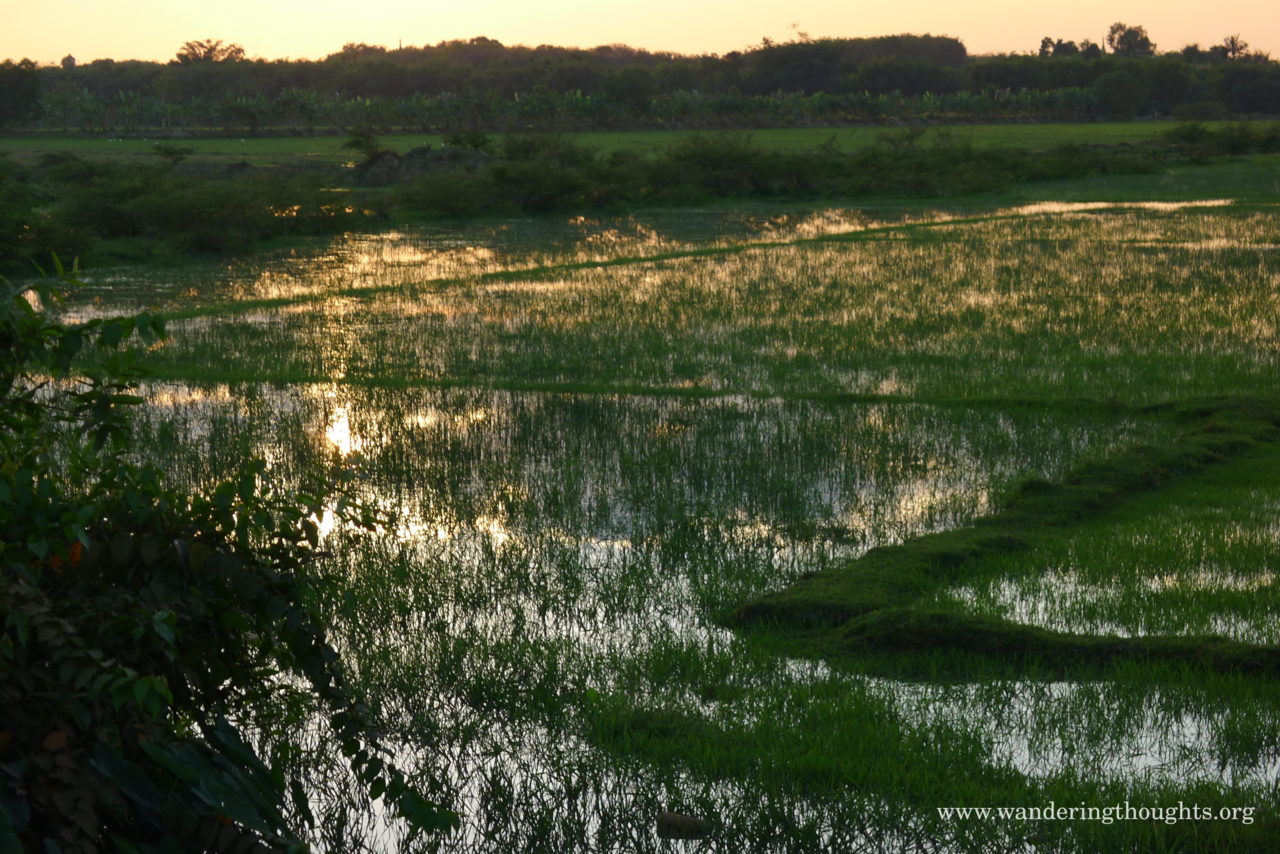 Fresh pepper drying: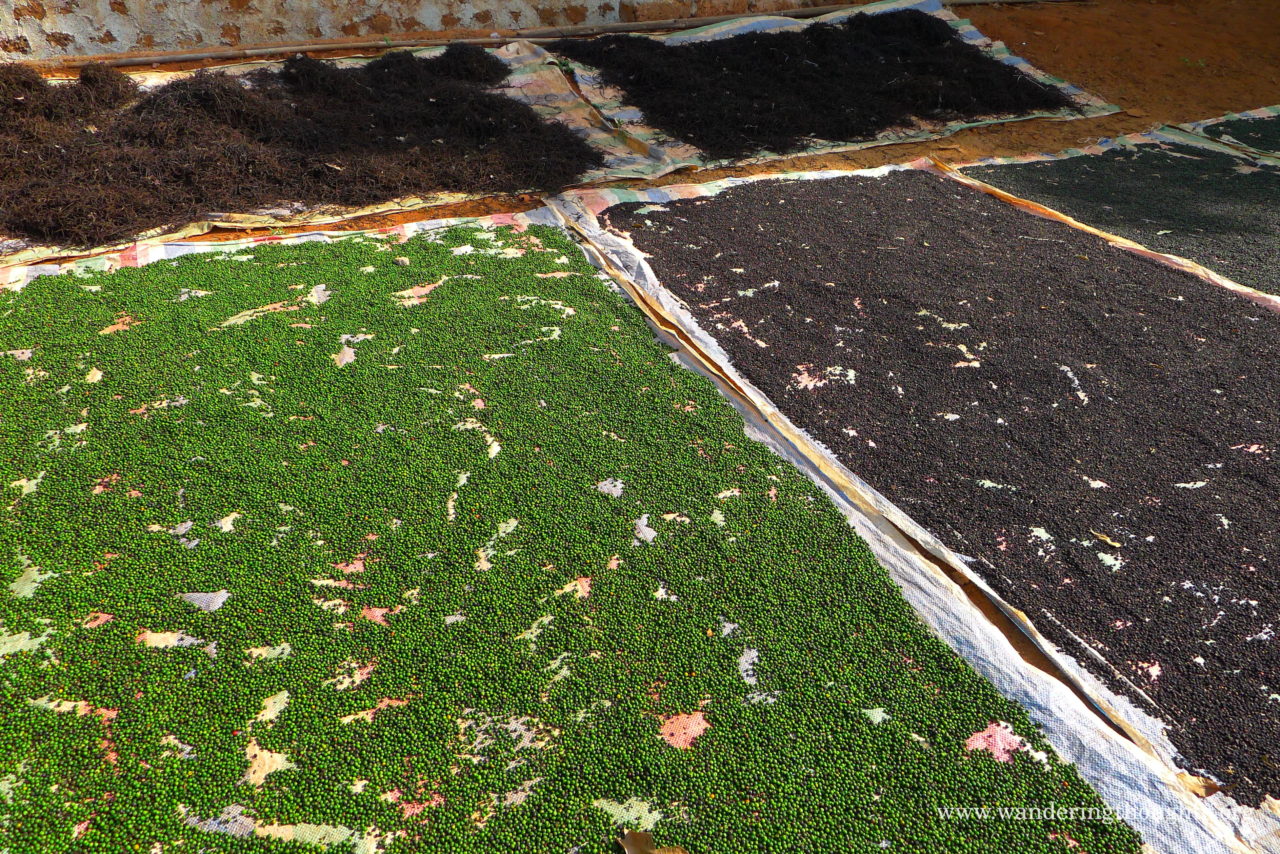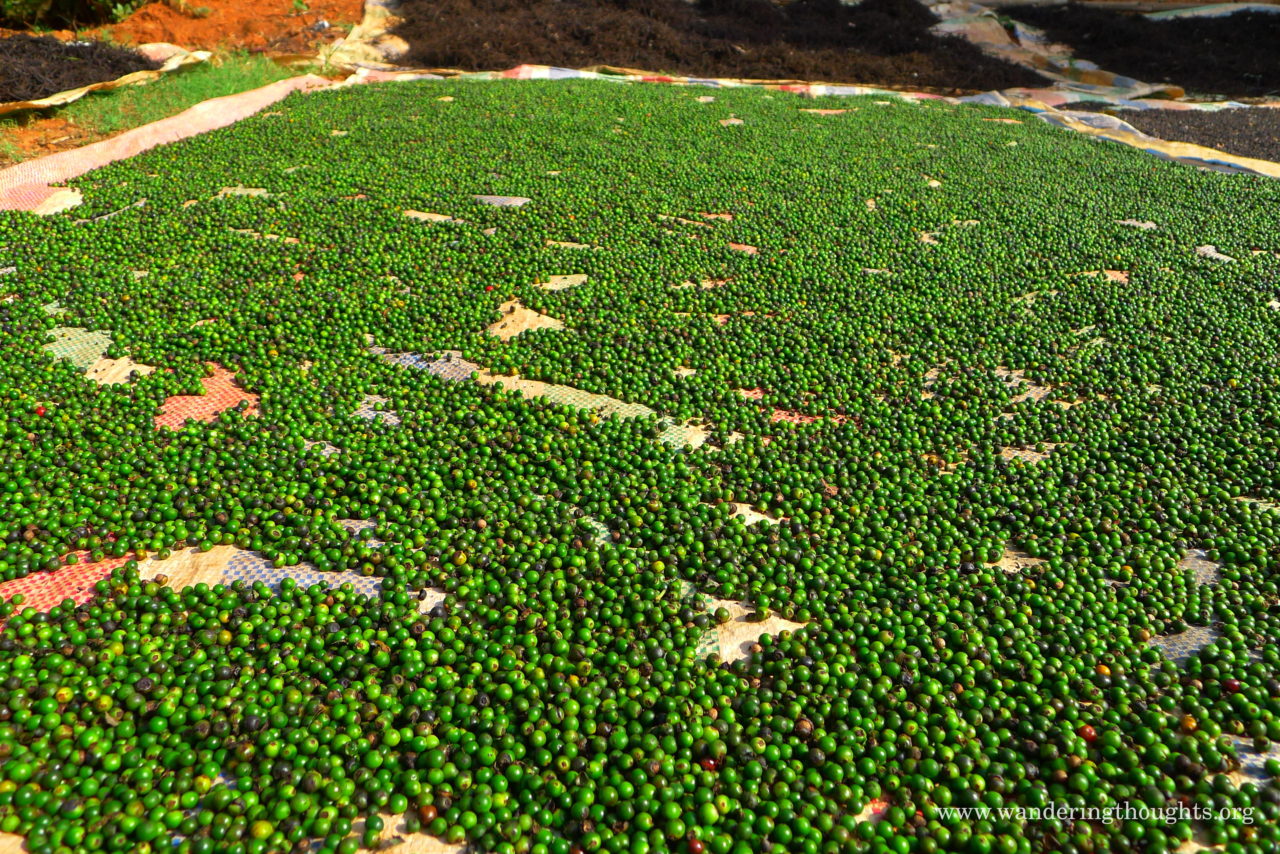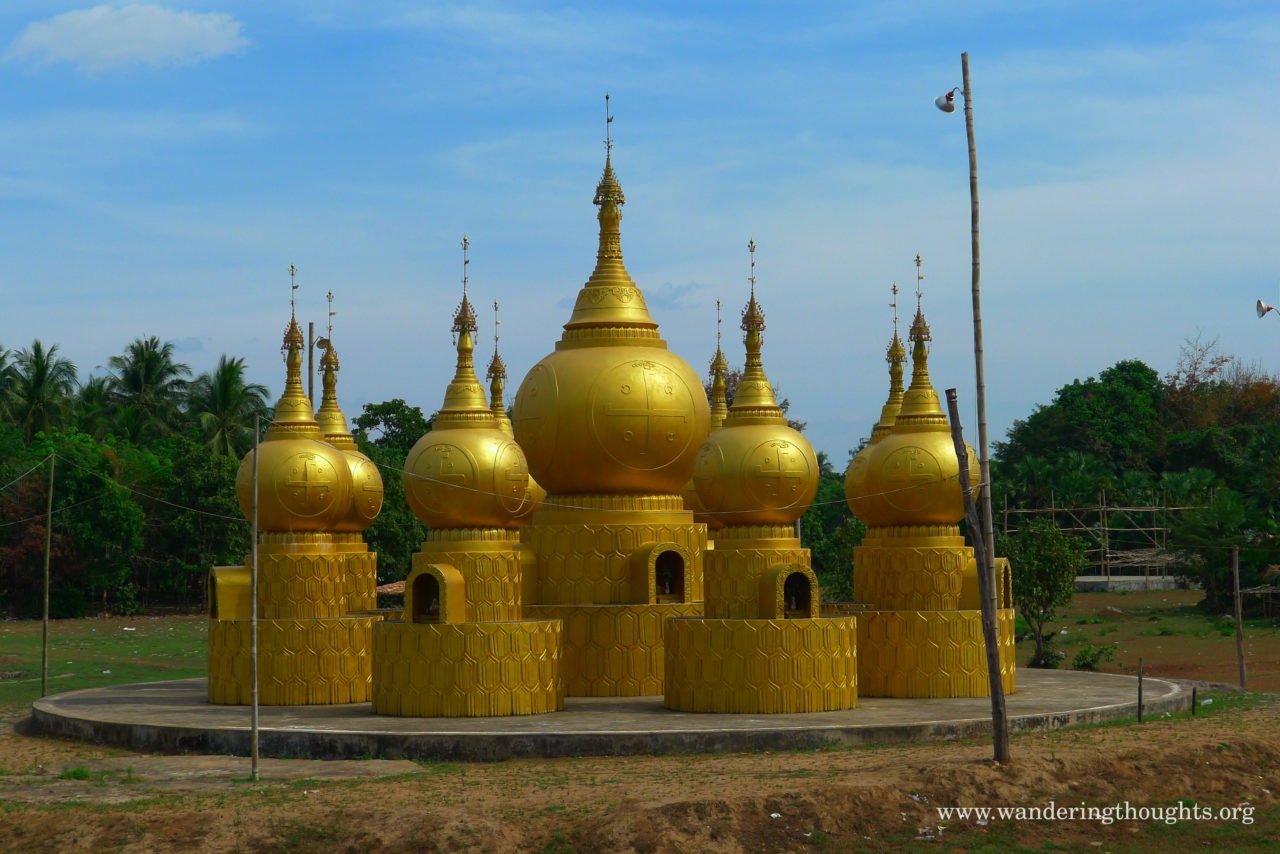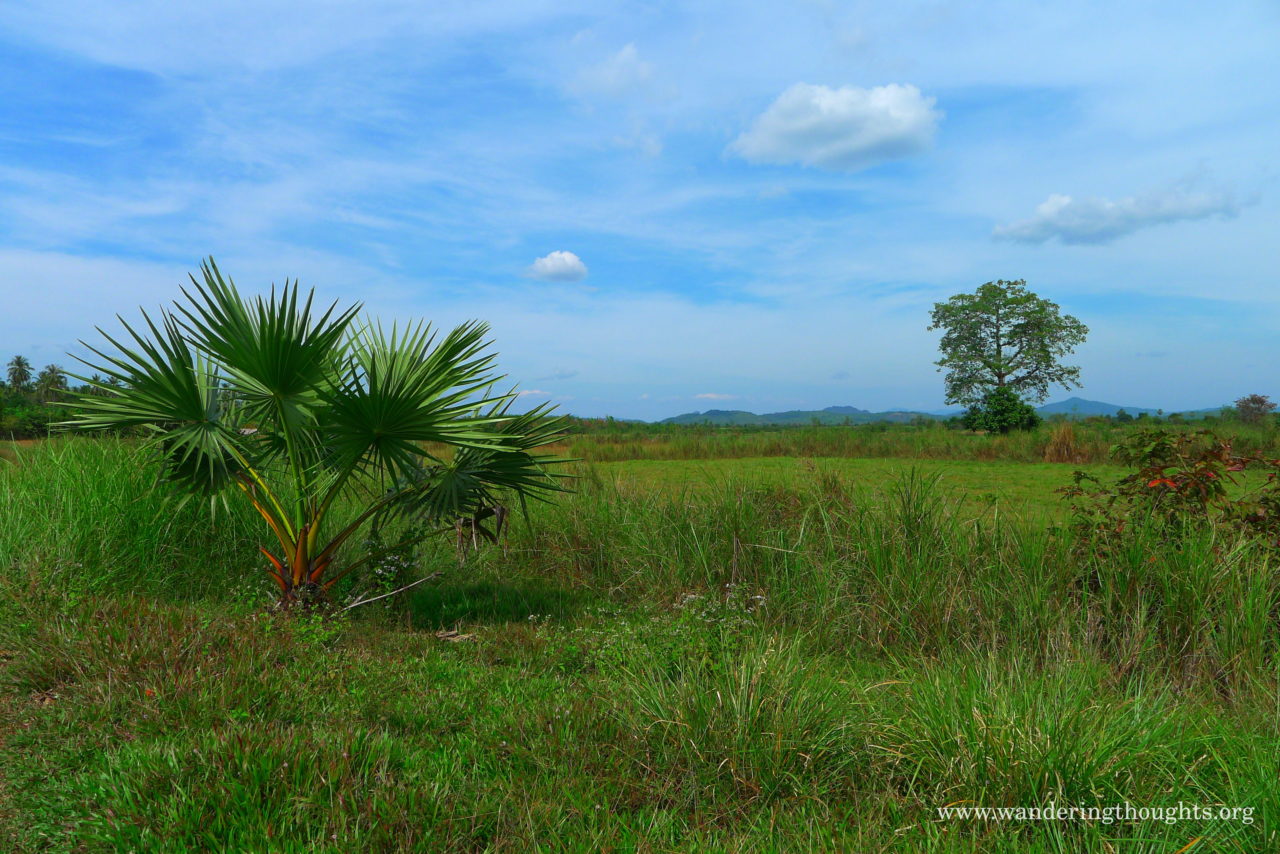 And then the perfect cycle path to Hpa An: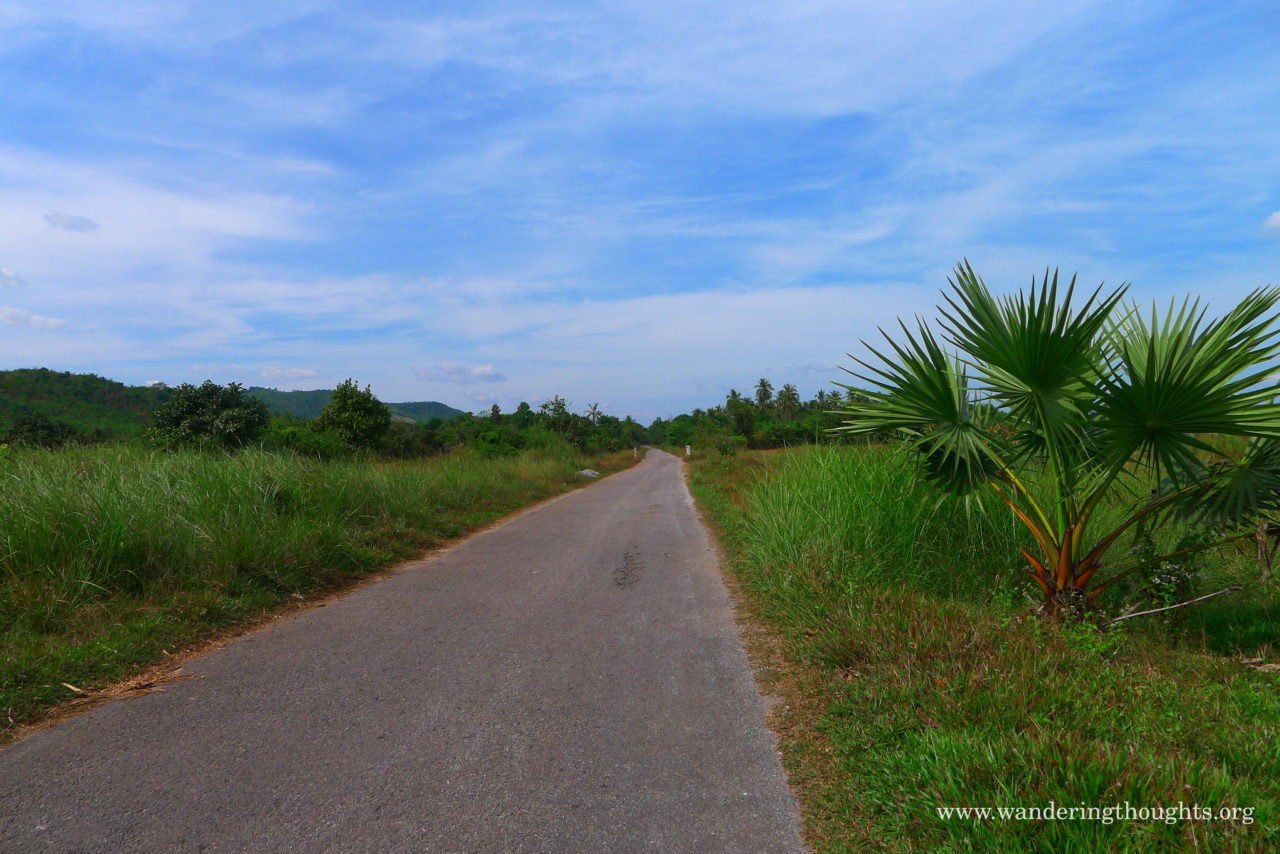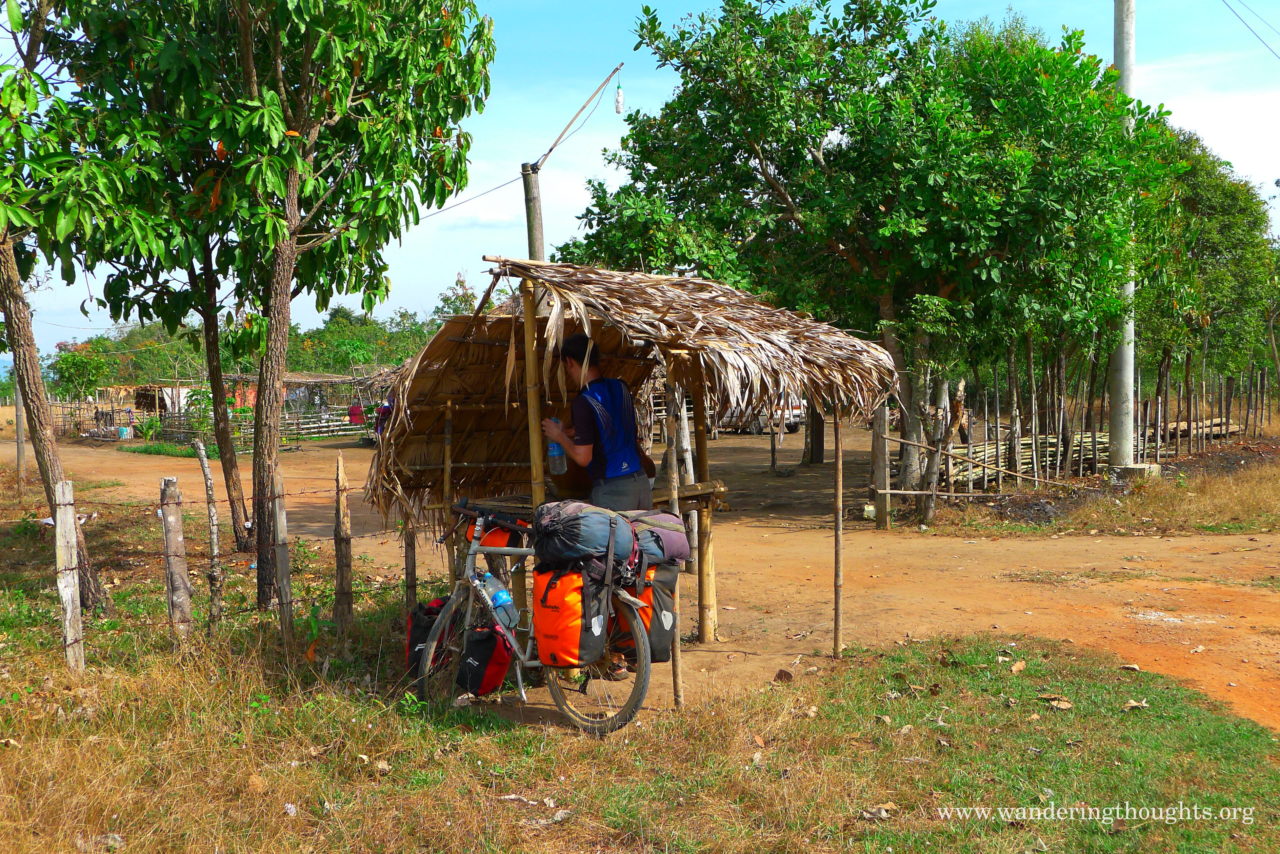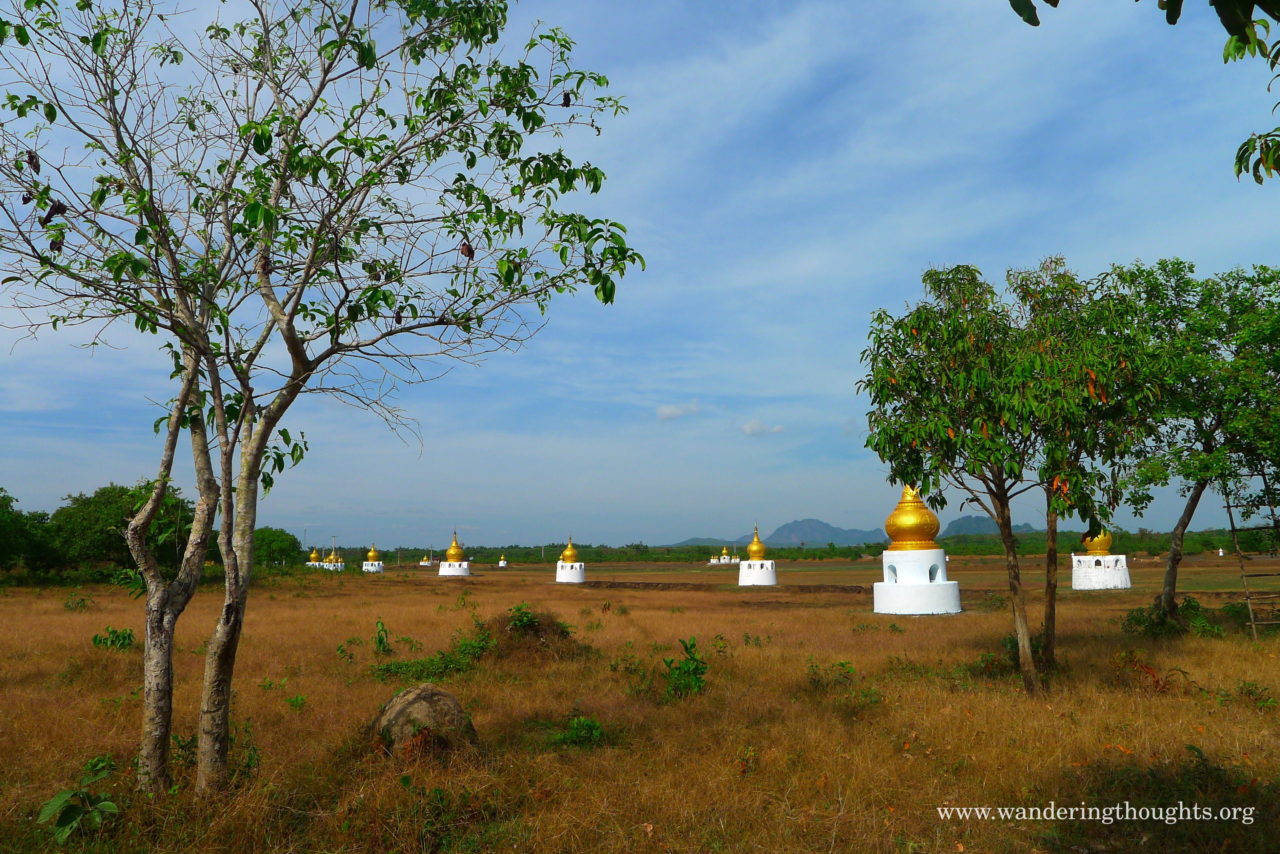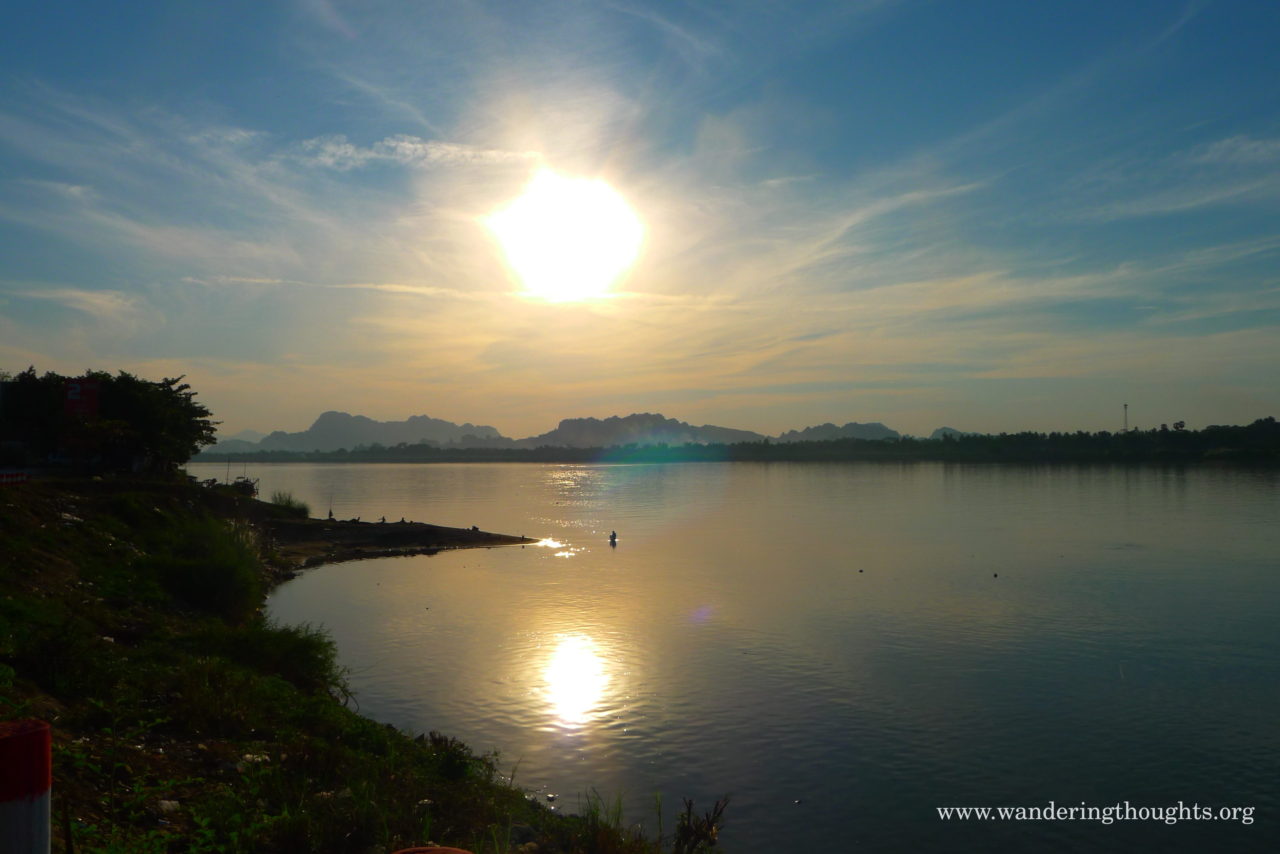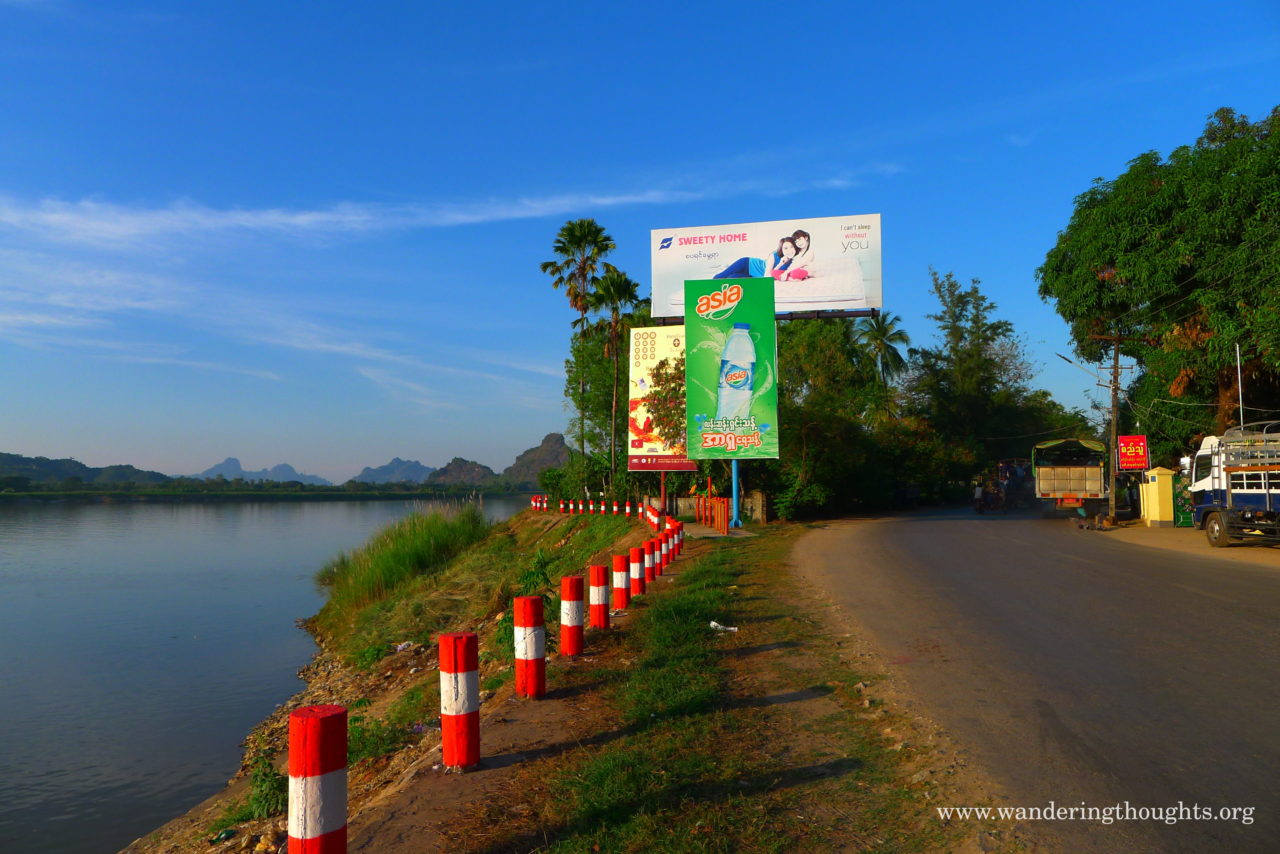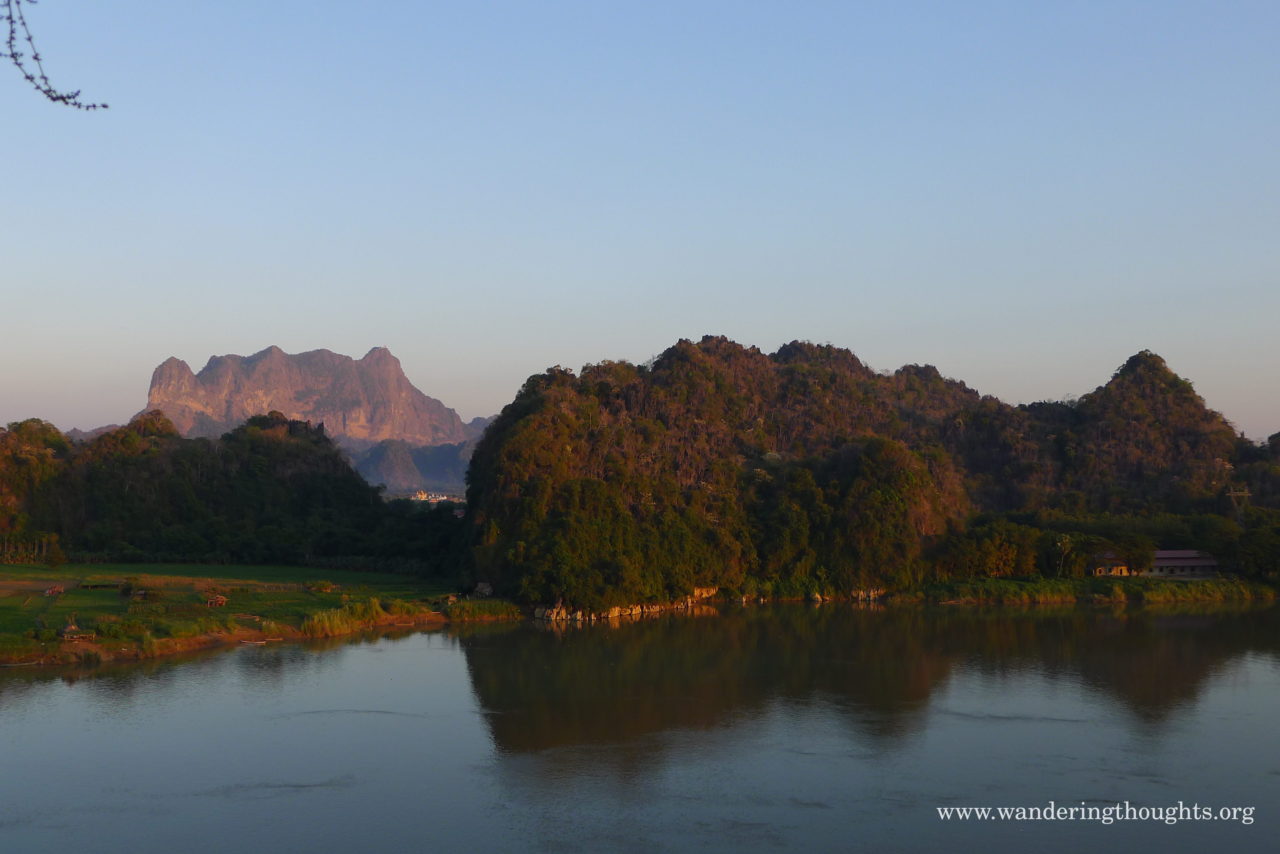 Once in Hpa An we spent a couple of days to relax and even did some sightseeing. We cycled to the Bat Cave to watch thousands of bats fly out at sunset… together with 30 other tourists all cramped at the viewing point at the top. Somehow I find sightseeing more and more boring the longer I travel. I can't seem to muster the excitement for something that I already know to much about. I rather have the unknown and am surprised by what I find on the side of the road instead of reading guide books about what I will find.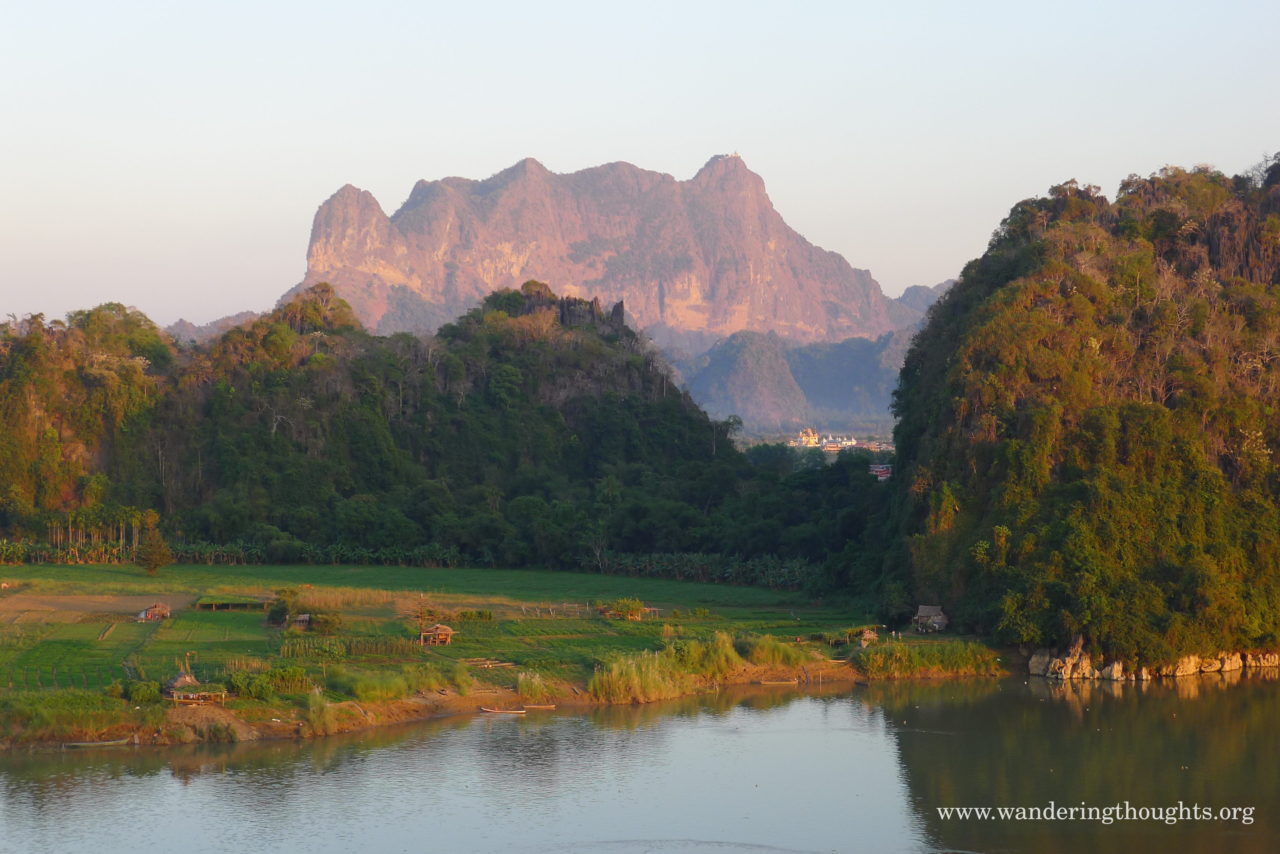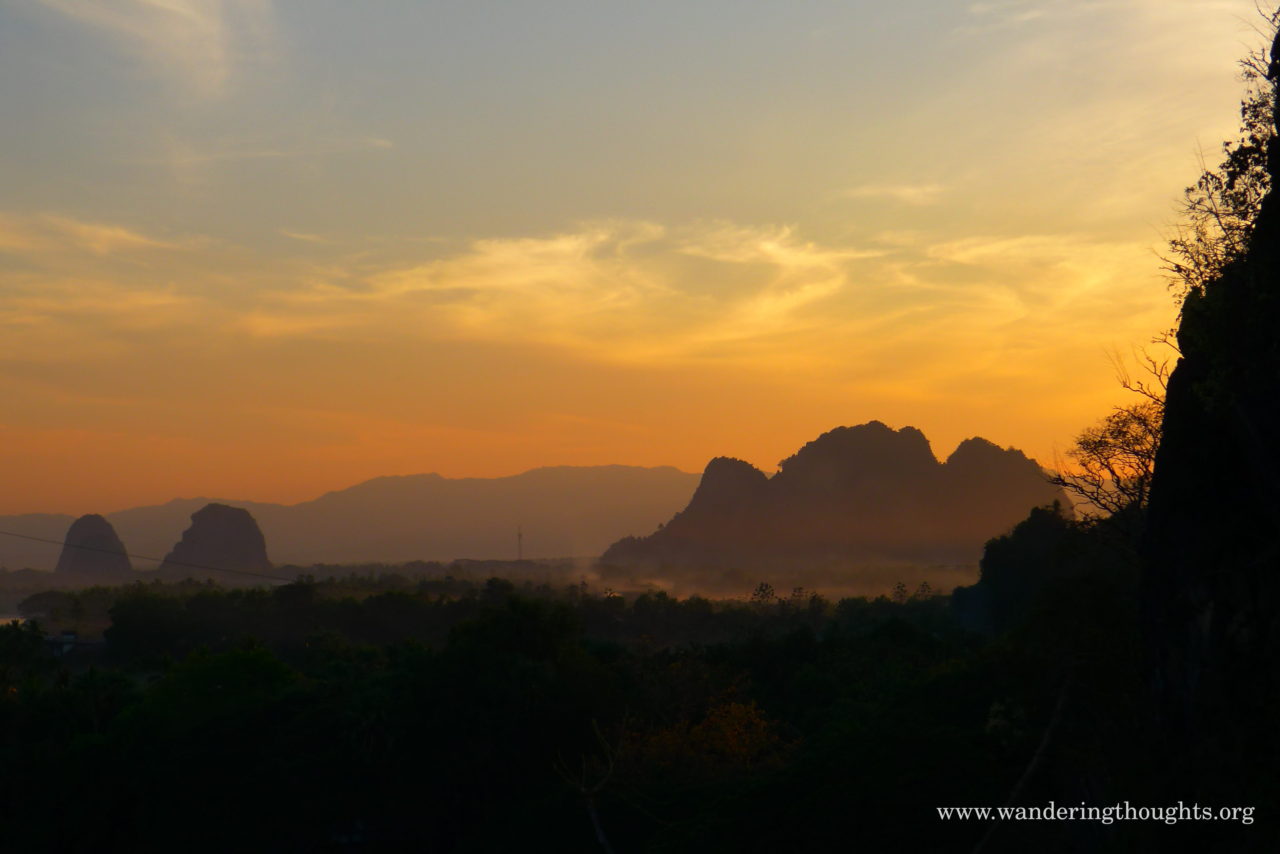 Still a nice sunset though :).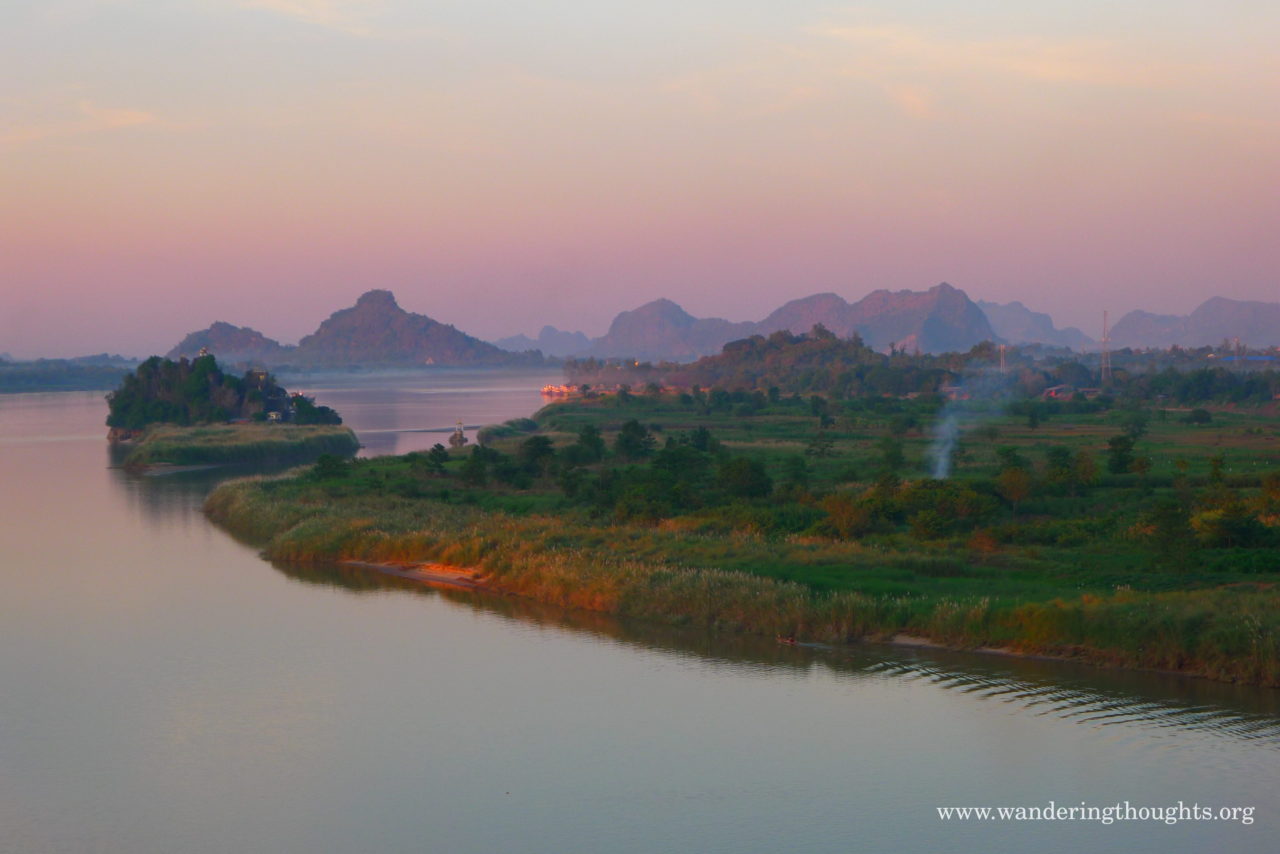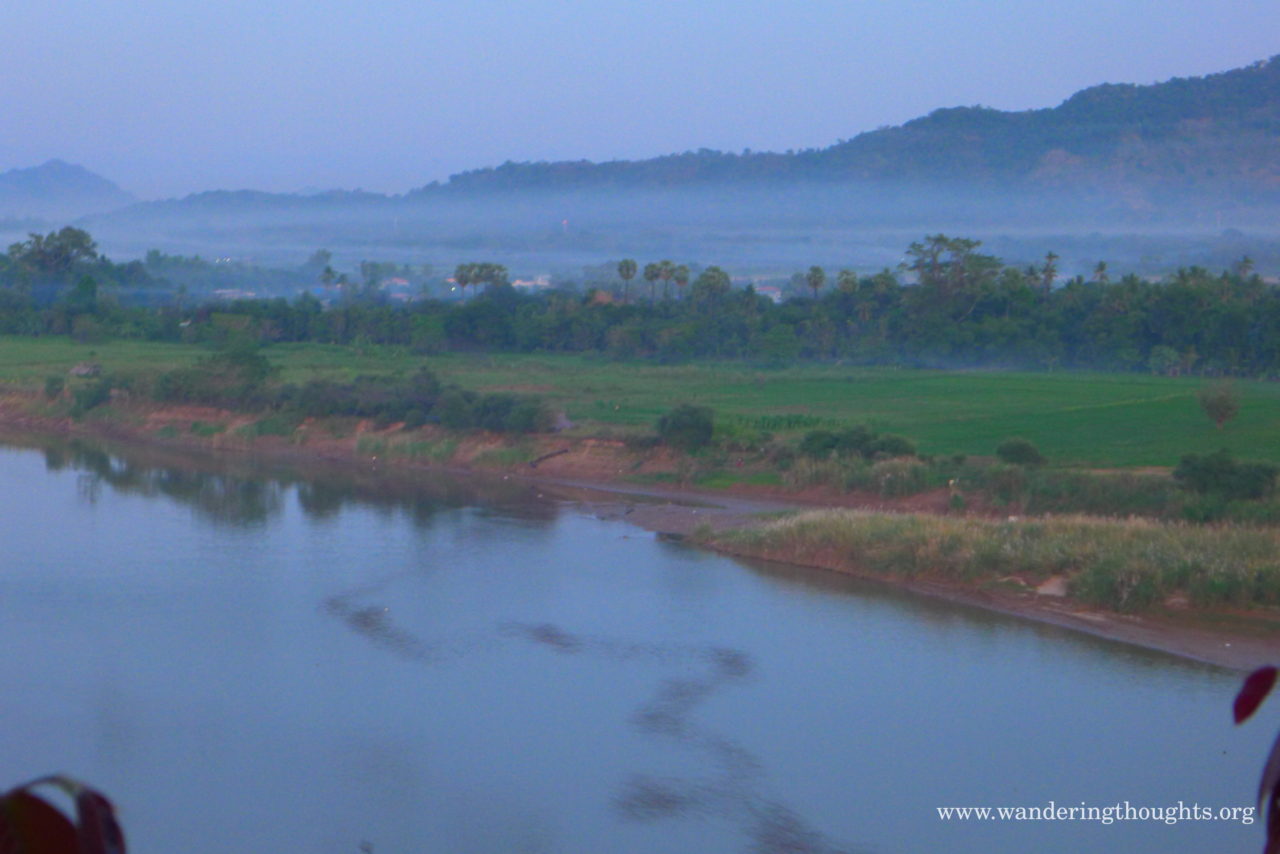 We also caught up with fellow cycle travelers Guy and Camilla and in this picture Terry. We met her coincidentally for breakfast and in a few weeks would coincidentally see her again further south.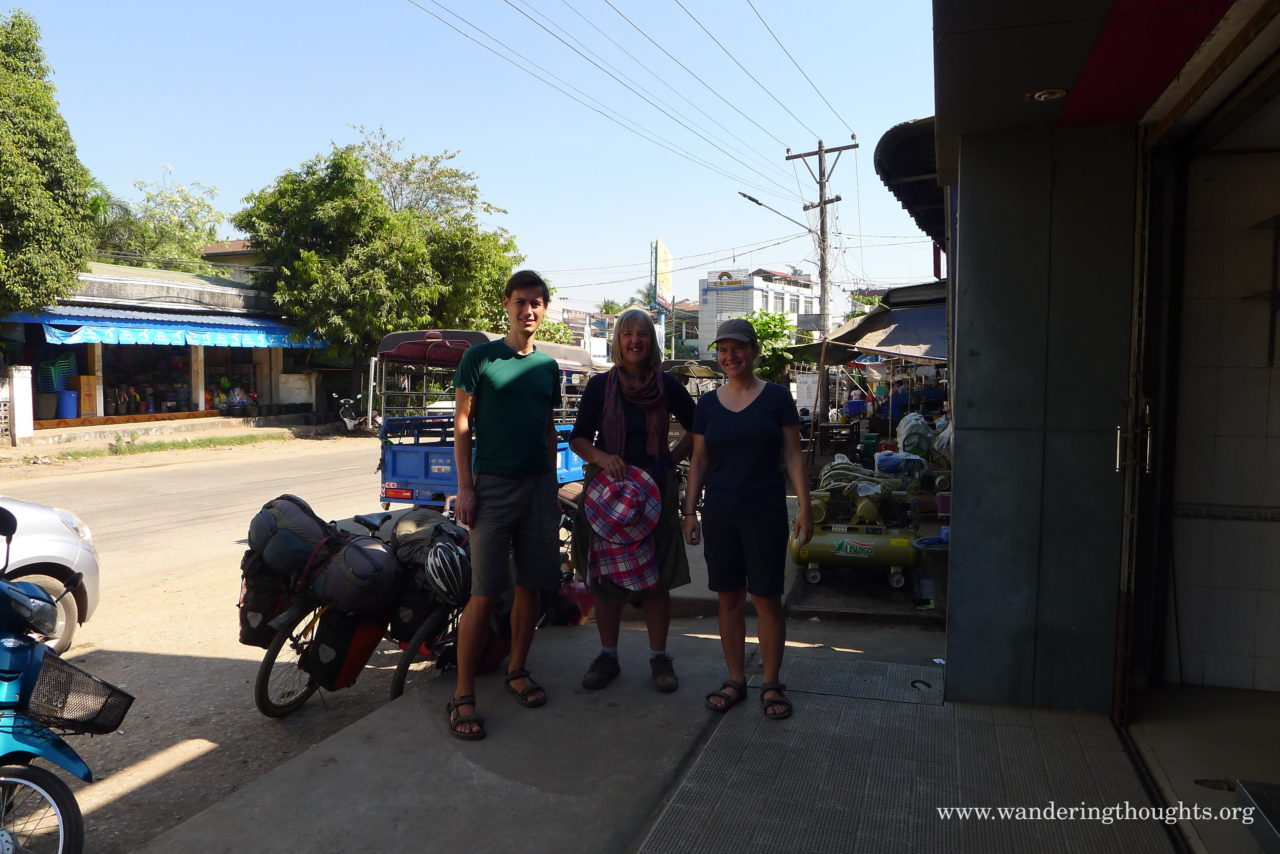 All in all it had been a wonderful month of cycling and relaxing in Myanmar and we were already happy to spend some more time here!