Today is all about rest. Yesterday was too exhausting and I need a day or two off the bike. So our goal for today is to cycle to the camp site that we wanted to be at yesterday and do nothing for the remainder of the day. Of course my tyre is flat, so after patching up some tubes and getting more food, we're on our way at the not so early hour of 11am. But I don't mind at all, we only have to cycle 13k today. And so we do. It's wonderfully flat and we arrive at Bush Chooks Travellers Village in no time. And from now on all is good. Chris, the owner welcomes us with the warmest smile and lots of laughs and I feel immediately at home and very comfortable.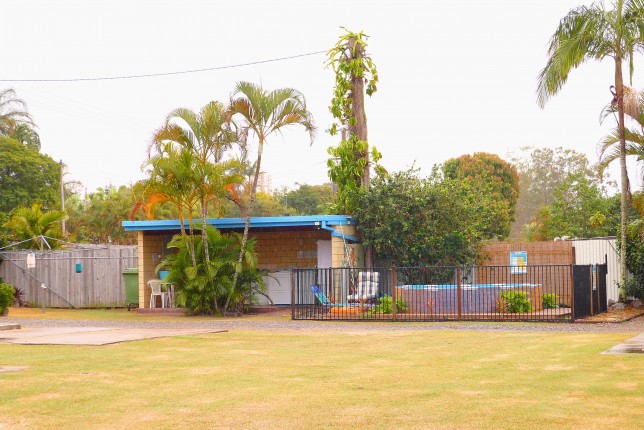 We set up our tent and I just love the setting of the camp site. It's indeed a little village with a grassy area for tents and caravans in the middle and some cabins around. And last but not least there is a perfectly stocked camp kitchen which is an awesome change to our camp stove! I think we need about 5 minutes to decide to stay for two nights ;).
And then Chris and his wife make us the best present ever: They upgrade us from our tent site to a cabin! With our own attached bathroom!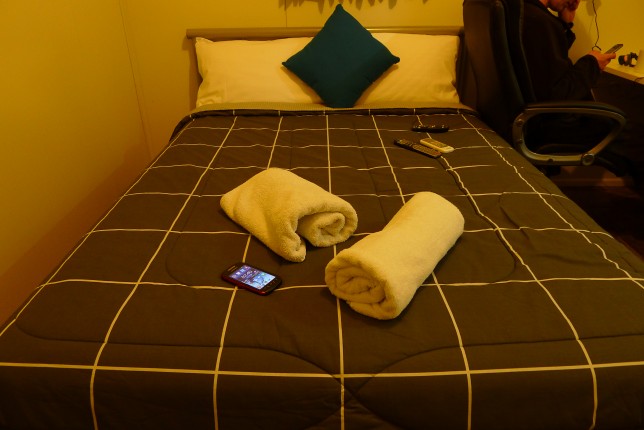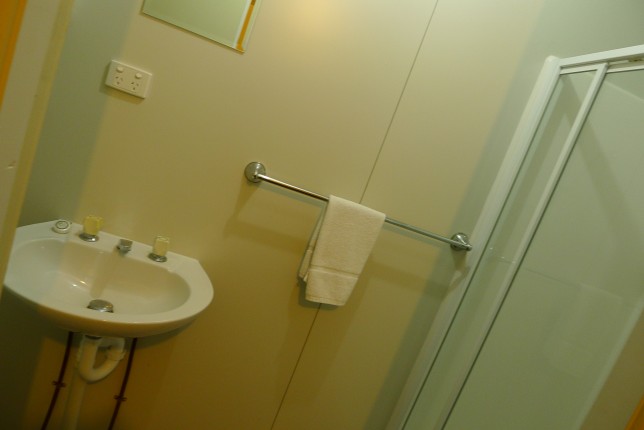 Seriously, at this point of our trip this feels like heaven. And so we spend the next days with doing a lot of nothing, eating and some blogging, working and more eating. This is all we need right now! Thank you so so much, Chris!
The next two days are easy because there are almost no hills. We cycle about a 100k to Gladstone where we learn about Trivia Games to stay awake on the road: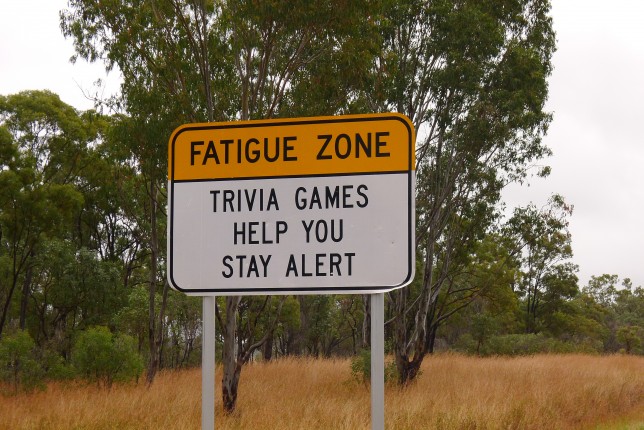 I didn't really have problems with staying awake on the bicycle so far but you never know :). Apart from that we cycle on the highway and there is not much happening except for… rain! It hasn't really been raining since we started in Sydney so this is quite new and actually very refreshing. It's a light and warm but very dense rain so over the course of the day we get drenched a few times and then completely dry again and so on. But I'm really grateful for a break of the sun!
In Gladstone we meet our host Stephen who has a big house and hosts lots of couchsurfers. We enjoy talking with him, eating together and trying some of his home made alcohol ;). The only shame is that we didn't get to enjoy his very own outdoor movie theater which is seriously very cool and I so want to have one when I live in one place some time in the future! Thanks for sharing your home with us Stephen!
Cycling out of Gladstone we have a strange encounter: While we stop on the shoulder of a not too busy road to take a picture, a man in a car stops on the road behind us. We continue taking pictures and he continues to wait. We consider that a little strange and move our bikes on to the grass thinking that he might be bothered by us taking pictures on the shoulder. He drives past us and stops a few meters down the road. He gets out of the car and then the following dialogue occurs:
He: "Do you know that I can't overtake you when you are an the shoulder like that as there is a line in the middle of the road that I'm not allowed to cross and I have to give you a meter space?"
I say: "I'm sorry but that is not true as we just looked that up on the Queensland Government Page. You are allowed to cross single and even double lines on the road to give cyclists the necessary space of a meter."
He: "No, that's not right. You're wrong."
Me: "We really just looked that up on the Government Homepage."
He: "No, that's not…
You get the gist. While the conversation went on like that for a little while, Torsten looked it up again and showed it to him.
He: "Oh really, oh I didn't know that. Well then I guess we all learned something today."
Eerm, sure.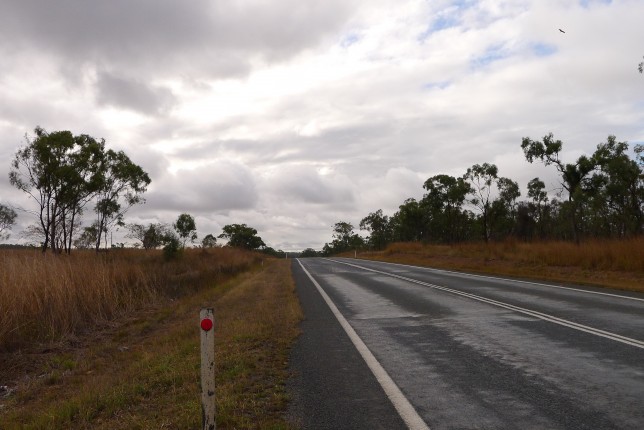 For the rest of the day the road and the weather looks approximately like in the picture above. I still enjoy the occasional rain but am also grateful for a petrol station with some shelter to eat and have coffee. And we are blessed with a tailwind that blows us right into Rockhampton. Here we are going to stop for a few days again as the Yeppoon Village Festival is not too far away but more on that next time!