To be honest, travelling the world has never been high on my list. I value change, I am interested in meeting new people and ever want to question my beliefs and prejudices about other people. But setting out to go around the world, going from one place to the next and always having to decide where to go and what to see and what to do is not something I wanted to do for a prolonged period of time.
So you might wonder why I am now cycling for quite some time and why it seems to be going well except for the usual complaints. Well, you see, because cycle touring is different. Sometimes it is not at all about the places to go to but all about everything in between. And that is so. much. more. fun. On the Indonesian island of Flores this became especially apparent.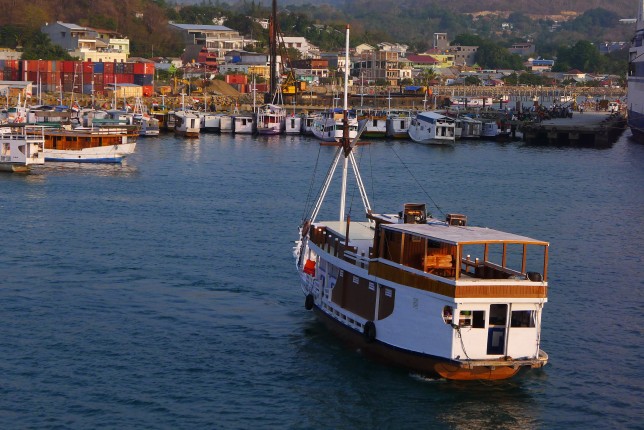 The ferry from Sumbawa brought us to the small and rather touristy town of Labuan Bajo. It is well known as a starting point for diving and snorkelling tours and caters exceedingly well for the western backpacker.  There are bakeries, lovely cafes and a lot of shops that rent diving and snorkelling gear and organize tours. It was different from what we had in Sumbawa and I wouldn't usually feel comfortable with the obvious focus on tourism.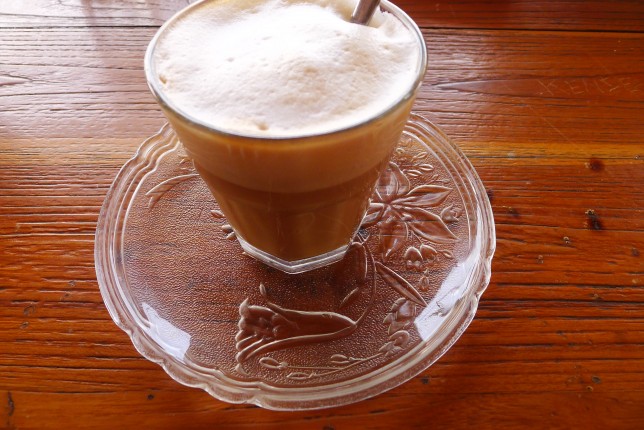 But it was perfect at that time. In Sumbawa we were constantly in the centre of local attention whereas here we were just two out of many travellers. We ate exclusively local food before, we fought with the heat and stomach bugs and now it was time to indulge in some bread and a latte, use our hostel's wifi and relax. In the end we didn't go for a organized tour. They are rather expensive and we have so many beautiful experiences on the way that it was hard to justify spending so much money on one.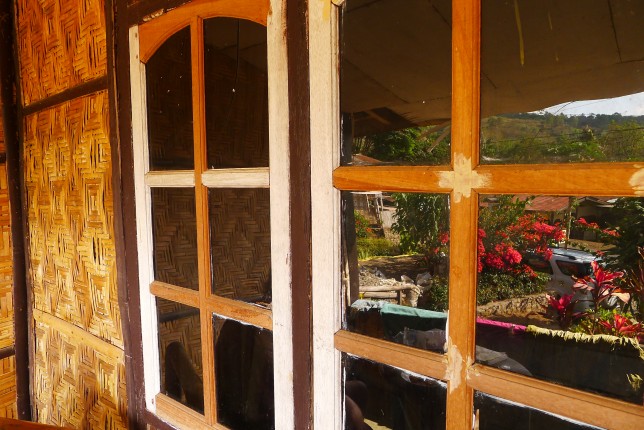 Further down the road we stopped for a night in Moni, another small town known as a starting point to the Kelimutu Lakes. These are volcanic lakes that change colours sometimes and thus are one of the major tourist attractions of Flores. Unfortunately the entry fees for foreigners went sky high in the last year, so once again we decided not to go for that.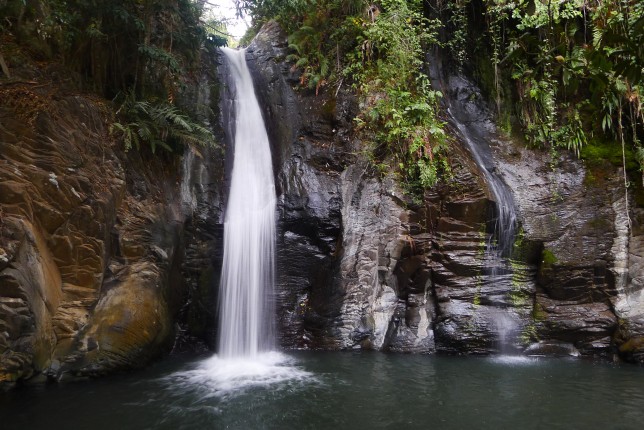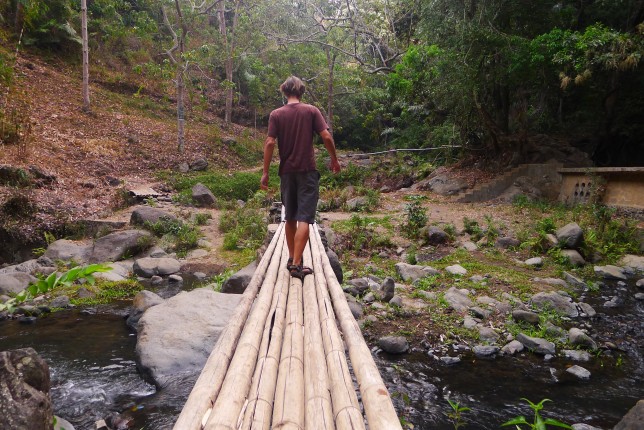 Instead we ate pancakes and pasta in Moni and climbed down to a waterfall where we saw some locals wash their clothes.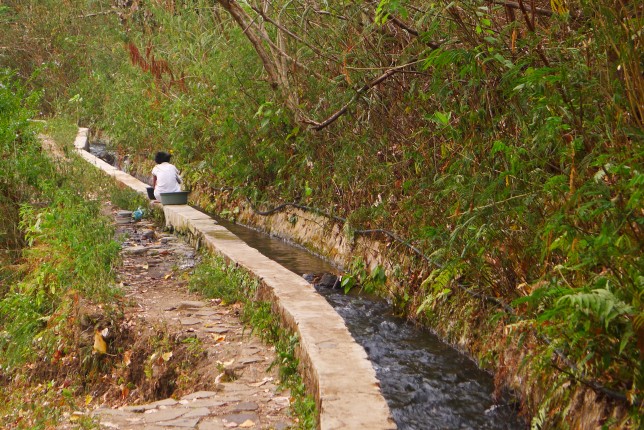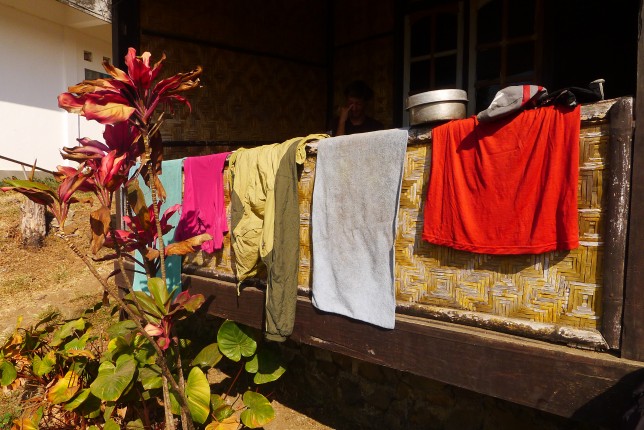 We stayed in a woven bamboo house and enjoyed the panorama. It was beautiful and very relaxing.
And when we were in the rather unassuming town of Ende, Torsten found out that you can hike up a small volcano with supposedly quite nice views. You don't need a guide nor pay entrance fees. So we set out to hike Gunung Iya.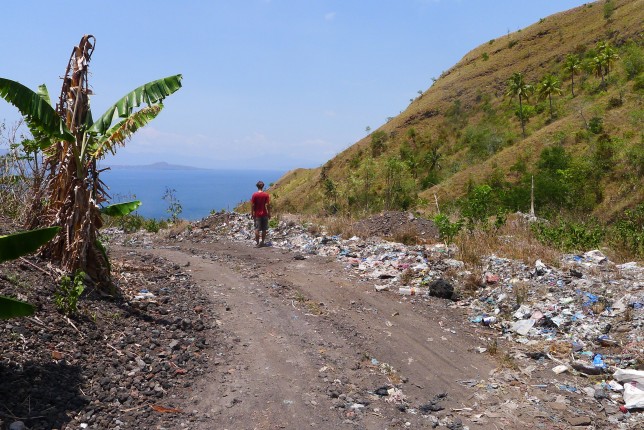 We left our bicycles at a small store at the end of the road and walked through a rubbish dump. We found the trail head and walked up.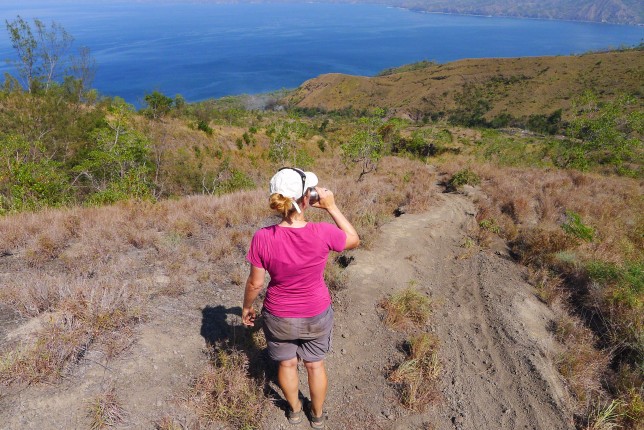 It was hot and exhausting and I was starting to regret it a little but all was forgotten once we got to the top.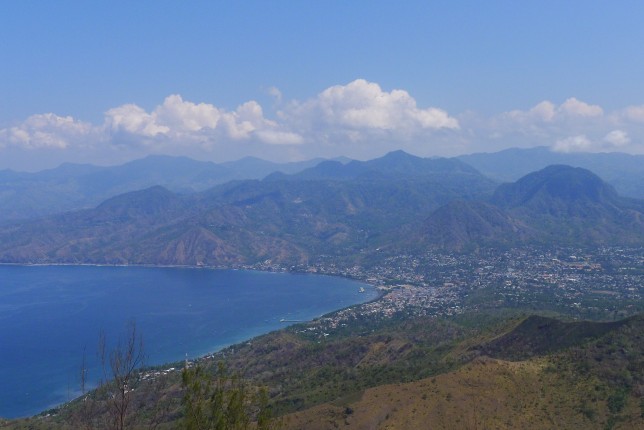 The views down to Ende were absolutely stunning  and I fell in love with the colours of the volcano.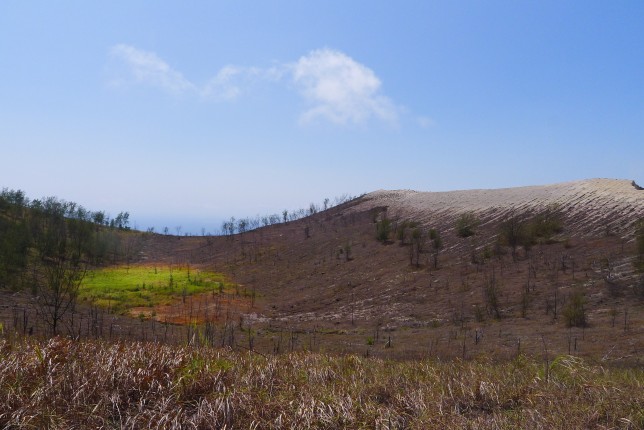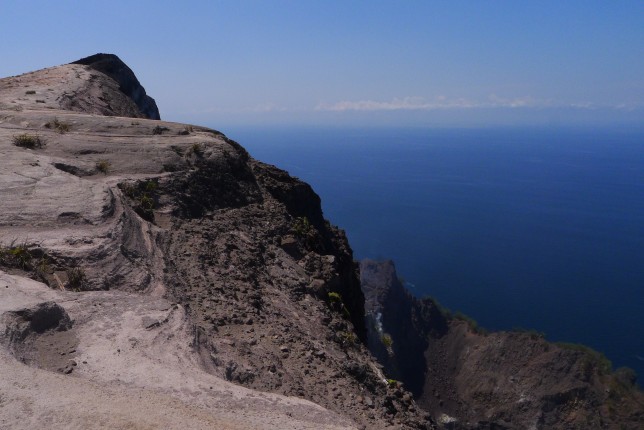 And we could even see some smoke coming out!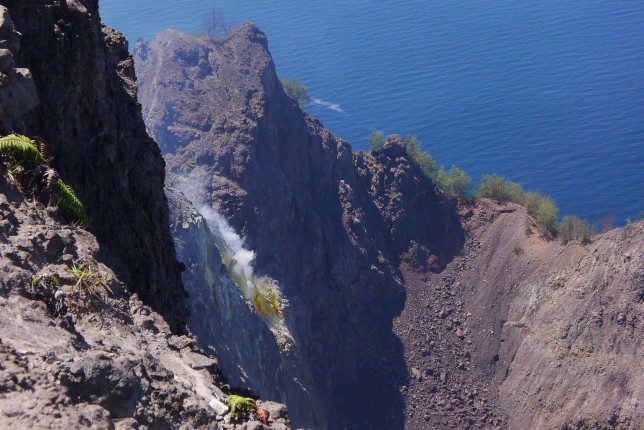 So maybe we missed something in not going to the Komodo National Park for snorkelling. Maybe we would have enjoyed the Kelimutu Lakes. But who knows, we might have regretted paying three days budget just to view the lakes. Sometimes it's hard to choose where to go and what to do when you could theoretically try and do it all. But for one I find it rather exhausting to go from one must-do to the next. I am rather surprised by people and things along the way. And I like not having so many expectations about what I am going to see and feel. And with tourist attractions it is harder to keep your expectations at bay. There are so many pictures about the Kelimutu Lakes that you might think you know what you are supposed to get. But of course it can still be different. The weather could make the lakes more or less impressive, the sun shine in a different angle or you might be in a bad mood and not enjoy it as much.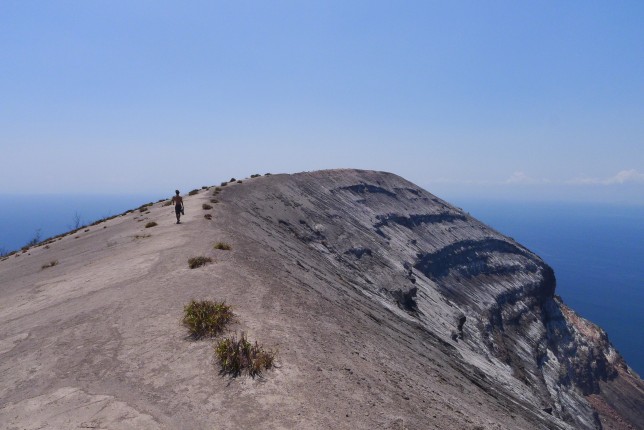 So this is why I want to free myself from checking things off an imaginary to-do list. Each journey differs from the next one and that's good. I don't want to fulfill a certain itinerary but rather work on having an open state of mind. I want to be open for the beauty of what's right in front of me or for the challenge. I want to be surprised, I want to learn, I want to be overwhelmed and sometimes just do nothing.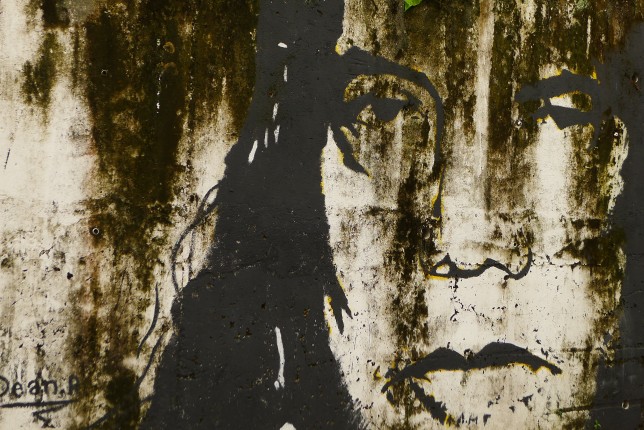 It's like having the choice of maybe seeing an elephant in the wild or going to the zoo to see one for sure. Or finding street art instead of going to an art gallery. I'm choosing street art and the chance of seeing an elephant over certainty. Somehow this seems more real to me.